A few days ago, one of the runners that had run the Shires and Spires route last weekend decided she would like to run it again.  (It is a beautiful course!) and posted something stating this on our club Facebook page.  After several days break from running (having only run 3.5 miles of speedwork on Thursday night since the race last Sunday) I knew I needed to attempt a long run this weekend and said I'd be up for giving it another go.  I've run the course, or sections of the course numerous times now and it does help to be able to pinpoint exactly where you are on a route.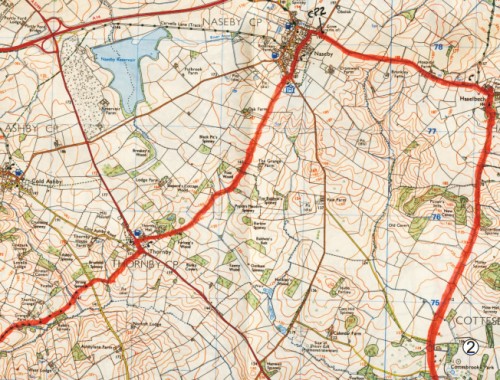 In the end, the decision was made to chop off the first and last few miles from the course, and call it a 28 mile loop.  I purposefully failed to mention the distance to Dan until last night when I couldn't avoid his questions any longer as I thought he would probably worry having seen how much of a mess I had been after last weekend!
Another runner from the club, who had also run the race on Sunday joined us for the first 20 miles and once more I was the slowest representative runner out!  I was a little concerned at this as I know at times I feel pressured to keep up with those faster than me, especially if I've not run with them often before when it can be harder to communicate with them that I am struggling.
I needn't have worried though.  The weather we had this morning would have been ideal for the race last weekend.  It started off cool, although I was still able to run in t-shirt and shorts, and within a couple of hours we were treated to a nice refreshing rain which cooled us down further.  The sun made an appearance during the final few miles and we enjoyed a post-race cider at the pub the car was at.  A great way to finish a run!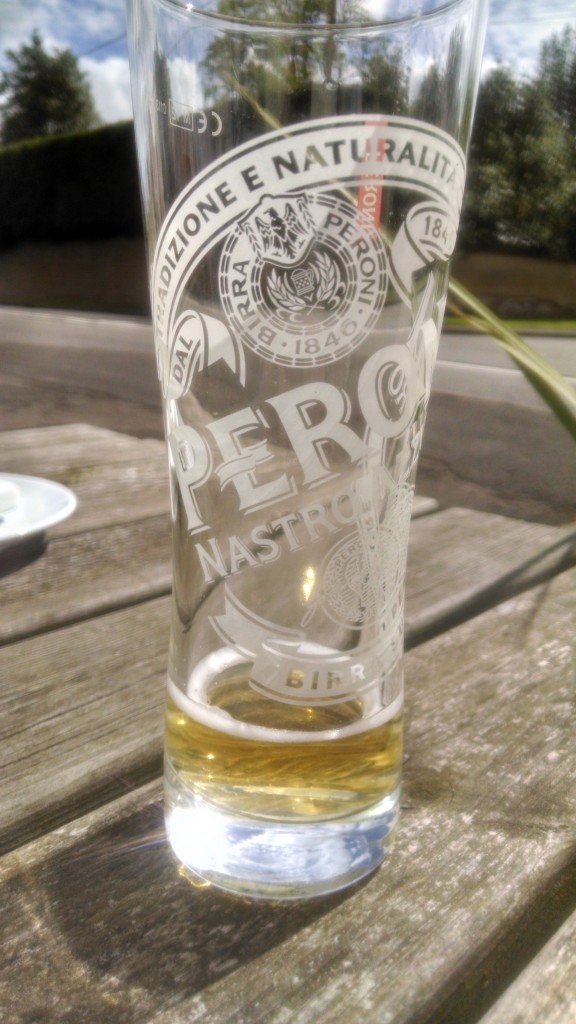 (Clearly I was too excited about drinking the cider to photograph the full glass!)
There was nowhere I felt that I really struggled and in actual fact, our running sections were covered at anything from 8:45-9:45mm pace.  Much quicker than I would normally run a long route out on my own.  Guy did shoot off for a little while without us as he had 'just been ticking along at a 7:10 pace and decided to push it to a 6:xx mile'!  I also got a burst of speed going at mile 26, when a long downhill/straight section loomed in front of us.  I had a massive grin on my face as my watch stuck to 8:xx minute miles and struggled to rein my legs back in just over half a mile later when we reached the bottom of the next uphill section!  Isn't it amazing how different a run can be on a totally different day?…I certainly did not feel this strong at mile 26 last Sunday!!!
As on Sunday, the plan was to walk all the hills, although our definition of a hill was slightly steeper than the definition we worked from during the race!  I felt like I could really stretch my legs out when walking today as well.  When there were eight of us running in a group it was hard to really get into a meaningful stride as we were all such different heights and walking speeds.
As we ran through the fields, the rapeseed whipped our legs and arms, and even hours later now I can feel the stinging on my legs.  My legs were strong today though, and there's no sign of any cramp from the day's run.  I was even fine cocking my leg over stiles today, which normally causes issues in the later half of long runs.
When we dropped Guy off at mile 20, Tracey and I stopped in the pub where Kev had had his Guinness mid-race last week to grab a lemonade/coke.  We also checked on the map where we needed to turn in order to head back to the car and miss out the end of the race route.  Stopping in the pub was a great reset for the system and I almost felt like we were starting a new run when we headed back out 15 minutes later.
Running with Tracey was great as we have the same mindset when it comes to 'boring'.  Long flat stretches of road – incredibly boring.  I would be more tempted to run a hill than a continuous flat stretch of road!  Despite Tracey and Guy both being quicker than me I never felt any pressure to keep up and we ran as a group for pretty much the entire distance (although I was at the back of the group!)  This gave me a big boost of confidence having lost a fair bit of it over the first few months of the year.
All in all we covered 28.27 miles in 6h 22m 57s, meaning Tracey and I were well on target for smashing our times from earlier in the week had we continued to 35 miles, despite running on tired legs.  And my body definitely felt like it could have continued today.  

67.25 miles this week on three runs.  Highest mileage in a while!
I had my customary post-long-run Maltesers Krushem and nap and have enjoyed having a proper catchup with some blogs this afternoon.  Sometimes a lazy afternoon is required!
On a separate note, how lovely is it that I'm typing this up at 9:30pm and it's still light outside.  I can't believe we're nearly at the longest day now.  I've been enjoying the evening light for some later night runs and when we've been heading to the pub quiz on a Monday night it's been nice to be able to cut through the back off-road paths instead of having to stick to the longer and duller road route.
Do you enjoy a stop in a pub at the end of an outdoor exercise session?  I've always really associated ending up in a pub with group bike rides, but I must say, I did enjoy sitting out in the sun enjoying my half of cider today.