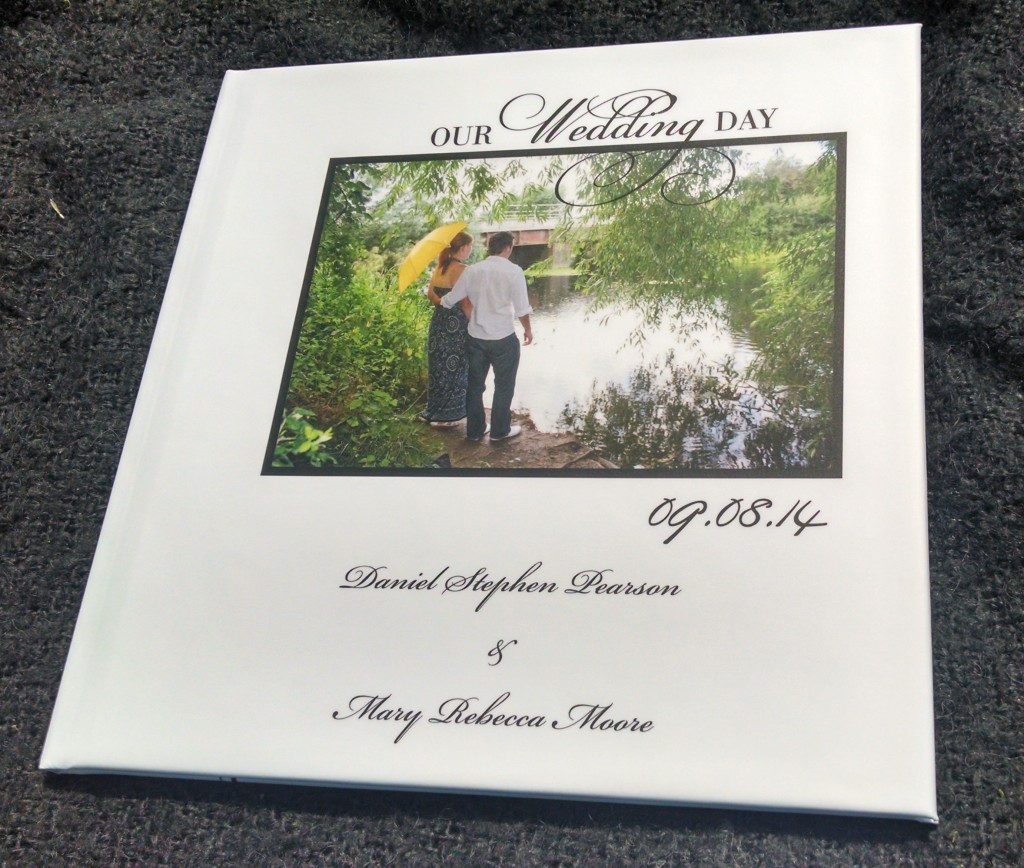 It's taken a while to make it here…I originally started putting it together before Christmas last year!  Then, when I finally finished designing where everything would go I ordered it last month it took a while to go through production and get shipped out and then I missed the postman the day he came with the package!  I made it up to the sorting office this morning to collect our Guestbook and am very happy with the result.
We knew we wanted a Guestbook at our wedding, but I find the problem is always that people never know what to write inside them and they are often filled with exactly the same comments that a guest wrote in the card for the new couple, or follow the standard of  "Thanks for inviting us to your wedding.  Hope you had a lovely day and all the best for a happy marriage".  I happened to be reading through some of Meghann's old wedding posts and spotted the very quirky, individual guestbook that she had put together for their wedding.  This was ideal and I knew it would suit both Dan and I to order from Shutterfly using their customisable and fun layouts.  There were so many great suggested pages which would give guests something to think about and a 'theme' for their comments.
We start by including one of the standard Here's The Story pages, telling guests that might not know us so well about our relationship from the beginning.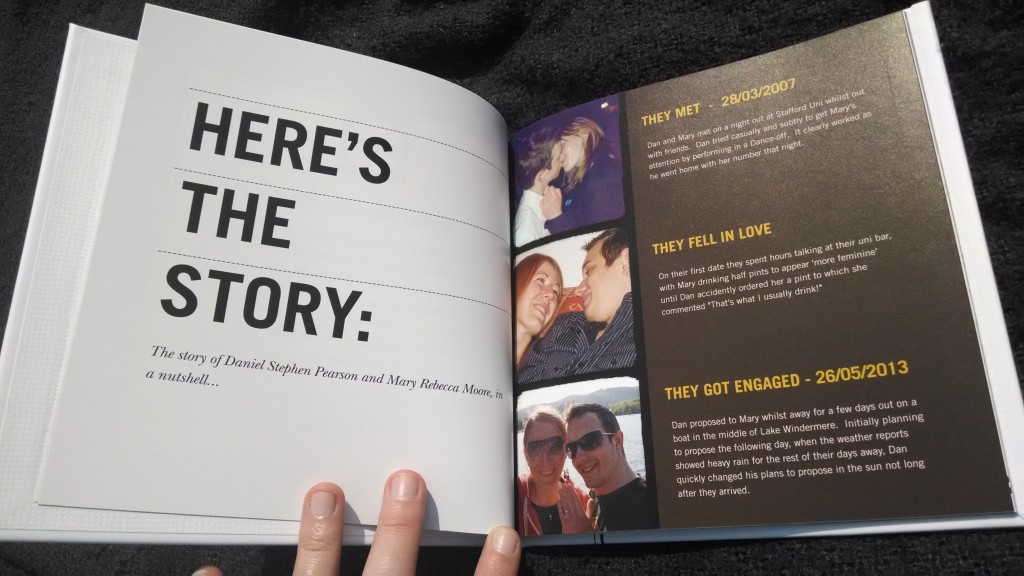 We thought it would be nice to give each set of parents their own page for a message near to the front of the book.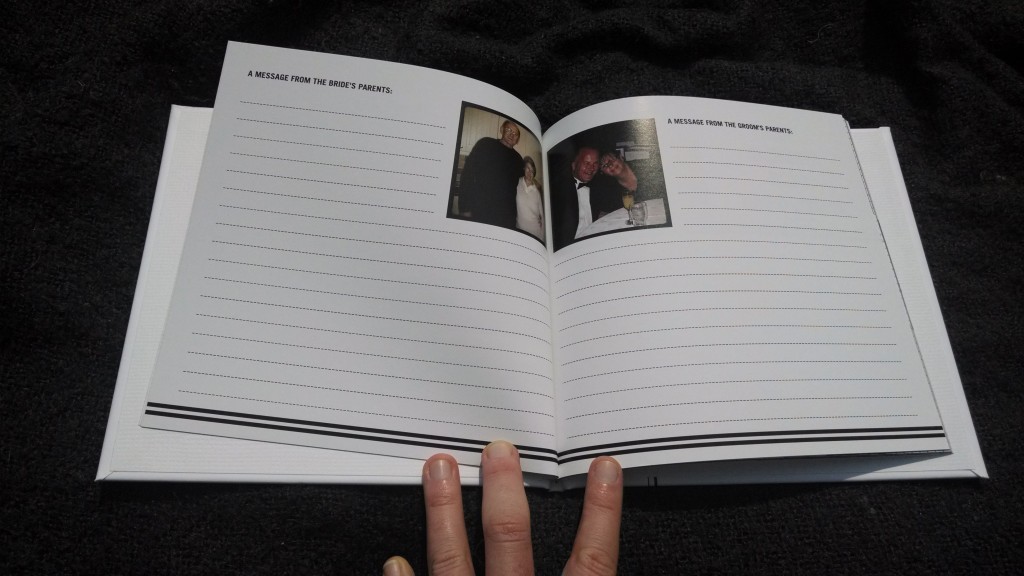 Dan and I are both quite visual people and it was important for us to be able to include lots of images throughout the book to keep things interesting for our guests!
Shutterfly had so many great ideas for pages.  This is how all guest books should be made!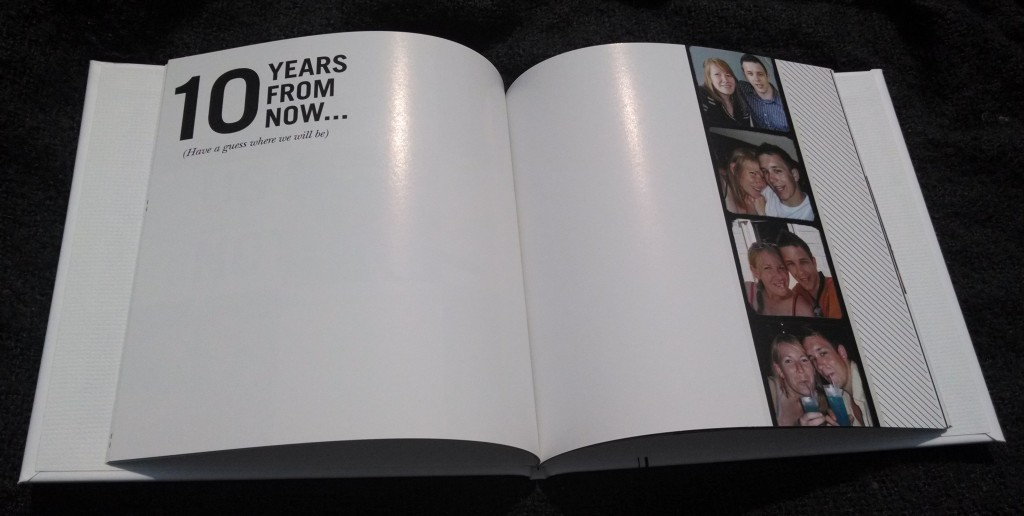 I really like the fill-in-the-blank pages and we put in four of these.  I knew I couldn't go overboard with them, as it wouldn't be everyone's cup of tea!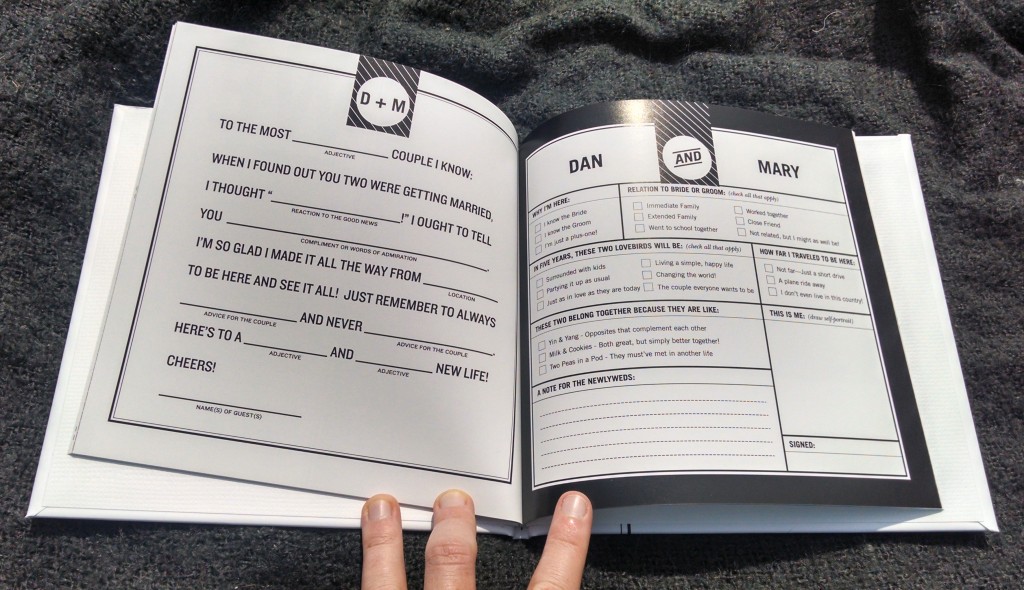 Therefore, I also made sure to include some more formal, plain line writing pages for people that perhaps aren't quite so creative or wanted to leave a more personal message on the day.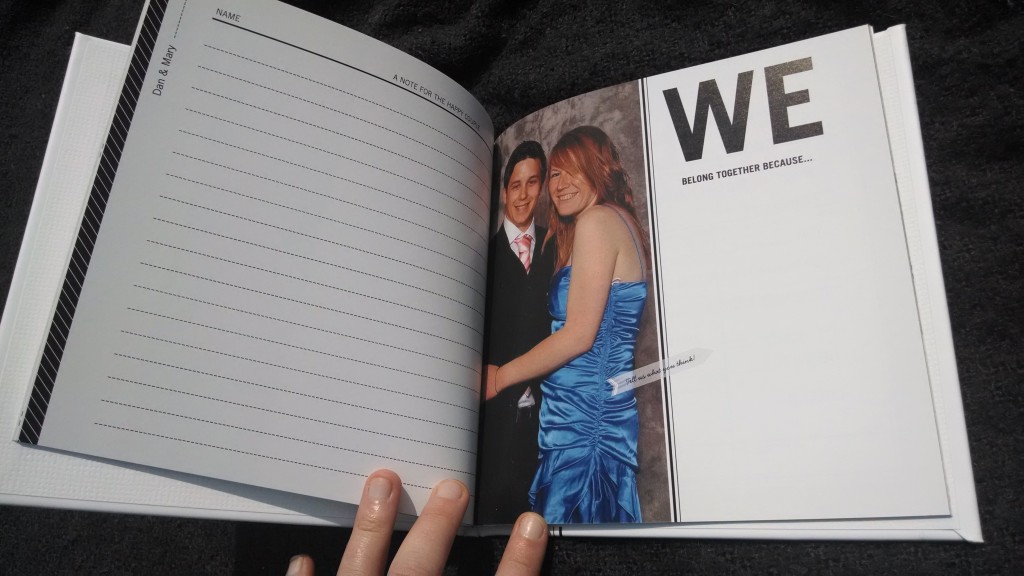 I've put together several books online before as gifts for friends and family but have always used Blurb in the past, who I have extremely happy with.  For ease more than anything I made our Guestbook through Shutterfly, as the layouts were already there within their editing program.  Shutterfly is based in America, and I did check out the shipping fees before beginning the project, which I didn't consider to be over the top.  However, I failed to think about a customs charge.  Seems to be that anything that comes in from America now gets a customs charge whacked on top of the price already paid and when I collected the guestbook from the Post Office this morning I had to pay out a further £13.33.  The book itself hadn't come to a whole lot more than that once I'd found some online discounts for the Shutterfly site so this was a bit of a pain.  

Last week we also got our 'conversation starter' table cards through in the post from Moo.  Another brand I love.
Although our venue comes with long tables, both Dan and I were insistent that we had circular ones at our wedding as we felt it was important for our guests to mix on the day.  We've only roughly organised our seating plan at the moment, as not all responses have come back to us yet, but we've tried to mix people as much as possible, whilst also ensuring they know some of the people on their table.
I've been to weddings before where I've only known the bride +/ groom so I know how difficult it can be to start up the same conversation over and over with a whole load of people you'll probably never see again after the wedding!
Together, Dan and I sat down and devised some questions that we could place onto tables.  We came up with…
* Who do you think would be more likely to get lost?…Dan or Mary?
* Who do you think would be more likely to take longer in the shower?…Dan or Mary?
* Who do you think would be more likely to snore the loudest?…Dan or Mary?
* Who do you think would be more likely to go to the pub?…Dan or Mary?
* Who do you think will be drunk by the end of the night?  SHARE
* Favourite memory of the Bride +/ Groom?  SHARE
* An embarrassing story of the Bride +/ Groom?  SHARE
* How did you meet the Bride +/ Groom?  SHARE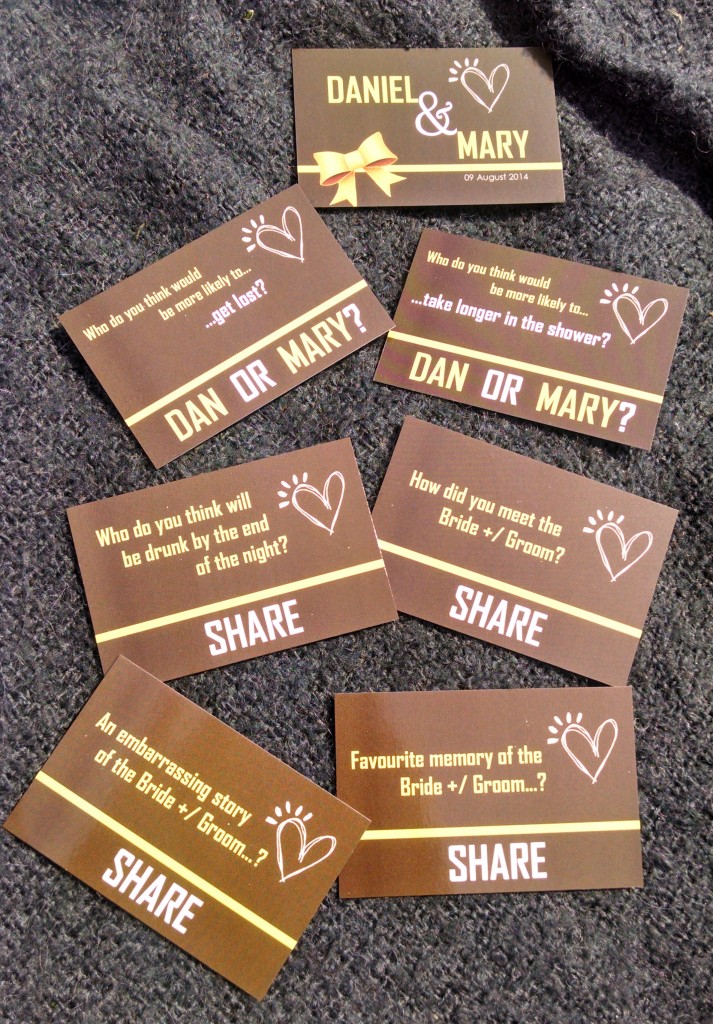 Hopefully they'll produce some interesting conversation on the tables whilst we're waiting for food to arrive!
We decided to go with the business card size on Moo and kept to our yellow and brown colour theme.  Each question is written on the back of a design with our names, the date of our wedding and a yellow bow (top card in the image above), in keeping with our invitations.
**To look through past wedding related posts I've written, check out my Wedding page.**
If you are married, did you have any conversation starters on your tables?
What have been your favourite activities at weddings?