So last week I told you that I would be trying out some breakfasts of the greats as found in the Send a Cow The Most Important Meal of Their Lives ebook.
Last week, Jane Austen, this week Winston Churchill! – Poached egg, cold meats, toast and grapefruit.
"British politician and Prime Minister of the United Kingdom from 1940 to 1945 and again in 1951 to 1955, Sir Winston Churchill is widely regarded as one of the greatest wartime leaders of the 20th century. Documenting his preferred breakfast on the back of a menu while on his last flight to the USA as Prime Minister in 1954, it was apparent the offerings were not to Churchill's liking. Instead, the treasured memorabilia shows his appetite for a hearty breakfast and it was all washed down with a whisky and cigar."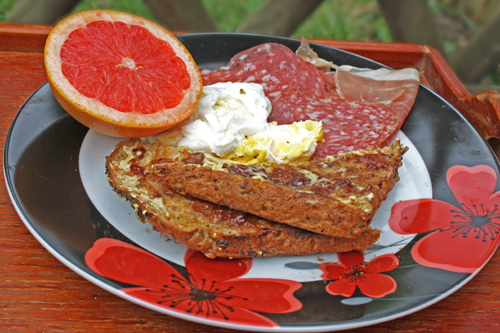 I'm afraid my breakfast was not washed down with a whisky and cigar. (Sorry to disappoint!)  I've too much to do today without getting trolleyed at 8am!
I started the day off with a 2.8mile trail run, ending at the local Co-op to collect a grapefruit, bread and some meat for the meal.  I need to head out for an easy run before breakfast more often as it left me feeling great right from the very beginning of the day.
Initially thinking Winston had eaten way more food than I would feel comfortable eating, I quickly totted up the calorie content of the meal.  I was pleasantly surprised to see that the calorie content of half a grapefruit, one poached egg, one slice of Loved by Us Farmhouse bread (this was lovely by the way), a knifeful of raspberry jam and one of butter, two slices of Spianata Romana, 2 slices of Salami Milano and 2 slices of Prosciutto Crudo came to just 424 calories.  Much lower than I expected.  (Not that it's all about the calories of course.)
I've been wanting to try poached eggs for a long while but have been nervous about giving them a go.  Turns out my nervousness was justified and I can't say I've perfected the technique just yet!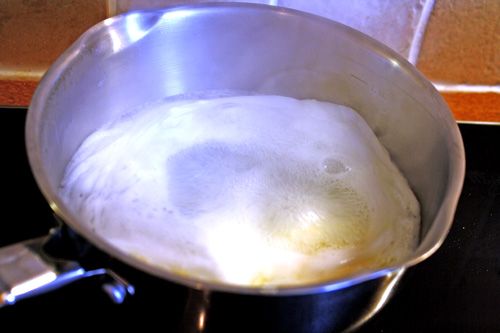 I watched a couple of videos on Youtube and I thought I'd followed the instructions correctly about making a whirlpool in the boiling water to drop the egg into.  However, clearly I haven't quite got it as, as soon as I dropped the egg in to the water, the whirlpool vanished and the egg took over the pan!
The egg became this big lump that I had to scoop out of several areas of the saucepan and plop onto my plate.  Not quite the delicate version I was going for!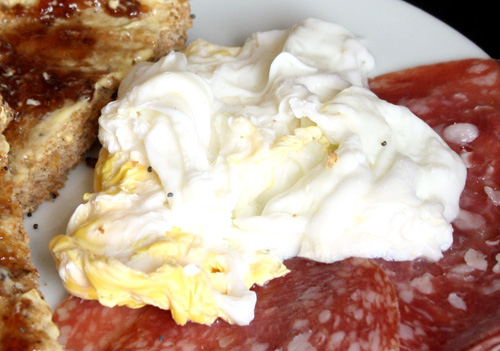 I wasn't really feeling toast and jam this morning so hunted out the most interesting loaf I could find.  I'm not a big fan of jam and when I was younger my Dad used to get very frustrated as I used to put a regular layer of strawberry jam over the top of a thick layer of butter.  I then used to pick off any lumps (fruit) and spread the rest of the jam very thinly over the bread slice, making it look like a pale pink stain!
This morning I hunted around in my cupboard and found a tiny pot of raspberry jam that didn't appear to have fruit lumps in (doubt they would have fitted in the jar) and spread what I thought was a normal amount over my toast.  A-MAZ-ING.  I have been missing out!
VERDICT:  This is one I will try again!  Other than collecting the ingredients together, it took barely any time to put together at all, and there was a nice mix of sweet (jam), sour (grapefruit) and savoury (everything else!) and I'm all about variety.  One of my favourite places to go for dinner is a tapas bar as I love little bits of everything on a plate!  Despite worrying that there would be too much for an early morning meal, I was nicely full, not overly full by the time I had munched down the last of the crumbs from my plate.  Now I just need to perfect my egg poaching technique…!
The free ebook has been launched by charity Send a Cow as part of its new 'Break… Fast' appeal and features the breakfasts eaten by the likes of Einstein, Edison, Parks, Mother Theresa and the Apollo 11 crew.  It has been created to raise awareness of the importance of breakfast in helping children in the poorest parts of Africa achieve their true potential.  In addition to vital donations, which will be doubled by the UK government, the appeal aims to raise awareness of the importance of a nutritious breakfast in helping children in the poorest parts of Africa achieve their true potential.
To read more about the Send a Cow Break…Fast appeal and how you can help support African children please visit my first post, or head to the website directly www.sendacow.org.uk/mostimportantmeal
Have you tried poaching an egg before?  Please tell me it takes a while to get the hang of it!!!