I will never be a short distance runner.  I'm just not built for speed.  My name will never be read out for me to stand up on the podium, I will never have my times listed in the clubs greatest and I will never win trophies for my running.
Three years ago when I joined the Beginner's Group at my local running club I had never dreamed of running a marathon (although oddly, it was on my bucket list at the time, I just never believed it would happen) and hadn't even heard of ultrarunning.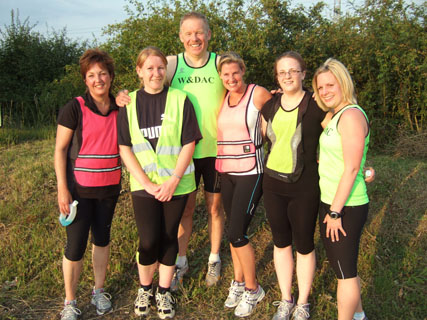 Fast forward to today, and I have just entered the Grim Reaper 70 mile event, one week before my wedding in August.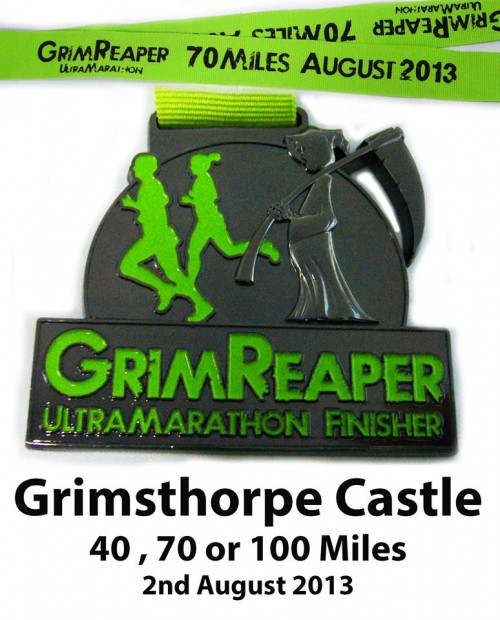 (Love this medal!)
It doesn't seem odd to me anymore.  I still can't say I ever intend on running further.  100 miles is definitely out of the question for the foreseeable future!  I could continue to run shorter distances and knock a few seconds off here and there, but to me the challenge is how far can I go?…!   I just love how relaxed and chatty ultra events are.  The pressure of speed is removed from the equation and I feel like I have a chance to enjoy the event.  Although I still have to be physically fit for the event, it's a lot more important to be mentally fit and strong as that's what will get me through on the day.
Ever since I started telling people I am planning to run 70 miles in August I've have lots of questions fired my way.  Here are a few of those questions with my responses…
Are you mental?
Maybe a little.  I think that helps.
Will you be able to walk up the aisle on your wedding day?
I have no reason to think I won't be able to.  I've always recovered much quicker from ultra events than marathons or half marathons, where I've been moving a lot quicker.  The Grim is on the Friday through to the Saturday, seven days before my wedding and I am sure the week leading up to the wedding will be me rushing here, there and everywhere so my legs just won't have time to stiffen up!
Will you run the entire 70 miles?
Not a chance!  I doubt even the winners will run the entire distance.  I will probably run most of the first lap.  (The course is made up of a 10 mile lap, and you complete either 4, 7 or 10 laps depending on the distance of the race you are completing.)  After I know the route I'll choose which sections I'll be walking on each lap.  This will probably be anything with a slight hill or sections that are particularly tricky underfoot.  As it gets later on in the race it's likely I'll adopt a run/walk technique.  4-5mins running, 30s walking, with timings varying depending on how well my day is going and how hot it is.  (Praying for a cool, overcast day that weekend, followed by lovely sunny skies for the following weekend for the wedding!)
How far will you run in training?
I ran the Shires and Spires 35 mile race at the start of the month and I will run a couple more 25-30 mile distances at a very relaxed pace as well as a 40-45 mile distance that I'll probably break up over the course of a day with a stop for lunch in the middle!  I'm working on a route right now.  (Possibly in Norfolk, so that I can conquer some more zones on Fetch!)
How long will it take you?
To be perfectly honest, I have no idea!  There is a 26 hour limit, which is very generous.  I proved at the Conti Lightning Run last month that 15 minutes per mile is a very achievable pace for me over longer distances.  The Conti Run was over quite hilly trail ground and the Grim is relatively flat on a series of tracks.  If I cover a mile every 15 minutes on average I'm looking at about 17.5 hours.  Then whack a couple of hours on for good measure and I'm looking at close to 20 hours.  I'm using that as a rough guideline, but as long as I come in within the time limit I will be extremely happy!
What will you eat?
Top of my list at the moment is picking up a thick (probably stuffed) crust takeaway pizza the night before and munching on a few slices as I go round.  Salted pretzels worked really well for me on my last long run.  After experiencing how great an ice lolly tasted 20 miles in to a race at Shires and Spires, I thought I could mix up some apple juice and water in a bottle and freeze it overnight, so that it slow defrosts and is a refreshing treat a few hours in.  I think the trick for me needs to be high calorie and lots of salt.  As well as eating right from the beginning at mile 1.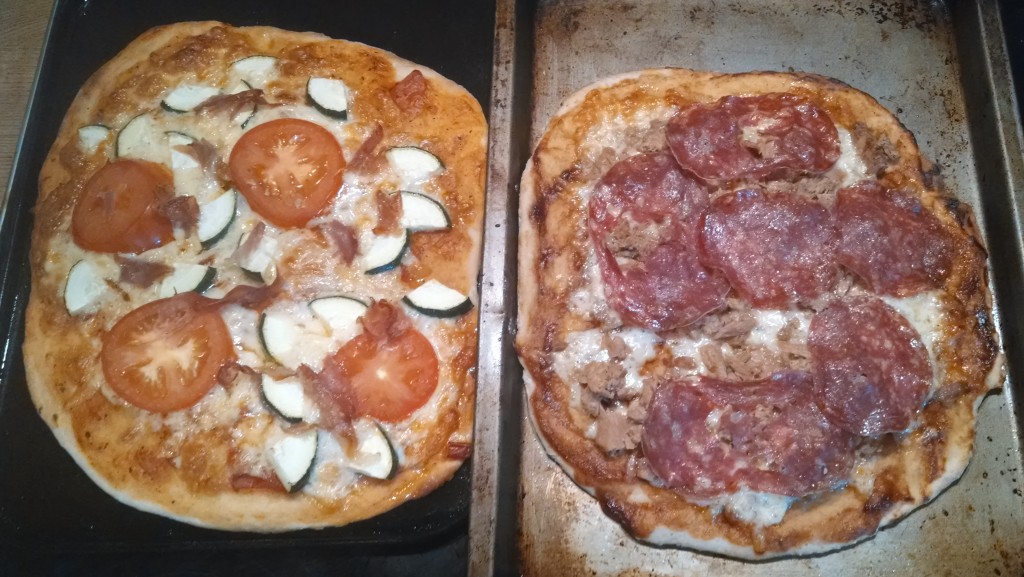 I made these amazing pizzas from scratch on Monday night and Dan said it was spot on perfect!  My pizza had fresh tomato and courgette with a sprinkling of cheese and Dan's was tuna and a selection of meats.
Will you be out there on your own?
Not a chance!  It looks like several of our club runners will be out again this year.  Last year two of our runners attempted the 100 miles, two completed the 70 and there were four that finished at the 40.  Plus, I love the camaraderie that comes with running an ultra event and how everybody chats to everyone else out on the course.  I'm certain I won't feel alone out there.