This week we were down to the last two races in the East Midlands Grand Prix Summer season.  Weedon 10k and Milton Keynes 10k.
I'd not raced a 10k properly since October 2011-not long after I'd started running, when I ran the Bakers & Larners 10k in a time of 58m 35s.  A time I was very happy with after somebody in my beginners group randomly mentioned that all 10ks should be under the hour (Rubbish, by the way!  But that's a post for another day.)
I did run an off-road multi-terrain 10k in February through lots of mud, finishing in just over the hour, but knew I wasn't in the same sort of shape for a decent time on Tuesday night.  Especially when there was a rumour flying round about a large hill on the course.  "4k" Neil said.  "…then it's all downhill to the finish."
There was a large hill at 4k, but there was what felt like an even larger hill at 4.5miles!  By mile 4 I was in the process of enjoying a lovely long downhill which I hoped really did go right through to the finish.  A really nice, long, rolling downhill.  One where I was tempted to let my arms go out to my sides like an aeroplane and fly down.  Then…I looked across the fields to the road we would be 'running' back up to see the hill at mile 4.5!  I decided to allow myself a little walk up it and made the instant decision to throw myself down the remainder of the hill as quickly as possible to make up some of the time I would lose walking the uphill section!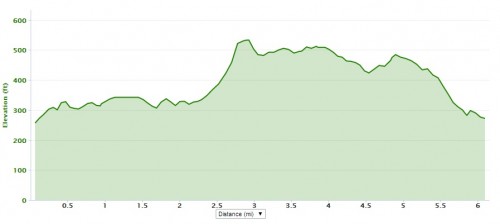 According to the elevation on my Garmin the hill at 4k was steeper and longer.  I swear the second hill looked longer and much steeper though!
Every week at the EMGP races so far there has been a guy sat 100metres behind me for the entire race…until the final 100 metres where he puts a spurt on and zooms past me to take a place infront of me at the finish.  For the first time ever on Tuesday I came over the line a good 30 seconds or so infront of him and when he crossed the line he high fived me in my position on the floor before joining me for a lie down in the cool grass.  It was a tough course with a lot of hills so it was good just to sit and chill for a few minutes before going back out to my teammates to cheer the last of our runners over the line.
Time: 64:50
Position: 284/294
Gender: 30/36
Age category: 13/16
Probably my worst ever placing!  10 places before the last person.  

 I have to remember at these races though that they don't include 'fun runners' and tend to be made up of the quicker runners from local surrounding clubs.  There was no-one representing our bottom group at club, and only three others from my group.  I loved the race, despite the hills and had always planned on taking it relatively easy after running my long run the day before and already having a lot of miles in my legs from the past few days.  I didn't want to stress over times or paces and a combination of putting my Garmin on the wrong arm, on the underside and upside-down helped me achieve that!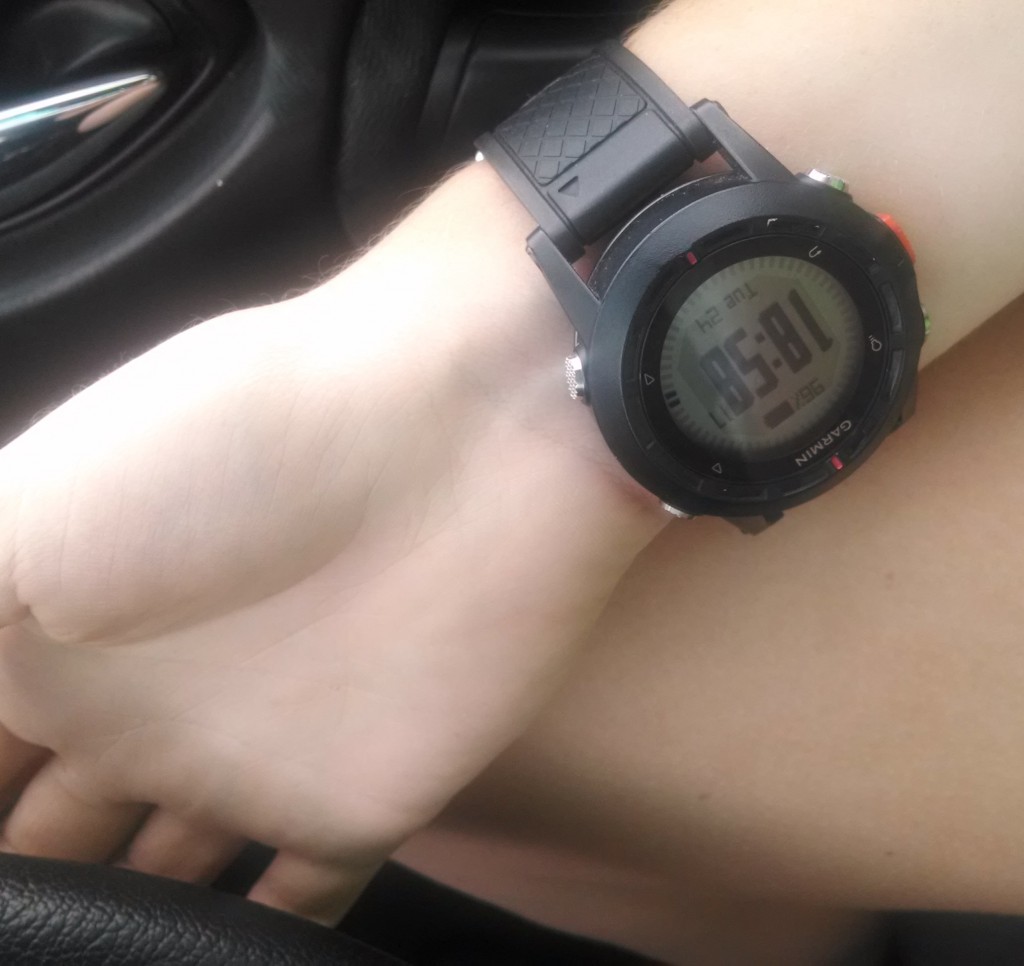 I completely forgot to take any cash with me for the race.  Everyone had been raving about the Weedon 10k cake stall at the race HQ for the past few weeks.  I'm pretty sure that was the main reason we had as many supporters as we did on Tuesday!  I had to watch on enviously as everyone else loaded up their cars with cake for after the race.  Next year, I will remember!
I just had a quick search on Google for Weedon 10k cakes, and my search didn't return any results.  

 I don't understand why there would be NO pictures of the amazing display of cakes that were on offer!  My search did, however return a few parkrun cakes…which prompted me to search for those instead.  Check out some of these beauties!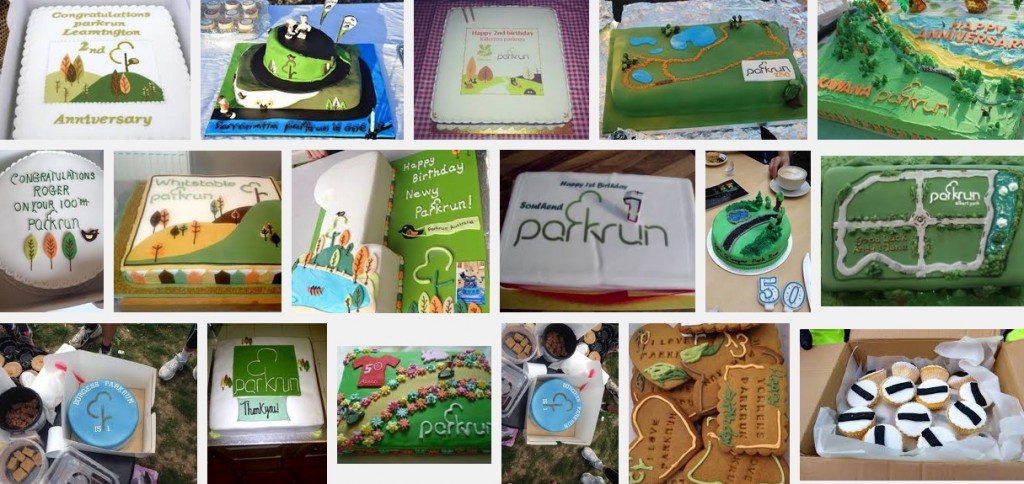 I think this one is my favourite.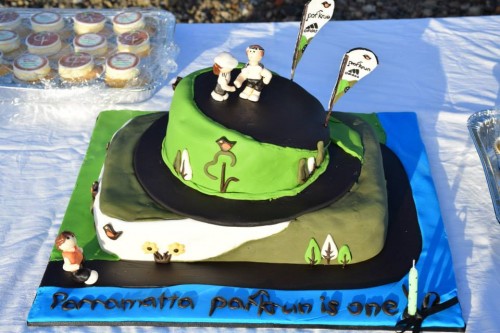 Parramata parkrun in Australia's first birthday cake.  Just Wow!  I love all the little details on it like the birds, trees and the parkrun flags!
Almost every Wednesday for the past six months I've joined in with an informal trail run.  It's mainly made up of runners from our running club, although as it is not an official club run, there are a few partners/friends that join in from time to time.  Last night as I was getting ready to head out on the run Dan asked how far I was going.  I replied with "Why?  Do you want to come?"  He explained that he had actually wondered what time I'd make it back home but that he had been planning a little run that night anyway.  (I think after his slower time on Saturday he's eager not to let his parkrun times slip back again.)  After a little persuasion, I managed to get him to agree to run with us and so we arrived at the pub just before 7pm, along with thirteen other runners.  Trail running is really becoming popular at the moment!
He actually did really well and said he thoroughly enjoyed it so hopefully he'll be joining us for a few more runs over the Summer.  I think our way of running really suited him – much more stop and start out on a trail with that number of people.  He is comfortable with stop and start running – that's how footballers are used to running!  There were several gates to climb (or jump if you were one of the boys!…How do they do that?!) and lots of overgrown bridges with nettles.  I am NOT a nettle fan!  There was one large field filled with rape which is now at the point of all being tangled together-a nightmare to run through.  I actually made it to the other side bleeding in several places from where the rape whipped me across my legs!
Starting and finishing at a pub does have it's perks and we enjoyed a pint at the end of our tough 7.3 mile run.  (Whoops…I told Dan it would only be 6!)  The perfect finish to the day!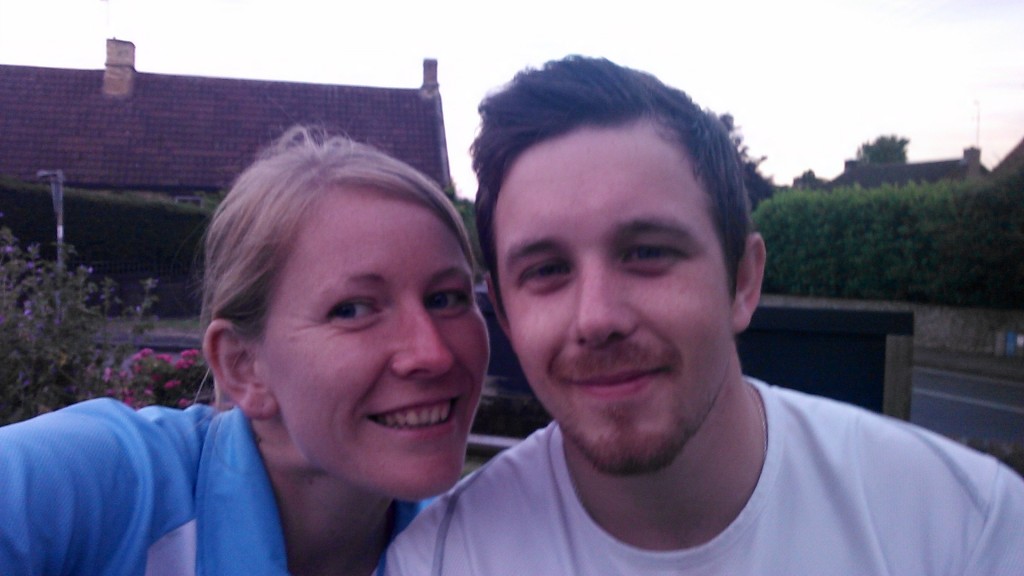 Does your partner run out with you?  Ever finish a run at the pub/cakeshop?!  (If not, why not?!)
Do you ever walk during races or is walking a big no-no?  I used to never let myself walk, but I've gotten a lot more lax about it since I've started running more long distance events.