Yesterday I woke up super early, got a vegetarian style version of full English breakfast in me and headed out at 6:15am to Coombe Abbey, ready to marshal at the Running Festival.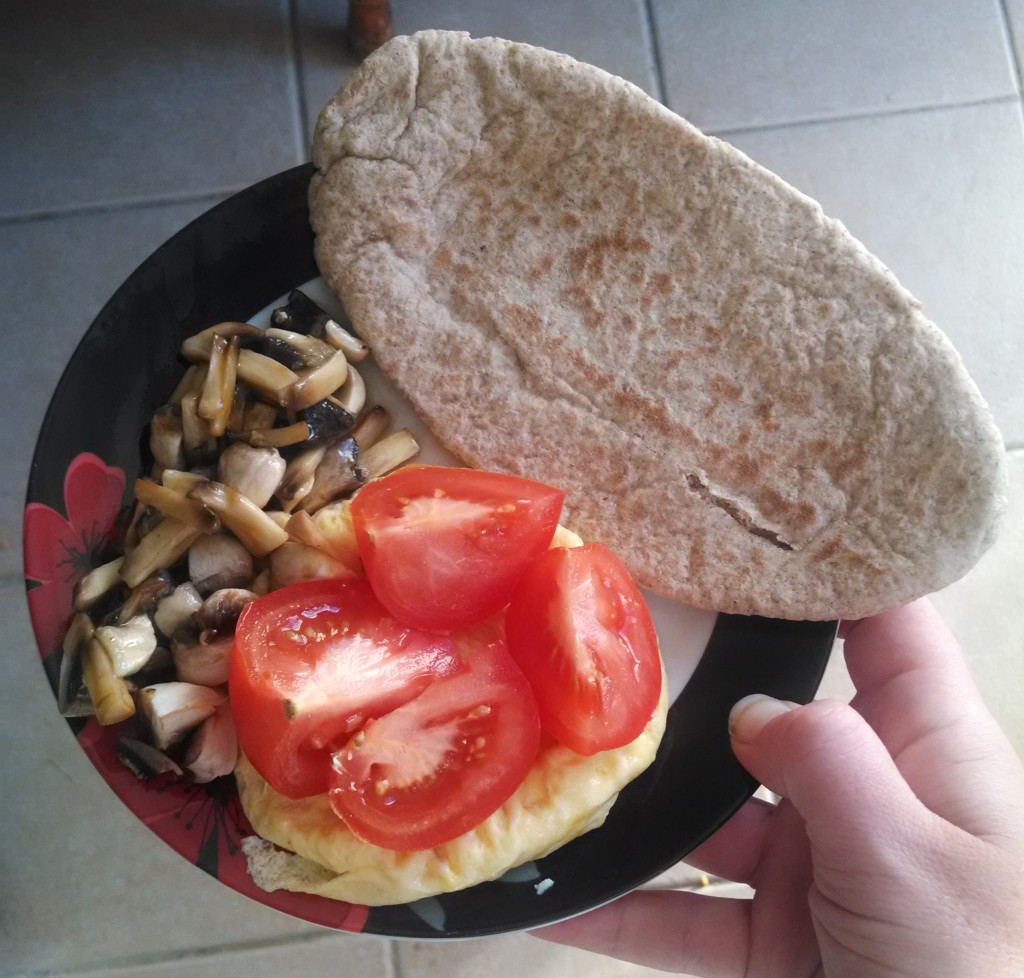 I must say that brekkie kept me going all day until the point where I got my mitts on a few jelly babies at the water stations whilst the last marathoners were coming over the line.
I started off on the registration desk with a few other runners from my club checking people off as they came to collect their numbers and t-shirts for the event.  I think the first runner turned up at 8am, and the race didn't start until 10:00, 10:05 or 10:10am (10k, half marathon and marathon respectively)  Good job we got there early!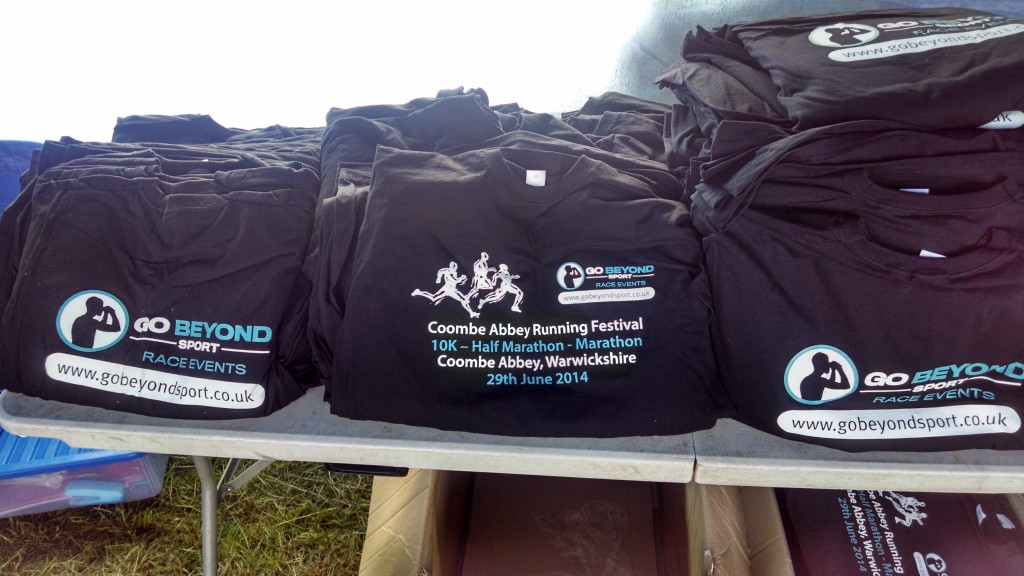 I do love working on the registration desk, recognising runners I've either seen at events I've run myself, or from other Go Beyond events I've worked at and having a natter about all things running with a variety of different people.  I love anything organisation based too, so it's great having lists, ticking names off and getting things into some sort of order first thing in the morning!
A little before 10am I was sent off to my marshaling spot.  I was at marshal point 4.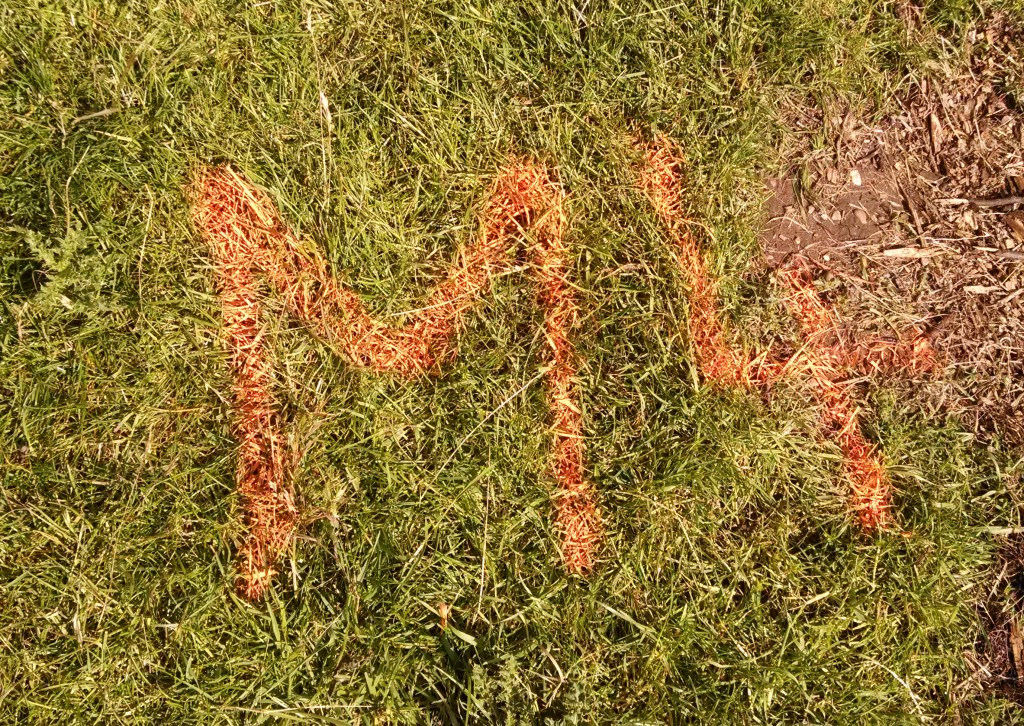 Marshal point 4 was about a 15 minute walk from the start line (for me as I walked straight across the long grass in the field, not for the runners who had to go the long way round!)  When John, the Race Director for the day pointed me in the general direction of the gate I was supposed to guard and said I should be able to find it OK, then told me there would be the possibility I would have to direct sheep and sent me on my way ten minutes before the 10k runners set off I will admit I became a little worried!
– 1 – That I wouldn't actually find the correct gate and would be steering runners into a lake or field without an exit and angry runners would soon be heading back in my direction threatening all kinds of horrible things.  (Never get on the wrong side of a runner aiming for a PB!)
– 2 – That I would lose some sheep into a different field, or lake, or have to jump the gate in order to escape as they charged towards me.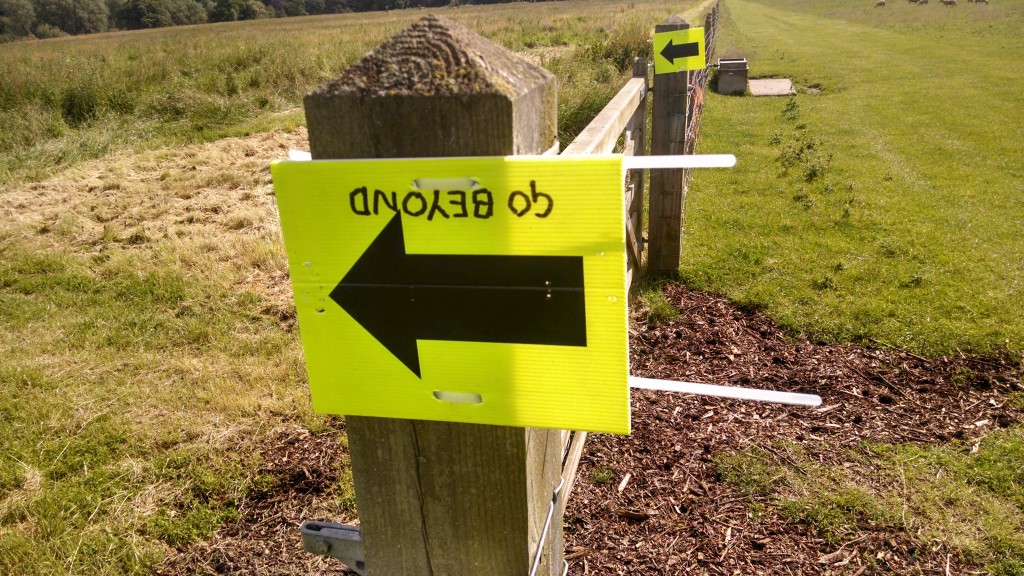 Luckily there was the nice big M4 sprayed onto the ground where I needed to stand and some big arrows on the gate itself informing the runners which way to head.  The sheep were a little way away, although when the first 10k runners started storming through the field the sheep legged it up the track as well…full pelt…Then all the way back down to the other end.  No direct charging at me, but I did worry for my fellow marshals at the end point gate!  Luckily all sheep were settled and accounted for within 15 minutes or so.  Sheep panic over!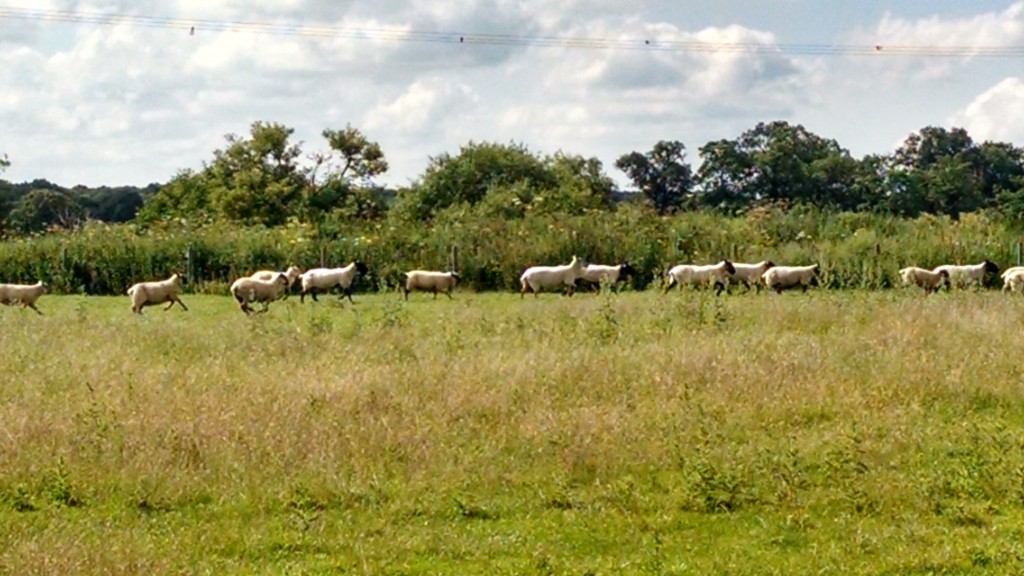 There are three Go Beyond running festivals.  Northampton, which I worked earlier in the year, Coombe Abbey and Brentwood, which doesn't happen until October.  All three events consist of a lap of about 3.5k, which is run 3 times if you are completing the 10k race, six times for the half marathon and twelve times for full marathon distance.
I knew with the possibility of standing out on the course for upto six hours or more my hands would not survive clapping for the entire time so as runners came past I instead shouted out "Well Done", or to mix it up, "Well done guys/ladies" everytime a large clump of runners came through together.  Hope I wasn't too repetitive!  It's hard to get inventive with new lines when you only see people for a second each time they pass and some people just prefer to run in peace!  I chatted to those I knew and some runners had some great banter back for me.  One guy told me a new cheesy line each time he passed and several let me know when they were on their final lap and thanked me for my support out on the course.  As runners ran through my gate there was a downhill section, so they were usually pretty happy and upbeat by the time they reached me!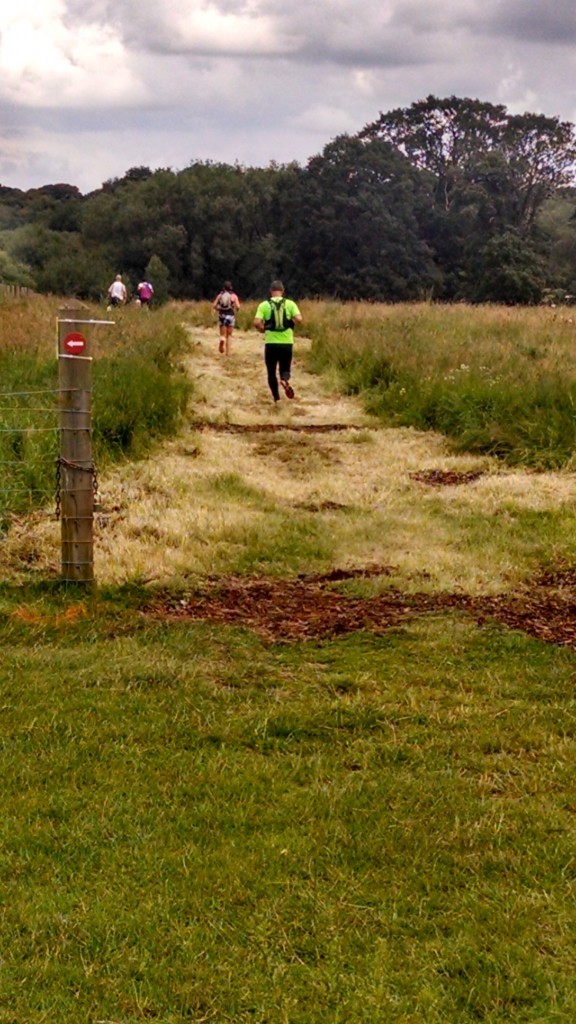 After the all of the 10k runners had finished and some of the half marathoners had begun to make it through the line the lines of people coming through my marshal point became a bit more sporadic and I had time for a quick marshaling selfie.  It was such a beautiful day.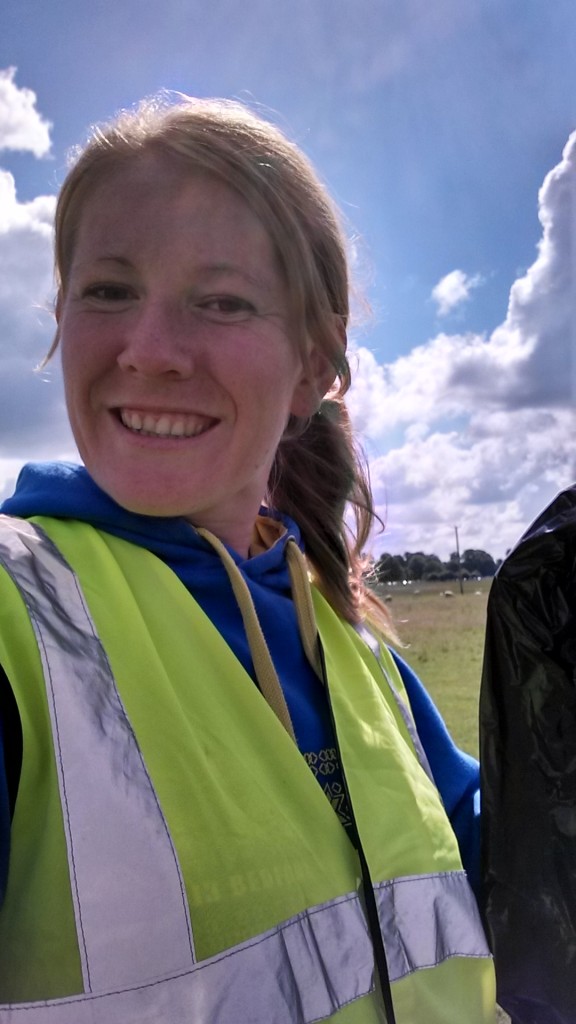 I had to keep alternating between taking my hoodie off and rolling my jeans up, to quickly throwing my hoodie back on and pushing my jean turn-ups back down again.  The sun was lovely, but there was also a strong breeze.  Nice weather for the runners at least and the sun made the grounds of the Abbey look absolutely stunning.  I wish I'd had more of a chance to look round.  I had been tempted to throw on my Garmin and take a run whilst I was up there, but in the end I gave somebody else a lift from my town and didn't get a chance to.  My legs had had enough by the end of the day anyway though.
At about 2pm ish I was relieved from my spot at the far end of the course and brought back to the start/finish line to help provide water, gels and jelly babies to the runners.  After a morning out on my own it was nice to be able to have a bit of banter with some of the other marshals and to cheer runners through as they were making their final push towards the finish.
Each time a runner came through the line they were given a hair scrunchie so that they could keep track of which lap they were currently running (although they were also chip timed).  The standard way of keeping hold of the scrunchies is around your wrist but here are marshals Phoebe and Ashley modelling how you could wear your scrunchies to provide entertainment between laps!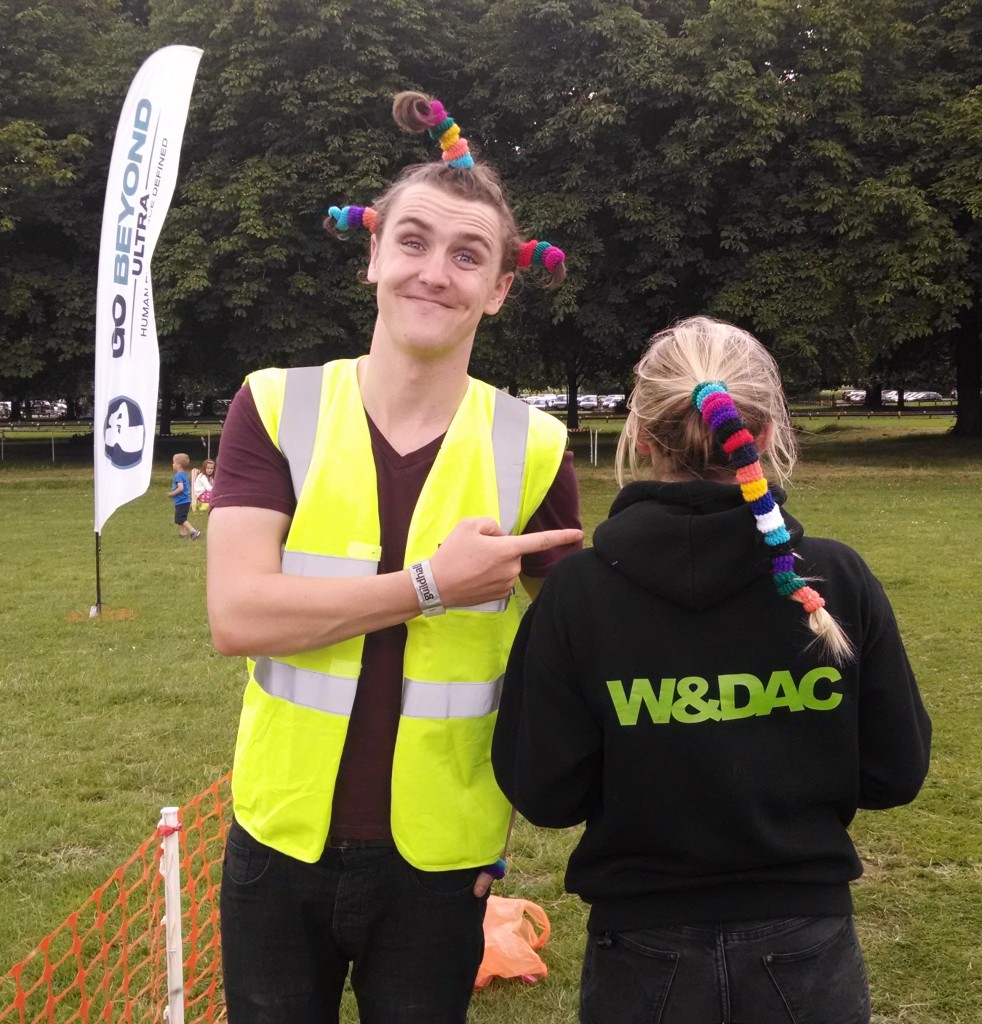 It was incredibly lovely when the third place lady in the marathon came over the line then made her way over to me to tell me she reads my blog!  Lovely to meet you.  I hope you enjoyed the race.  

The last runner came through in 6hours 10mins and then we began a full shut down of the course and started to load up the van.  With so many of us there and all hands on deck it didn't take long and it wasn't much after 5pm by the time we left Coombe Abbey to return home.
I'm marshaling again at Pitsford Triathlon in a fortnight's time with much of the same crew.  Come and hunt me out to say hi if you're there!
When I got home I was tempted to make tea for Dan and I whilst sat down at the kitchen table, but in the end I did convince my legs to stand for long enough to make some honey chicken with spaghetti peas and mushrooms for us both.  The mushrooms just for me, not for Dan.  He won't even touch one to cook for me!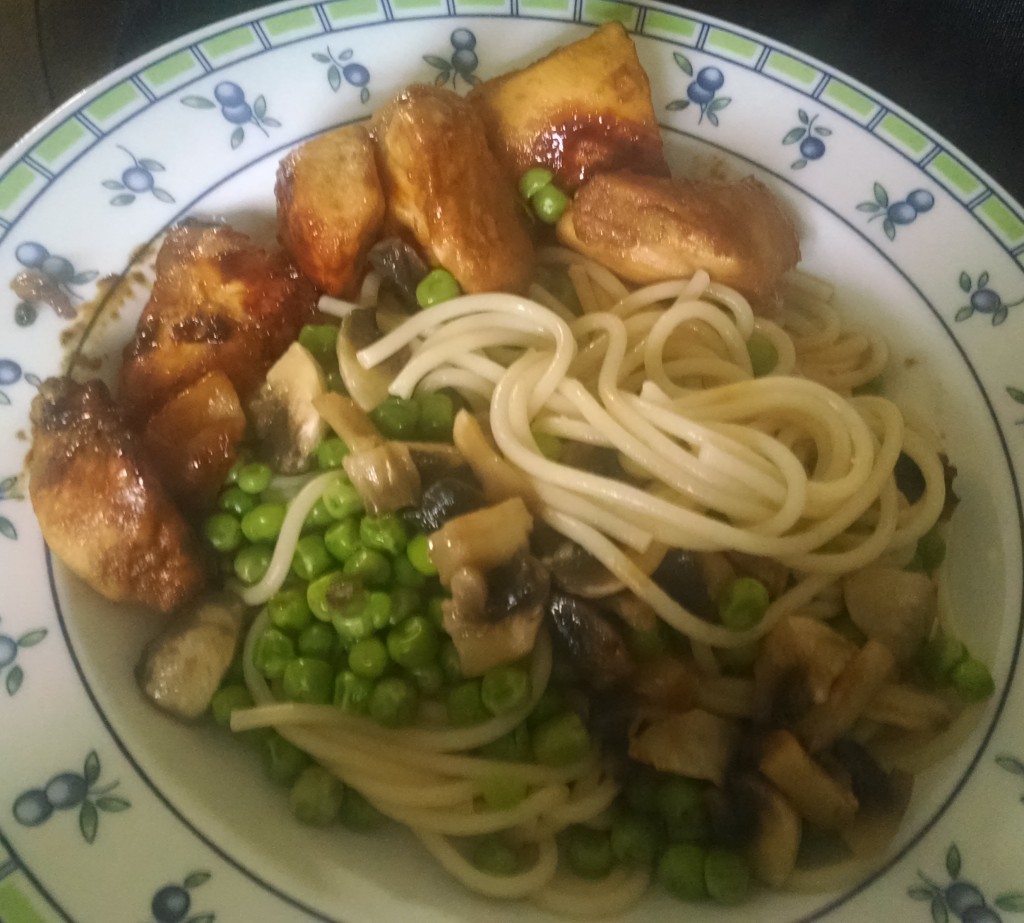 Ever had to leap a gate to escape sheep before or had to do some impromptu herding of farm animals?!