10 days to go and I've now finalised our seating plan.  In the last week there have been new additions, lots of juggling of seats and a few requests catered for.
I'm pretty sure there's no one from our wedding other than possibly my Mum reading this post.  And she knows where she's sat anyway!  Plus, it's all stuck down now…no swapsies allowed!
As an afterthought I probably should have photographed on a surface brighter than concrete, but I photographed early this morning and the grass outside was still covered in dew.
I bought a browny-grey canvas from a local craft shop for £15 along with the tiny ribbon roses for 49p in the bargain bucket.  The ribbon was £3 from Hobbycraft and I have enough left over to use for bouquets and to help decorate our card box.  The other card was left over from when I made our invitations.
For each table I printed all guest names onto white paper, which I then mounted onto the dark brown card.  Three tiny roses are alongside the edge of each table listing, and I cut large table numbers out of black card to go alongside.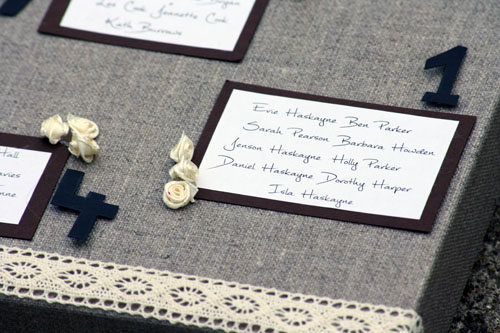 The top table was laid out on circular white slips of paper with a large strip of brown card as the backing.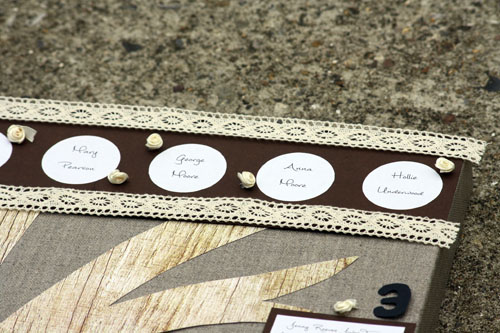 I also printed out a list of who chose what to eat for the day to be placed on each table to help both the caterers and the guests remember.  They ordered their food a long while ago!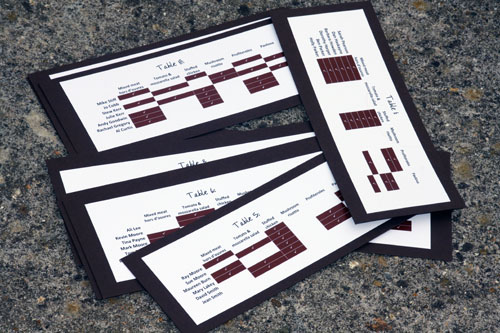 I was inspired by this design I discovered on Pinterest for our seating plan.  After a bit of scouting around I actually discovered that you could order this board, personalised for your wedding.  But at a cost…£180!  Hence why I gave it a go making something similar myself.  If you're looking for some inspiration for seating plans, I pinned several while I was deciding upon how we were going to display ours, so check out my Pinterest board for some ideas.
Have you ever been unhappy with where you were seated at a wedding?
If you are married, how did you decide who to sit next to who?