How do you train for a 70 mile race followed by a marathon followed by a 50 miler?
I don't know.  I'm basically making it up as I go along…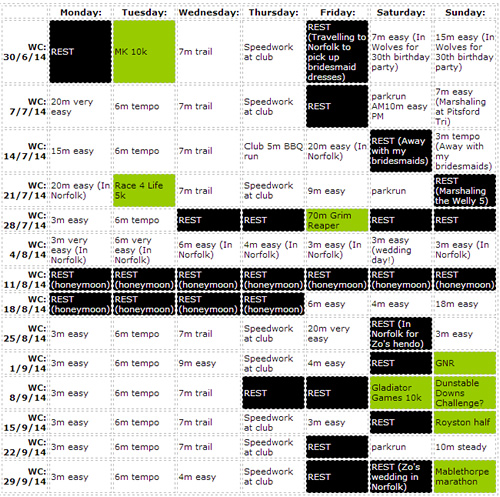 This is what I've worked out up until the start of October when I shall be running my goal marathon, Mablethorpe, hopefully for the second marathon PB of the year.  (Fingers crossed!)
It's actually only 14 weeks away now until Mablethorpe, which has come round really, really quickly!  I set out the weeks in the table above and filled in the races I'm at first, then slotted in my social calendar outside of running as I know there are some days that I physically and logistically would not be able to get a run in.  Each week has at least one rest day, with eleven days off of rest back to back for when I go on honeymoon in August!  I've also ensured I get a quicker session in each week with either a speedwork session at club or a tempo run, with a few parkruns thrown in for good measure.  As I'm quite close to the Grim now, (less than five weeks away), my miles are not particularly high as I don't want to get injured or burn out before the day, but I do have a few longer runs planned back to back so that I can practice running on tired legs.
I spoke to a club runner at the weekend who ran the Grim 70m last year and he told me that he had actually ran no further than 20 miles before the race and taken a couple of weeks off completely when on holiday in the build up to the race.  My weekly mileage has been around the 50m+ mark since coming back from injury in January, and since London marathon in April I've run 10+ runs over 20 miles with my top distance run just under 44 miles.  I'm coming from what I consider to be a good fitness base, and mentally I'm stubborn and strong.  With no serious time goal to stick to I hope I'm coming from a strong position in order to finish the race.
September is currently looking very busy for races with four of them within two weeks of each other.  Great North Run is a definite, as I had to defer my place last year and I have been given a place in the Gladiator Games 10k in return for blogging about it so that race is also a certainty.  I would like to run the Royston half (a trail half marathon) as I have heard only good things about it, it's part of our club trail series and only £6 to enter.  Can't go wrong with £6!  The Dunstable Downs Challenge is another trail race that's part of the club trail challenge series, but at a marathon distance.  If I were to enter the DD Challenge, I would run it very, very easy, but I'm pretty sure I won't be entering as I don't want to overdo it before Mablethorpe.
My goal races are the Grim Reaper where I aim to just finish the event and Mablethorpe marathon where I would like to duck under the 5 hour mark pretty please?!
After Mablethorpe I'll taper back down before Dusk 'til Dawn at the end of October and then have a few months of easy running – no plan, no races booked in.  Just what I fancy, when I fancy it and enjoy a bit of married life hopefully!
How do you work out your training plan for races/keeping fit?