It was Milton Keynes 10k last night, the final race in the East Midlands Grand Prix series for 2014.
Despite my initial grumbles (about my lack of speed) I've really enjoyed running the series (I ran 5 out of the 8 races) and my running feels a lot stronger for pushing it that little harder midweek over the past couple of months.
After having run the marathon twice at Milton Keynes, and driven around the city a few times I knew the course would be relatively flat and straightforward.  Not my favourite style for a race at all.  But in the end I was pleasantly surprised!  The course was definitely not pancake flat as we mainly followed the redways through the outskirts of town.  Down underneath the road and back up the other side.  All on paving apart from the start and finish which took place on the grass field outside the Open University.
I started off at around 9mm pacing.  I didn't want to run any of my miles quicker than this and burn out too soon.
At around the 5k mark there was a water station.  Excellent.  It was a really hot night and I had originally been planning on wearing a t-shirt underneath my club vest but I'm incredibly glad I changed my mind and nipped to the changing rooms to remove my tee before the gun went.  Surprisingly during the race I was barely sweating at all.  Normally I'm dripping with sweat before the end of the first mile!  I did feel incredibly hot though so welcomed the bottle of water passed to me.  It was a large bottle.  I've been used to the mini bottles given out by most races I've run or marshaled just lately so to have a regular size bottle thrust into my hand was a nice surprise.  When I went to open the bottle though, the top was twisted tightly shut and with my hot hands I really struggled to undo it.  I managed to get in eventually though and took great delight in flinging some of the cool water down the back of my head and neck.  That felt amazing!  I only literally took one, maybe two small sips out of the bottle before chucking it to the side of the path.  I hope they recycled their bottles from the race like the marathon do!
Just after we'd been through the water station I caught up with the guy who has been finishing just infront of me at all the other EMGP races this season (apart from Weedon 10k last week where I got there just before him!)  I was still feeling really strong at this point and glided past him as he yelled out that he would see me at 9k.  (The point in the race where he normally comes zooming past me!)  He never did though, so guy I don't know – 3, Mary – 2.
I was so happy with my running and pacing up until about mile 4.  Then, my legs decided that they'd actually been running quicker than normal for quite a long while now and could they stop please?…  I toyed with a walk for a couple of strides and a guy I'd just passed told me not to destroy all of my hard work and that was all it took for me to pick the pace back up again.  My head was fine after that!
And when I got to the 8k marker and saw that I still had 12 minutes left to come in under the hour I was on it then!  Although I must have started my Garmin a fair bit after they started the gun clock as the time on my watch didn't match the clock time when I got to the line.  My Garmin, like everyone else I spoke to after the race, also measured the distance at about 6.3 miles.
As soon as I could see the finish line I picked up the pace and picked off another runner before crossing the line.  They didn't appear to have a sprint finish in them at all.  Clearly I'd not used enough energy on the way round as I was still buzzing!
Mile 1: 9:09
Mile 2: 9:22
Mile 3: 9:43
Mile 4: 9:39
Mile 5: 9:48
Mile 6: 9:56
Nubbin (0.3m): 8:32 pace
Official time:  60:41
Garmin time: 60:34
Position:  447/475
Age Graded (SF) position:  40/46
Gender position:  119/137
I was pretty happy with my race.  I kept my head together, I slowed my pace below 9mm (was aiming for about 9:30 pacing, and my Garmin clocked it at 9:33) and I felt very strong still at the finish.  After the race I stuck around for the prize giving as some of our club members won prizes for the series.  This meant another nearly 11pm getting home time last night though.  That's one thing I won't miss from the race series!
Dan and I had a £1 voucher to spend on icecream at Spar so tonight after work we used our voucher to pick up these Strawberry cones.  4 fullsize cones for free.  At only £1 for the four normally though, I'm pretty sure they are going to become a regular on our shopping list this Summer!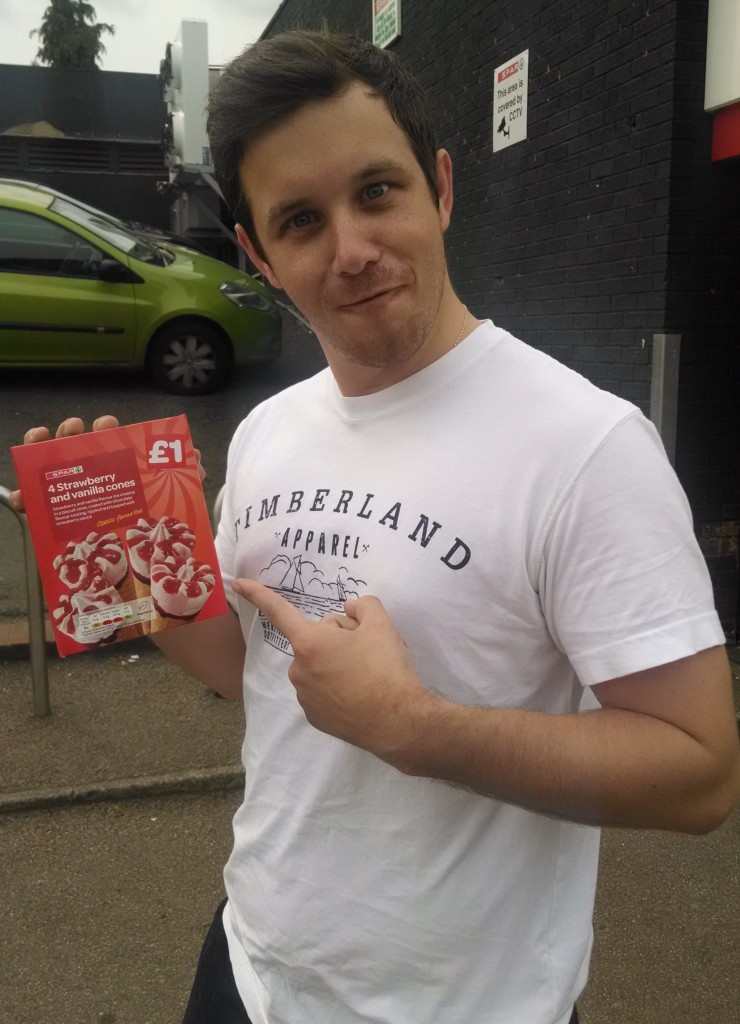 It was super sunny and warm today so I tested out some of my new clothes from my Primark haul at the weekend.  My outfit for the day only came to £9.  £5 for the dress, £4 for the sandals, and they are so comfy as well.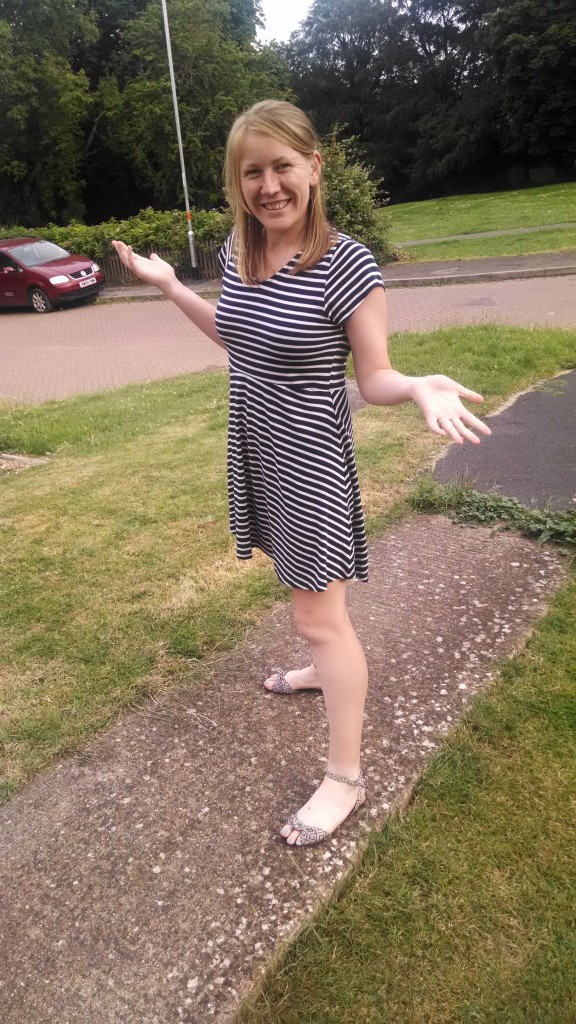 We also received our first wedding present that wasn't monetary today from a friend at my work.  She took our names with Scrabble tiles and placed them on a map of Staffordshire, which is where Dan and I went to Uni together and first met.  Then framed the creation.  How lovely.  I love personal and handmade gifts.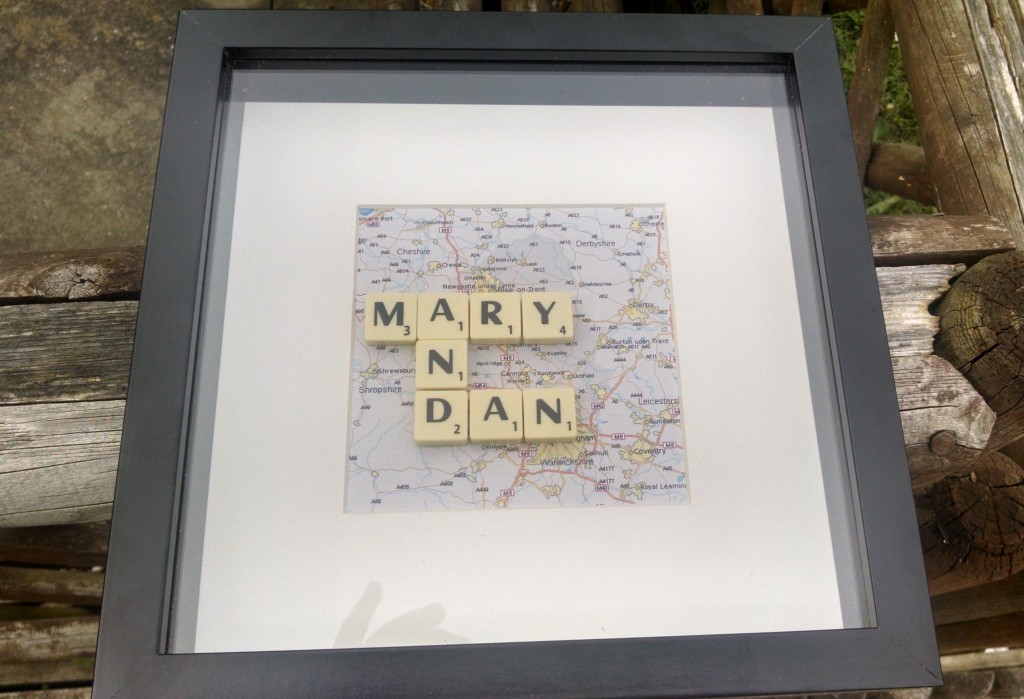 What is the most personal gift you have received/given someone?