The problem Dan and I have is that we met at Uni in Staffordshire.  He came from Wolverhampton, I came from Norfolk.  When Uni was over, the debate started…where should we live?  I didn't want to be a four hour drive from my friends and family and neither did he.  In the end the decision we came to was that we would move halfway between the two…to Northamptonshire in the East Midlands, so that we were never more than 2 hours away from either hometown.
However, this has meant that we always spend our weekends driving.  Either back for events in Norfolk or to Wolves.  This week, Friday was spent with me catching up and visiting people in Norfolk and then on Saturday we both headed over to the West Midlands to visit friends and family there.
First stop was to my friend Amy in Birmingham who is 37 weeks pregnant with twins.  She was due to go into hospital on Thursday to deliver as to carry twins full term is classed as an unnecessary,  added complication so new Mums are taken in at 38 weeks for delivery.  (However, 20 hours or so after we left Amy's, I received a text to say both babies had just arrived!  We had just missed them.)  Welcome to the world George and Ava!
Next stop was to see Dan's Nan in Wolverhampton.  We always try and visit each time we're back and this visit she had pulled out some old photos of Dan I had asked to borrow for the wedding.  I'm hoping to make a photo collage of loads of old photos of us both for a display in the venue.
After an hour or so spent there, we headed to Dan's parent's house, where his brother was helping his Dad set up a playhouse for the five Grandkids in the garden.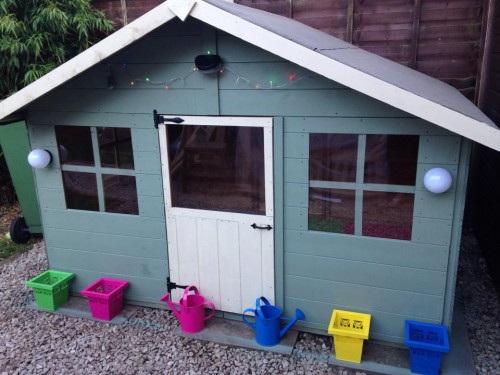 After we'd eaten a sandwich each and dropped off the bridesmaid dresses for Dan's Mum to alter we headed over to Go Kidz Go for Dan's friend Andy's 30th birthday party.  Andy is going to be one of our witnesses at our wedding next month.  His girlfriend had arranged a surprise birthday party at the children's centre which was booked out just for our use.  It was great fun, although so hot inside.  We were sweating buckets within minutes.
Some of the sections of the indoor centre were pretty scary for me as a 29 year old.  Never mind for five year olds!  This was the view from the top of the main slide.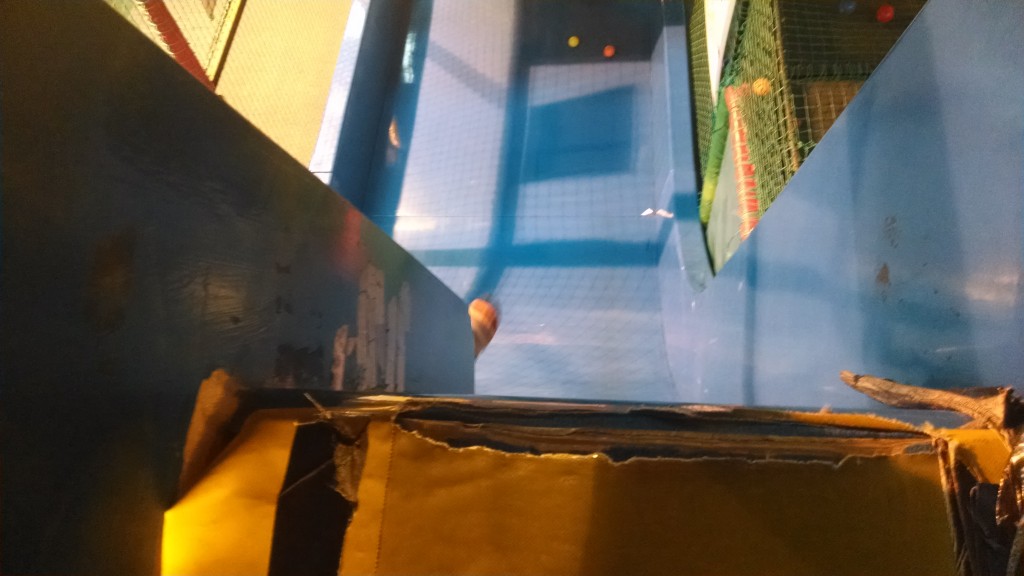 It was pretty much a vertical drop!  I had images of me doing a face plant straight to the bottom.  Luckily that didn't happen, but I did scream the whole way down!  Dan, of course, loved it.  We've decided we need to steal our nieces and nephew more often to take them to places like this!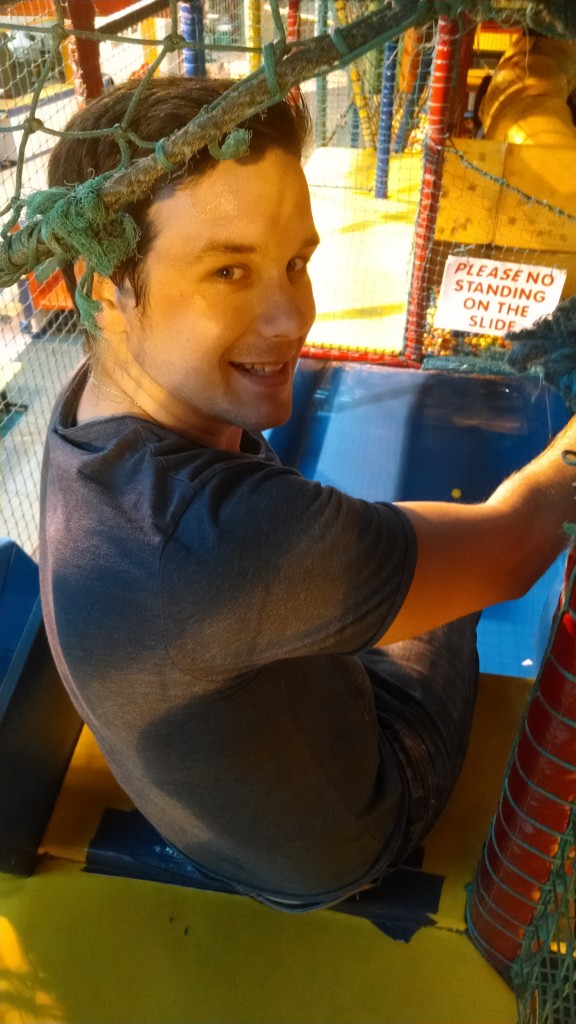 After an hour of rushing around we were all pretty zonked out in the ball pit throwing balls at each other.  The guy in charge brought out some balloons and instructed that we blow them up and place them underneath our tops.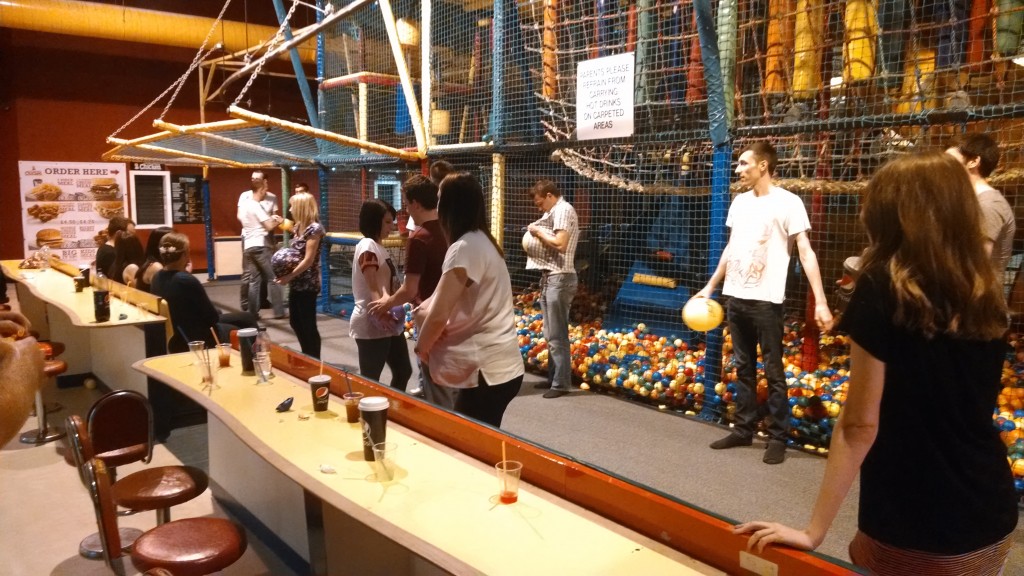 The idea of the game was to stay in the enclosure until you had your balloon popped by another player.  Once your balloon was popped you had to sit out.  For ages I hid underneath a large blue cushion with another girl until we got rumbled and attacked by a group of guys.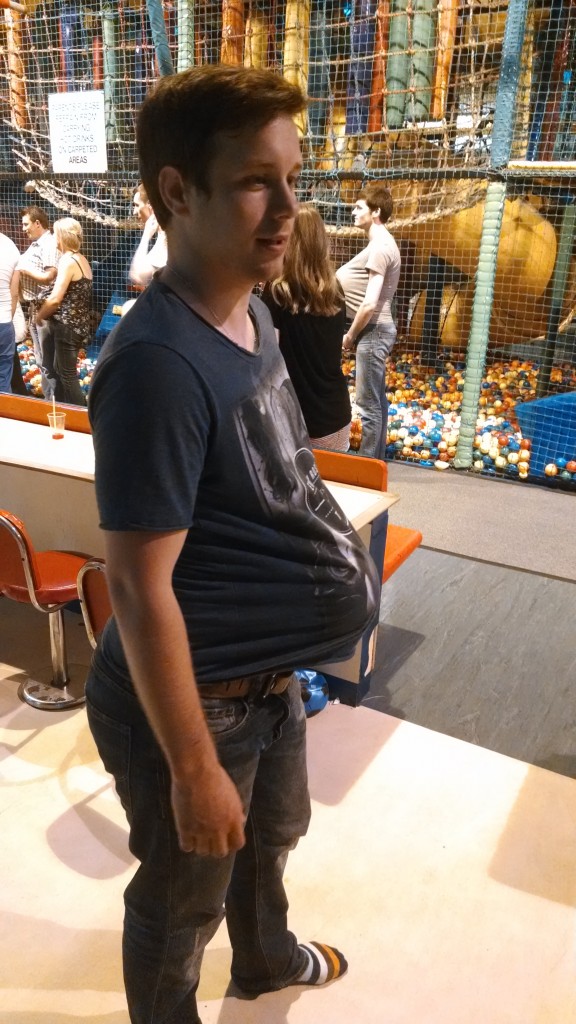 The games were good, but pretty exhausting so we had a break for slushies and cake.  It was a beautiful cake!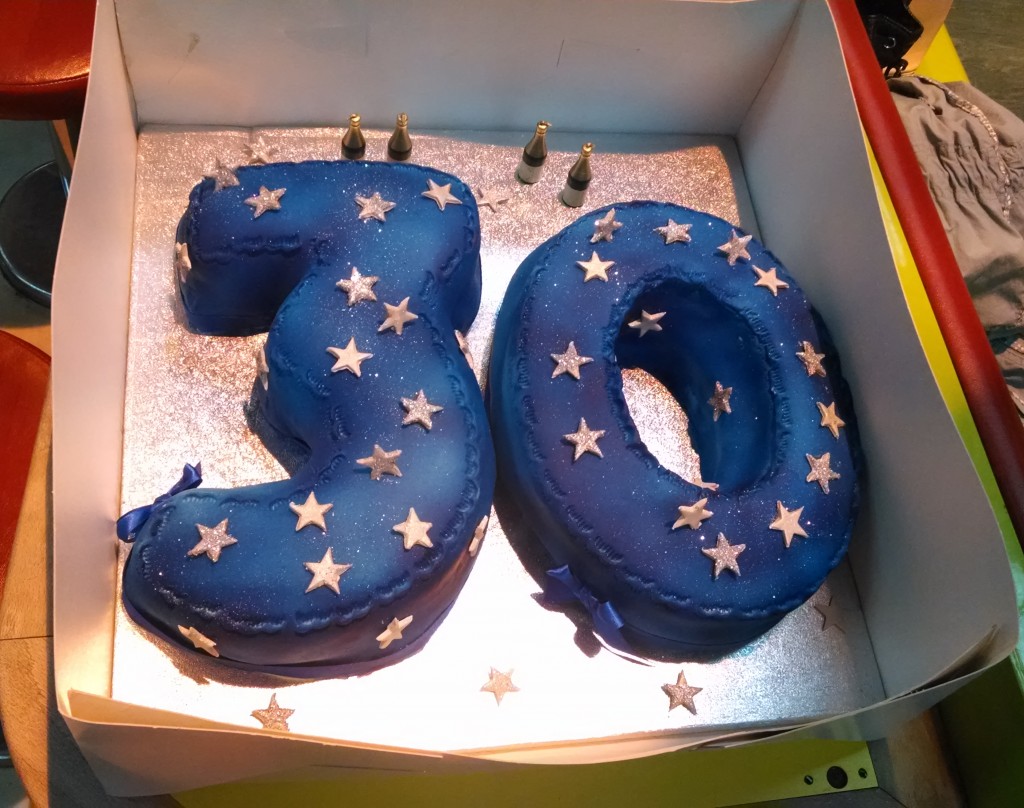 My 30th is at the end of the year.  (Scary!)  I've left it up to Dan to organise as I've been so busy with planning for the wedding.
Have you ever had a surprise birthday party before?