Last night Dan and I missed our regular Monday night pub quiz so that we could finalise numbers with our caterer and marquee hire company for our wedding next month.
I thought it would be an easy task, but in fact when I filtered all of the 'Yes' reponses in our Wedding spreadsheet  (Yes, we both work in IT…there is a wedding spreadsheet!) I forgot the 'Maybe' responses.  And then I got confused about the number of meals required.  75 guests, 3 children, 2 child meals, 1 baby – no food…And the number of seats.  72 adults but 73 chairs…And the number of tables…And then my Mum rang to say my Aunt Maureen was actually able to come now…
Both our caterers and the marquee company received two emails from us last night.  One carefully drafted, politely written email stating that numbers had changed.  This email was quickly followed with a panicked, probably misspelt email telling them to forget everything I'd said in the previous email and to focus on the numbers I sent them the second time round!
Without further ado, enjoy my light-hearted list of things Dan and I didn't realise about the politics of having guests at weddings when we signed up to getting married last year!  (This list is in no way meant to offend any of our guests and is just a fun but realistic run down of some of the things we have discovered over the past couple of months, which might help others when they are planning for a wedding.)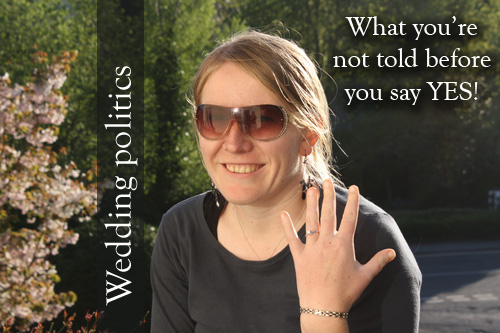 * You won't get all your responses back by the time you asked for them, so set an earlier date than you actually need.
* About 20% of your guests will probably not be able to make it.  Have backups in place or be prepared for less people on the day.  We've lost people for the day to pregnancies, long distance drives, holidays, long-term illness and other weddings.
* Some guests respond as "Maybe", despite that not being an option on the invitation response card!  If I only maybe ordered your food, then maybe you wouldn't be too impressed!
* Not all guests that respond to say they are coming will remember to return their food choices with the response so you're left ringing round chasing to find out who ordered chicken and who was planning on having the risotto!
* Some people will just respond with a text saying "We're coming."  (Just remember you love them!)
* People want to know what you want as a present so be sure to have something ready to tell them.  We initially planned on choosing out some items for our new house and adding them to a gift list, but now that we are no longer moving before the wedding, we're not sure of what we need other than money to pay for the wedding, and I feel uncomfortable asking for that.  Also, I'd love some presents that we will be able to say "we received at our wedding XX years ago."  Lots of people have asked though, and I've ended up leaving it quite open and non-committal.  I like surprises!
* Don't expect everyone to address the envelope to the correct names!  We've had several variations of Mr and Mrs Moore / Mr & Mrs Pearson / Dan / Bride and Groom / The future Mrs Pearson / Miss Pearson / Dan and Marie / [No name]
* Your Mother will want you to invite family members you've never heard of before, never mind met.  Think cousins of Great Aunts and children of your Dad's cousin.
* His Mother will want to upgrade all of their side of the family to a full day invite, despite that meaning that you more than double your numbers and would become bankrupt before the day.
* Guests get new partners between you issuing the Save the Date months earlier and the wedding.  I've been in the situation before where Dan and I had not been together long and I was invited to a full day wedding, with him invited for just the evening.  It was a wedding we traveled for, which made it incredibly awkward regarding transport, and I was forever grateful when the bride rang two days beforehand to say that somebody could no longer make it and did Dan want to attend the full day instead?  We've invited all known partners to our wedding.
* Guests will tell you before the day "I'm not sitting near XX" or "Please can I sit on the same table as XX?"  It is literally like issuing a new seating plan at school to a class of teenagers.  Except it's much harder to say "No" to friends and family.
* The seating plan should be a perfect balance of people with similar interests and ages.  Tables should contain an even number of people and ideally the same ratio of men to women…In our case it ended up becoming a pot luck exercise towards the end.  I'm told there's always one odd table at the back?…!
* Some people will become super excited about your wedding, even more so than you and go from ringing you never, to several times a week to see how you are getting on with wedding planning.  (There is usually no progress to report.)
* Some guests will repeatedly ask you if you are nervous yet.  These guests make you nervous!
* Check and double check numbers with caterers and the venue.  I almost ordered three less chairs than required last night.  And someone wouldn't have been eating the chicken OR the risotto!
* The time between getting engaged and getting married goes super, super quickly and it feels like you won't get it all done.  (I'm in this stage right now!)  I'm quite a laid back, but fairly organised person and anything that doesn't happen, doesn't happen.  The majority of the guests will never know!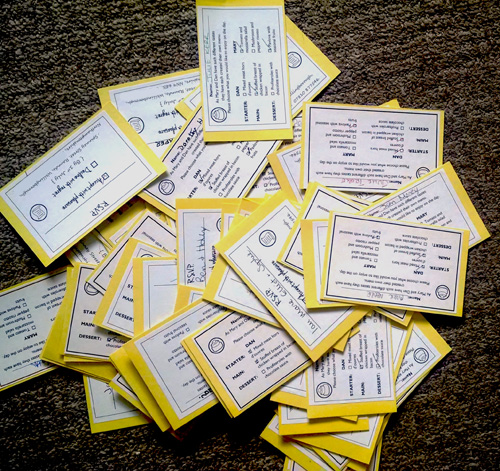 I have thoroughly enjoyed the planning for it though.  Hopefully the points above come across in a light hearted way?!  Some of the points above have had Dan and I in absolute hysterics!
I love planning for events and I can't wait to see all of our little touches on the big day. Want to find the best venue source for your dream wedding? Refer to wedding venue Dripping springs tx to choose from various breathtaking places.
Anything you would add to the above list?