I've been loving muesli, yoghurt and fresh fruit at the moment.  It's something to do with how hot it's been just lately, especially when I get back from an early morning run.  I find myself just craving some cool yoghurt.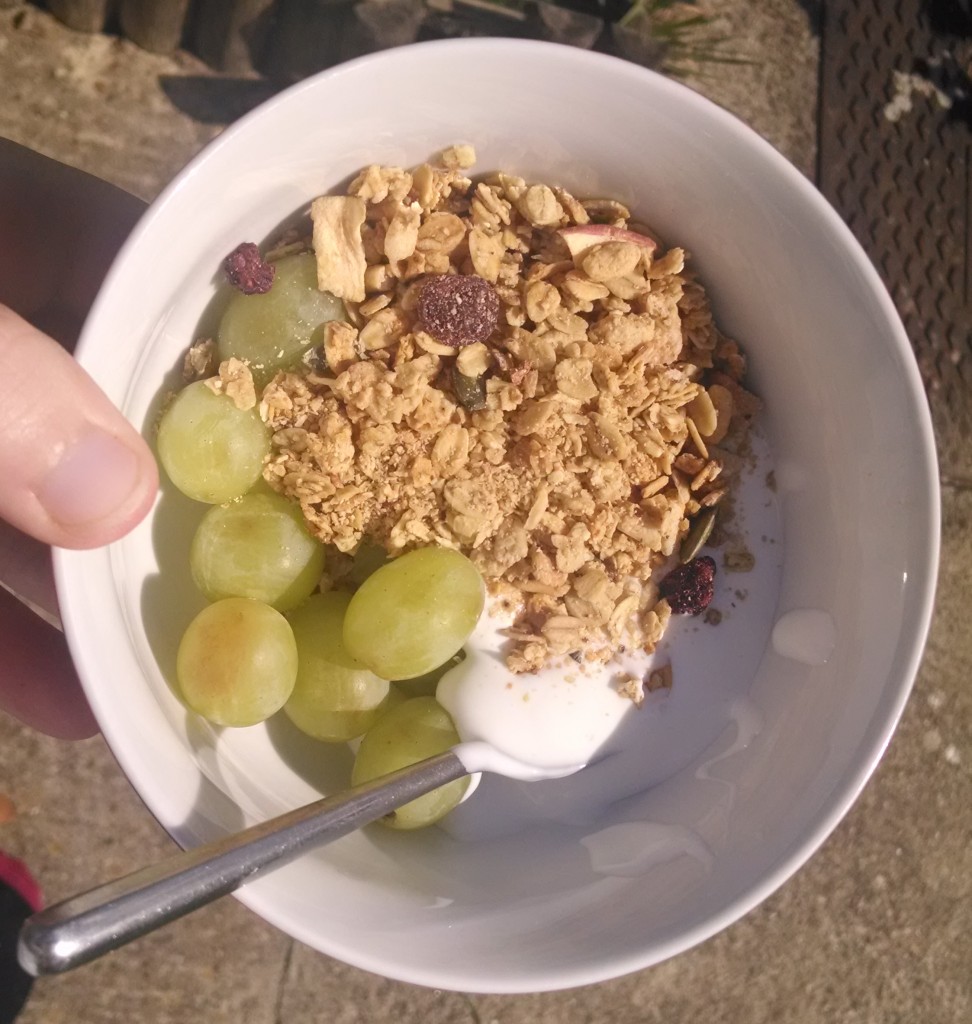 I even had a go at making some yesterday!  There…under the towel!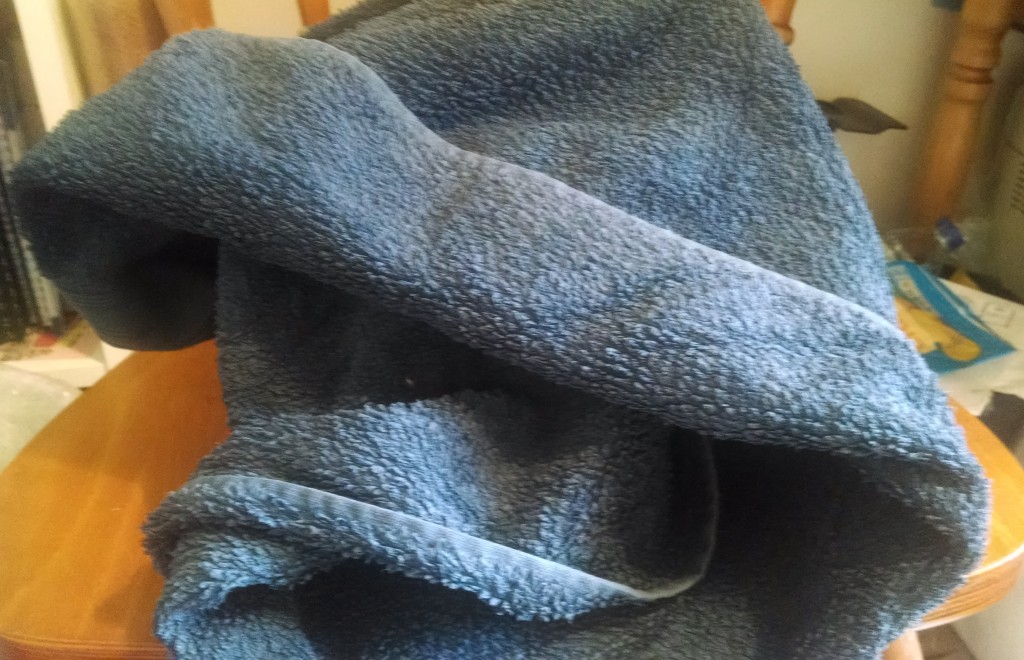 I followed the instructions from Back to her Roots (although, as I always seem to do, I made up my own amounts of the ingredients!)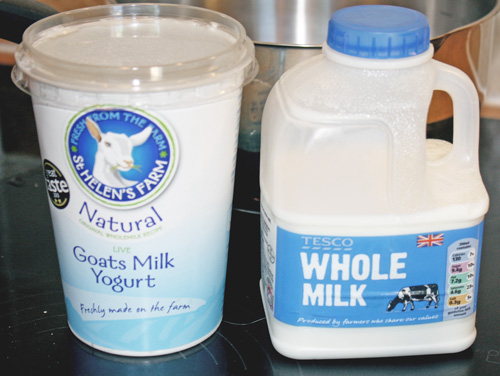 It turned out OK.  Not as thick as I would have liked, almost the consistency of cream, – that slightly thicker than milk texture.  I perhaps used a little too much milk (the whole bottle) for the test.  And the full fat milk was a little rich for my tastes.  We normally drink skimmed or semi-skimmed at home.  I'd give it another go though!
As well as craving nice cool yoghurt early in the morning, I've been after all the veg in my lunches.  This was my beauty yesterday…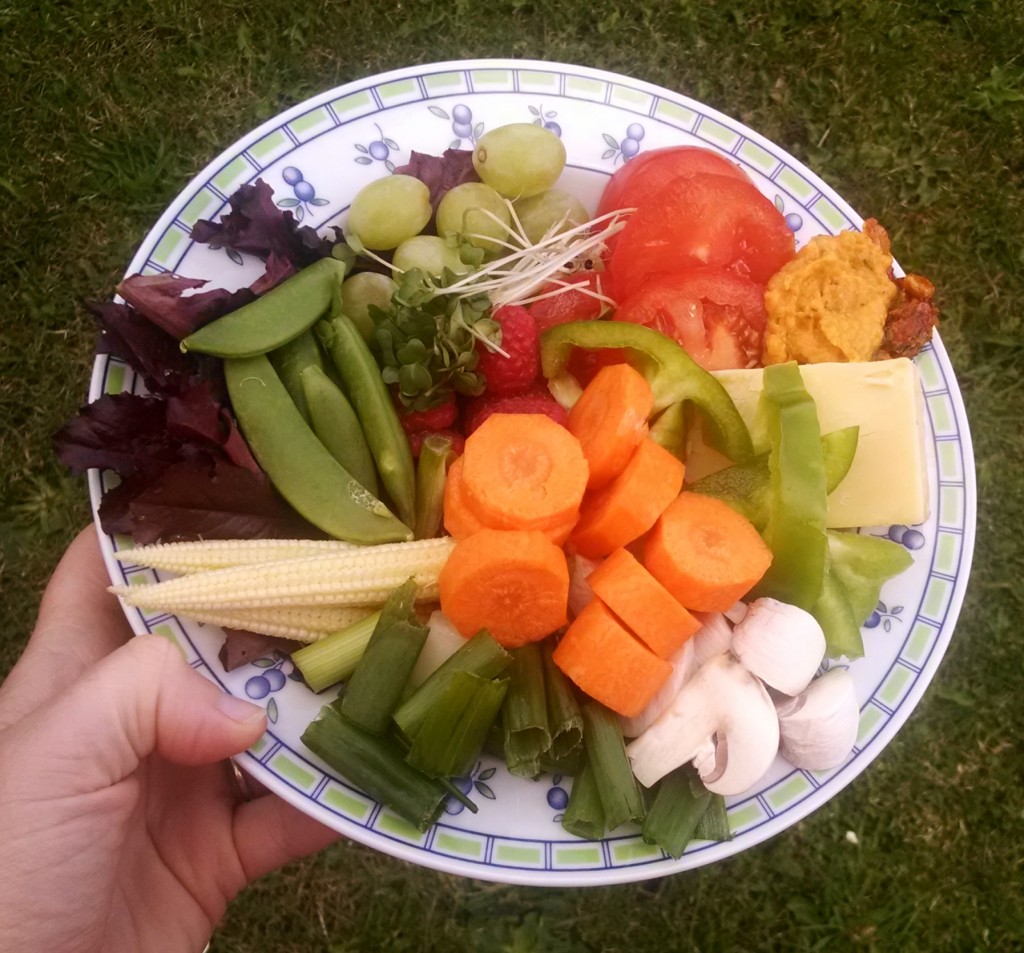 Carrot, tomato, green pepper, mushroom, spring onion, corn, sugar snap peas, red leaves, cress, grapes, raspberries, cheese and some sweet potato and chickpea hummus.  I am all about the variety on a plate and this plate definitely had plenty of that!
Run club last night was a tough 6.8 mile run up what seemed like all the hills in town.!  It was a relatively hot night but I had chosen a long sleeved top and shorts for the run so I was very glad when the rain started to come as it cooled us all off.  Most of the time we were running at 9:15-9:30 pace, although as we had quite a big group out again last night, there were lots of turn backs to pick the back runners up again and I walked most of the turn backs yesterday.
I'm not and never will be a quick runner.  I'm always last at the speed sessions we have at club (despite dipping down to 5:12mm speed for a 100m sprint on the track last Thursday!)  But, I am capable of staying strong throughout the length of a run and when we were given the chance to 'stretch our legs' for a km near the end last night I started at the back of the pack only to pass 3/4 of the group who had begun too quickly to maintain.  I got up to a 7:55mm pace towards the end of the stretch and I could have gone a bit quicker.
After a quick trip to Tesco on the way home for some baguettes for tea I finally spotted a Vita Coco coconut water on the shelves that everyone has been raving about just lately.  Loved it!  Perfect refreshment after a tough, sweaty run!  I normally turn to milk, but this tasted just as great without the milky moustache!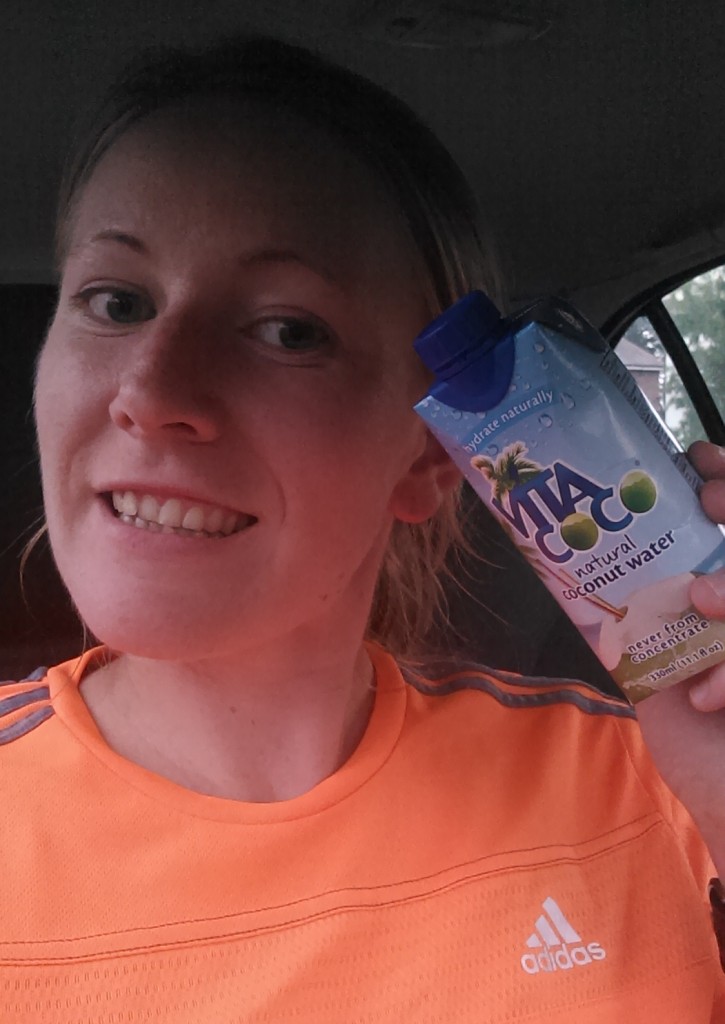 Friday of last week was my last day at school.  As I now work in an Independent School, we finished for the Summer at 12 noon and are now on 8.5 weeks holiday.  I need to spend a couple of days in school to sort out some displays and a database for the reports next year.  But those days won't be taking place this week!  On the Friday morning, a year 8 girl in my form proudly presented this beautiful wedding frame to me.  She told me that she had chosen it at the weekend with her Mum.  I was really touched and promised to let her see it with pictures of Dan and I in after the wedding.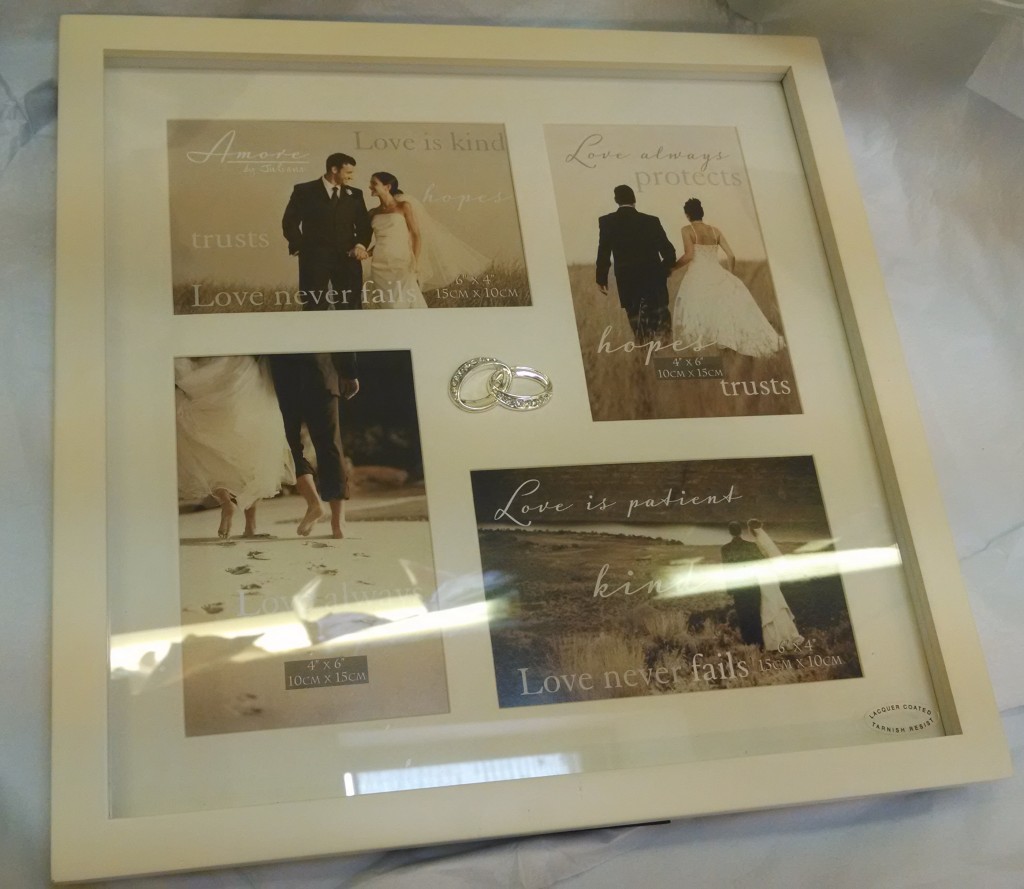 We had normal lessons until 11:30 when we met for the final assembly of the year.  There was talk about how for some people the Summer holiday would be a busy time, and next thing I know, I'm being called up to the front of assembly whilst Here Comes the Bride is being played on the school piano.  Two of the year 10 girls have been obsessed with the details of my wedding since the start of the year (despite me not even teaching them), and each day they have come into my room to enquire about bridesmaid colours, hair style, what the Groom looks like…  They were next to walk down the school 'aisle' to the front of assembly and present me with some beautiful white and yellow flowers.
Then the year 10 boys in my ICT class came and presented me with a bag containing these lovely bears, knitted by the school history teacher.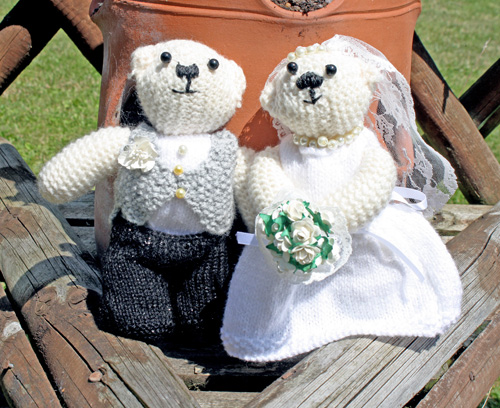 The bag also contained a card from all members of staff with some lovely messages and a John Lewis voucher.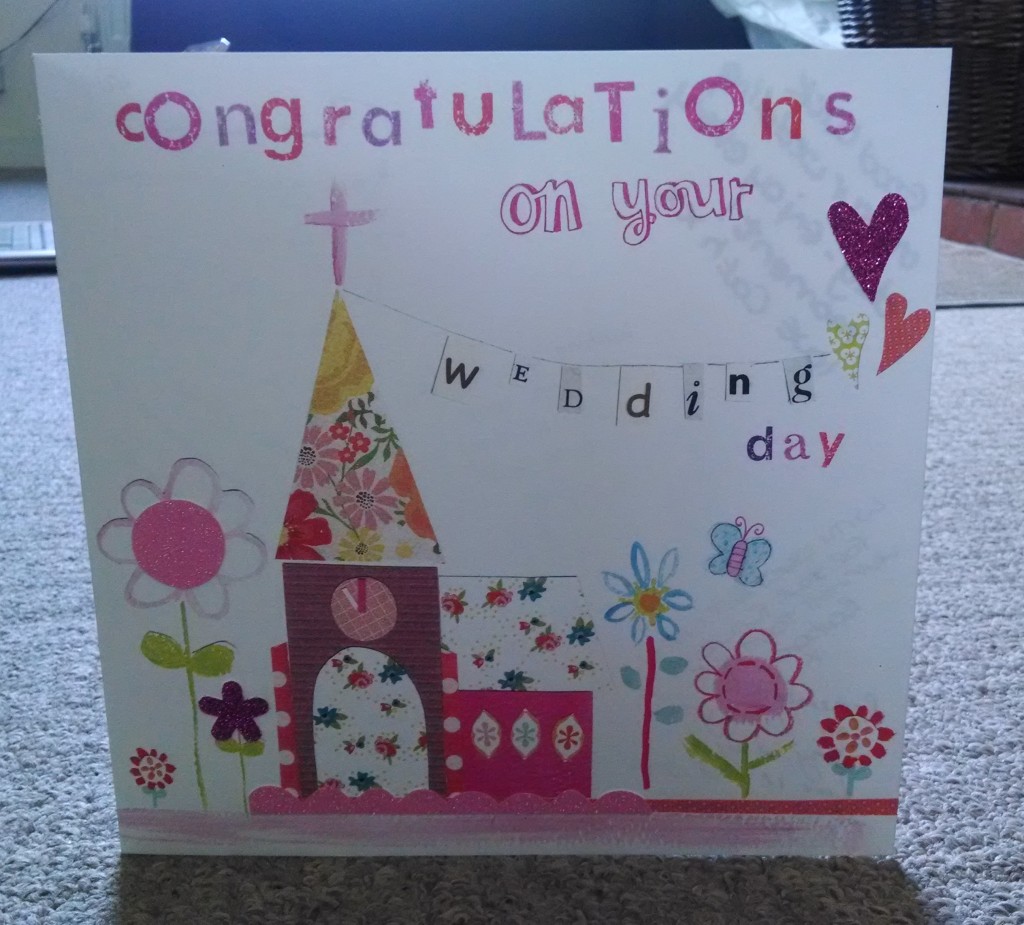 I like this one from the science teacher…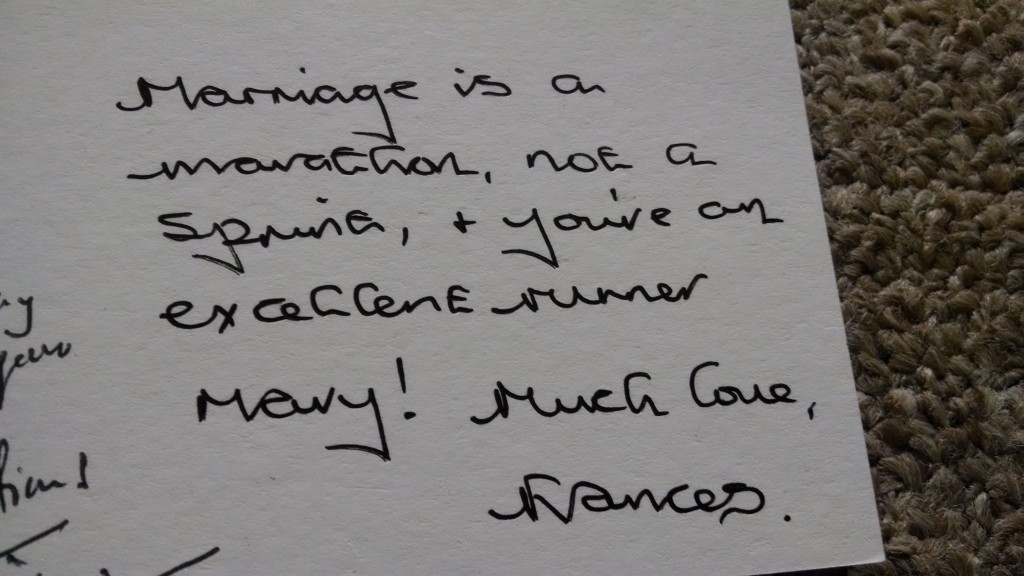 And the boys also presented me with a huge A2 piece of yellow card containing a sticker of best wishes from every child (of writing age) in the school.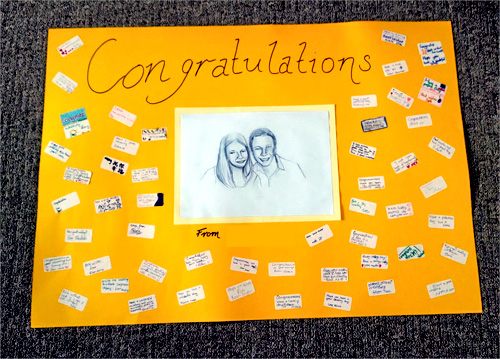 This was very sweet and there were some cute messages.  Here are just a few…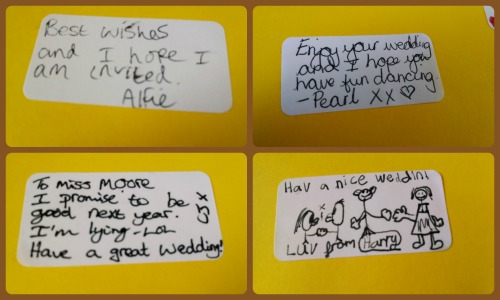 What is your favourite post-workout refreshment?
Does your workplace celebrate weddings/birthdays?