Sometimes it's important to deviate from a training plan.  When you're in such a situation as sticking to your plan would mean running all your long runs alone but in actual fact another club runner posts that they are heading out for 25 miles of trail the next day, the obvious thing is to change your plans and join other runners on their run.  Or at least, that's what I did yesterday!
There were ten of us that set off from Kev's house in the end.  Five of us were planning on running the 25 miles, and the other five were going to run somewhere between 8-9.  The first three miles were the same for both routes and then we said our goodbyes to the other group and headed off in a different direction.
It was an incredibly hot day and I was at least two groups below the other four runners from the running club out for the 25 miles.  It shouldn't bother me when we are out for a run as the other runners always run at the pace of the slowest person but I still feel like I am holding people back and the pressure makes me struggle to stay at my comfortable pace for the run.  Shooting off too fast always means I struggle later on though and I wish my brain would shut off and let me run at my own pace.
Because of the heat we were all getting through our water supplies much faster than normal and around 8-9 miles in we were on the lookout for houses we could ask to have our water bottles topped up at.  We passed several beautiful houses with massive grounds and perfect gardens where we didn't even dare knock at the door!  Eventually though our footpath led through a farmyard where a hose had been left out and we enjoyed some cold water on our heads and refilled our supplies of water.
Mile 12 and I think we were all starting to flag.  Our eyes lit up though when our lead runner ran straight through the gates into a pub entrance.  It wasn't quite opening time but they served us each a pint which we took out into the garden to enjoy in the shade.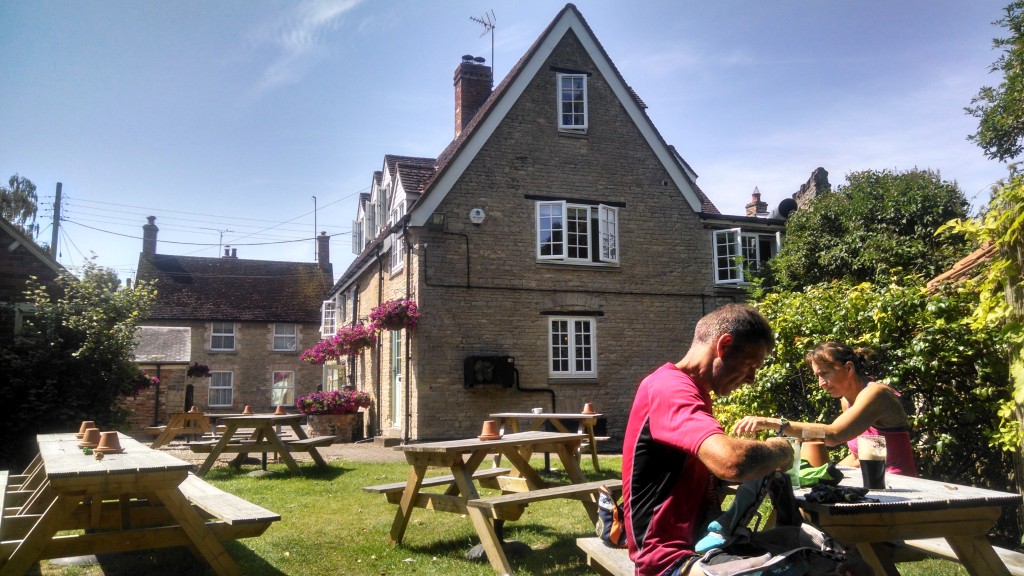 The barman literally filled my pintglass with ice.  BEST THING HE COULD HAVE DONE!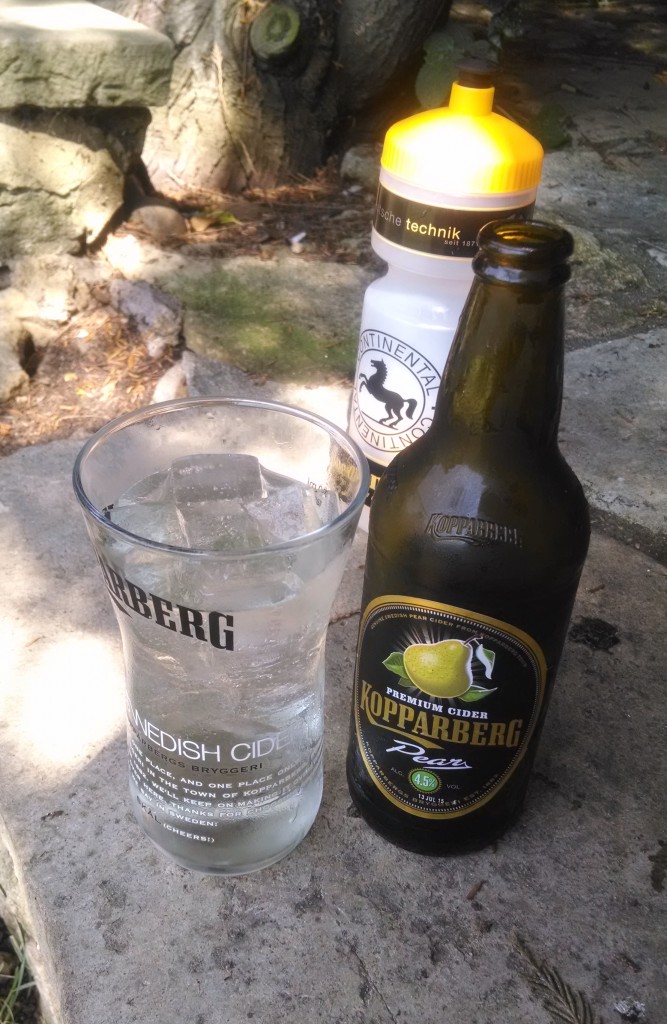 We felt very refreshed upon leaving the pub 30 mins later.  Almost a little tipsy infact!  But definitely refreshed and ready for the second half.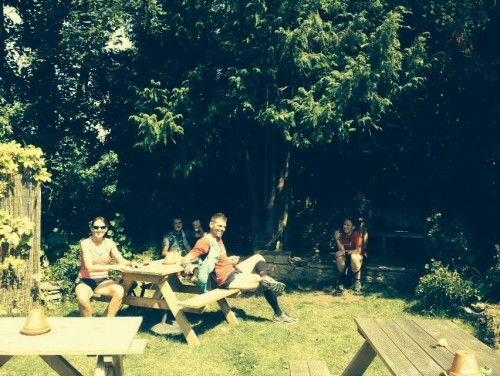 Just a mile down the road and the guys had already started talk of going for a paddle later.  I assumed the paddle would be taking place in the very large paddling pool that had appeared in Kev's garden since the last time I had started a run from his house.  But, the next thing I knew, the guys were ducking under the river barrier and removing the majority of their clothing ready for a dip in the river mid-run!  I recorded the footage on my phone.  I'm always after video footage for the Runner of the Year awards and I'm sure at least one of these two will make it into the nominations!  Two cyclists ended up stopping to watch their squeals in the water and remark how crazy we all were!
I must admit, I was tempted.  It was so hot out and the river looked quite inviting.  Had we not so recently had a break from the heat whilst sat at the pub I would have joined the boys in the river.  Next time, I'm there!
Once the boys were out and re-clothed we set off again.  The first few miles after our break felt relatively easy, but it soon got much tougher and I struggled with the humidity.  By mile 20 we were on the lookout for hoses again and knocked on what seemed like every house in the village to ask for top-ups of our water bottles.  Nobody was home but we didn't give up and in the end spotted a hosepipe in someone's back garden which filled us all back up for the final hour.  I truly believe there is nothing better than cold water on your head whilst out on a hot run.
The final hour seemed to be filled with stiles and gates and they broke the run up a little in the final miles, where I took part in more walking than running towards the end.
I was very happy to see my car at the finish and stopped only for a pint of nice, cold milk before driving home and spending the rest of the day indoors away from the sun.  The sun and I are not friends.  Look at my sock tan!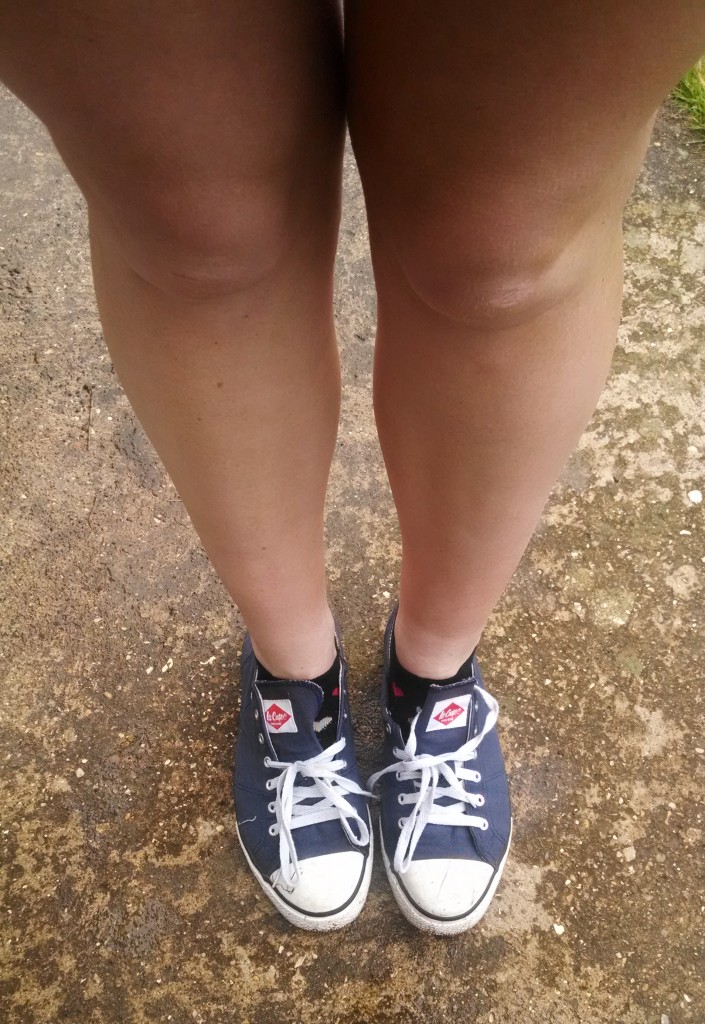 Has anyone else got random tan lines from being outside in the sun this year?  I've worn shorts all year long and my short line is as obvious as my sock line!