Just because I'm not ready to leap into the lake and swim 1500m, follow it up with a 40k bike ride and then run a 10k straight afterwards doesn't mean I'm not ready to learn more about triathlon as a sport.
I have become a Go Beyond marshal regular now and recently was sent a list of upcoming races so that I could let the team know which events I could help marshal.  When I first spotted it I thought twice about putting my name down to help with the Pitsford Triathlon on Sunday morning.  I don't know anything about triathlons!
I decided it was time to learn.

Unfortunately, with a 7:30am starting wave and a lot more setup required than a running race it did mean a 4:30 alarm call.  Made worse when I woke up at 3:30am and got up anyway, for fear of then sleeping through my alarm.
I was getting a lift down to Pitsford with a couple of others and I was grateful for not having to drive that early in the morning!  As soon as we arrived we all headed down to the transition area where we were given the job of checking all entrants had cycle helmets and that all items belonging to the competitor displayed the race numbers correctly, showing the same number each time.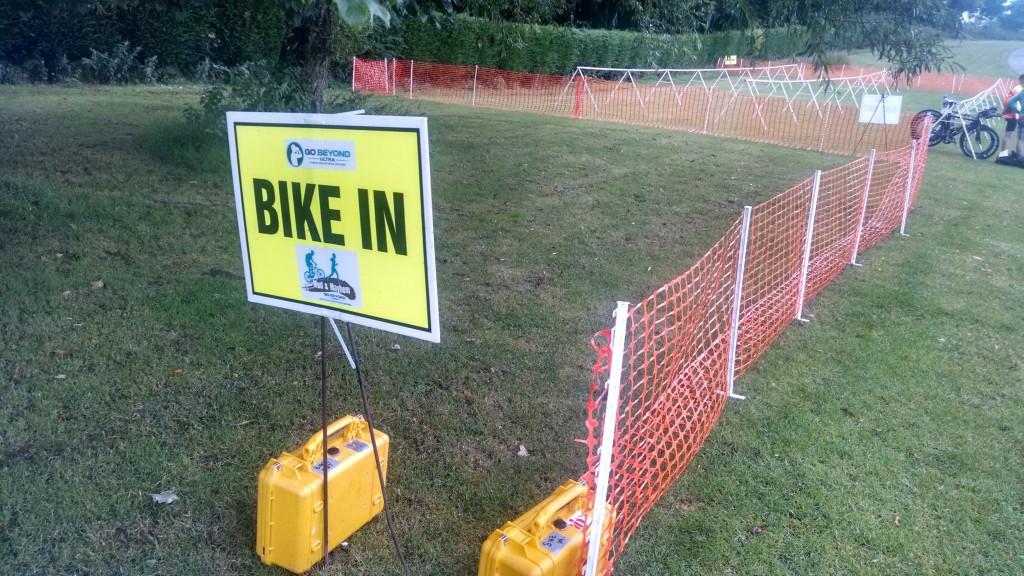 It was a lovely warm morning, without the sticky heat from the day before and although leaping into the ice cold reservoir would be the worst part of a triathlon for me – if I could do it on any morning, I would choose a morning like the one on Sunday.  The water seemed pretty still from where we were standing.  Having never marshaled at or even attended or followed a triathlon before I wasn't aware of all of the marshaling positions available.  One of the guys was marshaled in a kayak out on the reservoir to keep up with the lead swimmers!  How much of a cool position is that?!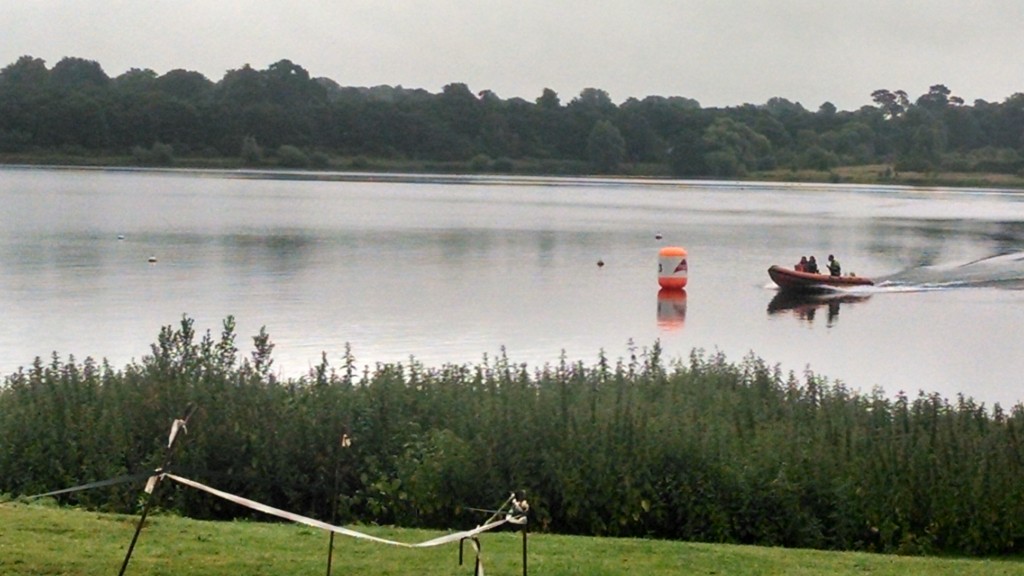 There were also some guys out in boats checking the swim course for any potential problems.
Just after 7am I was herded up to the main carpark where we were debriefed by John, the Cycle Director.  There were six bike marshal points on the 40k course and I was at the fifth one, along with John and two other guys from my running club.  After a 5 minute trip bundled in the van we arrived at our junction.  Apparently bike routes are marshaled much less than road running races and it is expected that you only really marshal areas where there could be a potential safety issue such as dangerous junctions.  Here's a diagram of our dangerous junction…
We actually ended up arriving quite early and after I had been given my red flag (actually a red pillowcase on a stick), marshal jacket and whistle and whilst I was stuck in position waiting for the call that the front bikers had gone through the previous checkpoint I stood and took a couple of marshal selfies.  (Mandatory, but all rubbish.)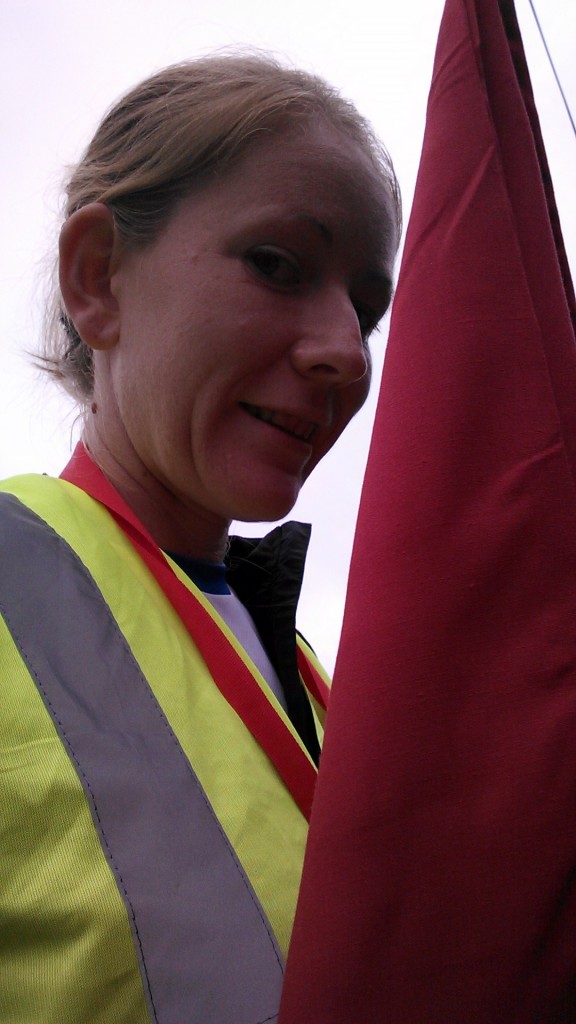 It was Colin and Stu's jobs to keep traffic moving slowly on the main road by waving their red flags (theirs were red towels) as bikes were approaching the junction.  My job was to whistle and wave my flag to alert approaching cyclists that they were nearing a busy junction and also to alert John to check for traffic.  Our junction was deemed a 'foot-down' junction and John would shout either "CLEAR!" if cyclists could get straight out onto the road or "CAR!" if they had to put their foot down on their bikes and stop until safe to cross the road.  I believe from John's shouts that there was only one cyclist that had to wait for cars.
Things were relatively uneventful on our junction and it ran pretty much like clockwork, with just one person asking which way to go (despite clear signs) and one person telling us tales of how another cyclist had fallen on a sharper bend and then continued on.  (Hardcore.)
Once the last of the cyclists had been through our junction, we removed all signs from our checkpoint and I hopped in the van with John to collect a cyclist from a little further up the road whose chain had snapped.  I wasn't even sure how a chain could snap on a bike, but apparently it's when his legs moved faster than the bike could handle.  He was rather cold by the time we got to him so we threw a blanket over the guy and turned the heating on in the van full blast.  I've been in the situation of pulling out of a race before and shivering on the sidelines whilst waiting to get taken back to HQ and it's not fun at all.
We unloaded back at HQ, cheering some of the triathletes through the finish of the 1ok run before demolishing bacon butties and coffees.  No coffee for me.  I'd thought ahead and popped a bottle of smoothie in the freezer the night before to create a lovely fruity ice-lolly in a bottle to suck on throughout the day.
I did check out the trophies quickly for the winners.  Loving these trophies.  One day, I will become good enough at something to add trophies to my collection of medals.  (Maybe in my age category as a 90 year old?…!)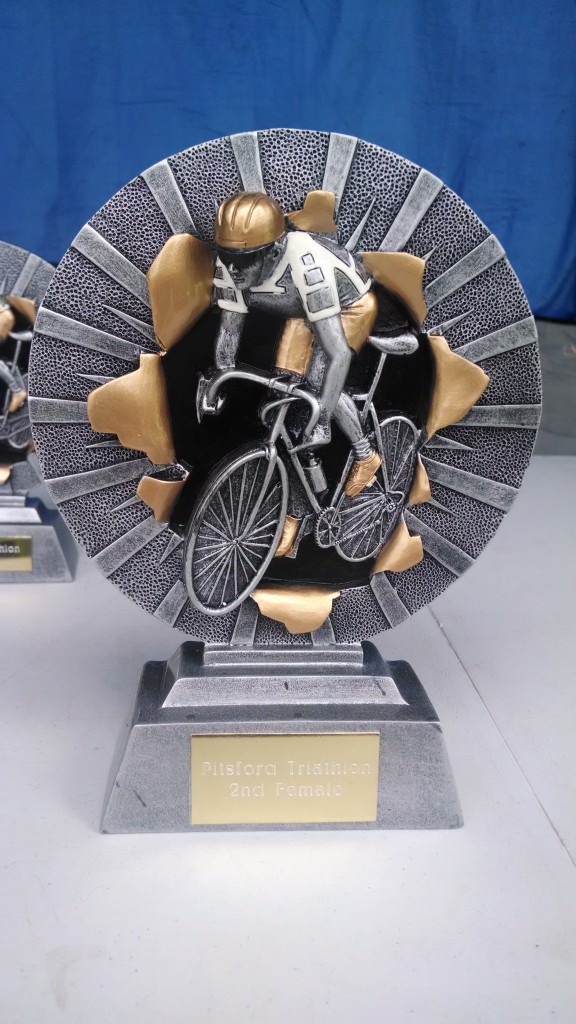 John and I hopped back into the van and began another tour of the cycle course.  Almost all cyclists were back and running now and all of them would definitely be back by the time we had dismantled the signs and gotten back to the finish.  I quite enjoyed leaping in and out of the van and pulling signs down out on the course for the next hour.  It was quite therapeutic and I felt like I was doing a much more worthwhile job than hanging around as a spare part waiting to dismantle the run course.  It had begun to rain slightly by this point.  Luckily the rain was missed by most of the competitors and it was just the marshals left out to get soggy!
By the time John and I made it back to the finish line the other marshals were then folding the last of the marquees up and there was a large pile of items ready to be loaded in the van.  There were enough of us there that loading the van up took no time at all and we were soon headed back home for a very easy and relaxing Sunday afternoon.  I was shattered!
I can't say entering a triathlon is top of my list of things to do and I must admit, the high cost of events and training is very off-putting but I am finding myself more keen after attending the race at the weekend.
Ever thought about trying a tri?