My weekend was lovely and chilled out away glamping it up with my bridesmaids, but ever since then it has been non-stop madness in my life!  With sixteen days now until the wedding and just eight days until my first 70 mile race, my life seems to have become a huge jumble of running, food and wedding organisation.  As well as talk of all of the above!
Since returning from my glamping weekend I have done the following:
* Attended Holt Festival and met a cousin's girlfriend who will be coming to our wedding and has actually been with my cousin for three years now…yet we've never met.
* Made some signs for the wedding with Dad.  He did most of the actual making.  I just sanded them down, passed him things and wrote the wording on the front.  (I have a more in-depth post about these coming up but I'll probably schedule it for whilst I'm away on honeymoon.)   They will also have yellow balloons tied to the wood on the day to fit in with our theme and stand out to passing cars.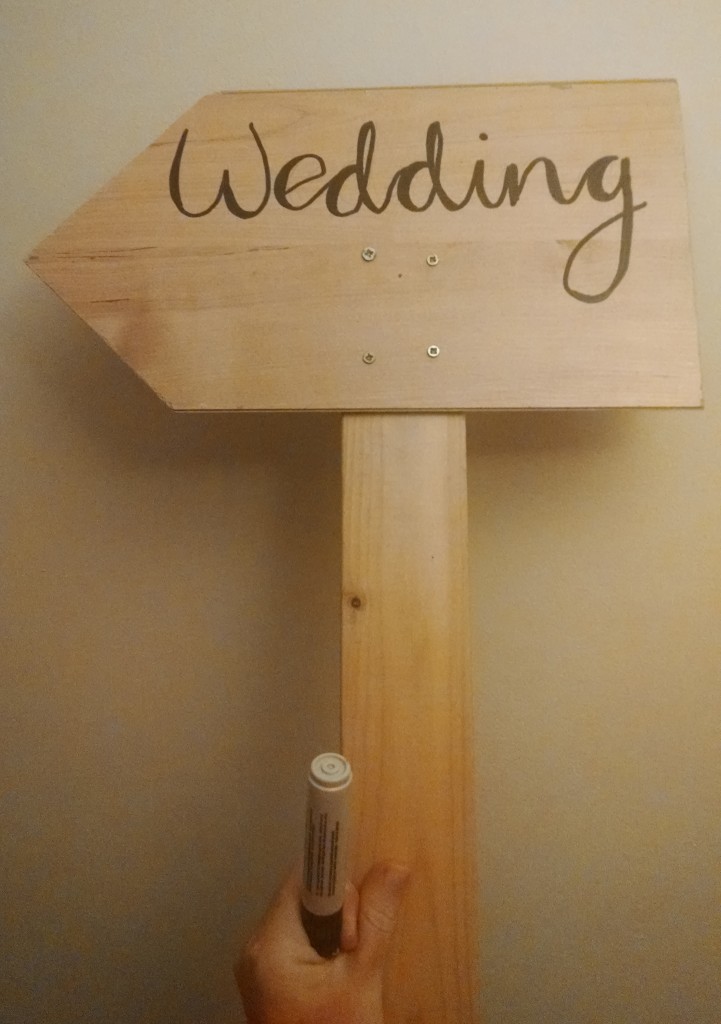 * Placed a Tesco order for the evening buffet food to arrive on the Thursday night.  We are putting together our own healthier version of wedding food for the evening meal.  I'm not a fan of lots of greasy straight from the oven foods that are often out at buffets.  I plan on more fresh fruit and veggies as inspired by some Pinterest pins!  (Mmmm, might schedule a separate post on this too!)
* Picked up some alcohol!  When I visited my cousin earlier in the week I happened to mention that despite having a bar coming in for guests to buy drinks from during the wedding we still needed to purchase the arrival drinks, toasting drinks and wine for the tables.  My Aunt offered to let us use her business card at Cash & Carry and so on Tuesday morning we headed down to purchase this little lot…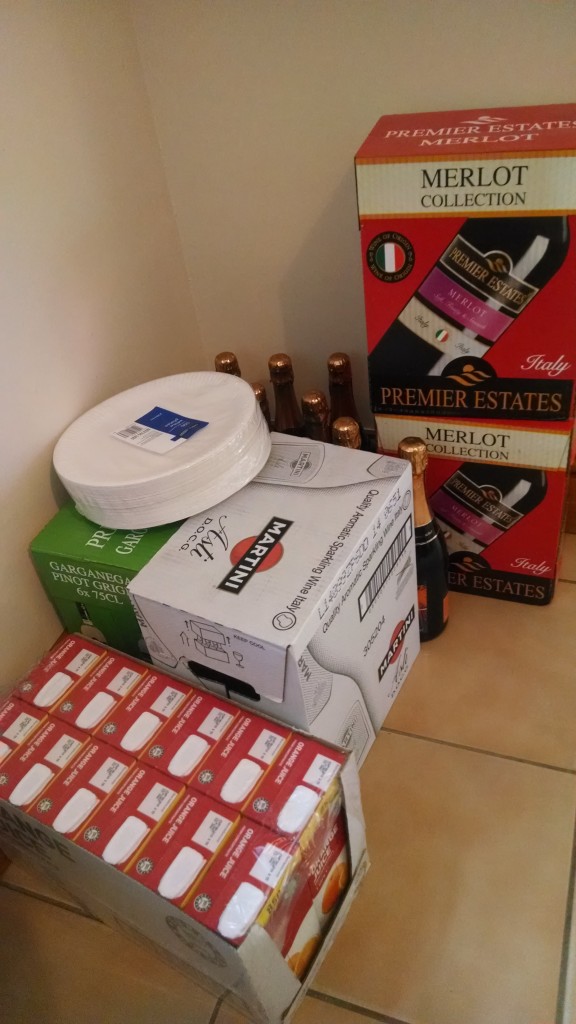 I decided on 12 bottles of red and 12 bottles of white wine for the tables.  7 bottles of Asti for toasts and 7 bottles of Bucks Fizz for arrival drinks, along with 12 cartons of orange juice for the non-drinkers/children.  I threw some paper plates into the trolley as well as they worked out much cheaper from there than other places I've looked.
* Been round and round Norwich on a shoe and bag hunt for my Mum.  Finally she found some shoes in the sale in Clarks (not what she's wearing in the below photo!) and then we picked up a bag for her in Accessorize.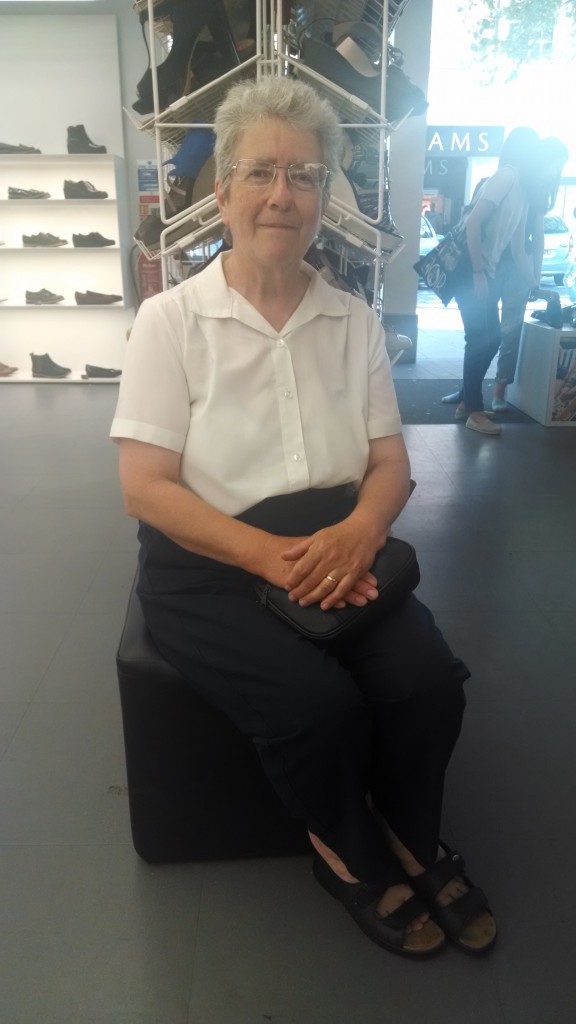 * Checked in on the flower growing process for the wedding flowers.  This is the first time the sunflowers have been out when I've been back.  So excited to see them all on the day now.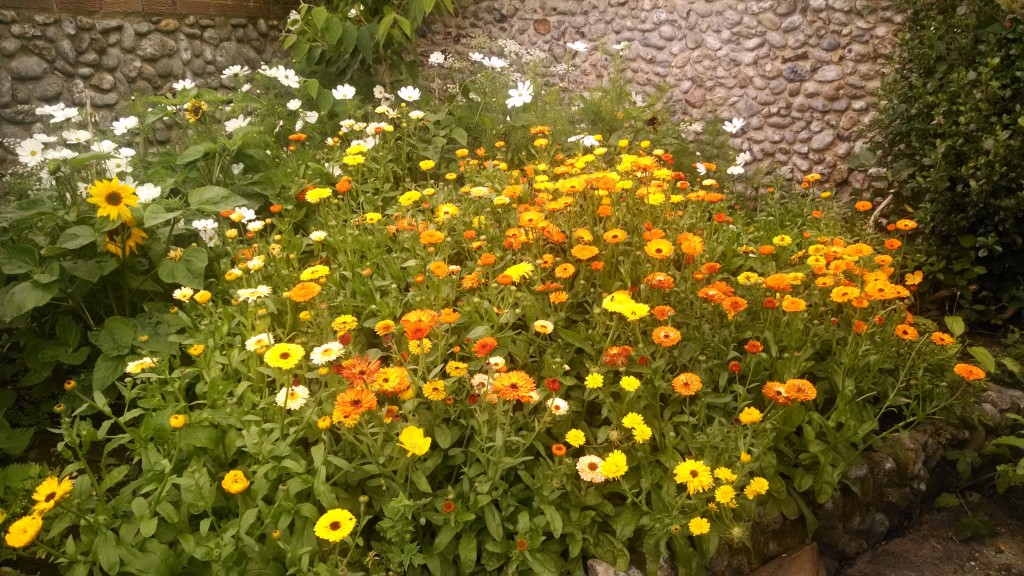 * Purchased more ribbon than I've ever seen in my life before, removed labels from bottles and very simply tied either yellow or brown ribbon around the rim of each bottle to make them a little more decorative for the day.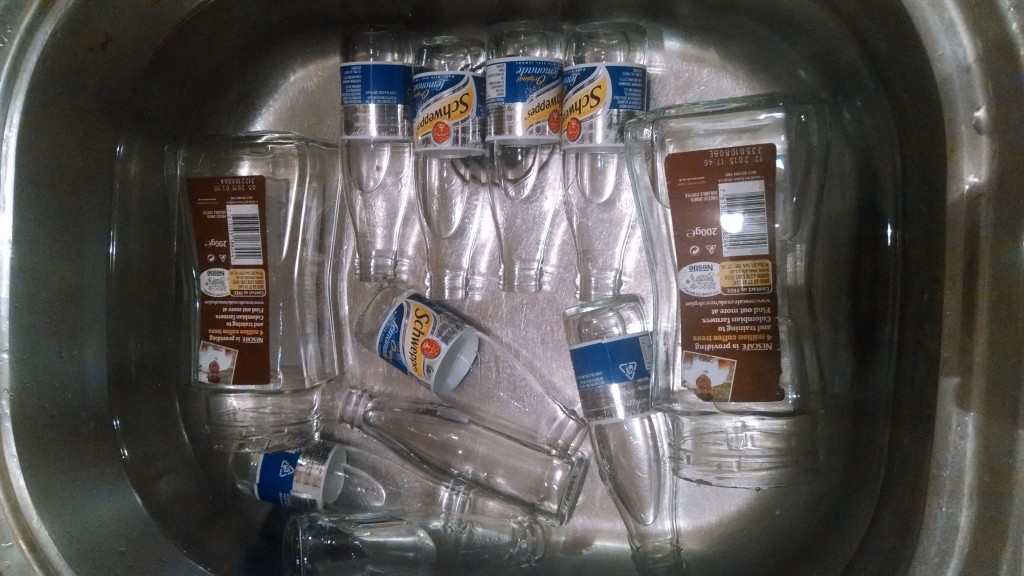 We were initially looking at little aluminium buckets for the flowers but it would have worked out so costly.  My brother brought home several Schweppes bottles from work a couple of months ago as they were close to their use-by-date.  They were the perfect size to go onto the tables containing a few flowers in each so my Mum nabbed one for each table.  The Nescafe jars are for the arrangements in the church and the more rounded vases that Mum had anyway will be for the guestbook and cake tables in the village hall.  Hopefully simple but effective?…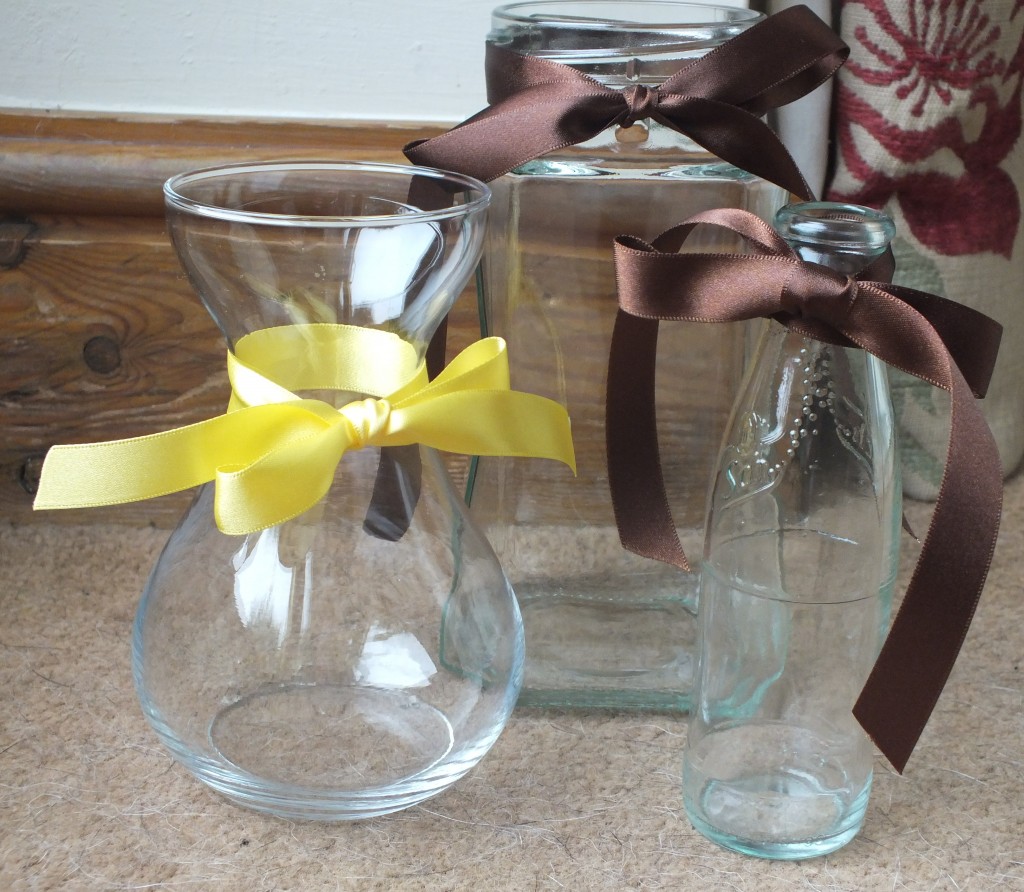 * Spoken to the band about access, the caterers about timings, the horse and carriage people about payment and the vicar about the banns being read for Dan.
* Run and walked a lot.  I always walk much more when I'm back in Norfolk anyway as my parents have a dog with a lot of energy.  We all took him for a walk on Monday evening and he spotted a hare in the distance.  This then meant a high speed chase and lots of shouting across the fields at dusk.  So hard to see a black dog at this time of the day.  I got a bit of an unplanned sprint session in as well.  Not sure my Converse have ever run 6minute miles up and down a corn field before!  I had a lovely eight mile unplanned run on Tuesday morning too.  All I had in the calendar was the Race 4 Life event that evening, but the weather was much cooler than it had been, I was up early that day and it was nice to get away from the busyness of the week.
* Eaten some amazing salads put together by my Dad.  Dad literally grabs loads of salad items from the garden, rummages around in the fridge for leftovers and throws it all onto a plate.  This is my kind of salad!  This one contained; cucumber, grated carrot, leftover peas from the night before, ham, yellow pepper, coleslaw, apple, new potatoes, celery and tomatoes.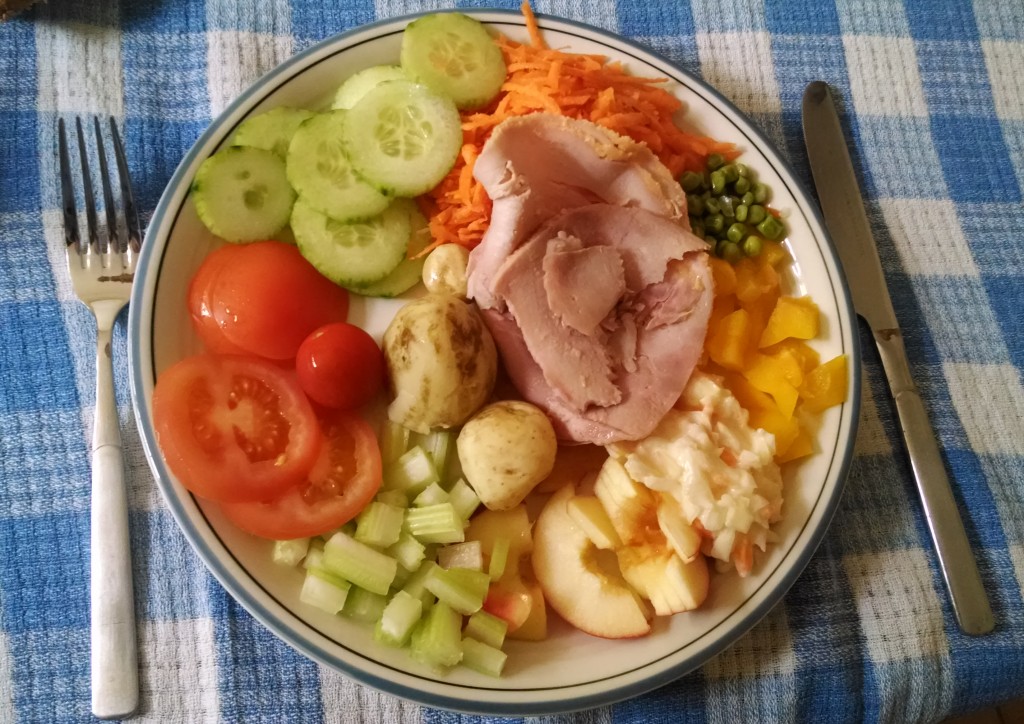 * Munched through a lot of watermelon.  Watermelon is literally my favourite fruit right now.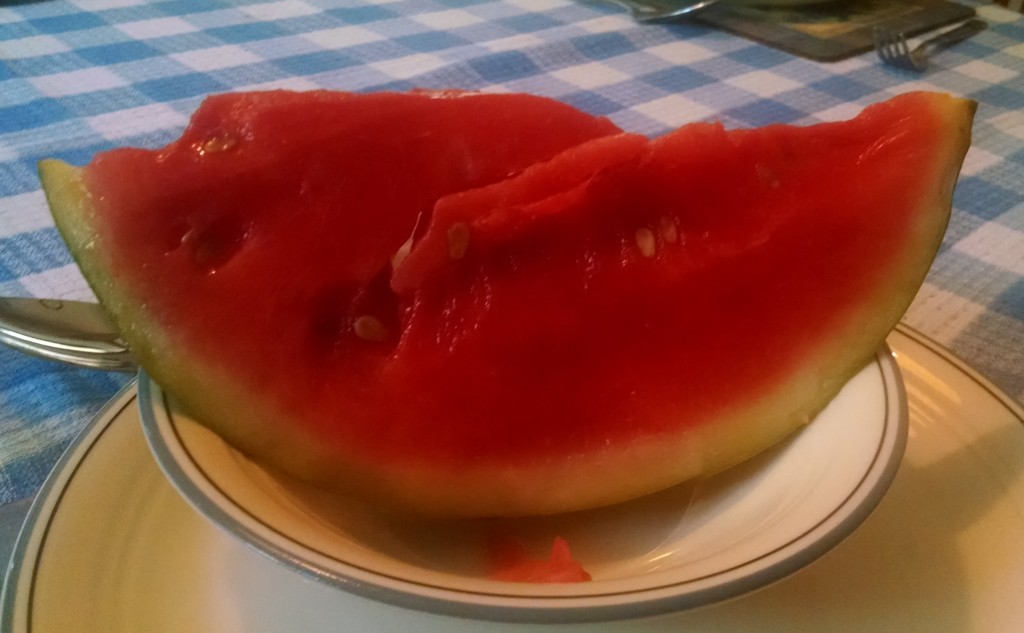 Favourite salad items?
Did you/would you DIY any of the items for your wedding?