It is now less than one week, – six days – until I do my best to run the Grim Reaper 70 mile event.  S e v e n t y m i l e s . . .  Despite that being a pretty long way and something I have never yet to attempt, I was actually more nervous about my race on Thursday.
Thursday night was our running club 5 mile BBQ race.  On the last Sunday in July each year, Wellingborough & District AC holds an annual 5 mile race, the Welly 5.  The Thursday before the club race is held, the club runners and their families are invited to run the route.  It is tradition that the runners chosen for Sunday's team marshal the club members race and provide a water stop at the halfway point.  Then, once every runner has been cheered over the finishing line, we head to an enclosed area for a BBQ.  Every year we update our club website photo as all runners congregate in a group along with the banner before the race begins.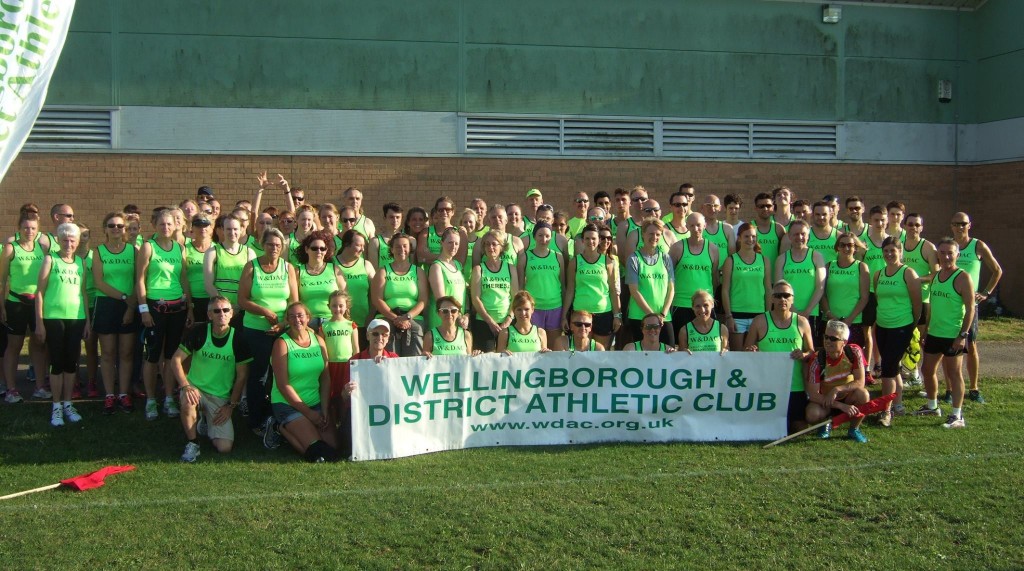 I felt a lot of pressure to perform well, and with all runners as members of our club it was difficult not to automatically 'place' myself as to where I felt I should finish.  I picked a target runner that I aimed to beat and ensured I passed her early on.
But before we passed the second mile marker, my head was telling me something was wrong.
"Wow, this is feeling really easy.  I'm running sub 9mm and I feel great!"
"You know this means you'll burn out later on and end up having to walk."
"But what if this time that's not the case? What if this time you can maintain 9mm all the way to the end?"
"You're lying to yourself if you think that can happen."
"OK, I'll slow down a little…"
…
"Told you you were going too fast."
"I'll be fine, I'll just walk this little hill."
"You know once you walk a little bit you'll have to walk again."
"That won't happen this time!"
…
"OK, I'm going to have to walk again.  I'm such a weak person.  Why do my legs feel so heavy?  I've only run 4 miles so far!  I've got to run 70 next week!"
…
"At least the support at the finish is strong.  Oh look, see I do still have energy…why can my legs move at a sub 8:30mm pace for the last quarter of a mile?!  They lied to me earlier….is that the finish line?  Oh please let that be the finish line…Yes it is…there's too many people around it!  Where am I going to lie down the second I cross that line?!"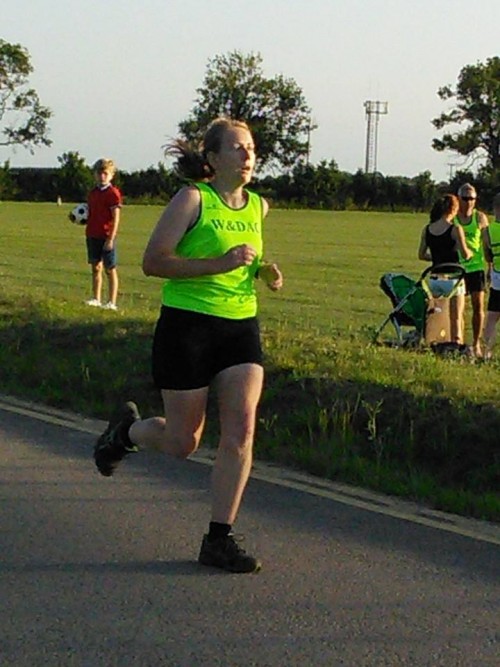 As I crossed the line I flung myself onto the grass to the left in a dramatic fashion to lay flat out.  I quickly leapt up again though as I realised the weeds I'd laid upon were covered in tiny barbs which were now embedded in my skin and stinging as my sweat was pouring into the holes they'd made.  Perfect end to my awful race!
Entirely my own fault though.  It was hotter than I would like and I was too pig headed to slow down more at the start.  The lady I was aiming to beat strode out past me about 3.5 miles in and went on to beat me by more than a minute.
As is often the case though, a great run follows an awful one and I headed out on a lovely 6.5 mile trail run in Kettering last night with fourteen others from the club.  The weather was much cooler and we were out on a beautiful new route out around the water.
Running club nights are actually Tuesdays and Thursdays, but there is usually an informal road run on Mondays, trail on Wednesdays, trail ending in pub on Fridays, and early morning long runs on both weekend days.  As Dan was off on his stag do in Manchester this weekend I took advantage of the pub run (although this time, not resulting in a pub finish!) and made my miles up to 9 for the day, as per my plan.  Some horrific images of Dan wearing just an oversized nappy and a baby bonnet were circulating on Facebook last night…I think it's best I stay away from Facebook from now until the wedding!
I won't be racing on Sunday, but instead providing a road block at the start and marshaling on the finishing straight, just like last year.  But if you fancy racing a fun fast, flat 5 miler in Northamptonshire, then check it out!  Online entries are now closed but there will be entries taken on the day.