Another great turn out for the Welly 5!
This is the fourth year I've marshaled the race, and every year it's been a lovely day (although a little too warm for my racing needs!)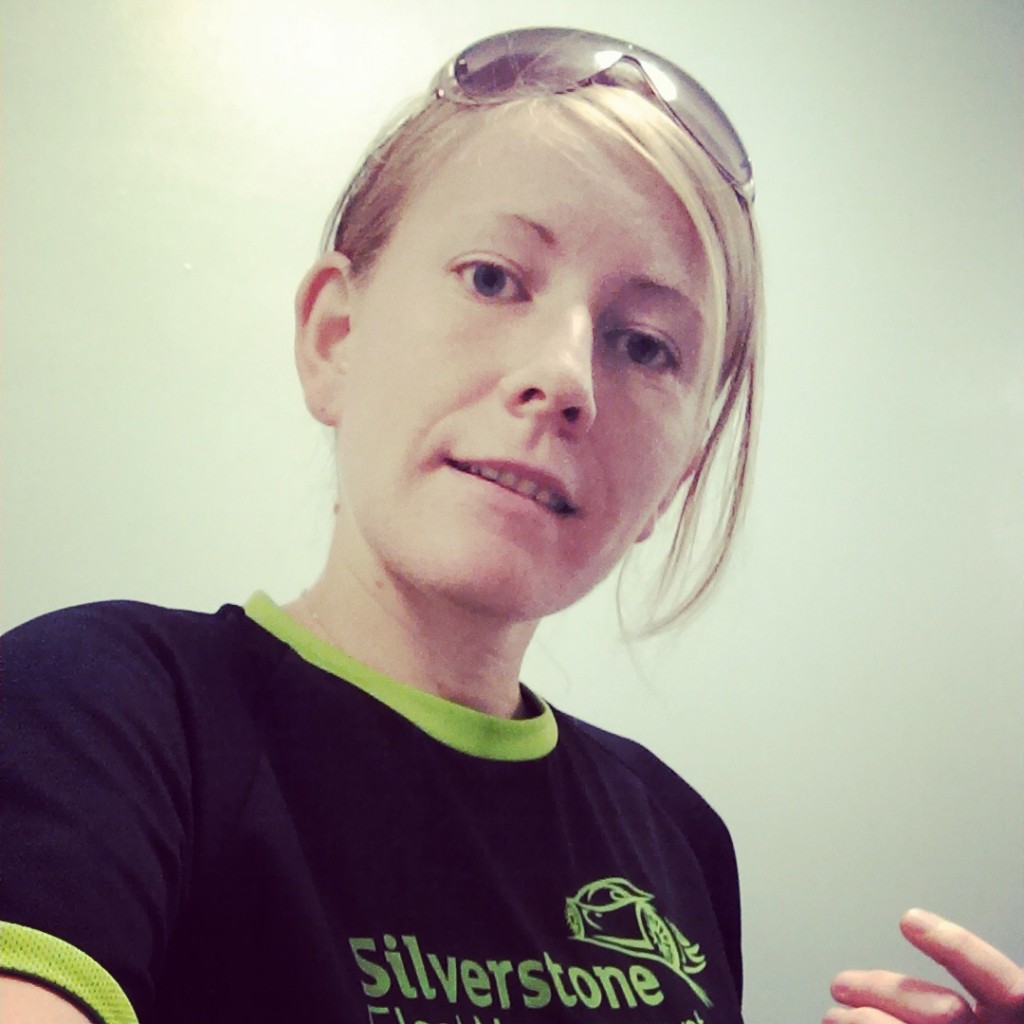 I arrived at 7:30am and got straight to work helping to set up registration.  Then I moved outside to pack up the goodie bags.  Each runner this year received a t-shirt on arrival, a medal over their necks as they crossed the line and a bag containing a carton of milk and a sports bottle.
My marshaling point was up on the road with Julie, as we had been the year before.  Our job was to stop cars from trying to park in the car park, instead, directing them to the car parking over the road.  We also had to stop runners from heading down to the starting point too early.  We have a road closure order from 10:25am on the day of the race, but up until that point we want to stay as much out of the way of traffic as possible.
After the runners had all begun we adjusted our position to welcome runners through the main gates and I moved onto the track to direct them off the track and onto the grass to head round to the finish.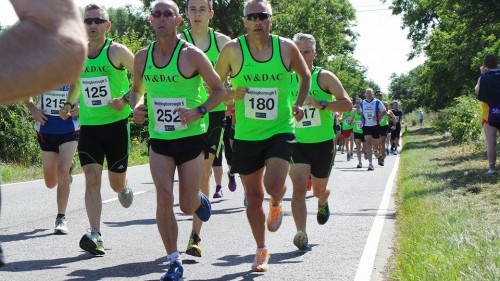 (Picture from our club Facebook page)
It's really exciting being one of the first to see runners coming through to the finish.  Our clapping on the corner alerted spectators and marshals on the field that the first runners were coming through.  From quite a distance we could see the famous green vest as one of the two lead runners.  The finishing section is run on the Mad Mile in Wellingborough.  So we had quite a way to squint and it wasn't clear which one was in the lead.  As they drew closer though, we could see our runner Stuart Nelson was in second place and a few seconds behind the lead runner, Andrew Siggers of Kenilworth Runners.  They went on to finish six seconds apart, with the winning time being 26m 27s!  The first woman (Rachel Cave of Higham Harriers) finishing in 30:24
Forty-seven of our runners raced on Sunday and I love being able to cheer them through onto the finish by name, just as they so often do to me at the finish of a race.
A woman runner swayed towards me from the road and I asked her if she was OK.  She nodded but immediately tripped up the kerb and swayed into the verge.  I rushed towards her, as did another club member I was stood standing with.  I couldn't leave my post on the corner, but the club member I had been with took her arm over her shoulder and helped her slowly walk through the 200m to the finish.  About halfway a man ducked under the course barrier and grabbed her other arm and they supported her the rest of the way before she collapsed by the ambulance and was given fluids.
There were lots of trophies to give out as not only were there trophies for the Welly 5 race, but also the County Championship.  Wellingborough received several!
After getting back from the race, stopping in to the supermarket to pick up a few bits and organising myself a snacky lunch I decided to head out on a short run despite one not being on the plan.  After my first marathon in 2012 I really struggled to get my consistency back and to be able to run longer runs without stopping.  In reality I could have still run, but I struggled to slow my pace to fit.  I believe what helped me come back from my depressing dip was consistent running.  I took a 10 day unplanned break when I travelled to Africa and my luggage (including running clothes and trainers) didn't arrive.  I then ran at least half an hour every single morning for the rest of the month that I was there.  Not hard, just consistently, without stops.  I continued to do so when I returned home, and gradually built my daily running up to 6-7 miles and pushed my longer run at the weekend.  There were odd days that I missed but they were few and far between until I was back up to 6-7 miles of consistent running and I went on to PB at 5k, 5m, 10m and half marathon distances that Autumn.
After my disappointing performance on Thursday night I have run for half an hour each day.  It has been slow and I have started out steady, although picked up speed as I have felt more comfortable later on in the run.  I have been averaging just over 10 minute miles, but finishing at more of a 9:40mm pace that I used to comfortably be able to run 10 miles at.  Oh, how long ago that seems now!  I had a great run last night, and probably one of my best since London marathon as I felt really in control of my pace, breathing and form once more.  It's all about knowing how to assess my current capabilities and know just how much I can push before burning out.  I plan on running the same route today and tomorrow morning.  I'll then run the club tempo run tomorrow evening, and go for just a half an hour walk on both Wednesday and Thursday to conserve a little bit of energy before the Grim Reaper 70 on Friday.  I hope to be able to run a few very slow miles each day from Monday next week until the wedding and then I shall return to building up my mileage once more after I return from honeymoon.  It's worked before, fingers crossed it works again!
Does your club have any club races that they put on?