This week at club we have been joined by Steve Kearns, a personal trainer who is focusing on corework for running.
He is with the club for six weeks in total, with each of the six groups seeing him twice a week over the Summer.  We had the first session on Tuesday night, but unfortunately it looks like I shall be missing the next session tonight, as I am headed to Norwich to find a bridesmaid dress for my friend Vicki's wedding and doubt I will be back in time.  I'm hoping to gatecrash the Group 6 sessions next week though if that's the case.
I found the night really interesting, although I am certain (by a long way) that I am the least flexible member of our club!  I've mentioned in the past about my attempts to touch my toes.  (This picture is from June 2013 and I've not improved at all since then!)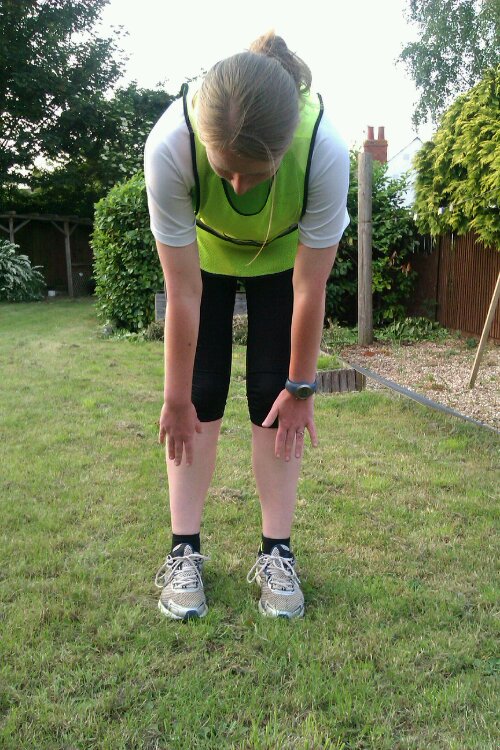 But I am determined that by Christmas (four months away) I shall be touching at least the tongue of my trainers (even if I have to pull them up really high to do so!)
Working more solidly on my core, flexibility and upper body strength is something that I had been thinking about over the Summer and my time away from running in August.  I jump in and out of routines (apart from with running) and never really stick working at anything long enough to see solid results.  It's really important that the upper body stays strong so that it doesn't tire and under-perform or increase the chances of me running with poor form and end up getting injured.
On Tuesday Steve explained that the core isn't just our tummy, but in fact right up to our shoulders and right down to our hips.  We started with some dynamic exercises to open up all our joints.  Staying tall up on all fours, then stretching our right arm out underneath our left arm and going straight into the reverse move.  Steve made it clear that he wasn't a fan of the situp, but his exercises were much, much tougher!
You'll have to excuse me because I can't remember any of the names of the moves.  One was called something like a 'dog-duck'?…But I think Steve is putting together a pack for us to refer to at the end of next week.
One exercise that really highlighted my lack of flexibility was one where we had to get into the press-up position and gradually walk our feet up towards our hands until we could not get them any closer without bending our knees.  We then had to walk our hands back away from our feet.  Then repeat.  Your legs had to stay straight the entire time and I only got three or four tiny movements in from my feet before having to move my hands away.  The worst in the group!
For the second half of the session we had to team up with a partner and collect a rubber resistance band for our moves.  One person would lie down on the floor, holding the two ends up, one in each arm, above their head.  Knees would also be up and held at a 90° angle.  You had to slowly lower each leg to the ground, along with the alternate arm behind your head, bring back to starting positions and repeat with the other side.
I don't 'hurt' yesterday, but I have felt my core as I've gone about my daily tasks, and it was quite satisfying to feel it aching slightly on last night's run, as I knew that meant improving my core would definitely benefit my running.
Yesterday was my first day back at work.  Officially we don't start back until the training day next Tuesday but there are lots of admin tasks and things that need doing around the school that I volunteered to go in and help for.  One of those things was moving trees!  The school has had several large trees that lined the grounds chopped down over the Summer and there is enough wood for our woodburner for a good few years sat outside Reception right now!  For today, I just brought this little bundle home in the back of my car (This would probably still keep us going for several weeks!) but plan on bringing more back each day that I work in the new term to stock up our woodshed ready for the Winter again.
I've been picking at this massive bag of Smarties just lately.  We got a big bag for about a fiver from Cash & Carry for the kids at the wedding, but despite two massive pots being put out on the day, and several people taking handfuls home, the bag seems to be never-ending!

I've already posted these on Instagram (if you don't already follow me, please do, because I keep forgetting to repost the pictures on my blog and I've posted lots on there over the Summer!)  Here is one of my favourite wedding gifts, from my bridesmaid, Vicki.  Mr Brightside is one of the songs that reminds Dan and I of uni times and when we first met.  Vicki gave us a print of the sheet music, stamped with our initials and framed.  I love it!

Here's another great gift…CHOCOLATE!  These are the chocolates that Dan has always bought me at Valentines, Anniversaries, birthdays and Christmas.  Although he didn't know this, as part of the wedding present from my Uncle was this massive box of Guylian chocolates.  It is literally the size of my core!

I'm having a problem with WordPress not uploading any images at the moment.  Initially I thought it was because I was out of space, but I've had that upgraded and still they won't upload.  I've had to host these images elsewhere.  Has anyone had a similar problem?  I'm going to get in touch with Streamline today once their helpline opens.
Lover or hater of core work?
Are you a fan of Smarties?  – They are probably my favourite old-school chocolate treat!