I doubt there are many Brides-to-be that have a stockpile of high-calorie foods piled up a week before their wedding and are aiming to eat up to an extra 4,000 calories the Friday before their big day.
Yet, last Thursday I found myself sat infront of my house with a large Dominos pizza box and entire bag of food portioned out for the following day.  Grim Reaper race day!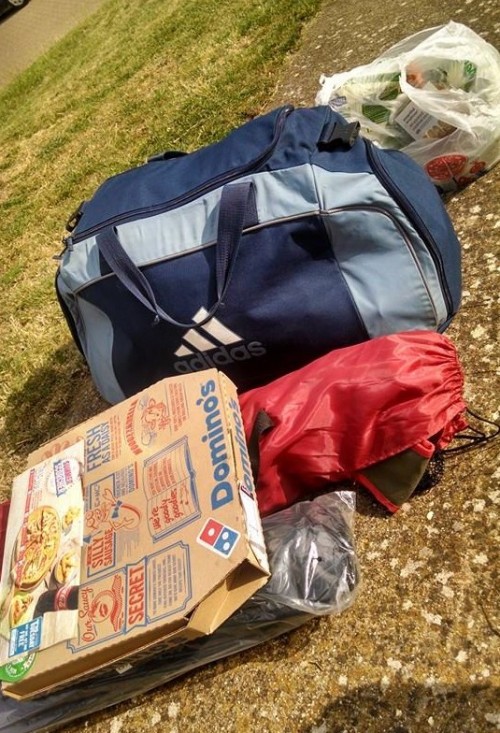 (The food is in the carrier bag, not the adidas bag…that is my kit!)
Kev, from club picked me up before 5pm and we continued through to Grimsthorpe Castle in Lincolnshire where the Grim Reaper race was to be held.  The race is a lap race, consisting of a 10 mile loop which runners run either 4,7 or 10 times depending on whether they are running the 40, 70 or 100 mile race.  My name was down for 70 miles…  :S
Setting up tents proved a struggle when we realised Kev had brought along inner tents, outer tents, a huge heap of pegs and a pile of assorted poles from various tents.  We had no idea what went with what!  I was very thankful that I had decided to buy the £8.65 Argos tent that morning before leaving.  My tent set up took all of five minutes, whilst working Kev's out took us well over an hour!  We did become jealous of all those arriving after us with their 'pop-up tents' which they just threw into the air and as they landed were perfectly formed for people ready to enter!
After experiencing my first pork chop and fried baked beans combo we set out to 'walk the course' along with a few others we met along the way.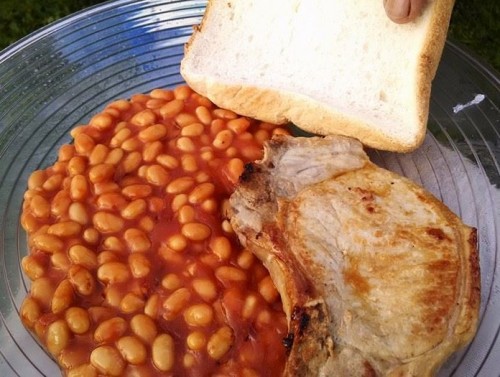 Because we had had a light rain as we were setting up camp yet it was still a hot day there was a really creepy but beautiful mist across the water and I wish I had taken some photos.  We walked the first mile or so of the course before heading back.  Kev had run 60 miles of the 100 mile race last year so he pointed out tricky bits of the course and mentioned areas further ahead to watch out for on the day.  It's handy having an experienced ultrarunner to hand!
We invited a couple back to our camp for some hot drinks before bed but got an early night, turning in by 10pm.  It didn't make much difference though…I was awake bright and early by 5:30am on Friday morning as I heard John (another runner from our club but one who was coming as support this year) arriving with his tent.
It wasn't much longer before Tracey (running the 40miles) and Colin (running the 100) arrived with Colin's wife, Gillian (another support for our club).  After downing some sausage sandwiches, lathering on the suncream and pulling all race essentials to the front of our tents we lined up with everyone for the pre-race briefing.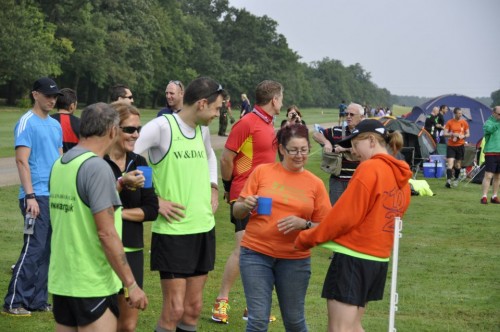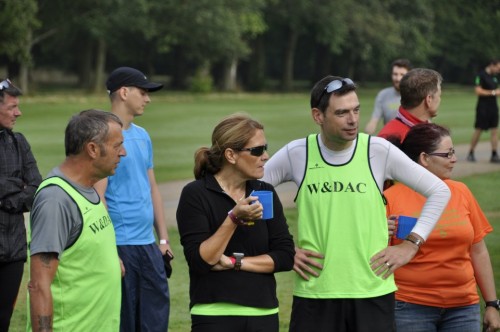 We grabbed a quick pre-race photo with our local Higham Harrier.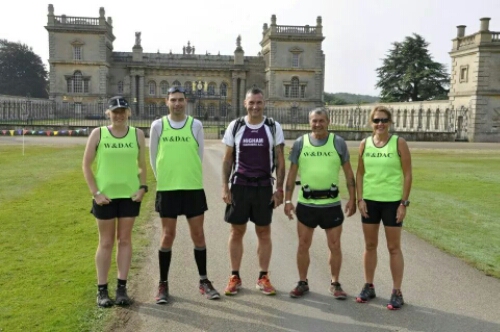 And then, before I knew it, and without time to give it much thought, we were heading down to the start line!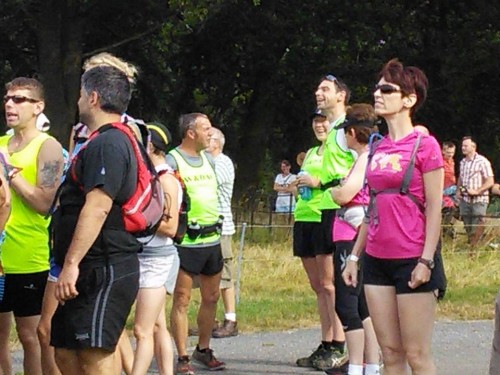 I managed to spot Jess on the way down to the line so we grabbed a quick chat before the race began.  Jess had messaged me a few weeks ago to find out a few of the final details about the race and to let me know that she had signed up for a place in the 40 miles.  She was concerned that with the recent problems she has had with her leg that she would struggle with the distance.  I reported back that although there was a fair amount of tarmac, in lots of places she would be able to run on the grass verge if she wished, which she had said would be easier for her leg and I hope this filled her with a bit more confidence before the race began!
There was a bit of a kerfuffle with a slightly delayed start as there was an issue with the cows being in the wrong field on the starting straight.  I'm not sure that it was cow wranglers sent up to move the cows though, or race marshals, as from where we stood on the start line, the people in the distance just appeared to be winding the cows up further!  But in the end we were shuffled further forward and set off on our long race.
It hit me from the very beginning just how slow some people were planning on running the race.  The rough aim I had in my head was to run all flats and downhills and walk the uphills.  All running should be 12minute miles or slower and all walking should be 15 minute miles or quicker.  (I have a long, quick stride.)   I didn't think I would be able to maintain these speeds for the entirety of the race but hoped to maintain that drive for as long as I was able, with my running slow and steady so that I would not burn out and would still be capable of eating on the go.  Despite running at what I felt to be a much slowed pace though, I still seemed to leave a huge group of competitors behind at the starting line and I did doubt my race strategy briefly, before trusting my judgement and going with what I had set out for myself.
At around the three mile mark, just as we came out of a grassy section onto a limestone trail I felt a sharp pain in my lower left leg and saw something fly away.  I assumed I had been bitten, but the pain was really intense and I did screw my face up for a few seconds before carrying on.  I later discovered from talking to others that there was a wasp nest down in the thick grass which had been disturbed by the front runners.  Several runners had come away with repeated stings so I was lucky to get away with just the one.  I've not been stung for years though, and I forgot just how much they hurt!  On my third lap I actually saw the swarm of wasps flying around in circles in the air at which point I followed the footsteps of the runners ahead of me and took a wide birth of the actual path, staying as far away from all wasps as possible!
The first lap flew by.  About 4.5 miles of the course were on tarmac, including the start and finish of the race.  The course enters woodland a couple of times and there are also grass and limestone tracks out on the route.  There were a couple of steeper inclines on the course – the toughest being around mile 2 on rough ground inside the woodland.  Nothing too awful though, and nowhere near as steep as at the Conti run in May.  I found it easy to stick to my targets and completed the 10 miles in 2:14:09.
For one of the first times ever on a run I was ready to eat.  My stomach was already grumbling away when I clocked my timing chip in back at the campsite.  I managed to eat two slices of vegetable pizza with added pepperoni and grabbed a nakd chocolate orange bar for the next lap.  I was literally only back at camp for a matter of minutes before setting off again out for lap number two.  My times back at base got longer and longer as the race went on though.  Gillian and John were stars throughout the entire race and pandered to the every need of us four runners!  I had barely set foot in the campsite before John took my bottle for refilling and Gillian was pulling out my pizza!  They were amazing and made such a huge difference to the success of our races.
On the second lap I ran several miles with a lady who was looking to run at similar pace to me, although was only running the 40 miles.  It was quite nice having someone to run with and chat to consistently for a while although, at the end of the day so much can change or go wrong in a race you really need to learn to run for yourself and cope on your own.  It was around six miles into this lap that my paths crossed again with Jess.  This was the only part of the course where two points crossed and Jess was then at the 22 mile point storming up the hill on her third lap as I was at my 16 miles, breezing the brief downhill section.  I called out to see how her leg was doing and she said it had begun to play up but she was fine – powering through.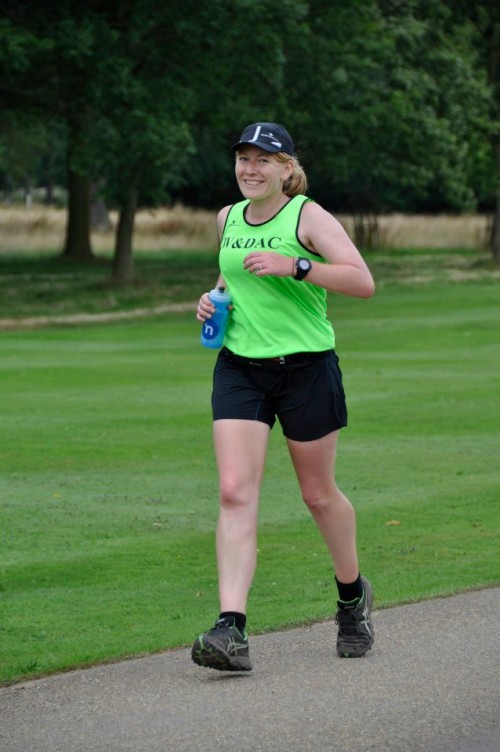 I was surprised to see Kev back at our campsite with a fag and Guinness on the go when I got back.  He was running the 100 miles and I expected very little stopping time this early in the race for him but he admitted he hadn't been having a good one and was really lacking in energy and motivation.
When I got back this time I was struggling to eat so was glad that I had eaten lots after the first lap whilst I still could.  I think it was probably the heat.  Although there were several shaded areas of the course and the sky was overcast with a slight breeze, the temperature was still in the mid twenties and I wore just a vest and shorts for the first forty miles.  It took me a long while to choke down a slice of pizza after twenty miles, which I washed down with some chocolate milk.  The chocolate milk was amazing – it made it easy to wash down food and was also an easy way to get extra calories in for the future miles.  As I hadn't been able to eat much whilst back at camp, I stuffed two nakd bars into my right hand and grabbed an orange from the aid station as I left.  Oranges on a race had never appealed to me before but I know in America they often offer orange slices on marathons so I was eager to give them a go.  I seriously underestimated just how amazing oranges could be!  As much as all high carby food I had tried back at camp had tasted of cardboard and was difficult to get down, the oranges made up for with their tangy freshness.  I could easily wolf down the orange segments and picked up at least one orange every lap after this to eat whilst out on the course.
Everyone was really sociable in the race and at this point we were still out with all the 40 milers, so it was never long before you were alongside someone to have a quick chat to.  I honestly never became bored the entire race and always had things to think about or people to chat to en route.
At mile 25 along a long section of road (the worst section for me and many others I'm sure!) I slowed as I spotted some cattle movement ahead.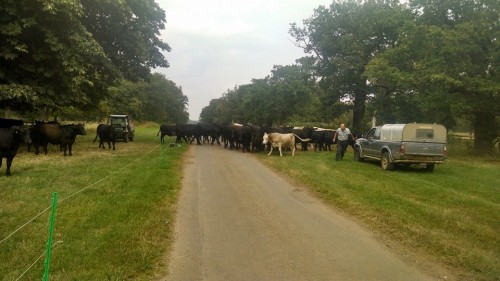 Two guys appeared to be moving the cattle from the left side of the road over to the right side, although to be honest they didn't appear to be doing a very good job of it!  I was one of the first runners to come across the sea of cows in the middle of our road and it appeared the two guys 'herding' them were actually just standing one to each gate so cows were milling everywhere and avoiding going into the field they were supposed to.  I stepped up and placed myself halfway between the two – almost to steer the first few cattle into the field.  I've worked with horses in the past and herding is pretty much the same concept with any animal – as soon as the first few animals go where you want them to, the rest will follow.  The guys urgently shouted out for me to go behind and round the animals though (perhaps they were worried I would get injured by their animals?!) so I left them to it.  When Jess caught me up a few minutes later she agreed with me that I had in fact been in the right spot and that the herders were doing a rubbish job!
It was lovely to finally meet Jess properly and we ran together from about my 26-29.5miles.  Jess was running the 40 miles and a lap ahead of me so ten miles further into her race, finishing as second lady when she left me for a speedier finish through the campsite at the end of her last lap.  Jess adapted her race completely at this point to fit with my race plan and (although I'm certain I was) not once did she make me feel like I was holding her back.  She was having problems with her leg by now and had let me know that she wanted to keep it steady and not destroy her leg further but to enjoy and finish the race.  So we enjoyed catching up and filling each other in on our experience of the course so far and future running plans.
As I arrived back for the end of my third lap I was joined by Andy, a club runner who had come to support us all with his wife Nic.  He jogged 100 metres towards the finish with me, where he joined us sat on the chairs for a few minutes for a quick chat back at camp.  Andy was one of the guys running the 40 miles last year that I came out to support so it was lovely to have him return the favour for me!  It was at this point, before heading back out on the course for my fourth lap I rang Dan and begged him to bring me some chocolate milk and oranges when he left off work!
I began lap four not long after Kev had set off again and was worried when I saw him walking back towards me at mile 33.  I shouted out to check he was alright and he informed me he'd just been sick and felt quite weak so was planning on pulling out and heading back to camp.  He took off his water pack and clipped it around my waist for me to use.  I was very thankful of this.  It was a hot day and I was getting through a lot of fluid.  I had taken my nuun bottle with tablets that I received last week (full review to follow) and they did an amazing job at keeping me hydrated and topping up my electrolytes throughout the race.  Not at a single point did I feel weak or dizzy and I think a lot of the credit should go to the tiny lemonade tabs John was dropping into my drink every ten miles.  One bottle wasn't enough though, and in the heat of the day I had begun to feel like I was rationing my drink – only allowing myself the final few drops at mile 9 of the course, knowing that I could go a mile without fluid before I was able to top it up again.  The two small bottles of water in Kev's pack provided that little bit extra and I no longer had to worry about rationing my fluid over the 10 miles.
(I didn't want to, but I have too much to remember and write, so I've had to split my race report into two!  I'm hoping I shall be able to write the second half – thirty miles – tonight…)…To be continued…!