I don't have the professional wedding pictures back from our photographer yet (hopefully later this week) so I'm a bit reluctant to post too many wedding pictures from friends until I can also pick out the best ones from the photographer.
However, I'm sure that most of my readers aren't too interested in the dress, or the speeches, but instead, the cake.  So I've decided to blog about the wonder that was our wedding cake today!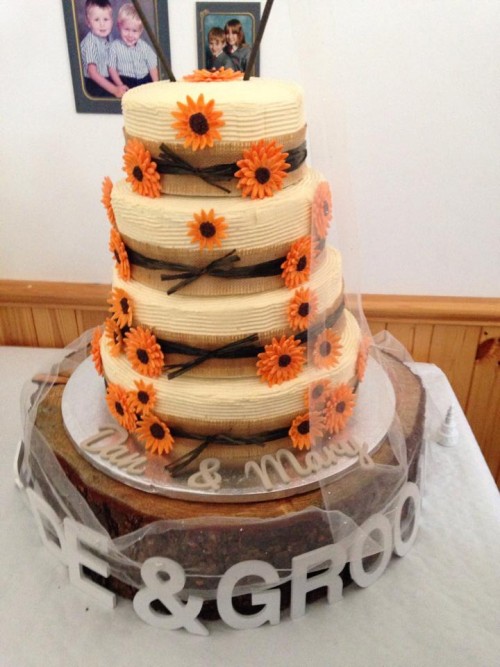 Back in June I wrote about the cake board and knife/cake slice.  We were after something rusticy and when Dan's Mum offered to make our cake for us, it didn't take long for us to fill a Pinterest board of cakes we liked the look of.  We were very insistent that we should have buttercream icing for our cake, rather than royal or fondant icing to stay in keeping with the rustic theme.  Flowers on the cake were also a must and we liked the idea of having raffia tied around each of the tiers.
Finding a cake topper was one of the things that got left until the last minute and then all we could find were old fashioned cake toppers or ones that looked nothing like us (eg; black haired bride and ginger groom!) or it became really expensive if we wanted to venture into handmade territory.  We loved this pinecone topper on Pinterest, but felt it suited for a more Autumny-wedding.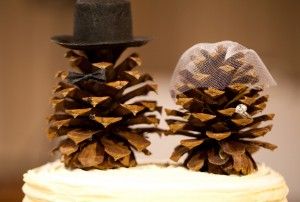 Then we saw this rusticy topper, which my now Mother-In-Law created perfectly for our own cake but with little sunflowers instead of the roses that were in the example we had found…>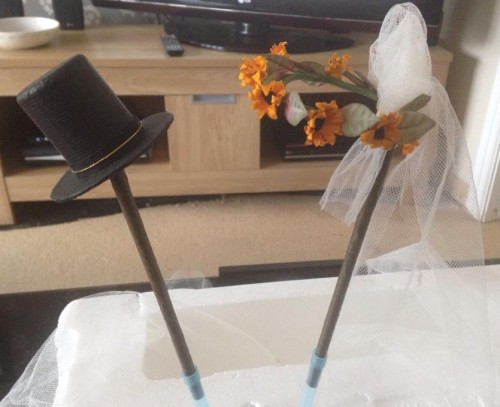 Because Dan's parents stayed with my parents in the week leading up to the wedding, Wednesday became baking day for Ann in my Mum's kitchen and Dan's Mum spent approximately eight hours mixing, baking and cooling cakes!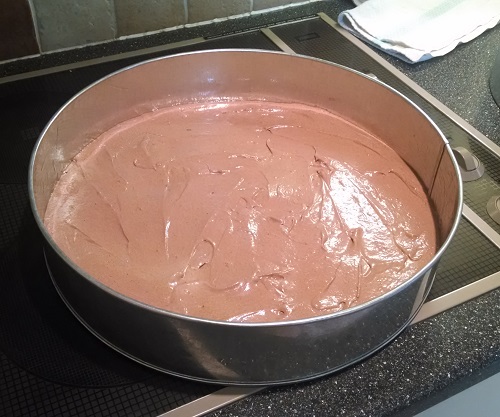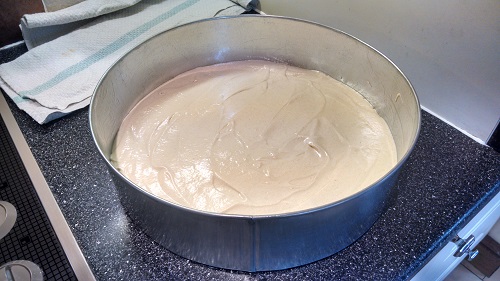 We had four tiers on our wedding cake and each tier was three cakes on top of each other and filled with jam and more buttercream icing.  Two of the tiers were chocolate sponge, and two were vanilla.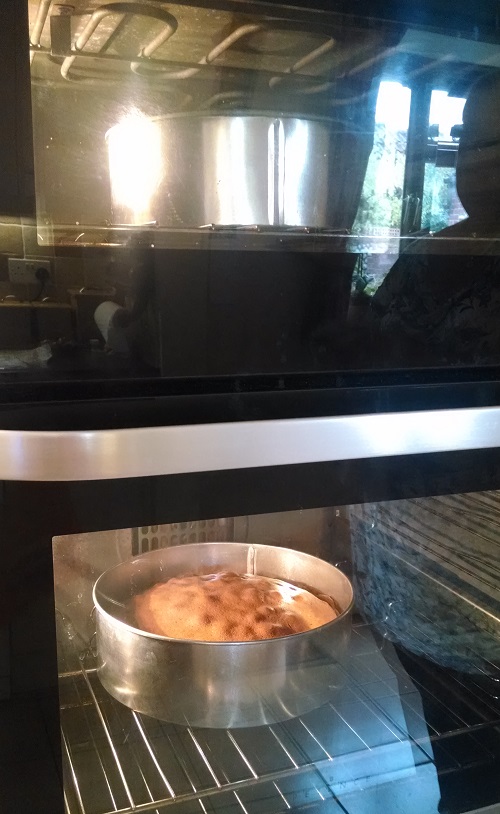 My Mum's oven was rather busy for the day.  I love my Mum's oven and have baked many tasty treats inside.  I'd love a big oven like this one day!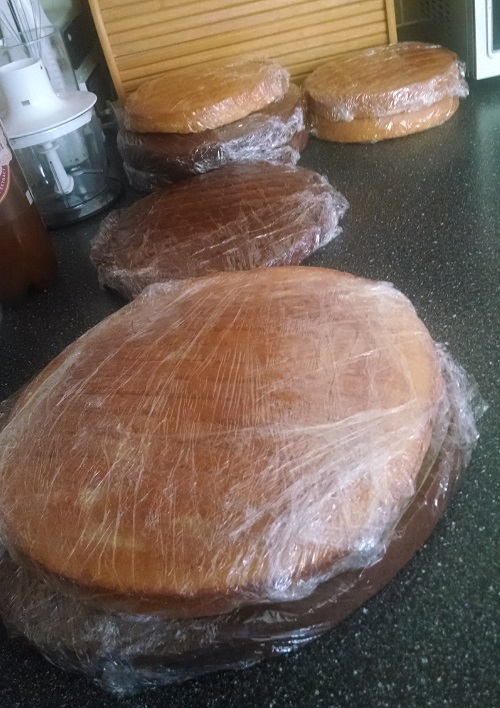 By the end of the day we had twelve cakes all clingfilmed up and one part-broken cake to pick at and taste test, as it had fallen apart when placed on the cooling rack.
Thursday was spent putting the cakes together and icing and then on Friday the cake was assembled and placed at the village hall ready for our reception the following day.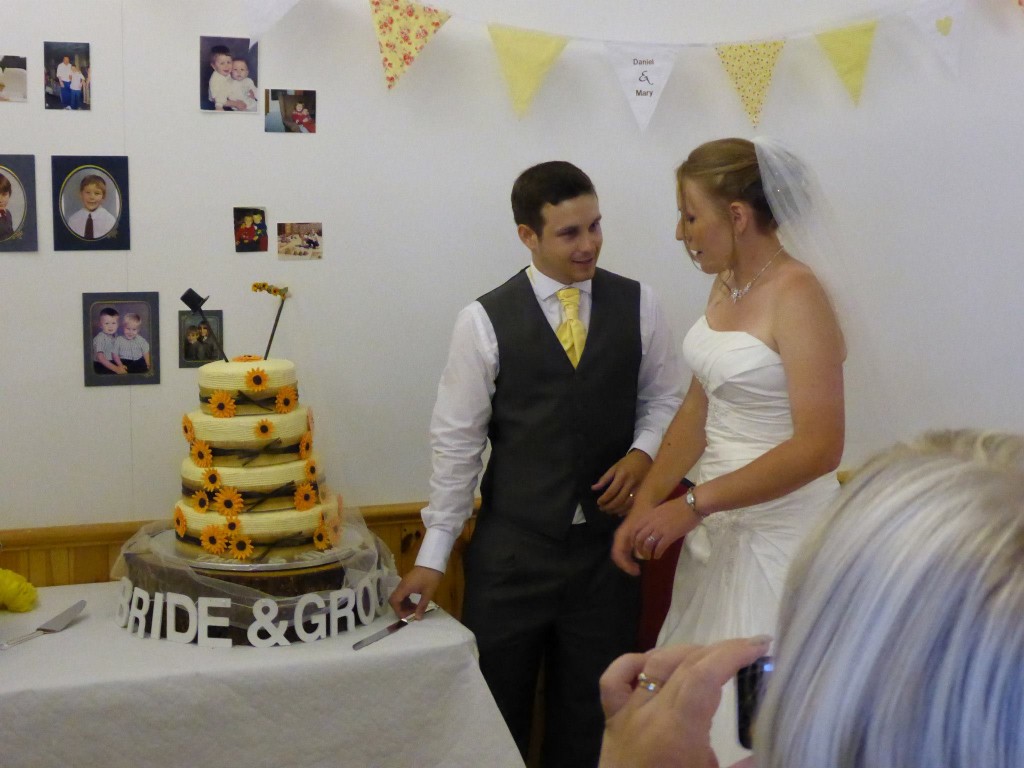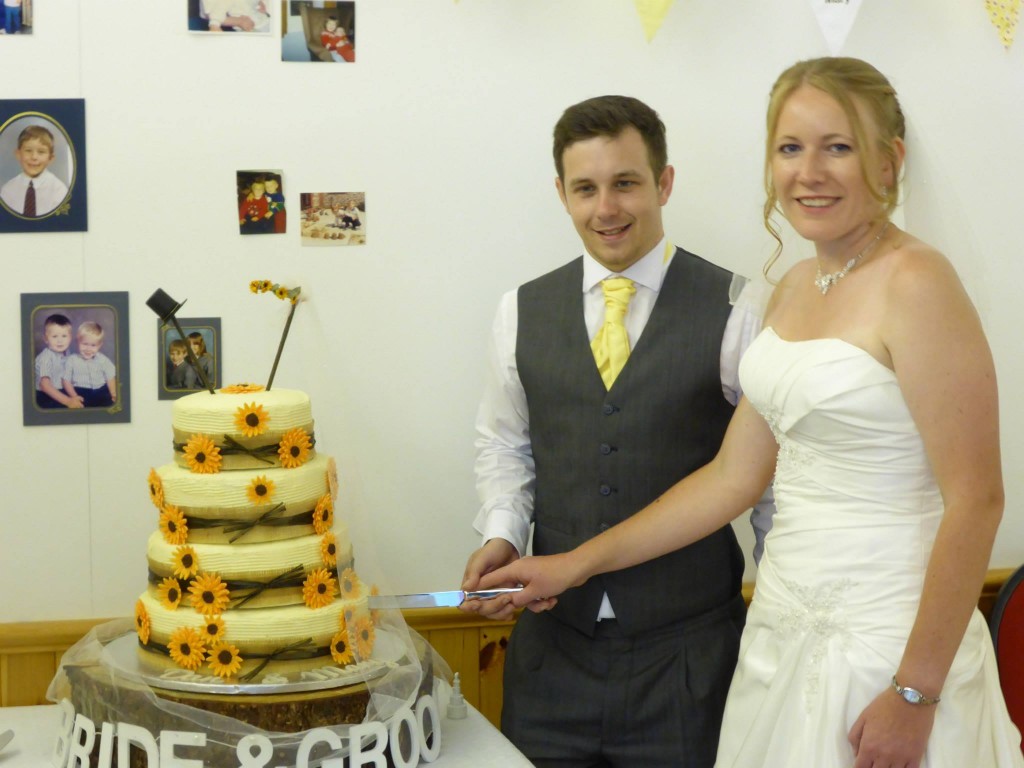 No-one tells you beforehand just how awkward the cutting the cake moment is!  You stand for several minutes with a hand each on the knife poised and ready to cut the cake.  Every time you start to make a move with the cut, another camera flash goes off and you daren't move incase somebody is in the middle of taking a photo!
After we had made the first cut, our caterers whisked away the cake and slices were cut ready for when the buffet was produced later in the evening.  I never actually got a slice of cake on the day but there was plenty left over.  (I'm pretty sure this cake would feed 500 people rather than the 100 we requested it for!)
Mum currently has the base layer, cut into four in her freezer at home and the next few times I am back I shall bring a section home with me so that I can distribute cake amongst people that couldn't make it on the day (or just eat a lot of cake myself!)  Here is the quarter I was sent back with on Thursday night.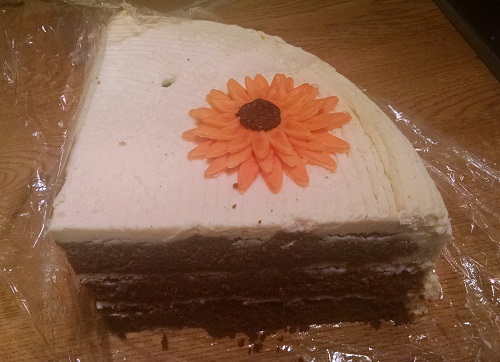 I cut a thin slice off, just so you could see the layers in the cake.  (Not so that I could try a slice without Dan noticing at all!)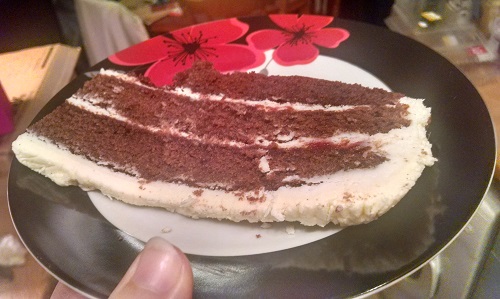 Did you find the cutting cake moment painstakingly awkward?!  Or have you found it awkward at other weddings?!