I still don't have our wedding photos back from the photographer, but this weekend, I caught up with one of my friends whose husband is also a photographer and had brought his camera along for the wedding so I finally have some more pictures of the day!
I'm going to attempt to describe the morning events right up until the church service as I think if I tried to go through the whole day, not only would everyone get bored of reading but I'm sure I'd miss so many of the little details out!
I'd stayed at my Maid of Honour's house the night before the wedding and we arrived back at my my parents' home for 8am on Saturday 9th August.
There doesn't seem to be any photos of the getting ready before the wedding from friends and family so I'll have to post these once I get them from our photographer.  I do have a couple of videos, so I'll screenshot where I can and add to my recap.
I had four bridesmaids and they really proved themselves on the morning of the wedding.  They all leapt straight into the kitchen and began chopping carrots, slicing grapes and grilling mushrooms, working from my list of foods we needed to prepare for the evening reception.  I had to leap in and out of the food prep as everybody seemed to need me for different things or to ask about certain details.  I also managed to sneak a quick ten minutes with Bella (my cat) as she was staying with my Great-Aunt next door.  The food prep was an on-going process and even Dan's Nan got in on the action, slicing grapes and adding cheese!  It was manic, but I'm assured by my bridesmaids, also fun!  I just kept thinking back to my Maid of Honour, Hollie's wedding five years ago.  Where we woke at 7am, got bored and ended up doing the washing up and watching TV until people started to arrive several hours later.  This was nothing like that, but at least it was entertaining!  At one point there were 20 people in the house as it contained Me, my four bridesmaids, my parents in law, Dan's Nan, my parents, my brother, Dan's sister, boyfriend and their three kids, the hairdresser and her Mum, the makeup lady and the photographer!
The hairdresser was already there when we arrived and was working on Dan's Mum's hair.  We each took it in turns to take our place on the chair in the lounge to get our hair put up.
My turn came last and Abbie, the hairdresser worked her magic on my hair to produce a version much better than my trial.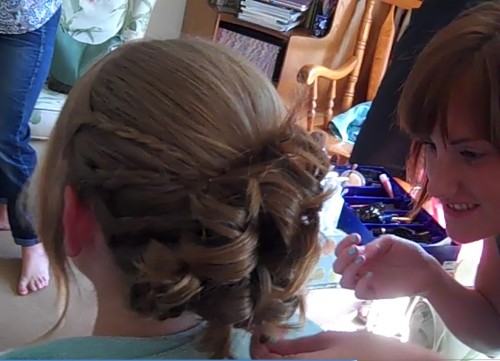 Philippa, the make-up artist arrived at 9:30 and following my Mother-in-Law and one of my bridesmaids, I was again last to be done.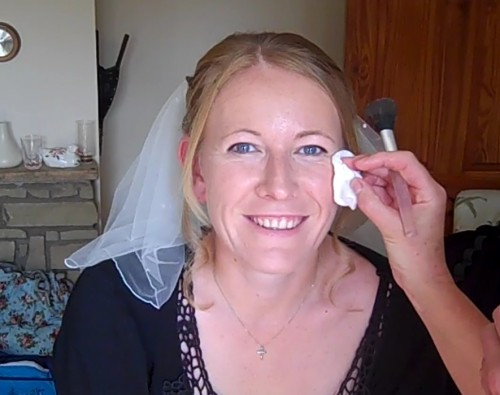 By 12:30, Sylvia, our photographer was telling me she needed to be heading to the church and so I really should get into my wedding dress if I wanted her to get photos.  I told her that it was fine, – I was happy for her to go and capture the boys as there was still a lot of work to be done preparing the food for that evening and I knew I would be pretty useless once in my dress.  My bridesmaids all ganged up on me and brought my dress through for me to get changed into.  Two of them then shot off to finish plating up the food, whilst my bridesmaids Hollie and Vicki started pulling tight at the corset back.  (Nearly pulling me over on more than one occasion!)
I asked two of my bridesmaids and my Mum if Dan had given them anything for me.  He had said quite a while ago that he was going to buy me my 'something new' and I had gotten out of him that it would be earrings (as I didn't want to buy any for the occasion only for him to have done the same).  I had only picked up a necklace the Monday before the wedding and my veil on the Thursday (clearly, I like to leave things to the last minute!)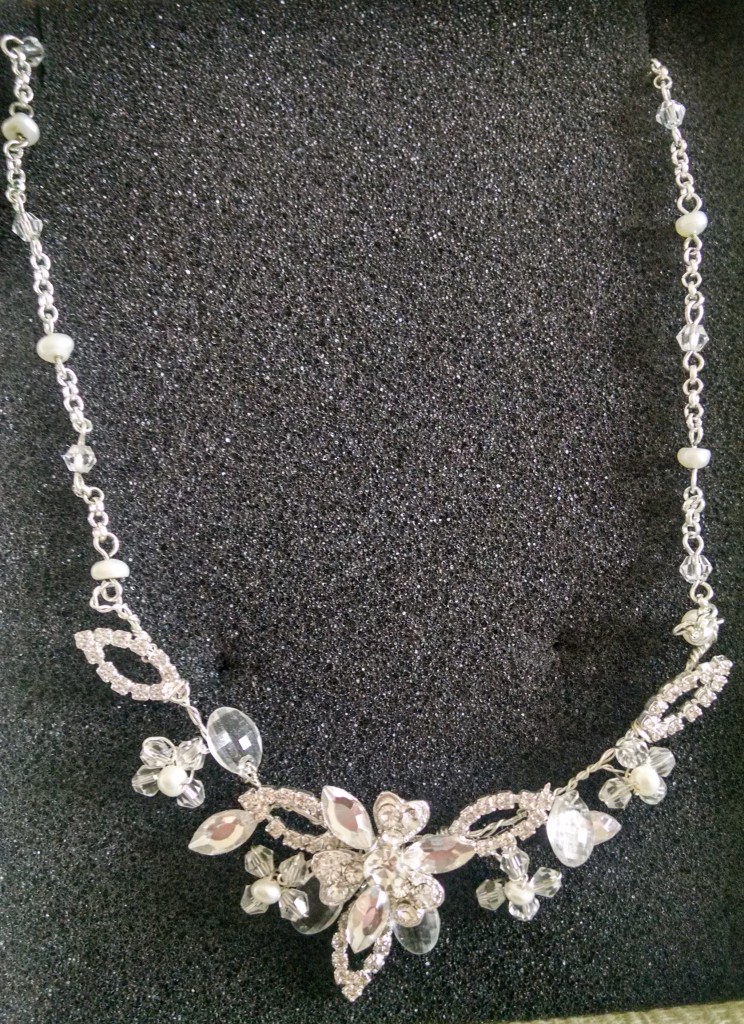 I felt the little pearls and detail went with the detail on my dress.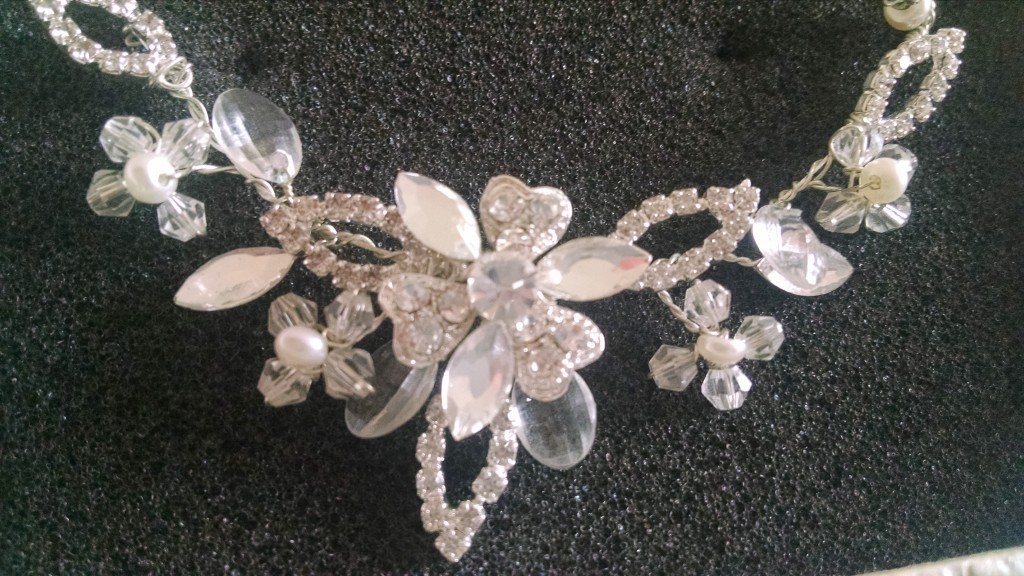 At the last minute, literally as the bridesmaids were about to leave, Hollie handed me a little bag from Dan which contained a letter and a box with my earrings inside.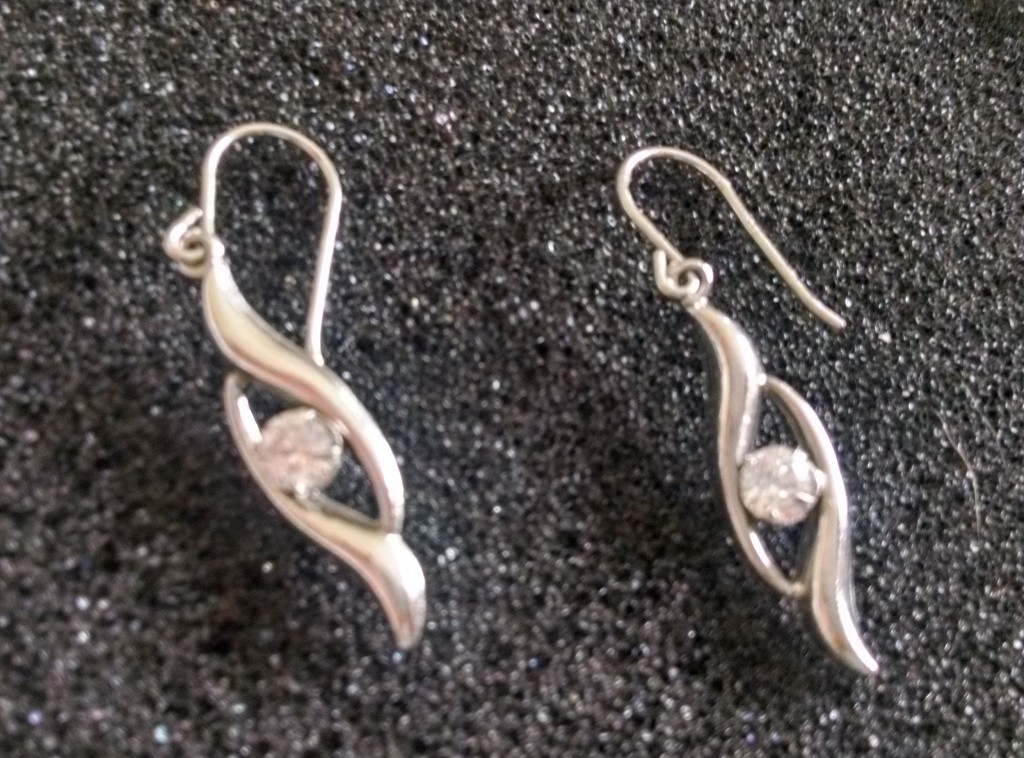 They were a pair of beautiful diamond twisted earrings, with the twist in the gold matching the twist in my engagement ring.  Perfect!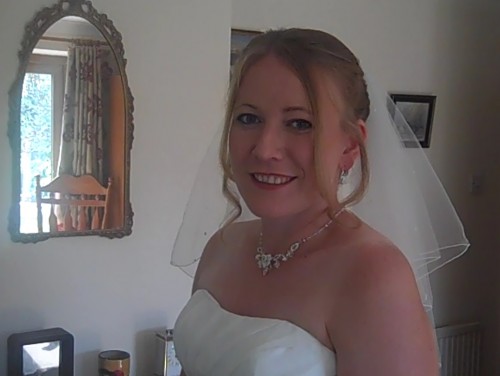 Once I was in my dress, Sylvia rushed off to capture the boys at the church together before the service.  This is Dan with his Dad, and best man.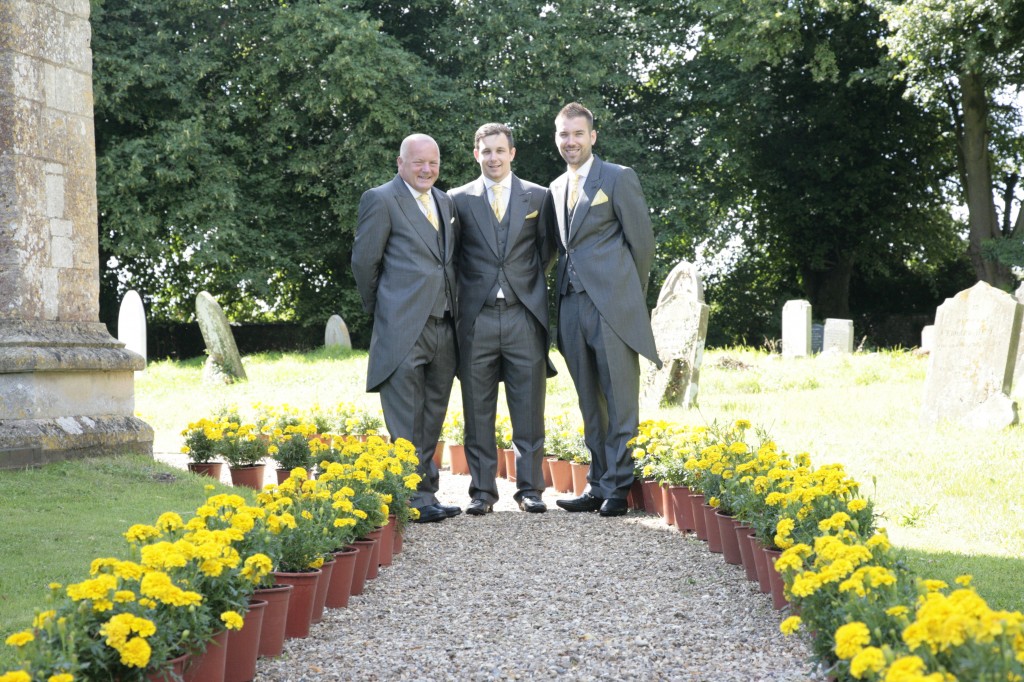 My Dad had grown hundreds of pots of yellow marigolds for the wedding and lined the entire gravel path with the pots for us to walk down on the day.  It was supposed to be a surprise but he got too excited and told me beforehand!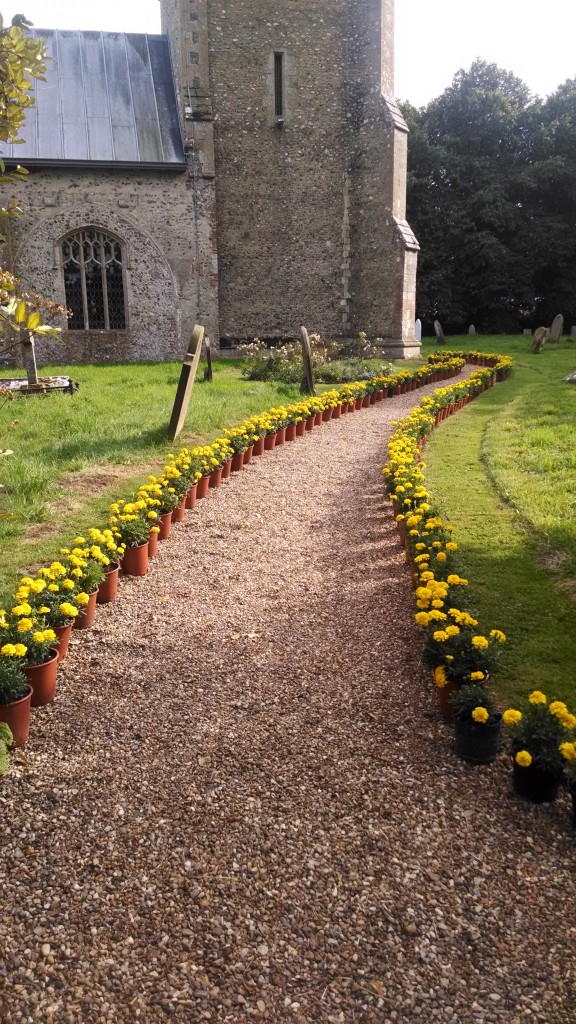 Whilst the boys were being photographed at the church, my bridesmaids finally had a chance to get ready.  They didn't begin doing their own makeup and getting dressed until 12:50, and they were supposed to be leaving for the church at 12:55!  They all crowded into my brother's old room and every time I entered they were in a flurry of doing each other's dresses up, perfecting makeup and ensuring they had everything they would need for the day.  Luckily, at 12:55, we received a phone call from the Best man to say that several guests were stuck in traffic and could we delay the arrival for another 10 minutes?…  Er, YES!
This was the point my Dad started to panic.  He'd been out, busy all morning picking up loaves of bread, putting signs up and letting the caterers in, amongst other jobs.  When he arrived back he realised he couldn't find the cufflinks that came with the suit.  I knew they were there, as we had been shown them when we had picked his suit up earlier in the week.  But Dad said he had emptied his pockets out and I looked through the suit bag and couldn't find them.  At 1:00 I was putting safety pins through his shirt cuffs to keep them from hanging out.  A long process as my Dad refused to stand still!  At 1:05, the second after I had finished putting the pins in place, Dad found the cufflinks in his jacket pocket.  Argh!
My Mum had been busy all morning completing flowers for the tables and organising the bridesmaid's bouquets.  She had been so busy she didn't have time to shower.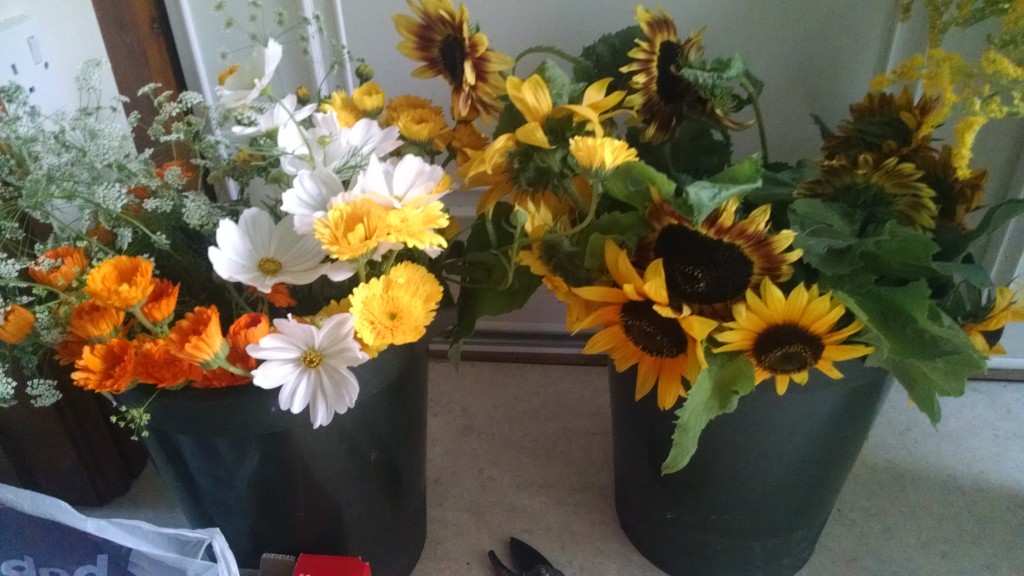 It was an incredibly busy morning!
The bridesmaids left at 1:10.  The church is literally only two roads away from my parent's house.  Next was my turn and I was excited about arriving in a horse and carriage.
As we rolled up, I could see about 20 people from the village lining the streets with cameras, all taking photos.  There aren't many weddings in Sharrington Church!
As we arrived (at 1:20, 20 minutes after the service was due to start!) a few more guests snuck in infront of us.  Apparently there were bad traffic queues at Kings Lynn and I think about 5-6 of our guests travelling down ended up having to head straight to the reception, missing the service, which was a shame.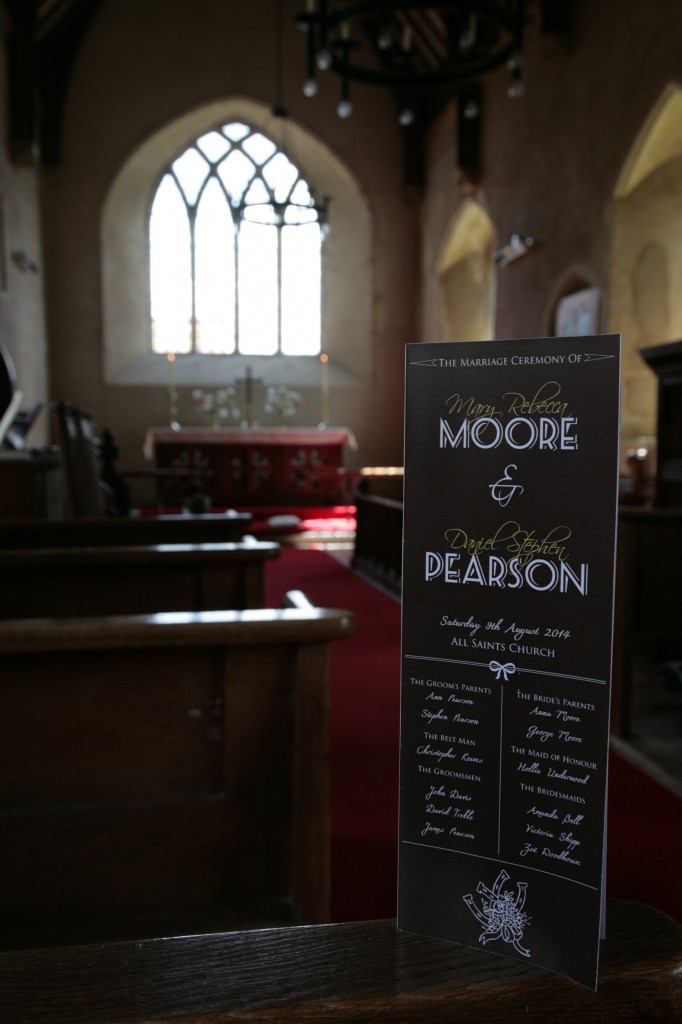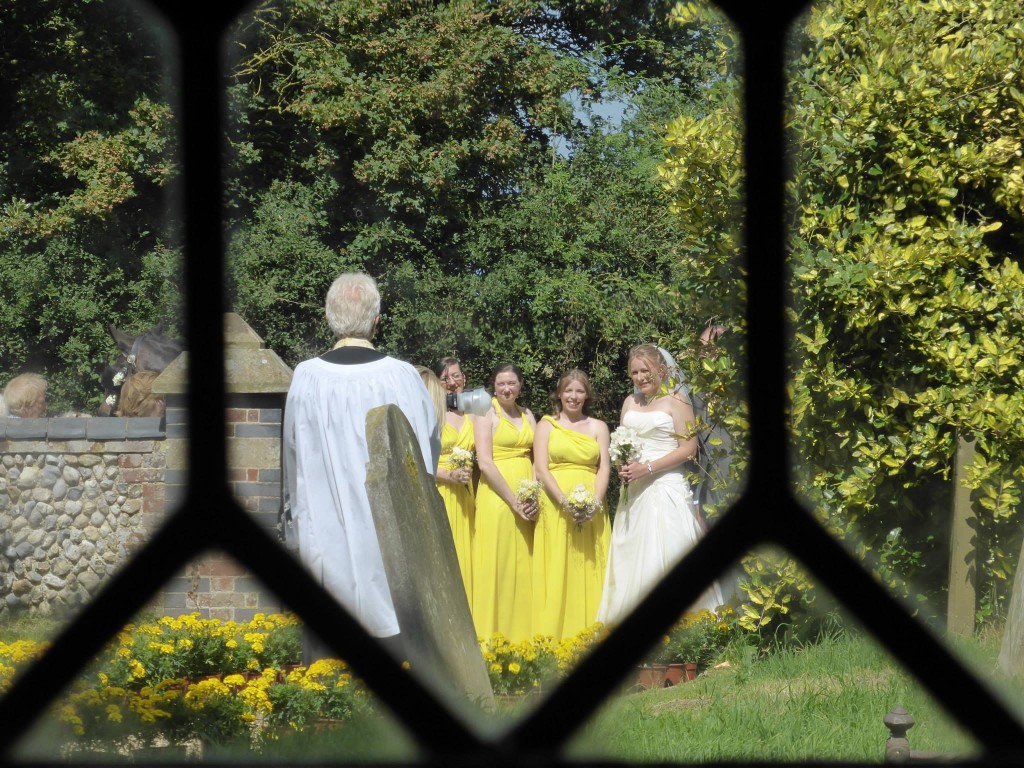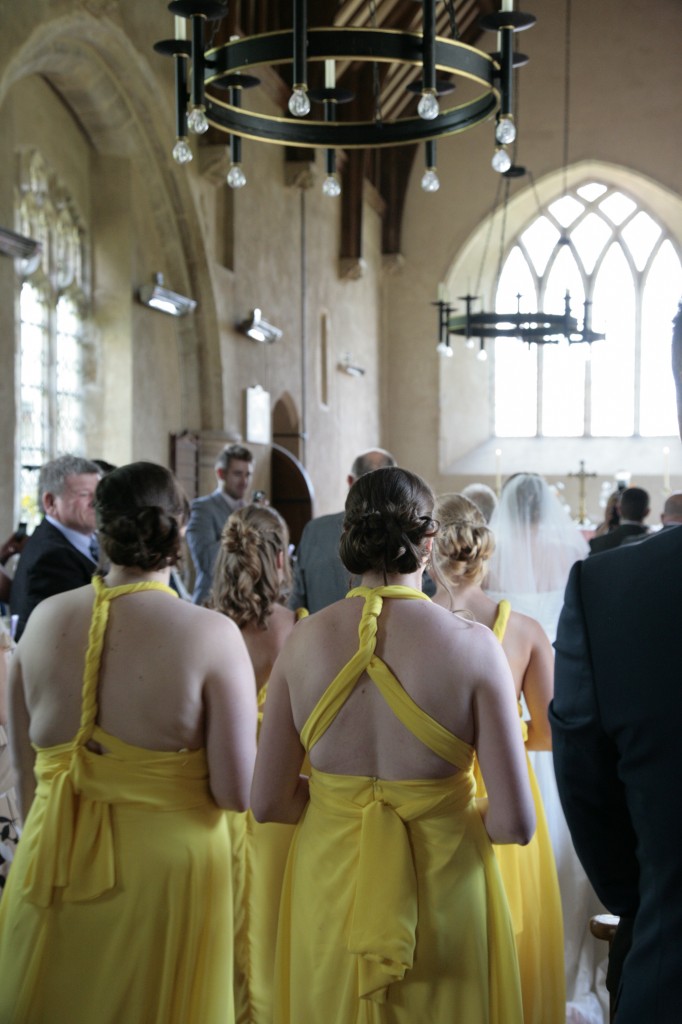 I shall get another post up later in the week with the service and wedding reception meal.  I really want to get it all written up before I forget things!