So yesterday I posted about the wedding morning.  Today I'm going to share details of our wedding ceremony and the reception meal.  Again, only working from photos received from friends or video stills from those that we gave video cameras to.  Professional pics to follow!
So Dad and I arrived at the church 20 minutes late.  Nobody seemed phased by this though thankfully!
As we walked up the aisle, with my four bridesmaids behind me I didn't expect to feel so emotional.  I had in my head that I would be able to disconnect myself from the service in order not to cry but as I looked forward and saw Dan at the front of the church facing forward towards the altar I got a lump in my throat and could no longer make eye contact with any guests!
Dan later told me that stood at the front, the Best Man had whispered to him "She looks stunning.  Don't turn around, but she looks stunning!"
The Vicar didn't keep to the Order of Service at all, despite us having checked it through with him previously, and him running through it with us at our rehearsal the night before.  Things went relatively smoothly though and we sang our hymns 'Morning has broken' and 'Jerusalem'.  Dan's sister got up and gave a reading which was an extract from Stardust and my brother read an extract from the film About Time before my Mum read a psalm at the front of the church.  And then we were married!  There were a few issues getting the rings on fingers as it was a hot day but I think only our families at the very front saw the struggle in our faces, hoping the rings would still fit!  😛
After our blessing we followed the Vicar into the tiny vestry at the top of the church whilst our organist played 'The Lord is my Shepherd'.  My Mum is the organist for the village, but she was granted a day off for the wedding of her daughter so I asked one of her close friends to play for us instead.  The vestry was incredibly tiny and when we had gone through our rehearsal the day before we had worried about fitting the two of us, our two chosen witnesses and the vicar into the room.  But on the day both sets of parents also squeezed in, and our photographer whilst the bridesmaids waited outside.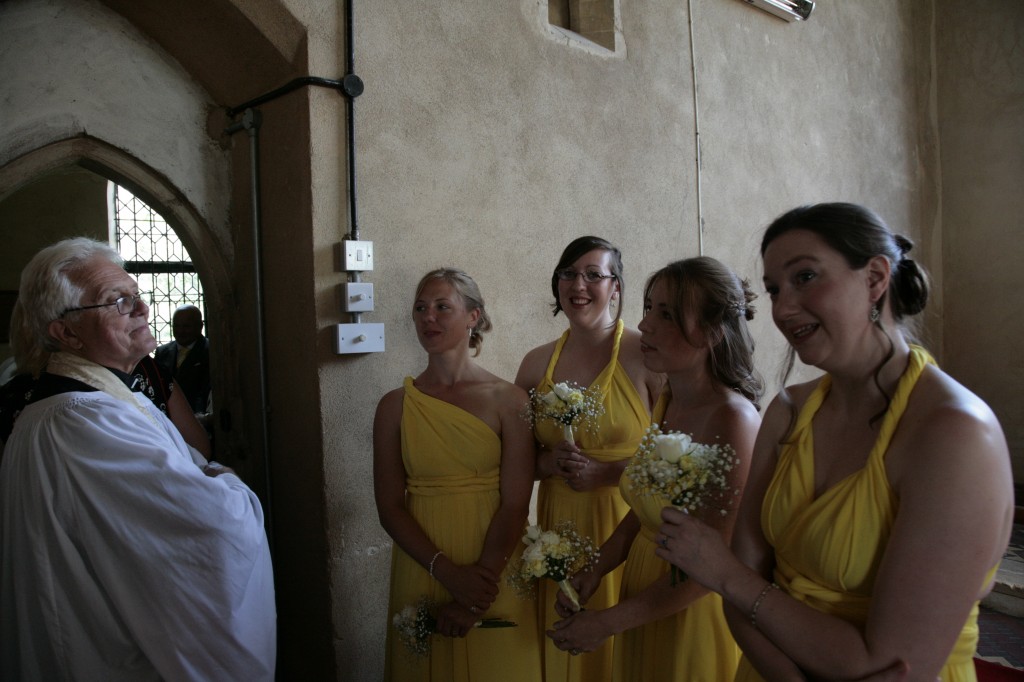 And then it was time to head outside, walking as Man and Wife for the first time!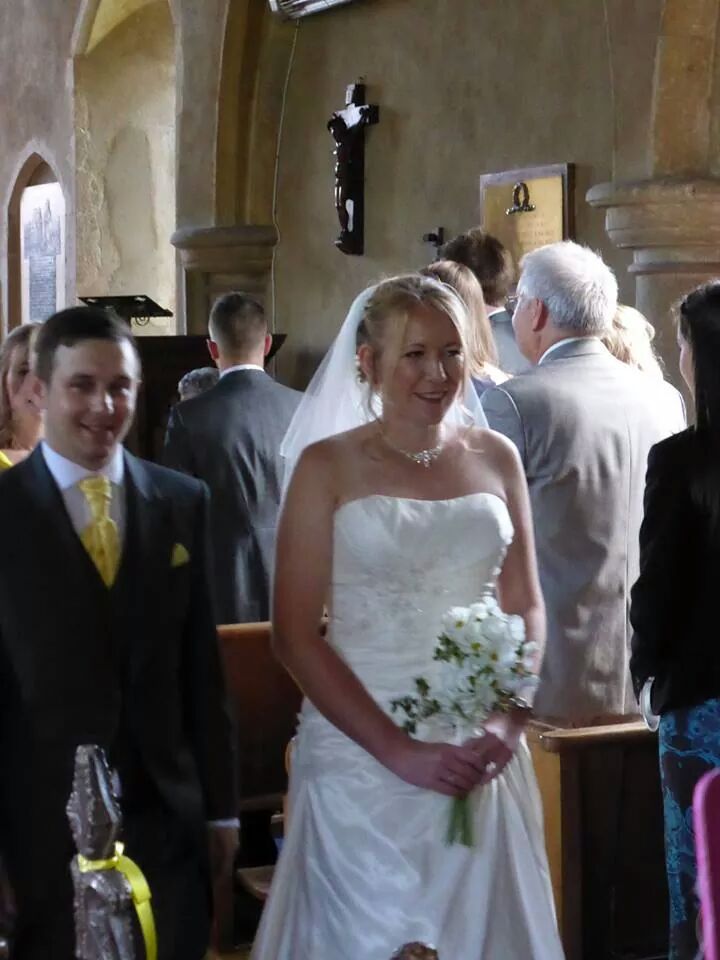 This video wasn't very good quality, but I had to screenshot this clip of Dan as he has the biggest smile on his face!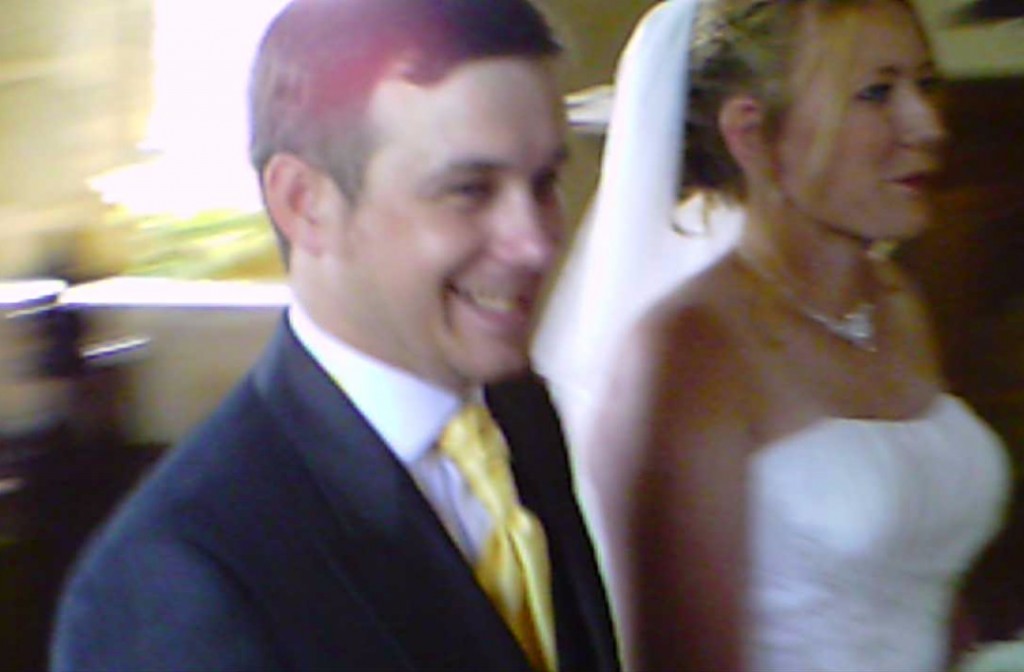 My witness, Hayley, later told me that she had questioned whether or not to hide out in the vestry for a little while with Dan's witness, Andy, as they didn't want to get caught up in the wedding procession!  In the end I think they hung back and picked up their respective partners as they walked at the back of the procession.
And we were married, as quickly as that!  Getting outside was nice.  It was such a lovely morning.  We were so lucky as the night before it had really hailed down and we were worried about the water standing on the ground in the parking area, as both parking at the church and at the hall were on grass.  But by 1pm the heat of the day had meant that there were no puddles or wet ground in sight!
The next ten minutes were taken up by people congratulating us, and me saying hello to everybody, as Dan had already seen them all as they arrived at the church.  And then we had some photos taken.  We didn't want loads and loads of formal photos as we would much prefer to have photos of people in their natural habitat(!), relaxed and not all stiff and formal.  We did have one photograph of everyone outside the front of the church and I am looking forward to seeing the professional version of our bridal party photos though.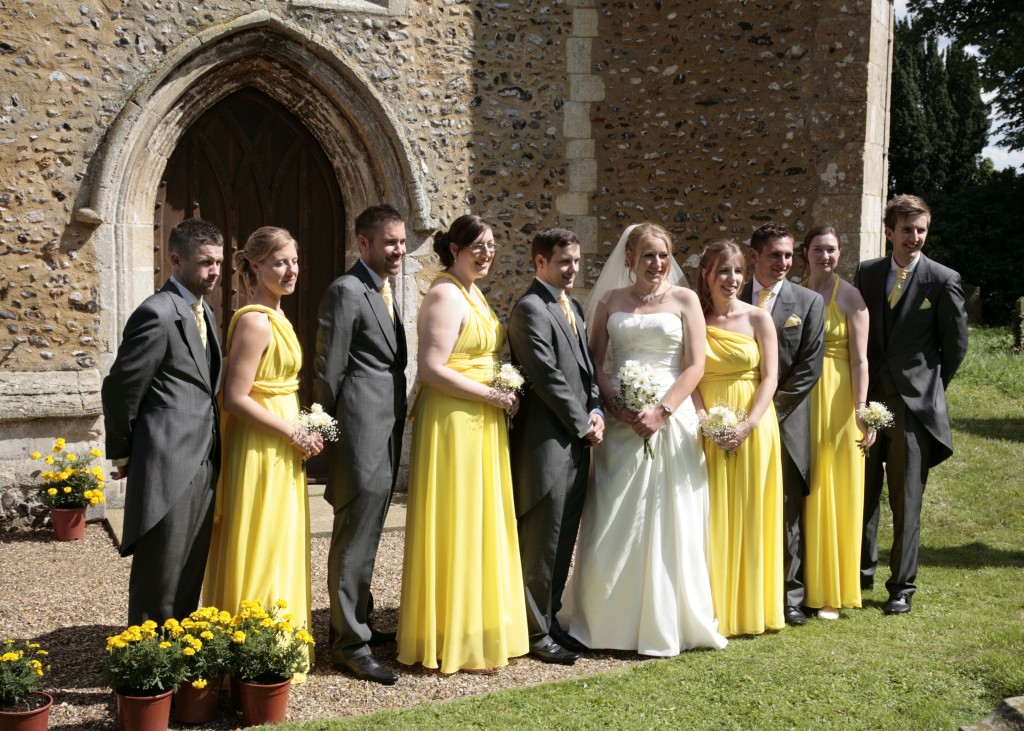 After the formal photos were over I detatched the front of my bouquet and walked over to place it on my Nan's grave.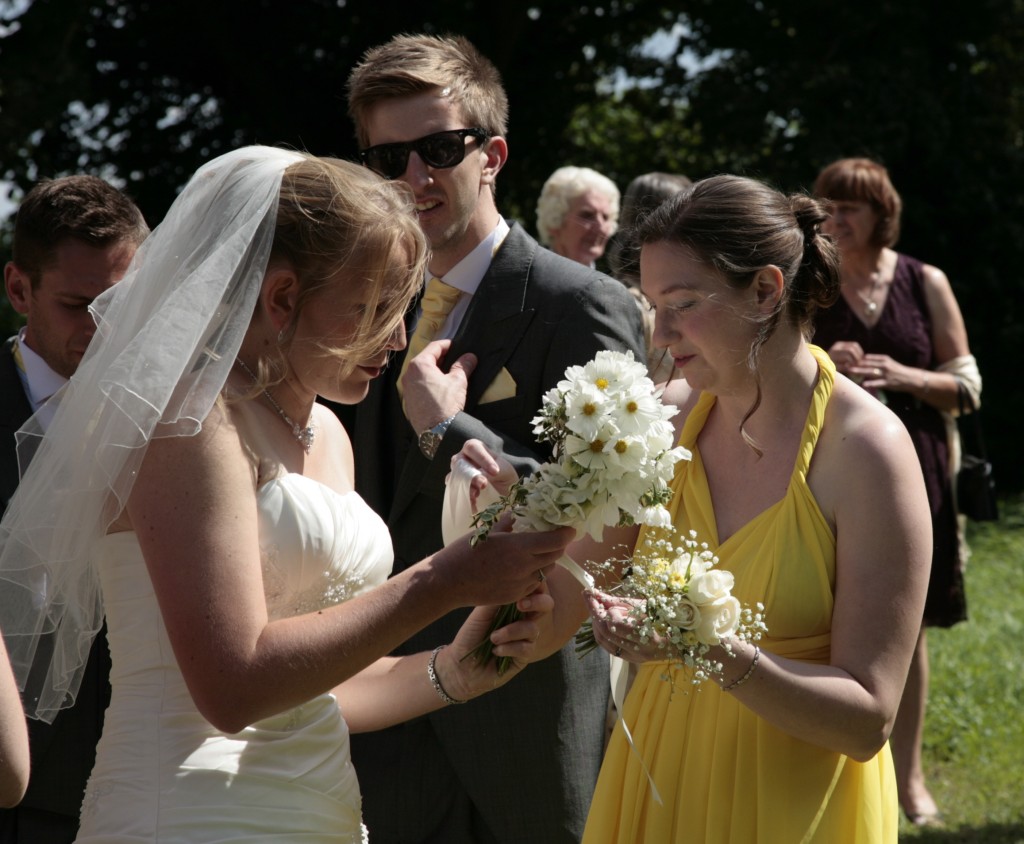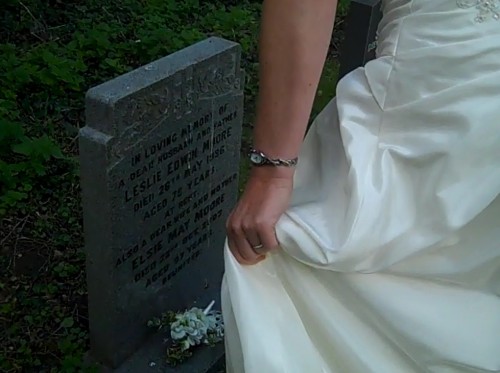 And then by the time I'd made it back to the path, it was time for our confetti exit!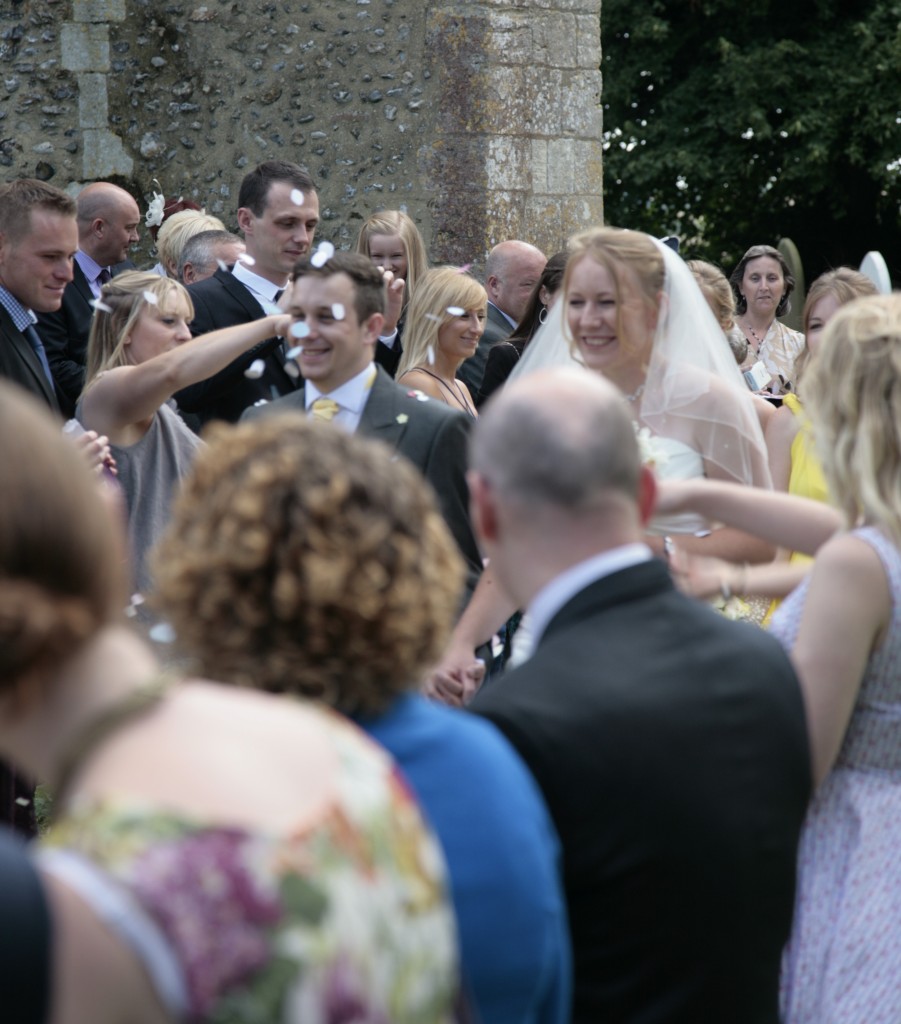 And away in the horse and carriage for about 40 minutes of just us, which was lovely!  We finally got a chance to talk to each other properly without everyone crowding around us!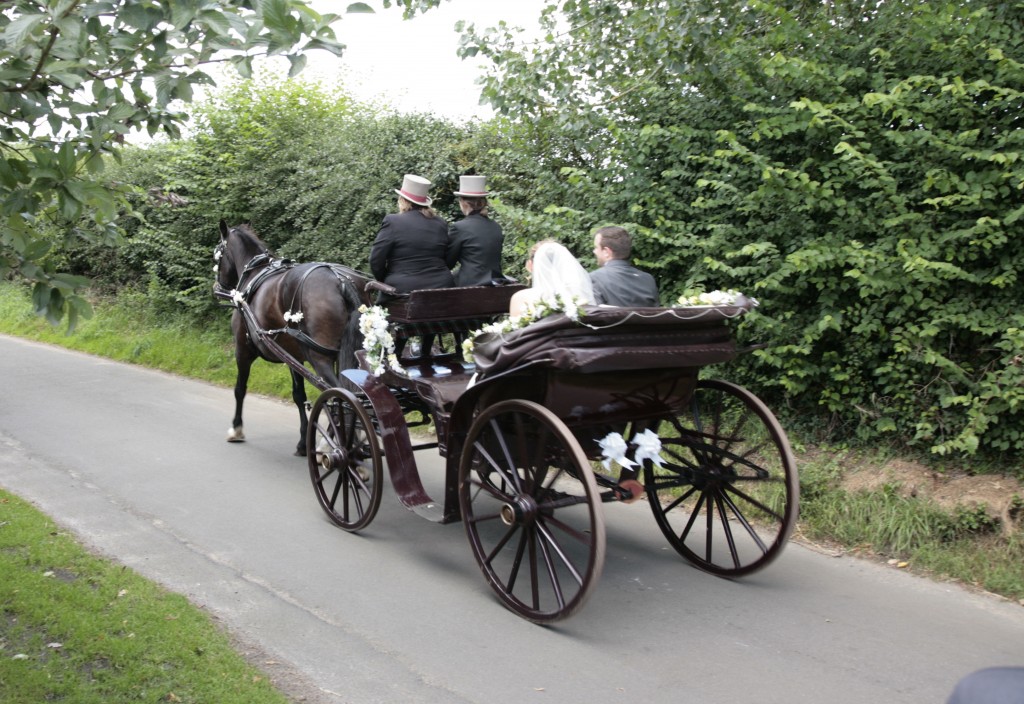 Our reception venue was only about 4.5 miles away so had we traveled in a car, I don't think we would have really spent any time together.  It was nice to finally relax and catch each other up on the morning's activities.  Some dog walkers even said 'Congratulations!' as we rode past which was lovely!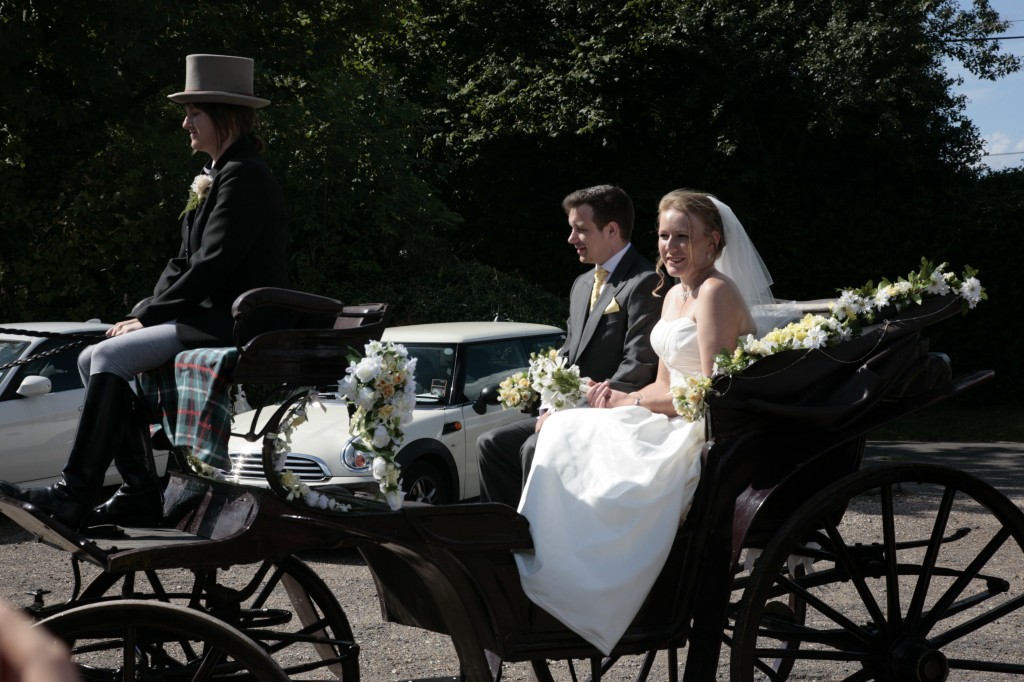 It was actually incredibly hot in the carriage sat in the sun and I discovered I had a wedding dress tan line later on that day!  Unfortunately because of the heat our guests had drunk our welcome drinks dry, many going back for seconds and thirds and I suddenly realised I'd had nothing to drink since 8am that morning.  Cue panic, just as I do in a race when I realise I haven't drunk enough!  Luckily, we had stocked up on lots of orange juice for the children, so the Best Man managed to source some juice for Dan and I before we greeted our guests along the welcoming line (usually one of the most awkward parts of a wedding I find, but it went really quickly, and I'm glad we did it, as it meant I at least got a few words with the majority of people at the wedding.)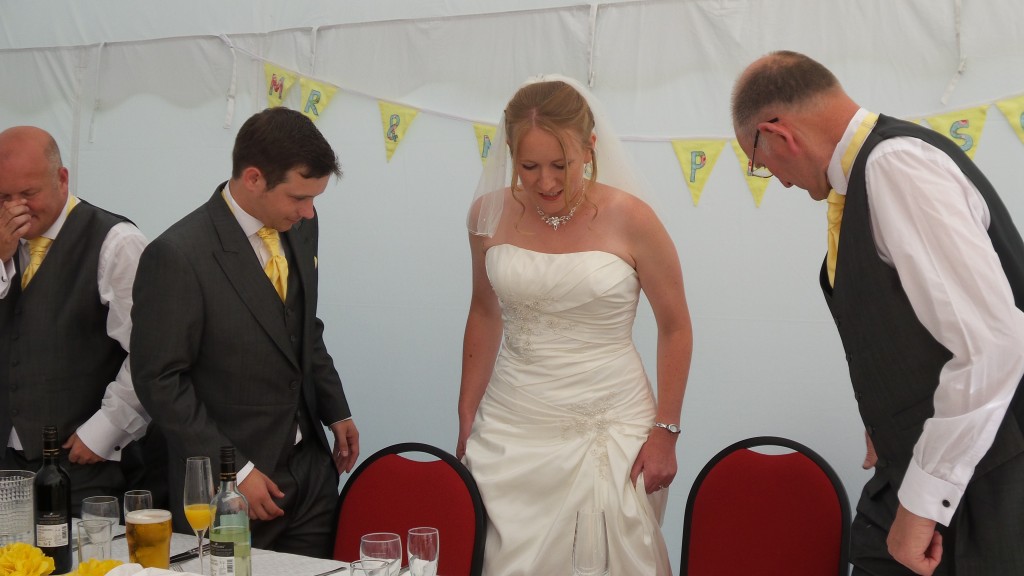 We decided to sit our top table as:
BEST MAN    DAN'S DAD    DAN'S MUM    DAN    ME    MY DAD    MY MUM    MAID OF HONOUR
I know everyone seems to do it differently but it worked for us having all my family together and all of Dan's family together.
When the marquee company had arrived on the Friday to erect the marquee they had marked out the space on the ground.  It looked absolutely tiny.  Dan began to panic!  We had downsized our marquee not long before as about 15 people had been unable to make the wedding and it would mean saving several hundred pounds.  Dan drew to scale several times the tables on a plan and decided that we would definitely still have enough space to all fit without feeling squished.  But seeing it laid out on the floor it looked tiny, almost like it would only hold our wedding party.  Dan stressing was not what we needed as we attempted to decorate the hall for the evening do and so I sent him off out to buy banquet roll for the tables and lunch for us and the two bridesmaids that were helping.  Luckily, by the time he returned the marquee had begun to take shape and we could all begin to see that it would in fact be suitable to hold 76 people without chairs backing into each other!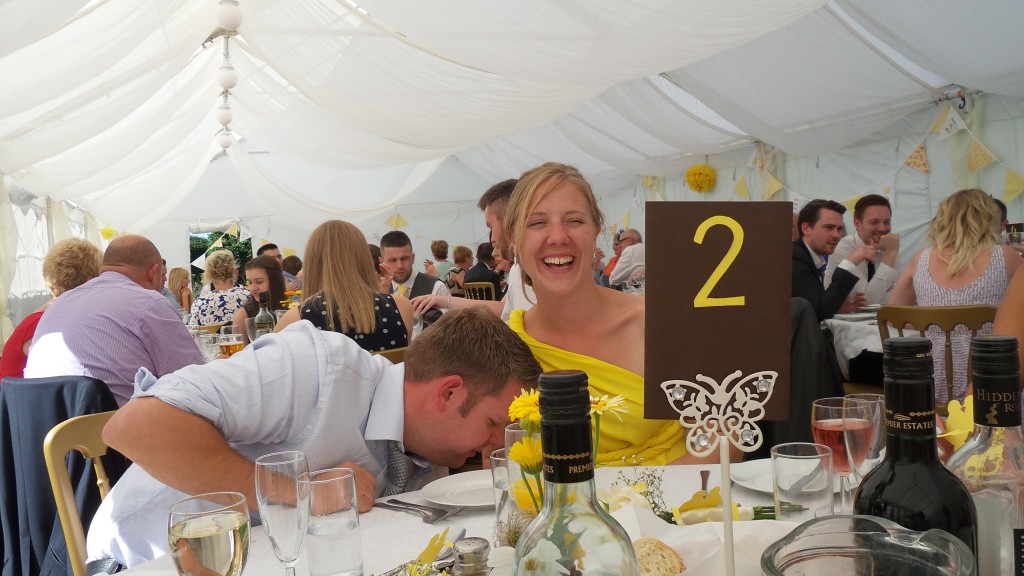 Three of my bridesmaids, one of their partners and I had actually decorated the marquee in just 40 minutes the night before.  I think that has to be some sort of record!  We laid all tables out, moved chairs into place, cut banquet roll, hung up the bunting and yellow pompoms, laid out table numbers and place names and placed the flowers onto each table.  We are such a team!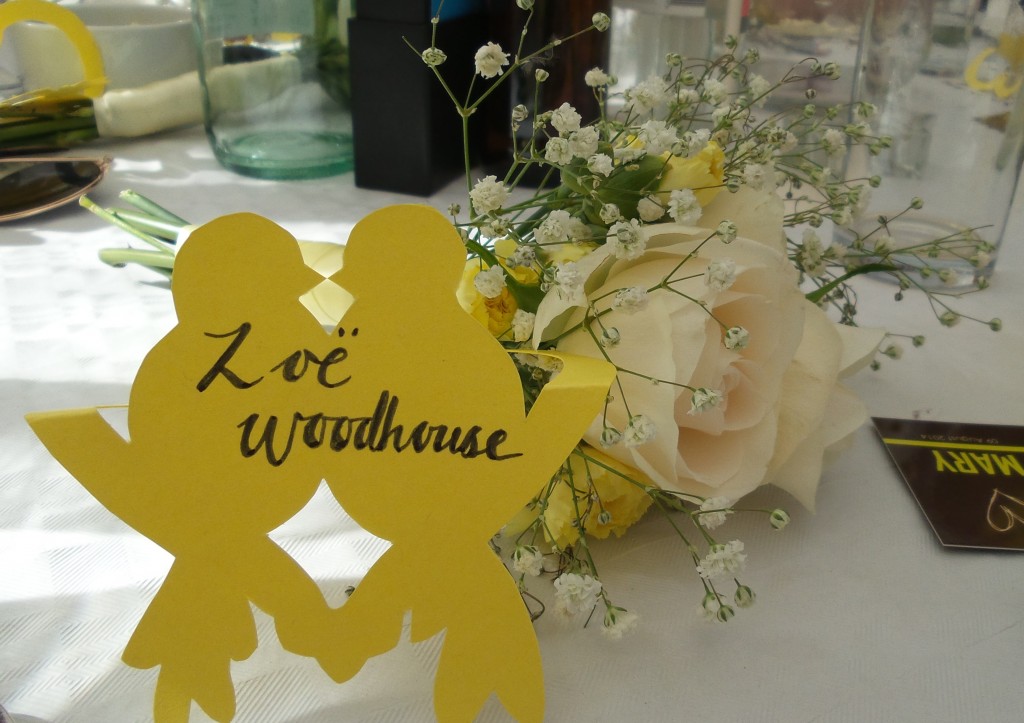 For the place names I cut out an image of two doves in a heart and wrote each person's name on the front.  When the top half of the heart was folded over, each place name held a scratchcard inside as the favours.  (Zoë had obviously already scratched hers off when she took this photo!)  We had no 'big' winners, but several people won a few pounds, and there were a couple of £15 winners as well.
I hope the photographer has taken pictures of the food.  It was the one thing I meant to ask my bridesmaids to ensure they did, but forgot about on the day.  To see what we had, you can check out our tasting session.  The food was amazing.  I swear my stomach had shrunk inside the corseted dress though, as I had to eat incredibly slowly throughout the meal.  Our caterers were superb though and water jugs were out on tables, tables were waited on within minutes of people finishing meals and extra sides were brought out if people had finished what was on their table.  It was like being in a top class restaurant and we were incredibly happy with their service.
What have your favourite favours from a wedding been?
What has been your favourite wedding meal?
[I'm hoping to get Wedding day part 3 up on Sunday!]