I have always lead a busy, hectic lifestyle.  But ask any of my friends and they will tell you that I would be there for them any time they needed me.  As Amanda, one of my bridesmaids said during her speech at my wedding "She will make the time for you.  No matter how many other schemes and things she's got going on, she will always make the time for her friends and family." and I thought that was such a lovely thing to say.  It's a running joke between my friends just how busy I am, how many different activities I take part in and how many events I manage to attend but it does come at a cost.  I mentioned in my post on Wednesday about just how busy this year had become already and how I had sacrificed my place at the Great North Run in order to feel more on top of things.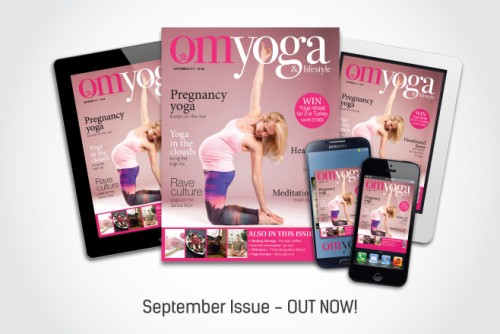 This month in OM Yoga magazine there was an article entitled 'Less Stress, More Savasana' which caught my attention.  Written by Paula Hines, she tells of the day when she burst into tears after returning from a run with a friend for no apparent reason.  She realised her tears had come from not giving enough time to herself and finding it harder to wind down without feeling guilty.  This is something I can definitely relate to.  I find my days tend to be non-stop 100mph busy quests and when I get the opportunity to slow down or recharge the guilt sets in and I find myself doing housework or volunteering for other things.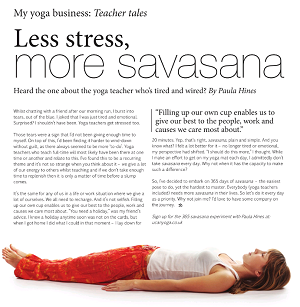 Paula decided to lay down for 20 minutes and discovered that she felt a lot better for doing so.  She is embarking on a full year, 365 days of savasana (a yoga pose whereby you lie on your back, relaxed and free from tension) challenge with some of the benefits of savanasa being; a lower blood pressure, stress relief, calming a busy mind and improved sleep quality.  You are invited to join her on her challenge (details on her website).
Although I shall not be taking 20 minutes savasana each day I have begun making more time for myself this month, and have been religiously working through Dannii's plank challenge, making time to stretch daily (I WILL touch my toes by Christmas!) and plan on incorporating a few minutes savasana every other day.  I am prone to letting stress get on top of me and bottling everything up so this seems like a great way to unwind each day before bed, allowing me to sleep a little easier.
**(I was given a free copy of the magazine in return for this post.)
How do you like to unwind from the stresses of day-to-day life?