I admit I was a little nervous when Sarah from The Gladiator Games emailed me several months ago offering me a place at their first event in Hertfordshire.  Although I'll give anything a try I haven't been leaping forward to sign up to any obstacle races and instead rather enviously looked on from afar at those that have.  But I needn't have worried.  We had the best morning!
Dan and I turned up at Woodhall Estate in Hertfordshire on Saturday morning a little before 9am.  We were in the 9:50am wave so after collecting our race packs and making a toilet stop we still had plenty of time to take some pre-race selfies…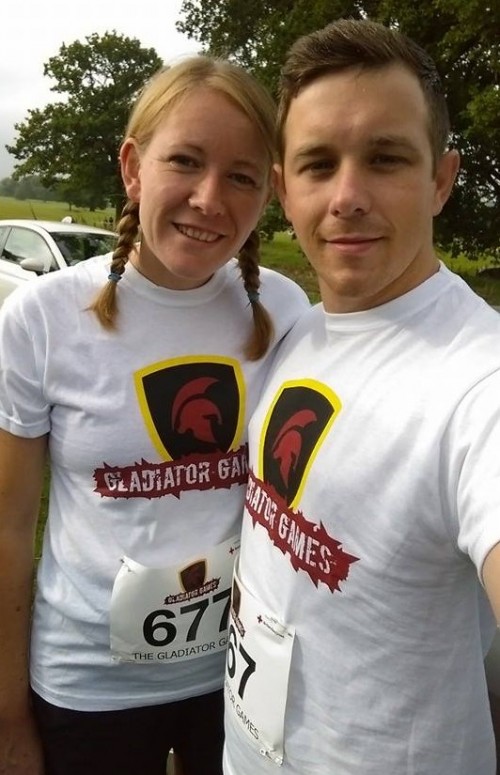 Oh, we looked so clean here!  (That didn't last for long!)  We spotted some face paints being passed around in the crowd.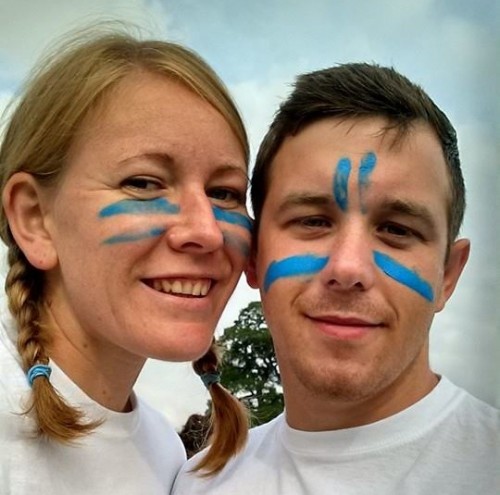 Had to be done!  Clean faces no more!
Five minutes before our wave was due to start we were all summoned into the warmup arena where the Gladiator in charge shouted out instructions resulting in a much more exhilarating warm up than the usual 10k pre race jump around.  We were fist bumping the air, running in a circle avoiding Gladiators and jumping up for a Mexican wave on the start line.  If you did happen to bump into a Gladiator though, they pushed really hard!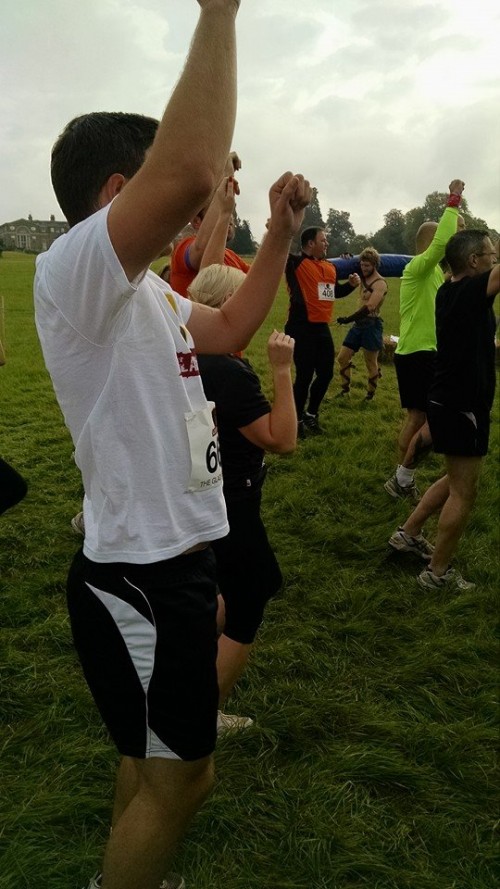 After our Mexican wave we were sent off into the unknown – up a gradual climbing hill and off into the distance.  The grass was quite long so there was never any chance of a super speedy run.
We were less than 0.5km in when we reached a bottleneck though.  What was up ahead?…We couldn't see.  But it wasn't long before we realised what was happening…Every runner, whether entered for the 5k or 10k distance had to enter the water in order to get to the next section of the course.  I hadn't expected to get wet quite so soon!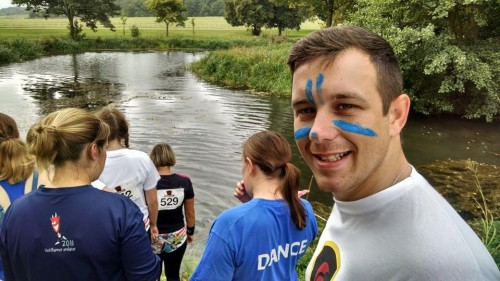 Some people were actually already swimming in the water by this point.  You can just spot someone to the left of the photo below getting in a bit of breast stroke.  It probably came up to belly-button height on me and so I ploughed through, with my phone held high above my head and firmly wrapped in the ziplock bag I'd grabbed on my way out of the house that morning.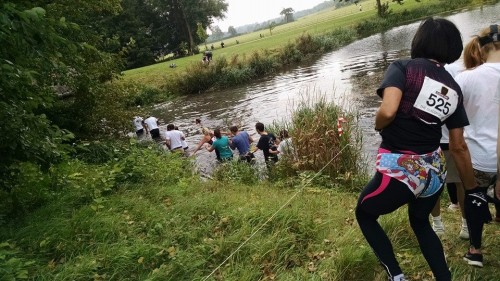 After we had been trudging through the water for 100 metres or so (luckily it wasn't that cold!) we saw the signs splitting the 5k runners from the 10k entrants underneath a bridge and we continued in the water whilst the 5k runners were allowed to get out.
I took a quick snap of Dan when we scrambled onto the bank.  You can just about make out the tide mark on Dan's back – not far from his arm pit line!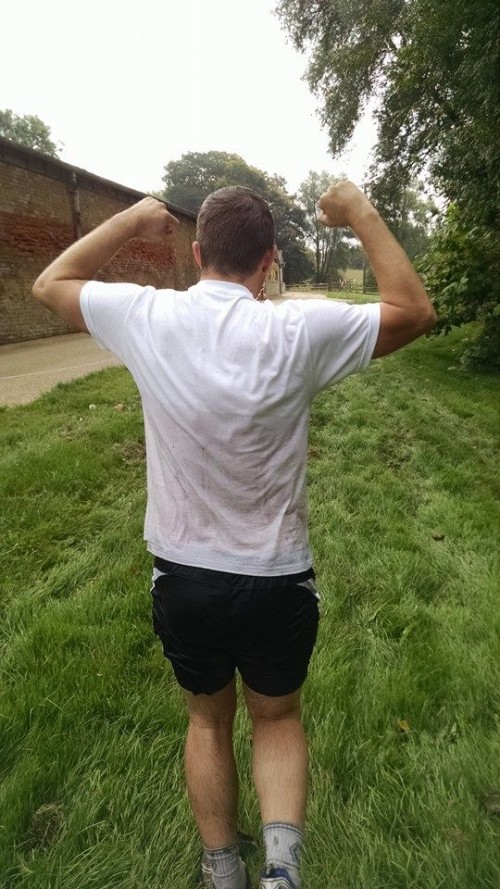 There was a 5k and a 10k option of the course.  Dan and I had both opted for the 10k route, although only discovered earlier in the week through the website that the 5k course held all of the Gladiator obstacles and the first 5k of the 10k would be run on trails through some more 'natural' obstacles before joining the 5k entrants to pass through the Gladiators.  I felt a little disappointed when I read this.  I thought it would probably just be like one of my weekend trail runs, – jumping over a few branches on the floor…Once again I was wrong.  It was more than a few little branches we had to 'jump'!  They were full on mature trees and popped up all the way round the course!
I started to count how many river crossings we took but I'm afraid I lost count at about 10!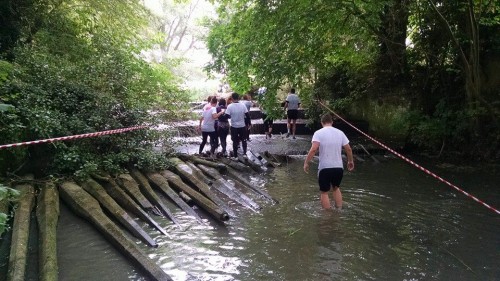 Most of the time the water came up to my bra line / just under my armpits.  It was pretty deep in there!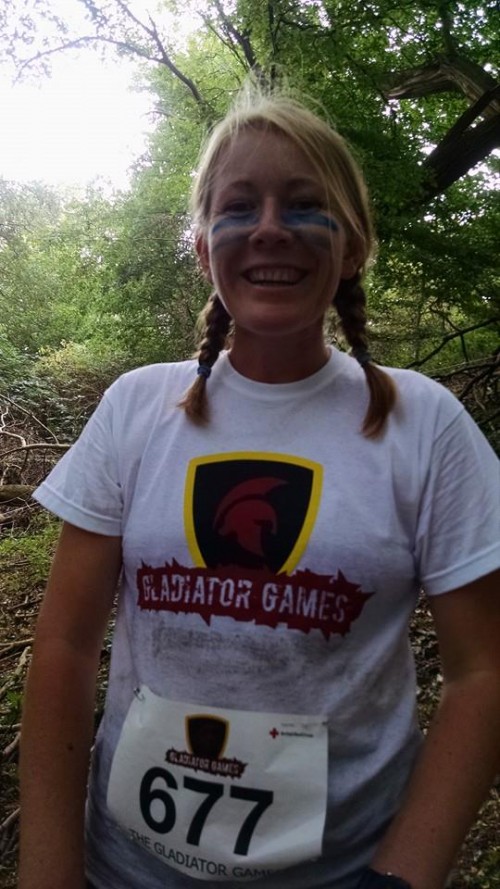 There were also some incredibly tough (but fun!) hills.  I'm fine heading up, but it's the coming back down after so many other runners that worries me.  Those hills were covered in a kind of peaty soil which got pretty slippy after a few runners had been down.  I probably surged past lots of runners on the uphills, but then held them all up coming back down again!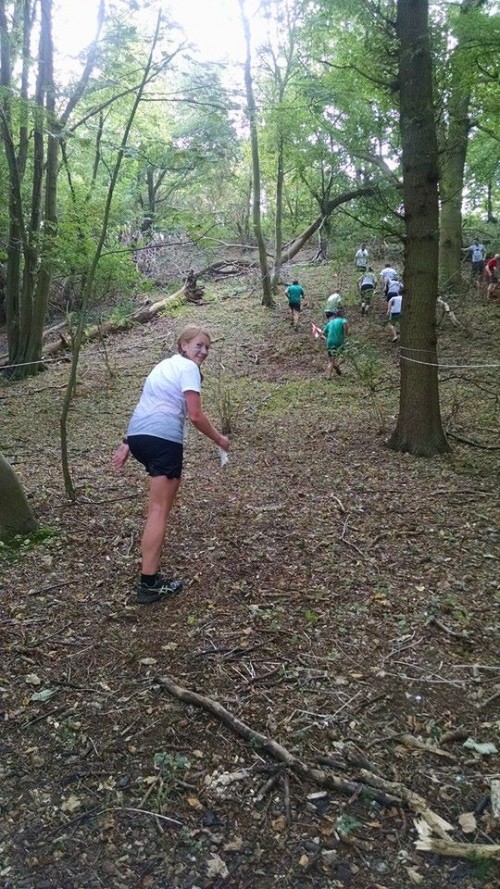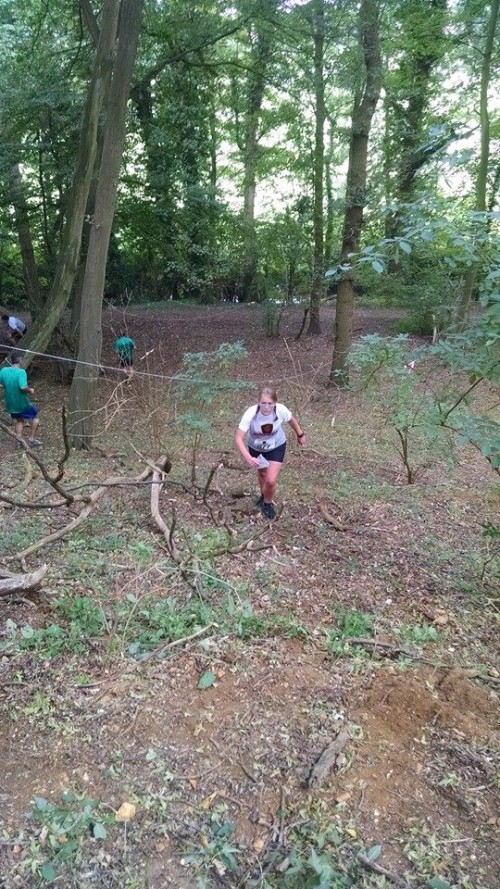 Lots of the natural obstacles had these fun little 'motivating' signs in front of them.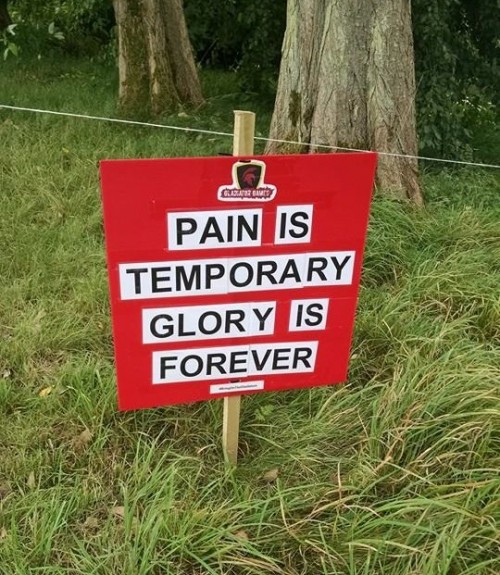 During the last water crossing we took before entering the final 5k and the Gladiator zone, once again the water level came up to our armpits but we were also up to our knees in very thick trainer-sucking mud!  This one was slipped into on bums quickly by most and rushed over as quickly as possible to prevent trainer loss!  We were glad of the strategically placed ropes to help pull us out the other side!
The Gladiator zone began with some guys throwing big inflatable balls at us as we sped through their circle.  I darted to the right, and managed to scrape through with just a slight brush to the arm.  Next up, the Travelator.  This was always my favourite part of the TV series 'Gladiators'.  I think it was because once they reached the top they got to swing through the paper screen to finish.  The Travelator at The Gladiator Games was up a steep slope with buckets of soapy water being thrown down to make it nice and slippery!  I made it to the top without slipping though.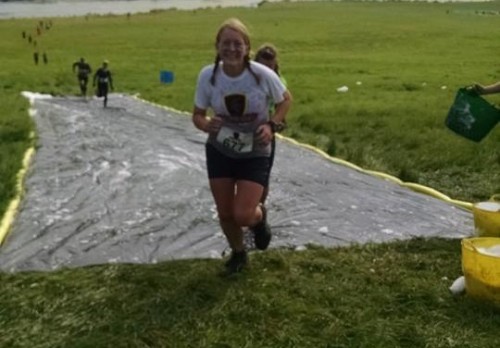 Our reward for making it to the top was to throw ourselves back down the reverse travelator the other side of the hill!  Dan enjoyed this part so much he took two goes at it!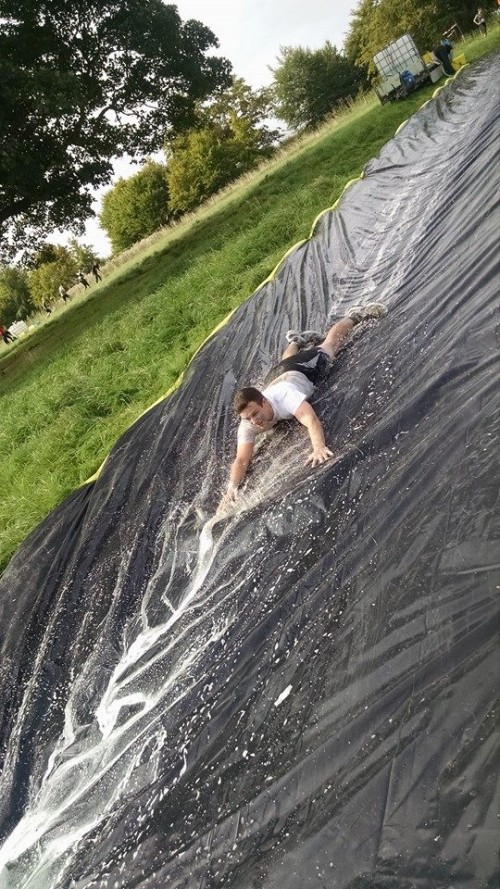 Both of us rolled off the bottom covered in mud though!  We picked up so much speed on our downhill launch that it resulted in several rolls off the bottom of the mat into the mud!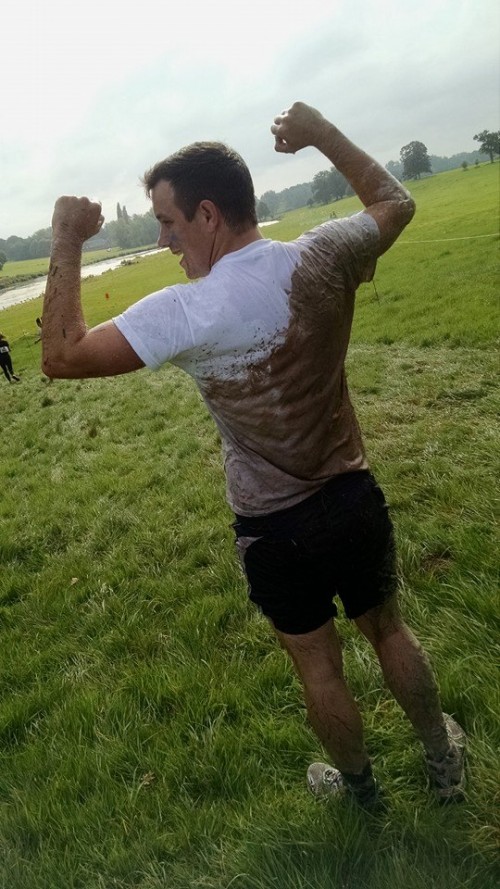 Some more incredibly steep hills followed, including one where we had to pull ourselves up by ropes tied to the trees at the top.  Once back on the downhill and I was attacked by these two guys at The Gauntlet.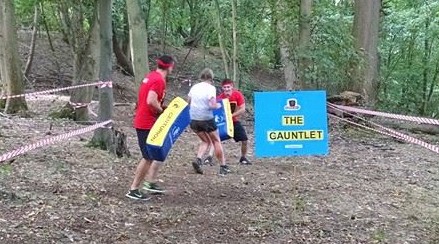 Next step MUD!  We thought the worst of the mud had been when it came up to our knees with water lapping at our armpits whilst wading through the river.  We were wrong.  VERY wrong!  The next Gladiator up was bopping us on the head with an inflatable to make us jump into a giant pool of thick, smelly and incredibly squelchy mud!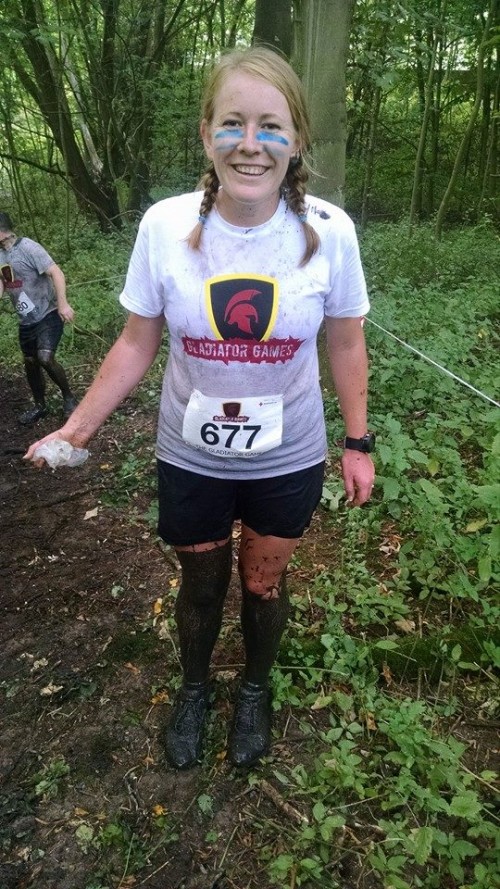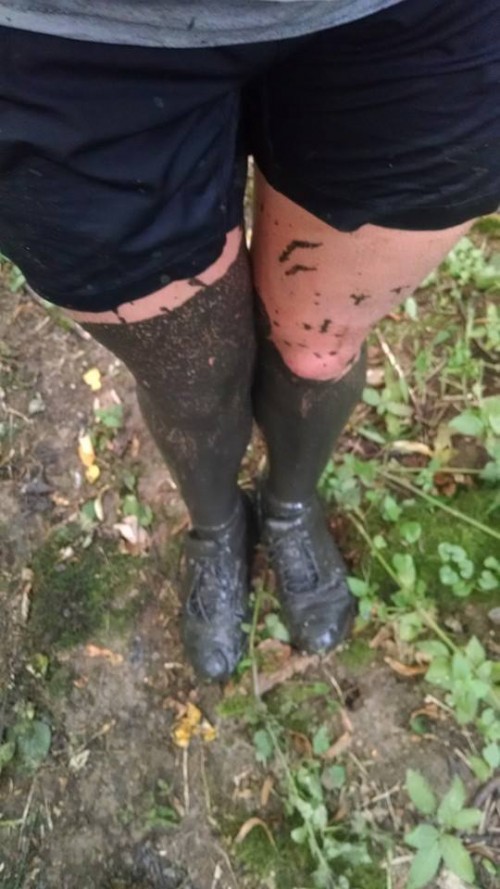 I looked like I was wearing compression socks and Dan looked like he had some full length boots going on!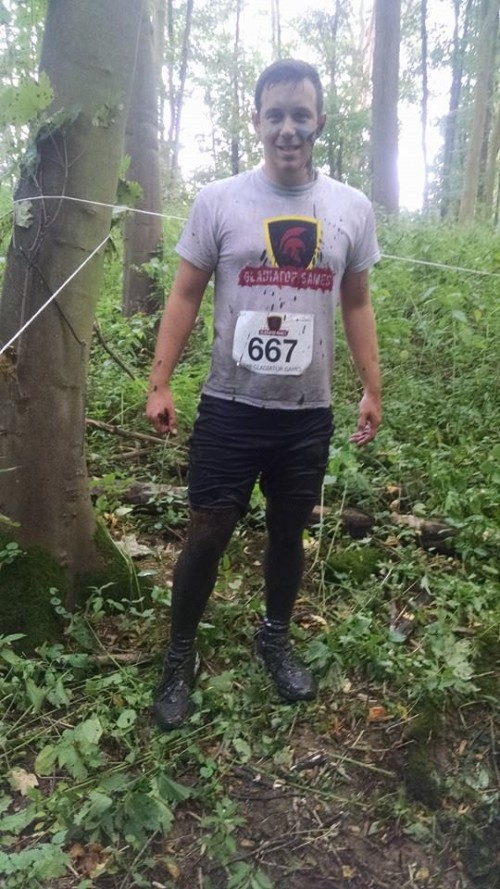 We did get to dip our legs back into the river to wash them off though…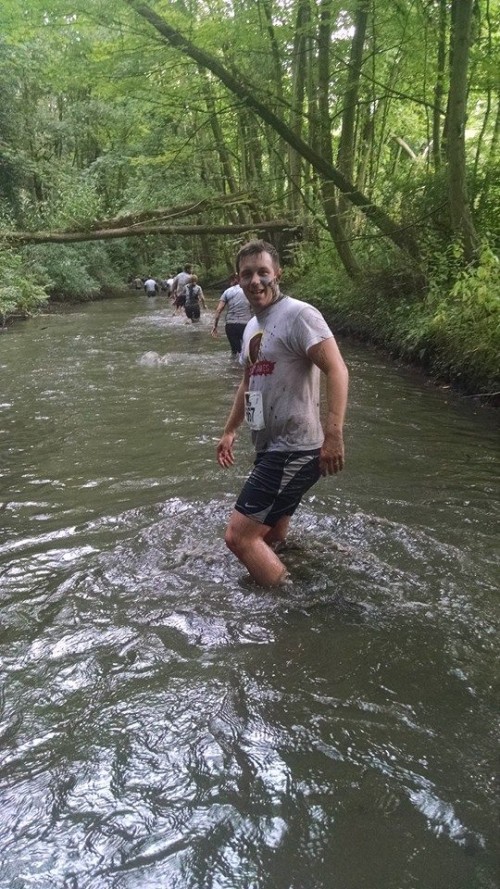 This was an incredibly long water stretch and it was the first one that hadn't really been warm.  There were plenty of twigs and boggy bits on the bottom of the river bed so we had to stay alert at all times.  Especially as I was still holding my phone in a ziplock bag above my head at this point!  As we reached the end of our river wade, some large balls were bounced around a tree above our heads as a 'Pendulum' attempting to knock us over in the river.
We scrambled out of the water once more and found ourselves in yet more incredibly thick mud.  With the mud caking our trainers (I would not have been able to tell what colour my trainers were at this point!) we had to run across some planks of wood with another Gladiator attempting to push us off with a foam mat on a stick.  Needless to say I didn't stay on the plank of wood for very long!  I didn't end up on my face though (always a bonus!) and the next section saw us back in the water to clean off again.
We now headed back out onto the main field and as we dived into the foam zone we could see the finish in sight.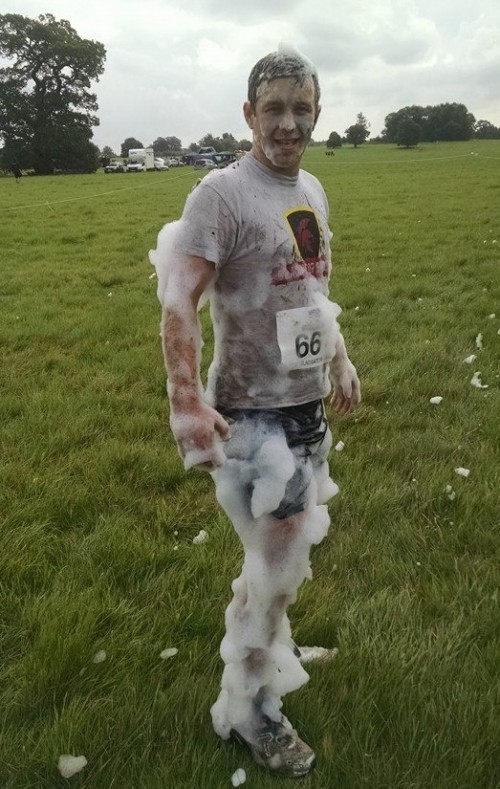 Just the small matter of getting through a zone filled with mini trampolines, a crate of balls we had to throw into a container whilst dodging more Gladiators and two Gladiators with foam padded bars blocking our way to go then!  A handful of jelly beans were thrust at me as we approached the last Gladiator-manned zone.  As I approached, the Gladiators snarled "Did you bring some jelly beans to share?" at me.  I responded with "Quite possibly, if you hit me in the right place!" as I was still desperately trying to unstick jelly beans from my teeth and direct them down into my stomach before hurling myself full pelt past the remaining two Gladiators!  Luckily, no-one hit me in the right place so I managed to enjoy all jelly beans before linking hands with Dan and running through the finish!
We persuaded a supporter to take our photo – us still foamy, muddy and definitely looking like we just ran more than 10k!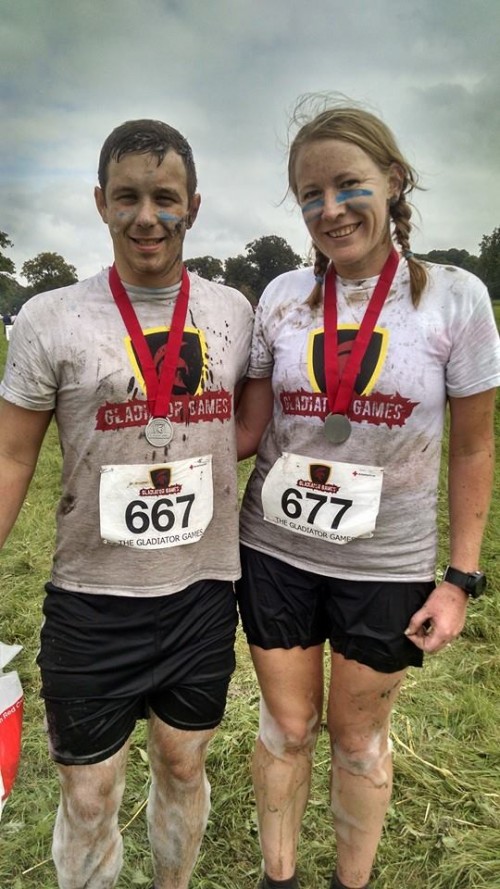 Time for a quick breather in the car park before getting changed.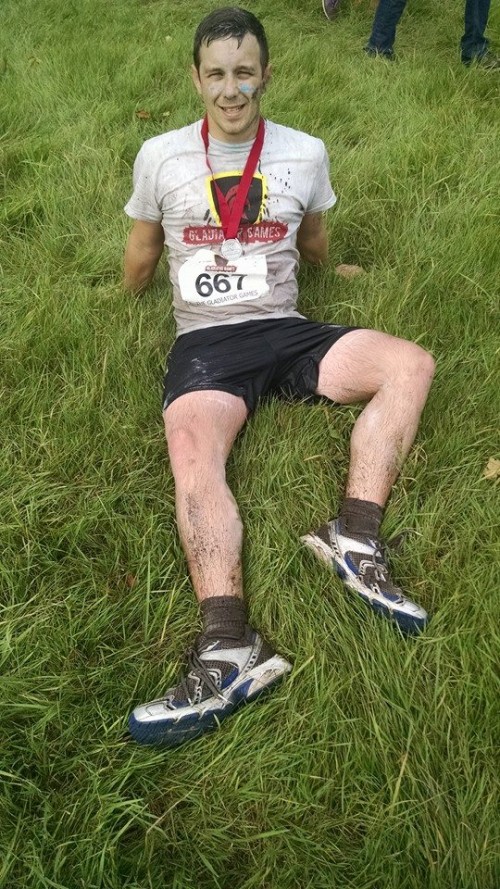 We had been sensible enough to bring changes of clothes with us as well as towels to sit on in the car.  I was due to be a sector lead at Northampton Half marathon the following day and didn't want to make any of my marshals sit on towels to prevent them from sitting on the mud we had dragged up the day before!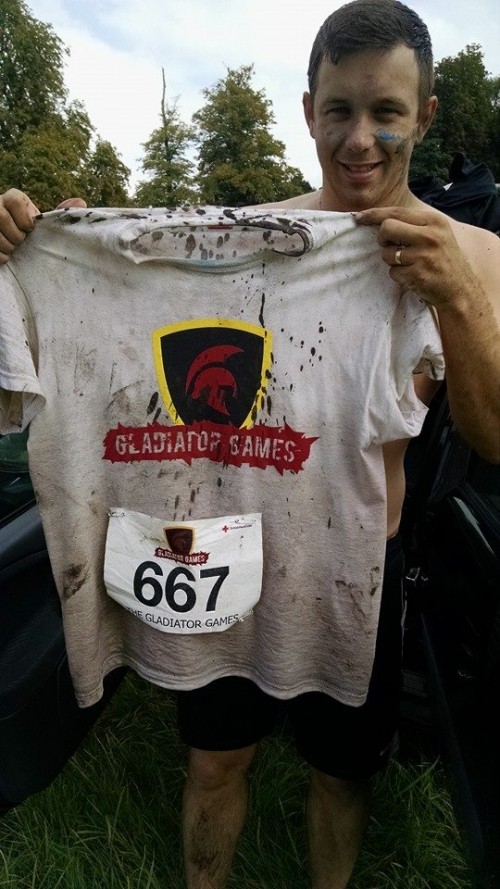 Our feet were the worst though!  After the first couple of water crossings I had stopped to remove stones from my trainers, but had given up by the time we reached the second half of the race.  Dan hadn't untied his trainers at all, so had a proper collection on the bottom of his sock at the finish!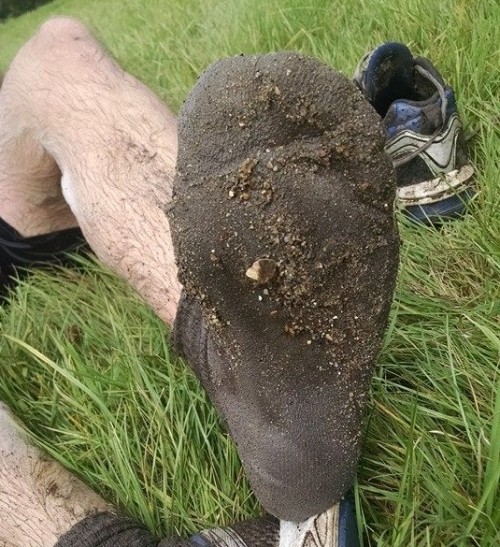 Even though I had stopped and tipped my trainer out several times there was still a mass of stones going on in there by the time I took them off!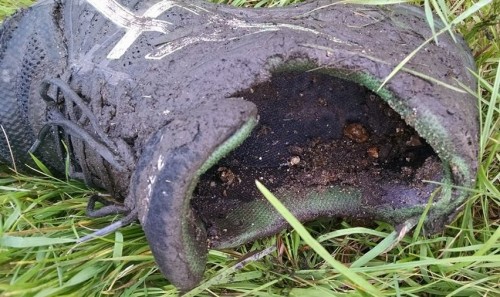 Dead chuffed with our unexpected medals we proudly displayed them to passers by on the way home.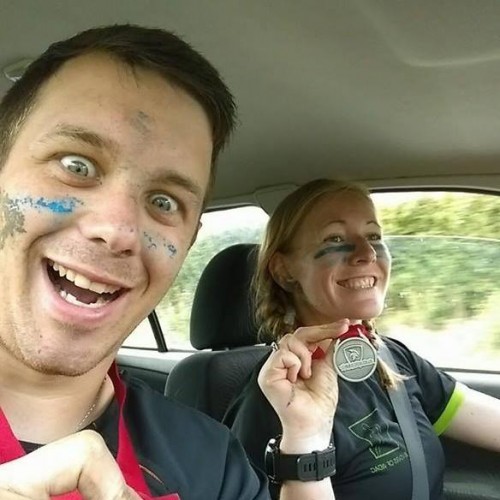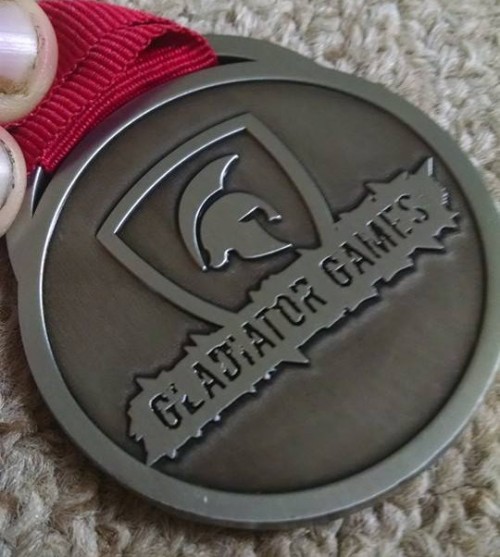 With over an hours drive home, an emergency stop at the service station was required for hot food.  We were STARVING after the event and our Saturday morning croissants really didn't cut it as fuel to get us round!  Luckily Dan did manage to get served whilst sporting a mud splattered face…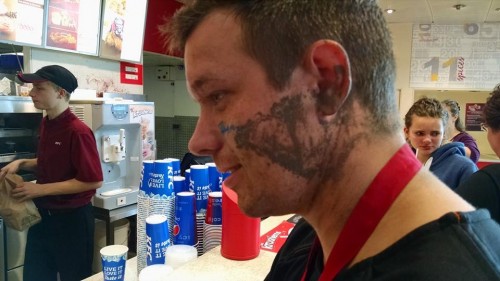 I did pick up a few cuts and scrapes, although nothing major.  My worst came from sliding quite a way down a slope and my leg getting trapped underneath a branch!  It stung a tad on the water stretches but it didn't take long for me to block the sting from my mind and get cracking on the next obstacle!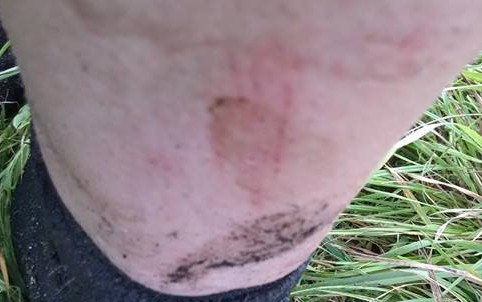 A place at The Gladiator Games would have set you back £42 (or even less had you entered when places were first made available).  I've seen several people lately online whinging about the cost of obstacle events and about how much more expensive than road running races they are.  A fortnight ago I paid £48 for one hour of quad biking that I found fairly boring.  For just under 2 hours of fantastic non-stop fun and entertainment Dan paid just £42.  I can genuinely say that we are already looking forward to the next Gladiator Games and can't wait to see our photos appear on their Facebook page over the next couple of days!  

I received a free place in The Gladiator Games 10k in return for an honest review of the event.  We paid for Dan's entry to the race.
Have you ever taken part in an obstacle race before?