The bargain I made with Dan that meant I was allowed to run in the 70 mile Grim Reaper race the week before our wedding was that I would not be taking my running trainers on honeymoon with us the following week.  10 whole days without so much as a jog or a Garmin stat.
It was a pretty big ask, but I really wanted to run 70 miles, so I made that deal!
As a wedding gift from my brother Mark, he had offered to drive Dan and I down to Gatwick very early on the Monday morning after we got married.  We actually left Norfolk at 12:30am after just under two hours of sleep!
We had a pancake breakfast at the airport and I was so tired that I actually fell asleep before takeoff and slept through the entire flight.  That has never happened before.  Dan was asleep not long after me.
When we arrived at the Italian airport we eagerly looked around for somebody holding a 'Pearson' sign.  I'd never had a private transfer before and we were told it could be 3-4 hours drive from the airport to our hotel.  Unfortunately though, there was no Pearson sign.  The holiday company had forgotten to book our transfer!  We had flown to Naples and although several of the airport staff spoke English we still weren't really sure what was going on and if we would be able to get to our hotel.  We spent several hours flaked out in the airport waiting room trying not to drift back to sleep again.  After a few hours I was approached by the concierge of our hotel, Hotel Hermitage.  He happened to be at the airport to collect someone for a private transfer to the hotel and was offering us a lift.  We were exhausted by this point so took it!
When we did finally arrive three hours later at the hotel, the hotel had placed a bottle of champagne in our room on ice ready for our arrival.  Despite it not being their fault, but that of the travel agents.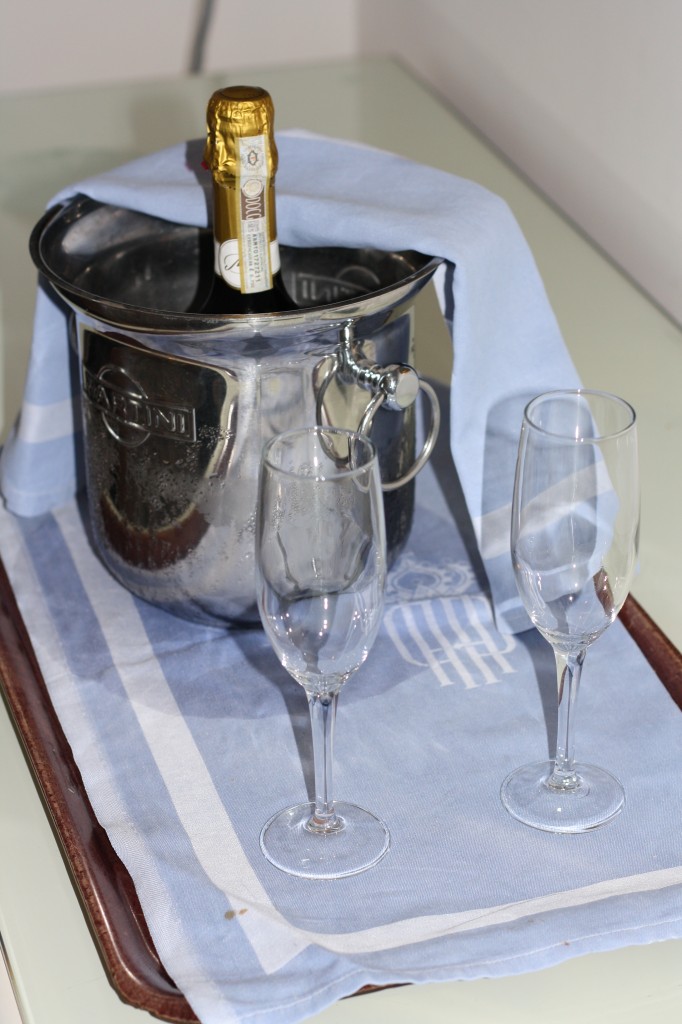 We made it down to the hotel restaurant for a quick lunch before zonking out for five hours on the bed.  Felt much more refreshed after that!
Although Italy had apparently had some of it's worst weather with several thunderstorms all Summer it was beautiful the entire time we were away, except for our very last afternoon where we got a brief thunderstorm.  Our hotel had both a pool and a private beach so we spent a lot of time swimming.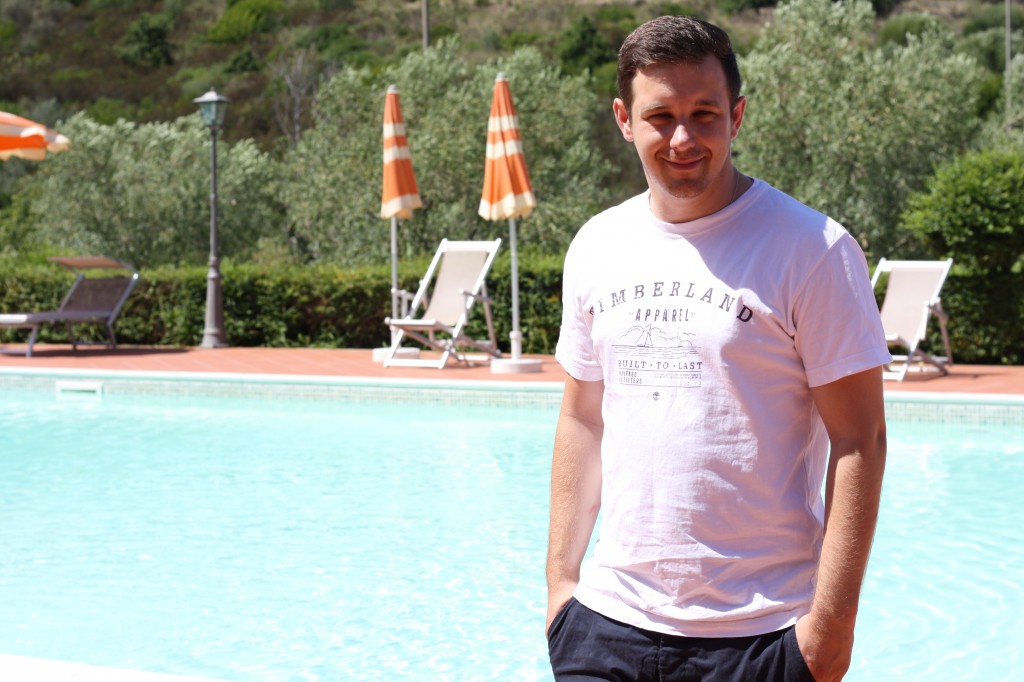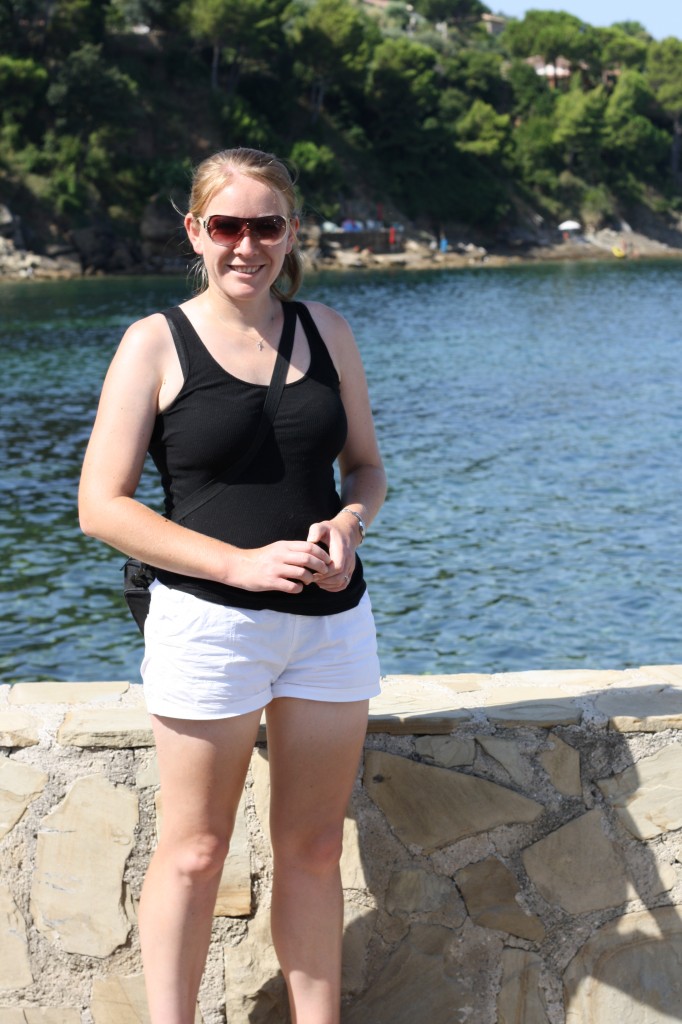 (Good old running shorts tan line on show here!)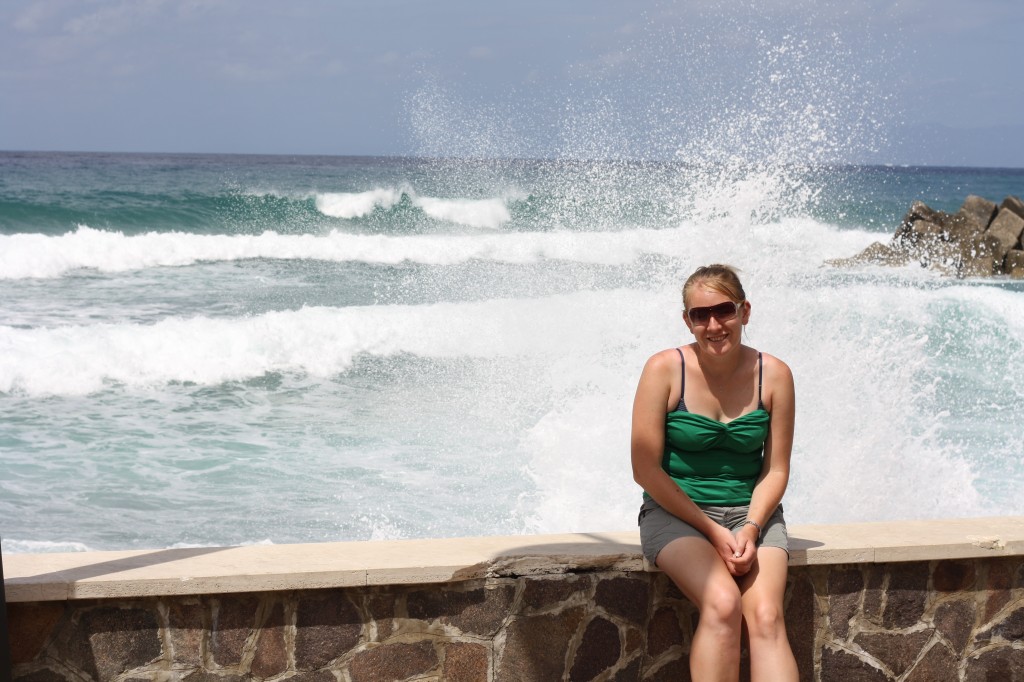 We also did loads of walking.  I would say we probably walked at least five miles each day.  One day we decided to walk up to Castellabate.  It looked fairly challenging from our hotel room, but it was even more challenging in real life!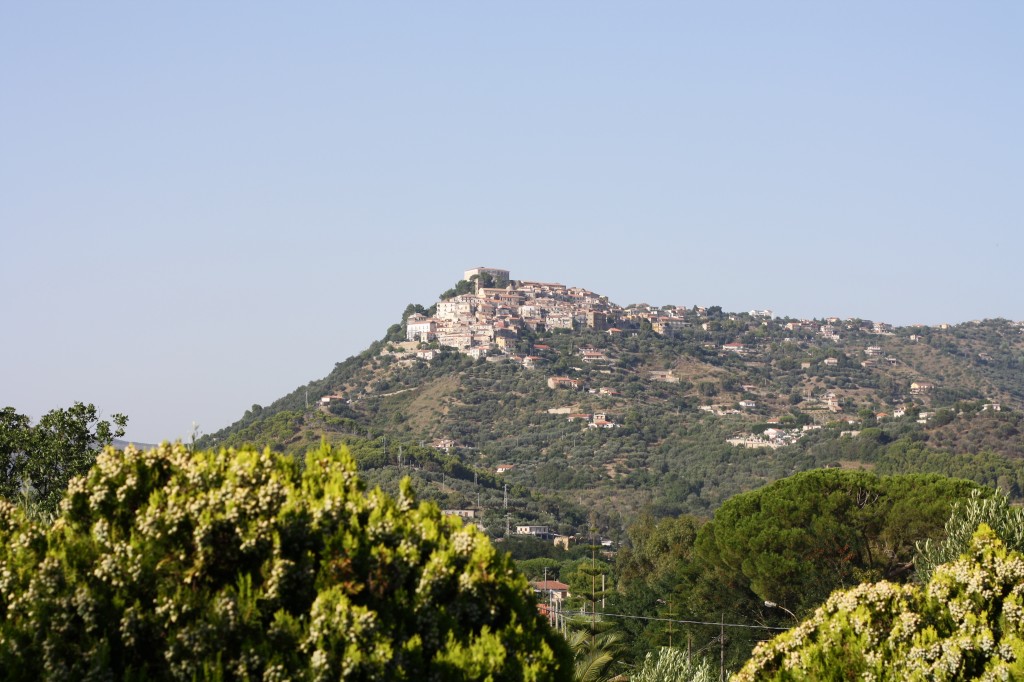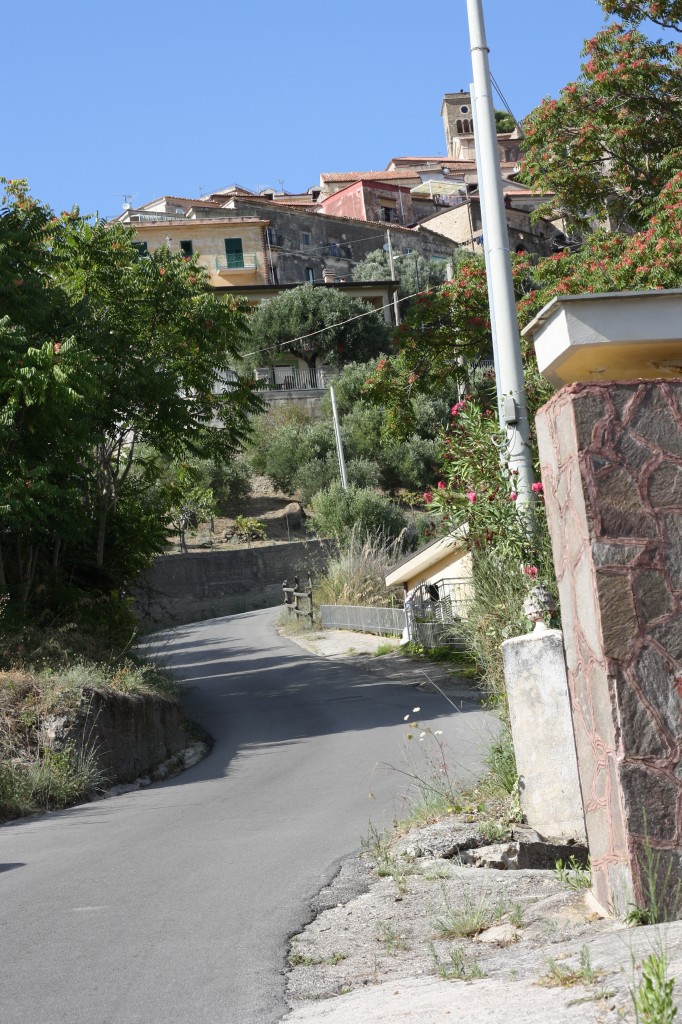 Nearing the top the streets of the town got very narrow and very quaint.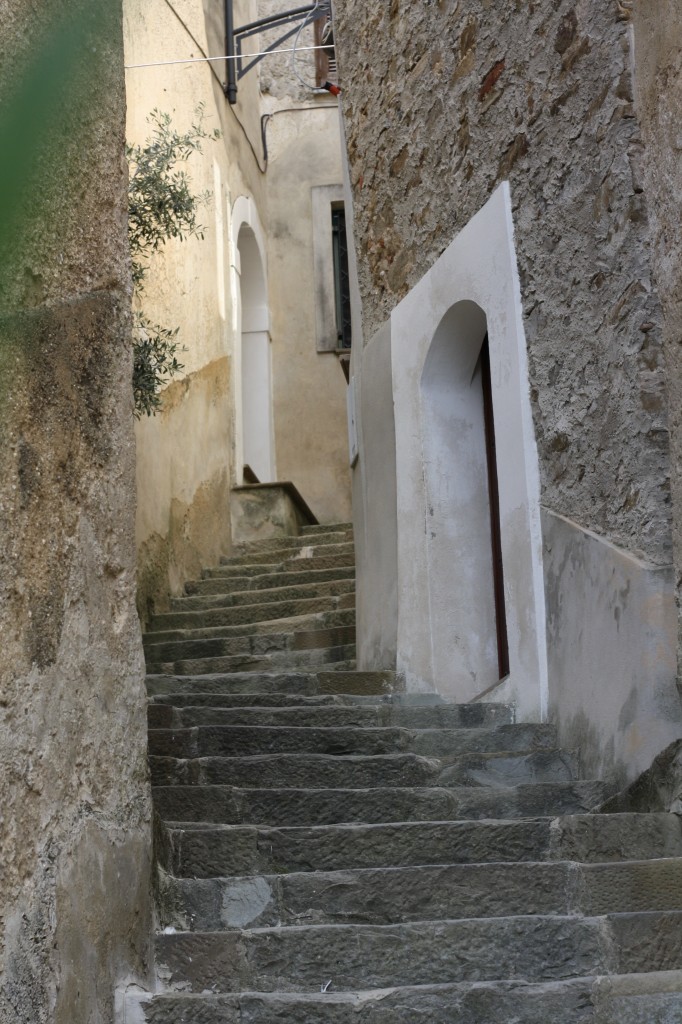 Once at the top we had some dinner, then chilled out and got a couple of cocktails before heading back down again.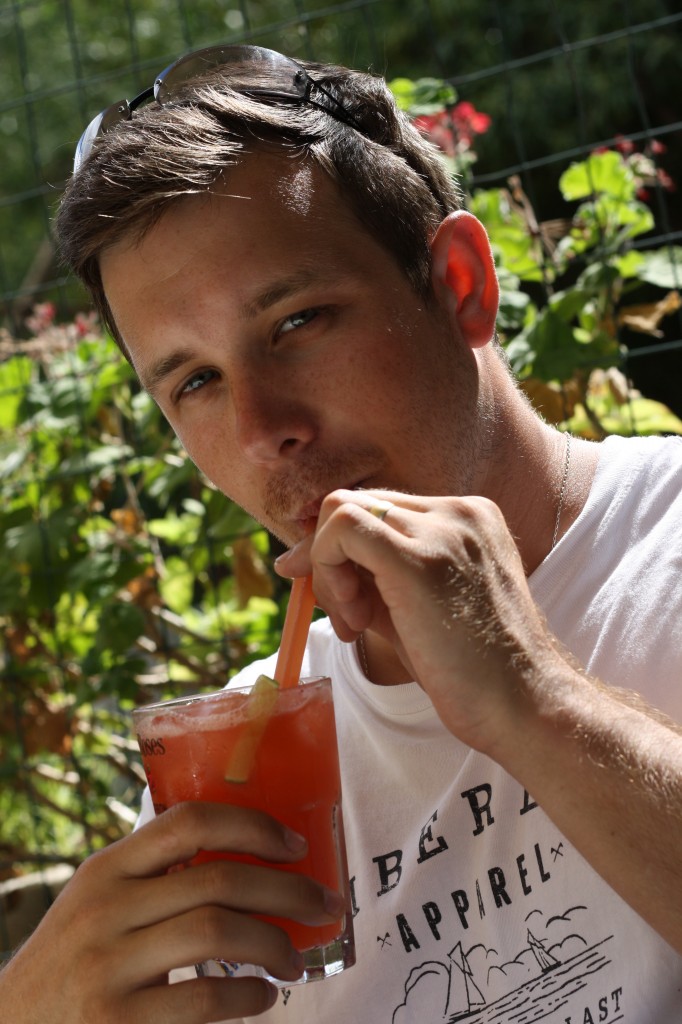 We took a day trip out to visit Pompeii and Vesuvius at the end of the first week and this was one of the highlights for me during our trip.  We studied Pompeii way back in primary school and I've always wanted to go and visit since then.  We were given a map and we rented a little phone each.  There were nearly 100 points dotted around the map and as we visited them, we typed the number of the point into our phone and called it for some information in English about where we were standing.  Some of the phone messages got us to walk through the houses to show us different areas near to where we were standing.  The phones were a really good idea.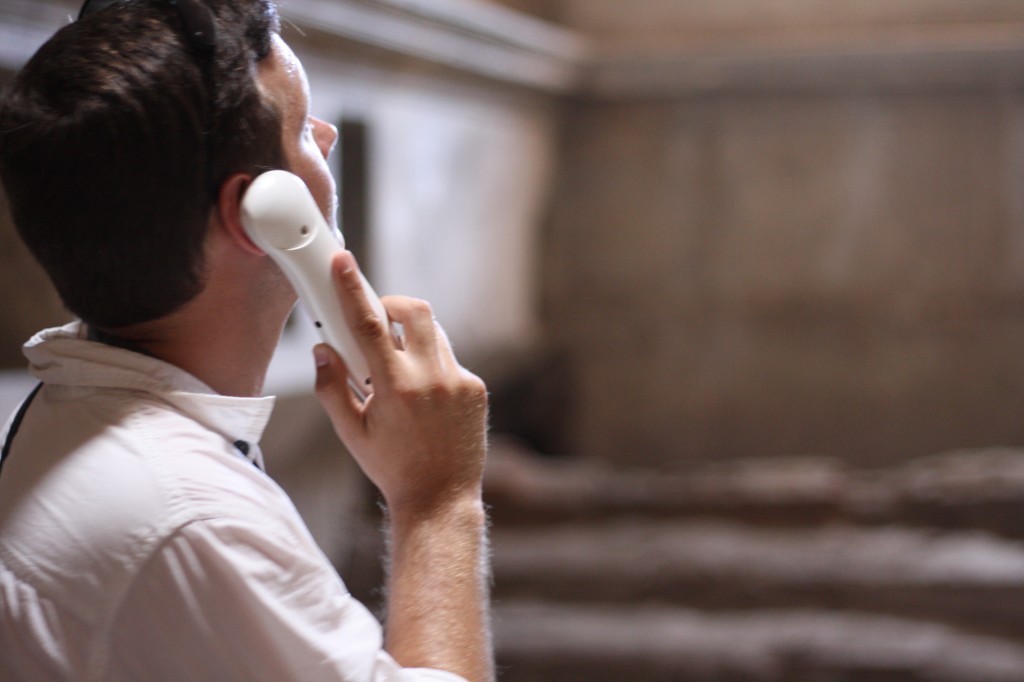 The day we went on our day trip was probably the hottest of the days that we were away and I could feel the sun burning my scalp.  Luckily, I had a spare t-shirt in my bag…!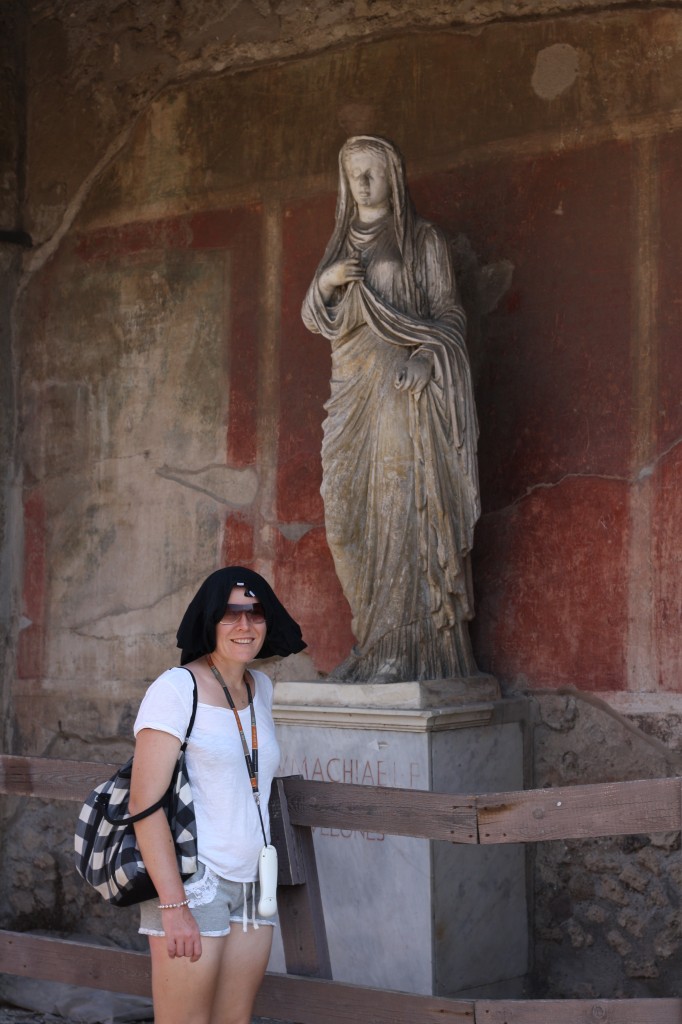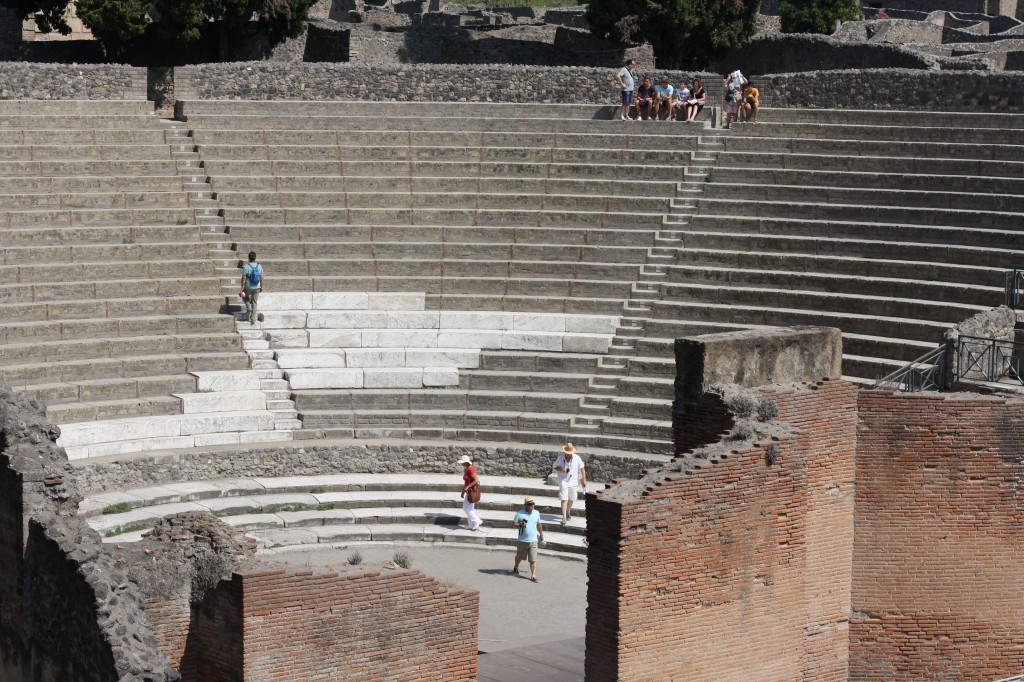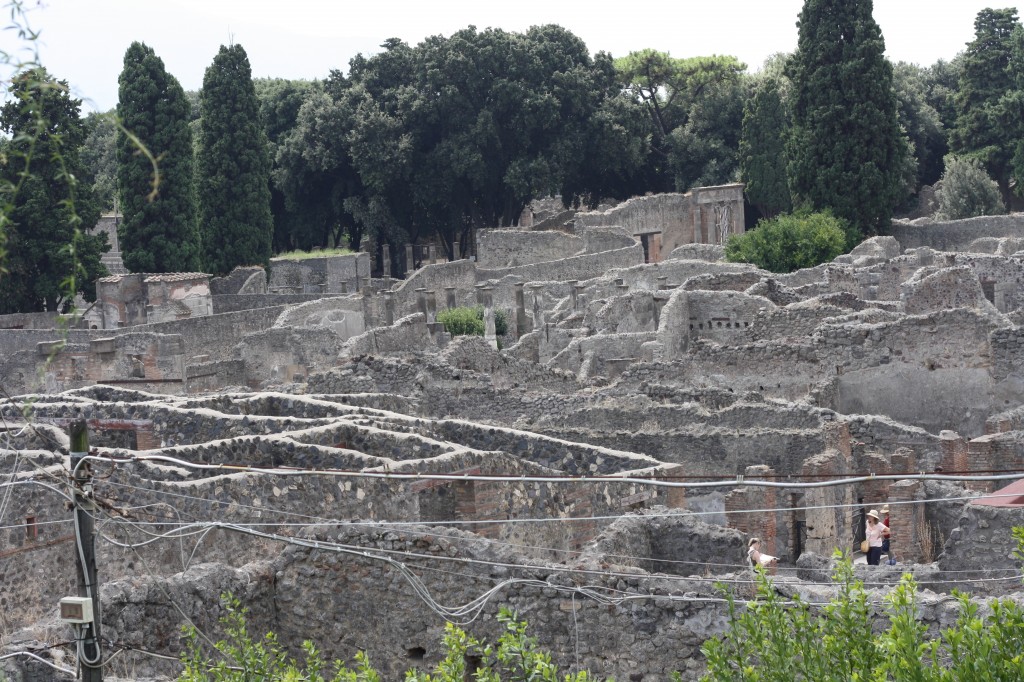 It was a little crowded in places, and we only got three hours to spend in the city itself on our trip so had to really pick and choose the areas that we saw which was a shame but I still really enjoyed it.
Next up though was a visit to Vesuvius and I enjoyed this even more.  Our guide was fantastic and told us loads of information about the volcanic eruptions and how to tell when one is going to take place.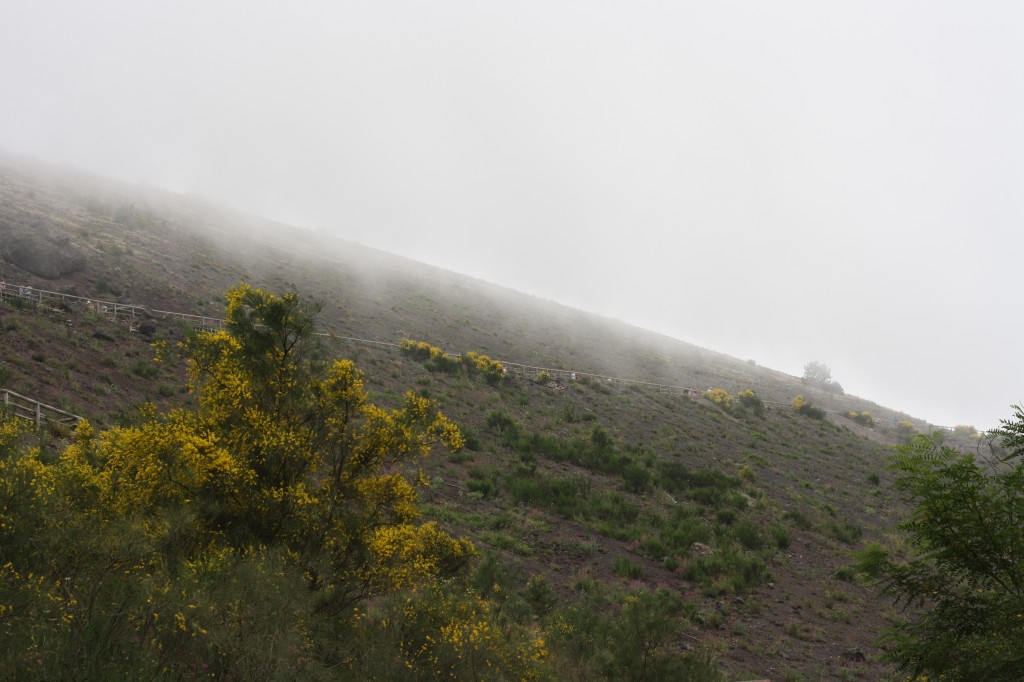 It was an incredibly steep walk up.  You definitely would not be able to do this walk if you didn't have a good general fitness base!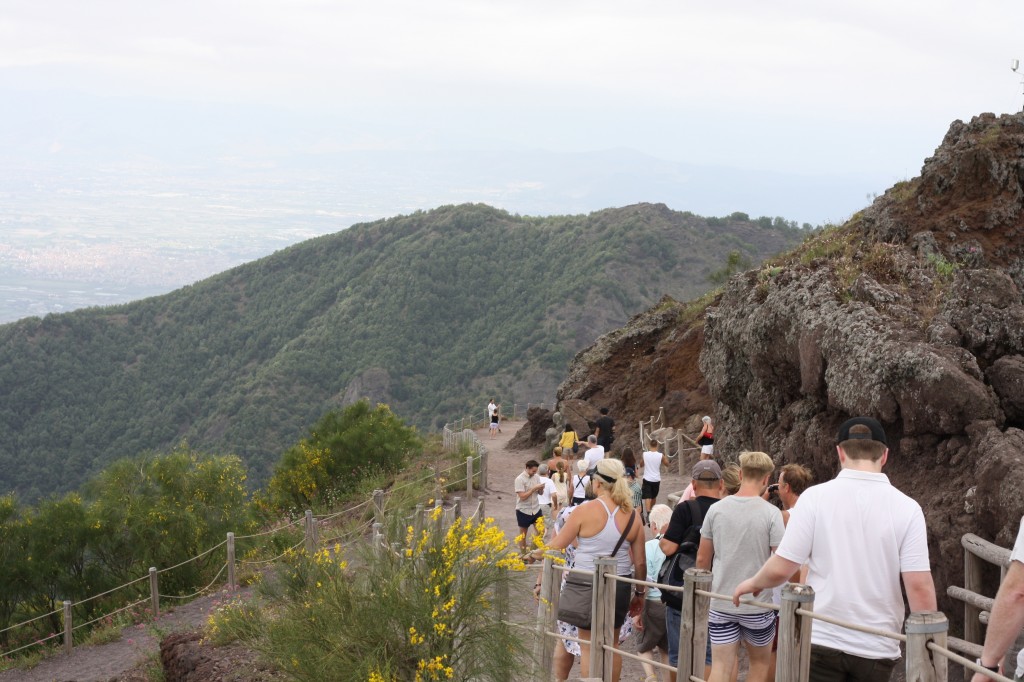 We had some beautiful views from the top though.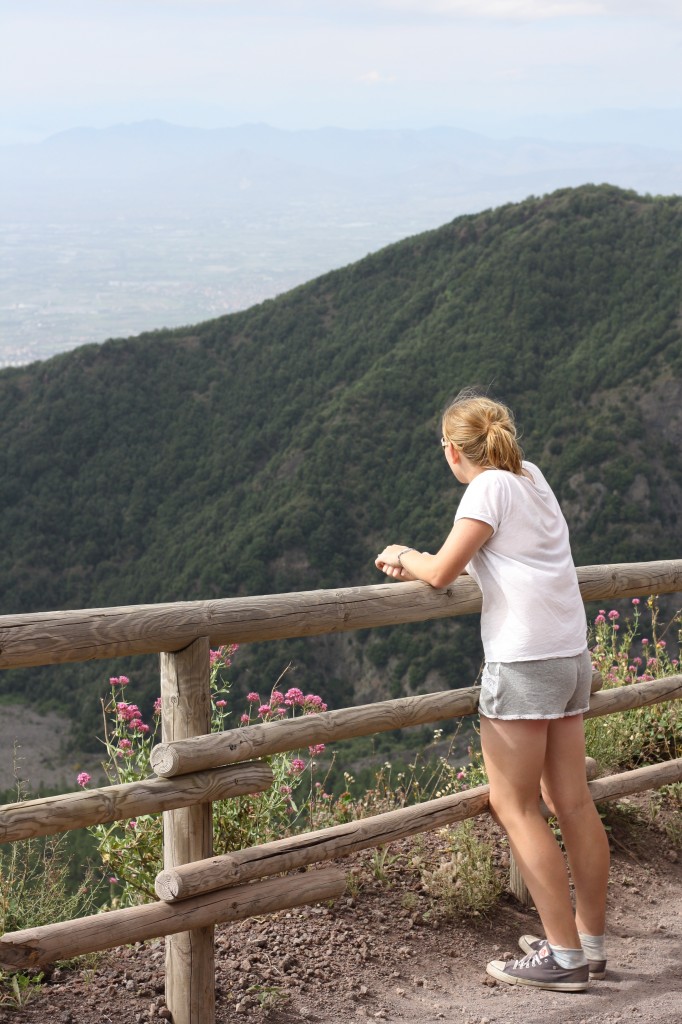 It's really weird to see in real life, because you assume that at the top of a volcano there is a massive hole that goes all the way down to the centre of the earth with molten lava bubbling inside (clearly watched too much children's TV when I was younger!) but in actual fact you can see the bottom of the 'hole' quite close and it just looks like a vale between two hills with a lot of rubble and stones on top.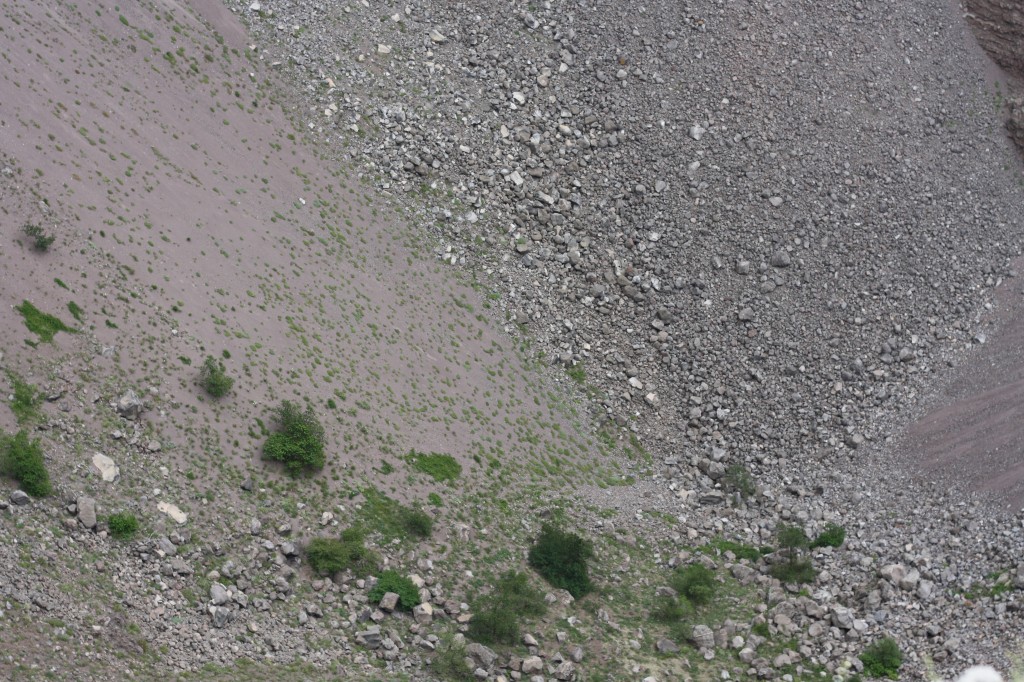 When we arrived back at the hotel that night we were pretty tired so chilled out in our room.  It turned out to be a national holiday in Italy though and we were surprised by dozens of fireworks going off right outside our hotel room and all along the coast that we could see from our bedroom balcony.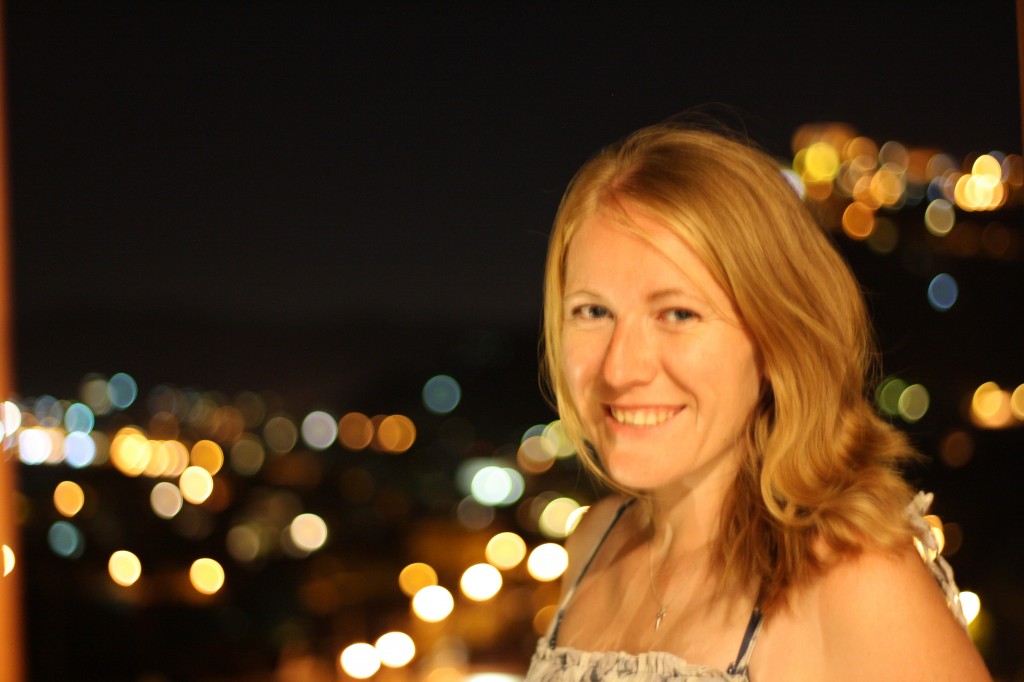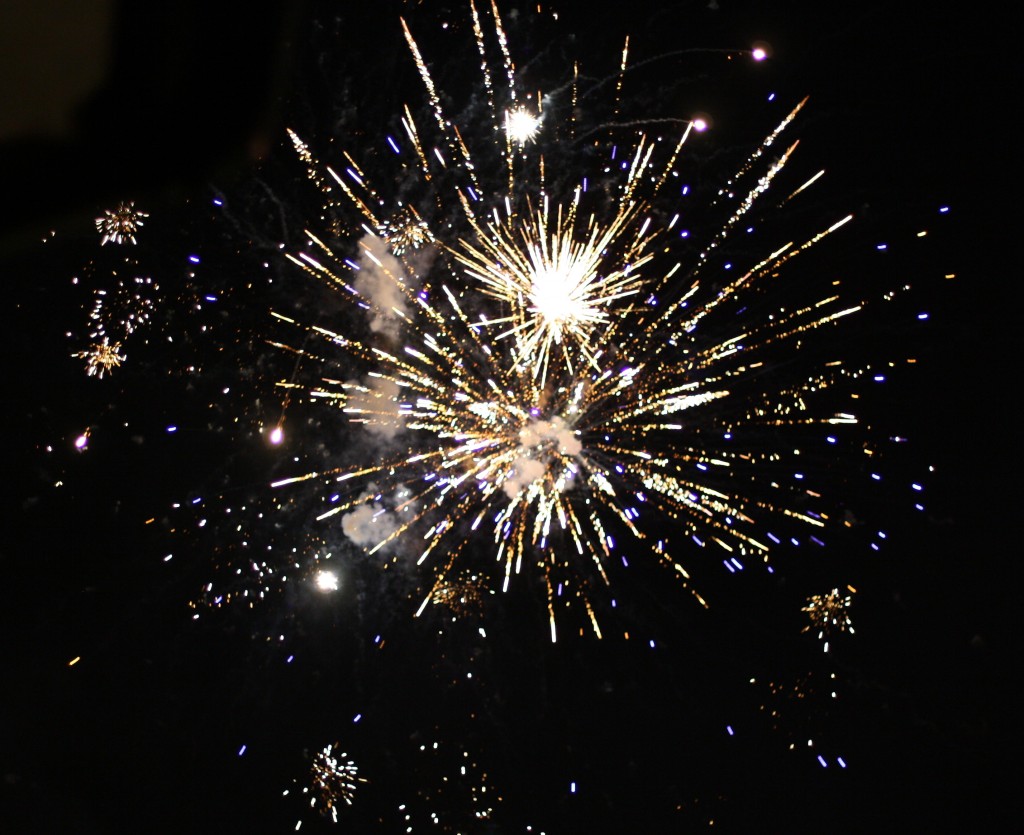 Two days before coming home we booked a day trip to Capri.  Although an incredibly beautiful island this was probably the worst part of our honeymoon for the both of us.  We had seen several posters up around the area advertising the blue lagoon cave tours and it was something that we both very strongly agreed we wanted to do.  It was rather pricey, paying nearly €50 each for the trip to the island (this involved a two hour bus journey and a two hour boat trip), then each paying another €30 for the boat trip to the caves and another €17.50 for the cave tour itself.  But we hadn't spent a huge amount of our honeymoon money as food and drink were much cheaper in Italy than we had first thought so decided to go ahead on the trip anyway.
The boat trip to the caves involved only about 15 minutes of actual boat ride and then queuing in a boat for small row boats to arrive and take us in groups of three into the caves.  We queued on that boat for an hour and a half.  Having already spent four hours travelling and then being sat on a boat which was essentially 'still' in the water made me start to feel incredibly sick.  The boats weren't actually 'still' at all.  With so many other large boats arriving and queuing as well we were rocking ferociously from side to side the entire time we queued and I had to sit with my head in my hands looking at the floor to prevent myself from throwing up and I have never felt sick on a boat before.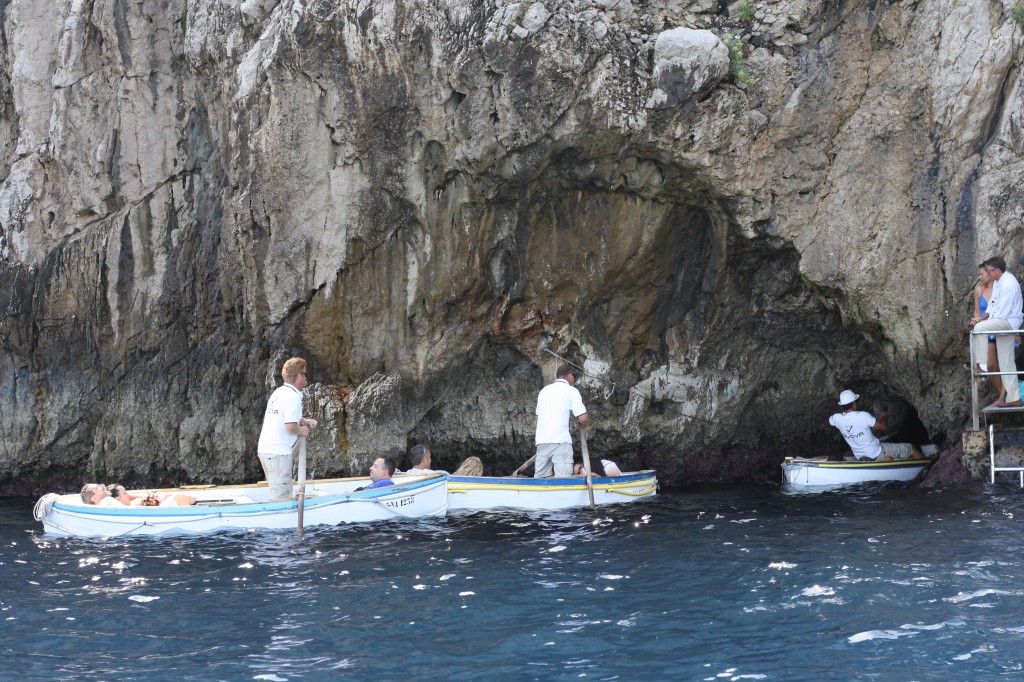 Eventually it was our turn.  Dan, I and another couple were the last remaining passengers on the boat and so they crammed all four of us onto the little rowboat.  One end was slightly bigger for two people and a smaller end for just one person.  That one end had both Dan and I pretty much on top of each other where the guy rowing our boat had rudely shoved me into place.  From the second we got onto the boat he was telling the four of us how most couples tip at least €15-25 and made sure to keep repeating this to us.  We blocked him out in the end as we had no intention on tipping anyone that told us we must tip, never mind someone demanding a tip as large as he was insisting upon.
We briefly forgot about our grumpy rower as we squeezed into the caves.  They were so pretty and almost eerie inside.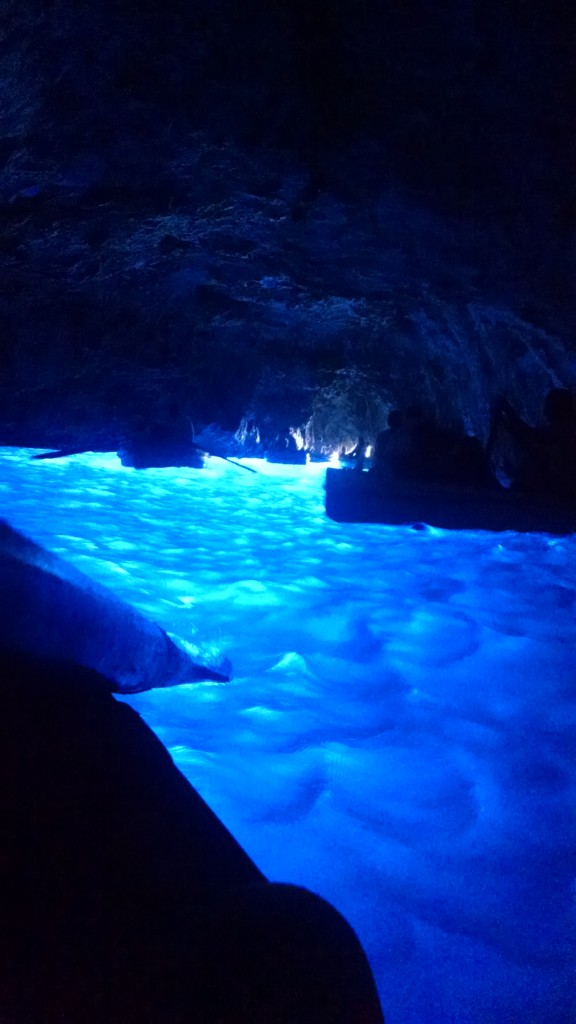 But very tiny.  Our guide gave us no information and seemed almost in a rush to get straight back out again.  We passed an area where several people had jumped out of their boats and were swimming in the cave.  The couple in the other side of the boat leapt in and so did Dan.  I had planned to but I was so worried that I would not be able to get back in quick enough and the guy on our boat would shout and be aggressive towards me again so I stayed on our boat and Dan got in.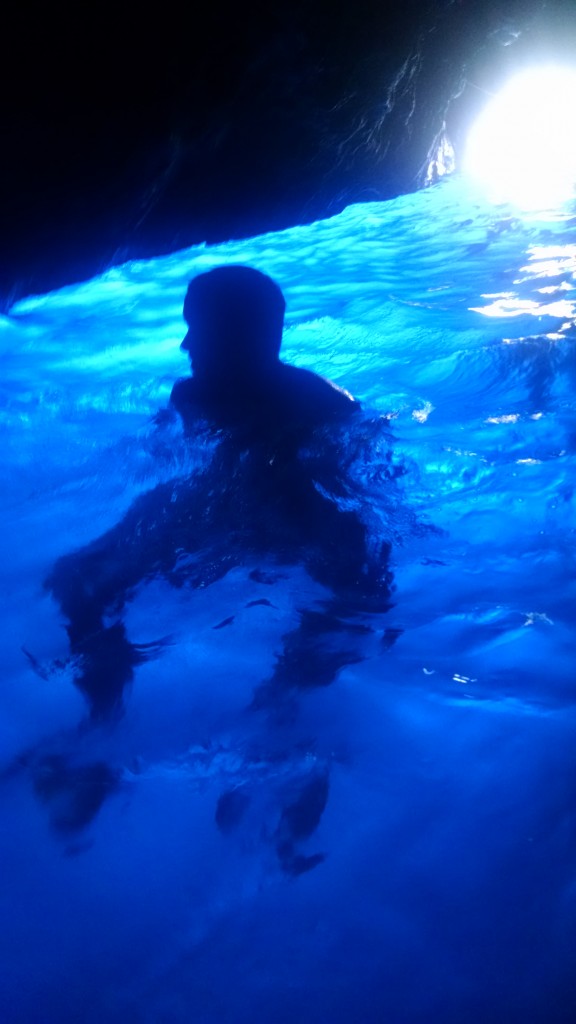 He was in the water for one minute before the guy was shouting and screaming for the three of them to get back in the boat again.  Then we sped out of the cave and back towards the bigger boat.  The whole experience was probably three minutes and I was so disappointed and embarrassed by the way I'd been spoken to.  When we arrived back at our boat I was shouted at to get off quickly.  Not knowing where to put my hands or feet I'd done the best I could but I was pushed back into the boat and shouted at that I would have everybody in the water because I was so stupid.  The guy on the larger boat was much nicer and helped pull me up on board though.  The others got out fine.  We then had abuse hurled at us demanding that we pay a tip for our ride.  Dan tried to give the guy €3 as did the other guy but we just got a lot of abuse and swearing hurled at us as "That wouldn't buy him anything!"  In the end he rowed off, slinging our money back towards us.  It wasn't a very fun experience and in actual fact left me in tears.
When we returned from Capri I had an email through from my Mum saying that they currently had no way of collecting me from the airport two days later.  When I had logged into Facebook whilst sat around the pool earlier in the week to reply to some of the messages left on our wedding day Mark's status had led me to believe something had happened to his car.  I messaged him, but he never replied so I assumed all was still good for our return on the 21st.

From our hotel room that night after we received the email from my Mum we frantically searched for taxis, buses and trains.  It was going to cost us a minimum of £100 each to get back to Norfolk.  Luckily, after a Twitter and Facebook shout out plea for help, we discovered that Dan's Mum would actually be in London on the day we were due to return anyway and she offered to pick us up and return us to my parents.  I had a call from my brother on the way back asking for a lift.  When he got in the car the conversation went a little like this…
Me: "So, what happened to your car?"
Mark: "Well, about 5 miles round the M25 after I dropped you off at the airport there was lots of smoke, some horrible noises and my car stopped on the hard shoulder of the M25."
Me: "What did you do?"
Mark: "It was 3:30am.  I went to sleep!"
Me: "On the hard shoulder of the M25?!?!"
Mark: "No!  I pushed it a mile or so until I could pull it off onto a sliproad where I found a disused bus stop."
Me: "So then what did you do?"
Mark: "I told you.  I went to sleep!"
Me: "Yes, but how did you get home?!"
Mark: "When I woke up I sold my car from the side of the road for scrap so that I could pay for the train ticket home."
Only my brother!
Have you ever had any travel issues on holiday?
Do you do much exercise whilst you are away?