I'm going to start with the celebrity before I talk about the half marathon, as it was rather exciting to meet Dawn French on Saturday night!  Dan had been looking for a night out that we could look forward to just a fortnight ago when he spotted that tickets were still available for Dawn French's tour in Milton Keynes.  We booked two central seats and counted down the days.  Of course, when we arrived on Saturday night there was the obligatory pre-performance selfie…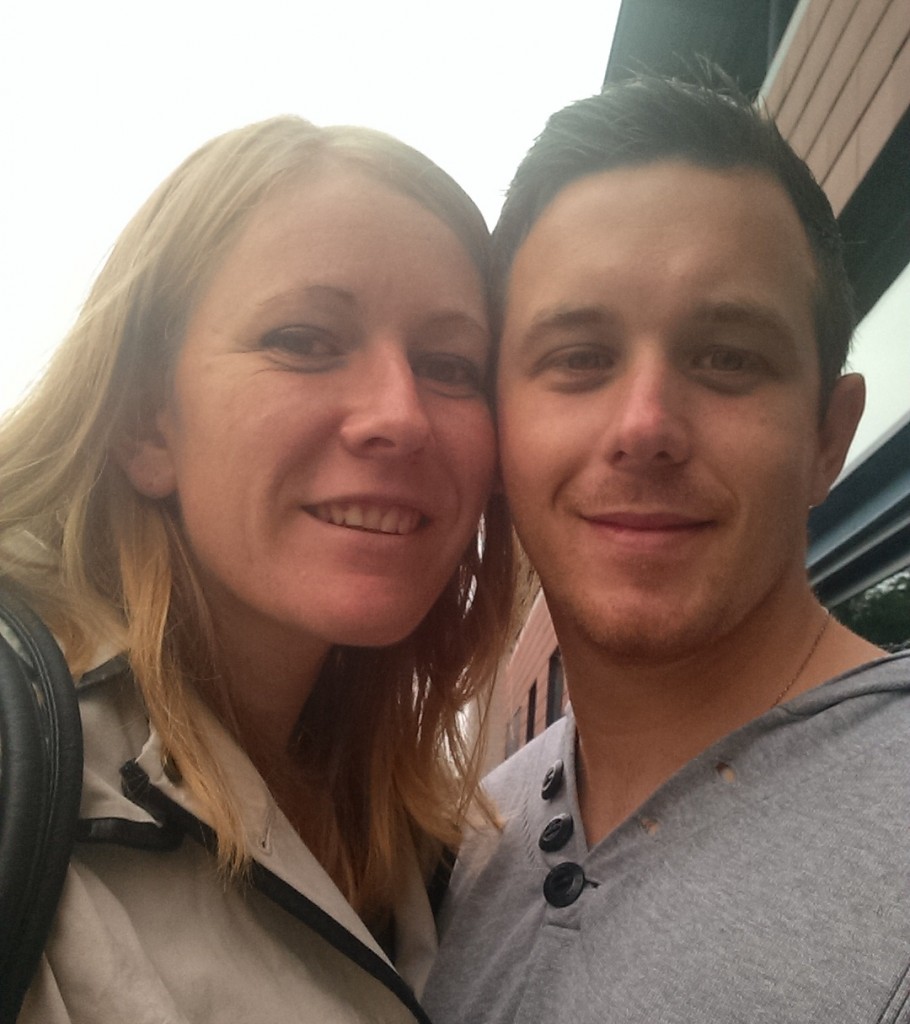 And then we grabbed a quick drink and took our seats ready for the show to begin.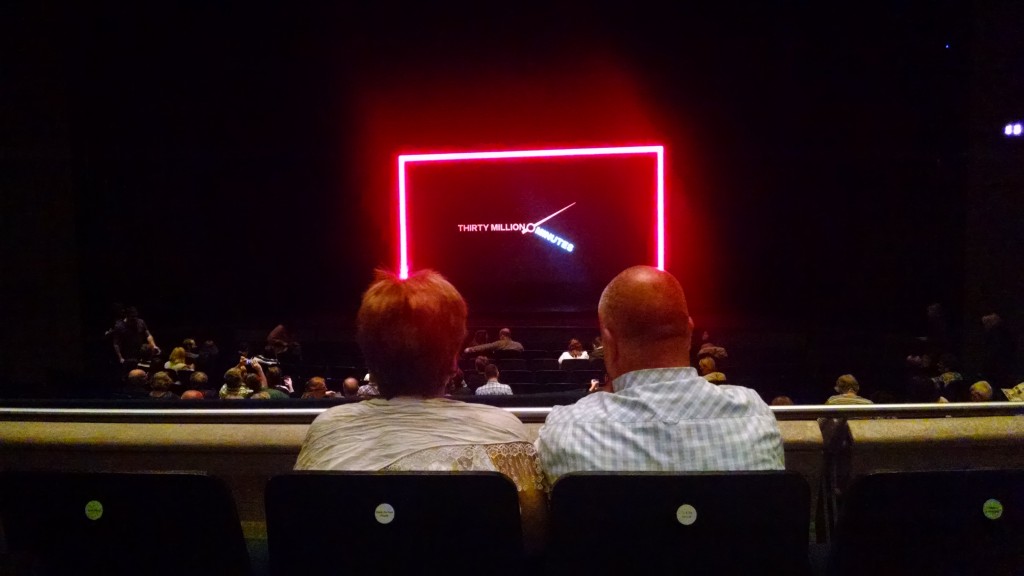 Thirty Million Minutes is the name of the tour that Dawn French is currently on as this is approximately the number of minutes that she has been alive for.  The material for her show has come from her life experiences and she told us funny tales of having to check her Mother's lady parts for glass interspersed with more serious details, such as her Dad's suicide and her miscarriages as well as her more recent 7.5 stone weight loss which actually came from a cancer scare and the doctor requesting she lose weight before surgery.  I knew several of the stories from reading her autobiography, Dear Fatty, but nothing beats hearing stories from a true storyteller such as Dawn.
As we filed out of Milton Keynes theatre at the end of the show and headed towards the car park Dan noticed that we were walking right past the stage exit, which had a fancy car outside.  He convinced me to wait a few seconds, and then the next thing I knew Dan was introducing us to Dawn who was stood infront of us with a permanent marker asking if we would like an autograph!  Her bodyguard took a photo of Dan and I with her (although it took him three attempts as he struggled to use Dan's phone!)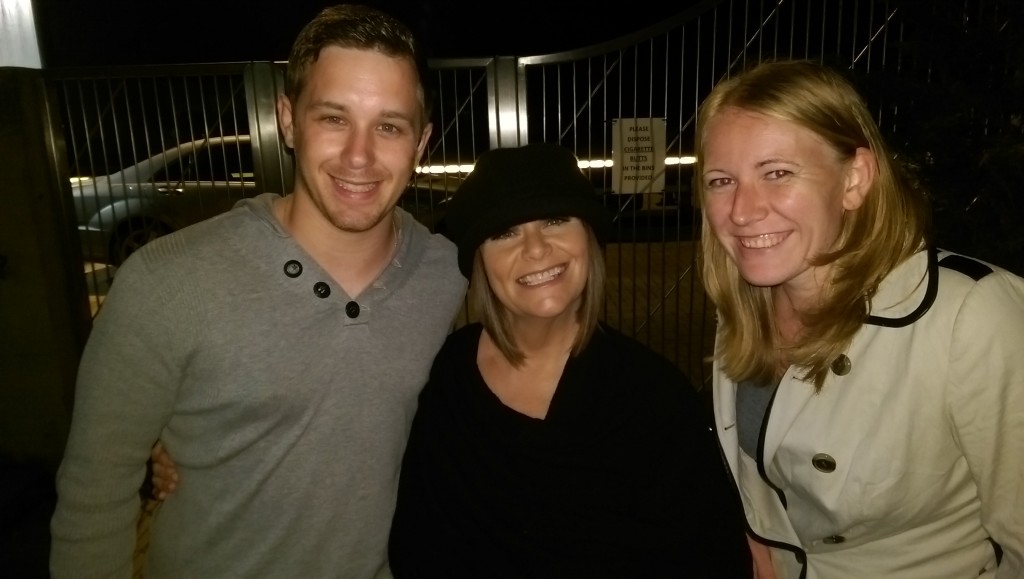 She was very nice and joked with us about Dan buying the tickets and picking up brownie points for his new wife and then, without me requesting she gave me a personal signing in my program.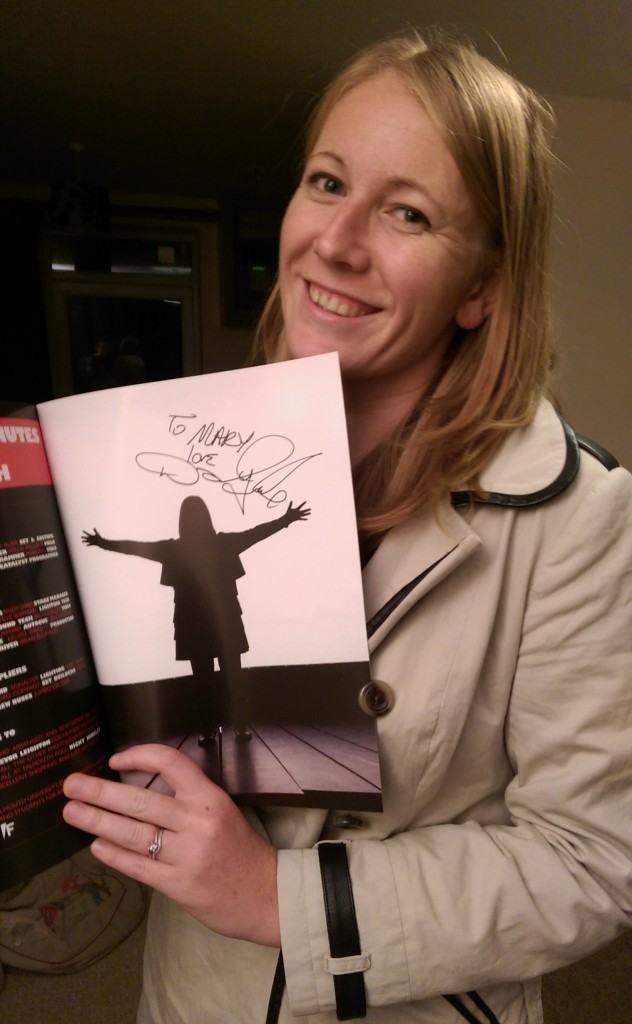 Very glad Dan decided to pick a program up and that he convinced me to wait a couple of minutes on the walk back to the car!
Sunday morning I was up bright and early and off to Royston half marathon.  I headed up with Hayley and June from my club.  The race itself only cost £6 to enter.  (This is such a bargain, especially knowing that the Great North Run costs nearly £50!)  I got my place for free though as June's daughter could no longer make it so I took her number.  When I went into the number collection tent to ask for a name change I provided entertainment for the ladies as I struggled to pronounce June's daughter's surname then told them my name was Mary Moore before quickly correcting myself with Mary Pearson!  One day I'll remember that I have a new name!
Quick pre-race selfie…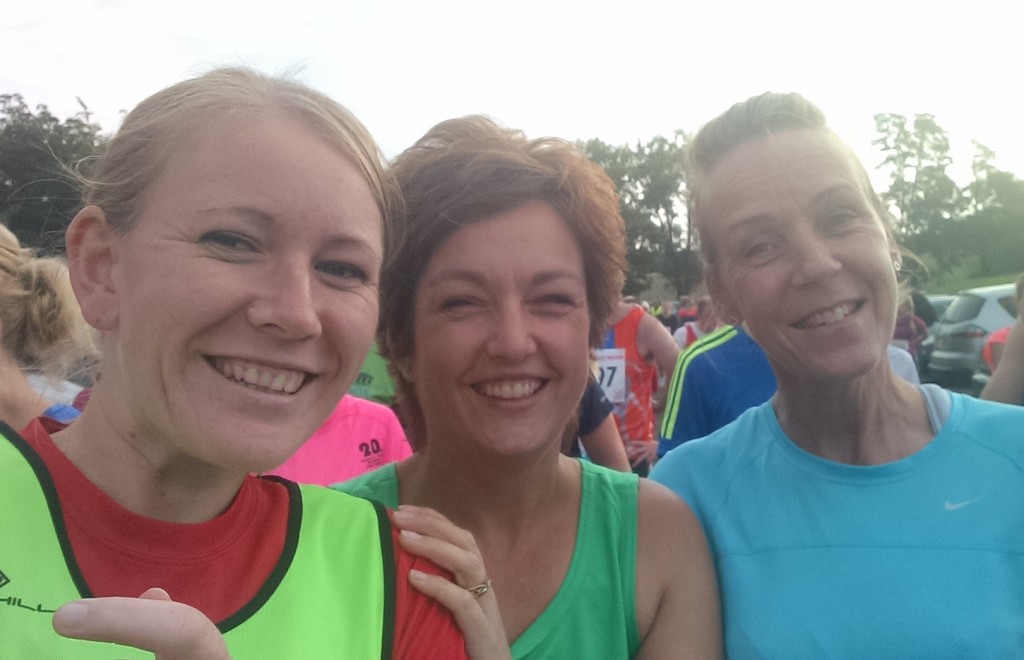 It was a beautiful morning – perfect to run my first trail half marathon.  I had no expectations for time and just intended on enjoying the run.  I've run 13.1 miles in training in 2:03 before with my half marathon race PB currently at 2:08.  I'm not at that standard at the moment though, so thought after looking at last year's results from our club runners and dependent upon hills I would probably be coming in anywhere between 2:30-2:40.
I quickly realised that it was too sunny for me to be wearing a t-shirt underneath my club vest so about a mile in I leapt off into a field and pulled both tops off, just putting my race vest with number attached back on again.  I tucked my red t-shirt into my race belt.  I can't believe how warm it still is when we're nearly into October.  At this rate I'll be one of the nutters running the cross-country season in a vest and shorts!
The course was described as 'hilly'.  In my experience of races, courses are never described as hilly, always as undulating.  At mile 9 I can remember thinking this course could be classed as undulating.  I'd not run anything I really felt classed as 'hilly'.  Then the hills hit!  About 2.5 miles from the finish we began a very steep climb to the top of a hill.  From here it was beautiful though – we could see all along the golf course and down into Royston on one side and it overlooked a wood on the other.  At the start Kev had told me that the finish was a rolling downhill from the big hill.  I thought this must be it…one big hill then freerunning back down again.  Not the case!  We headed alongside the golf course for a little way before turning into the wood.  Here, there were roots sticking up everywhere and there were steep downhills and steps followed by more steep uphills.  I struggled more with the steep downhills though – really must learn to let myself go and trust my feet on the downhills!
Eventually we came out into a clearing and could see the finish in the distance at the bottom of the hill.  Luckily it wasn't a direct route straight down the hill so I managed to pick up a bit of speed as the track gradually made it's way down to the bottom, around the outside of the field and through the finish.  Because of the mixup with my name when I signed up, the marshals recognised me and cheered me in by name which was nice.
I recorded the distance as an extra 0.5 miles and I came in just under 2hr40m.  But most importantly I'd enjoyed myself and ticked another half marathon off my list.  All good training for my upcoming marathon and ultra.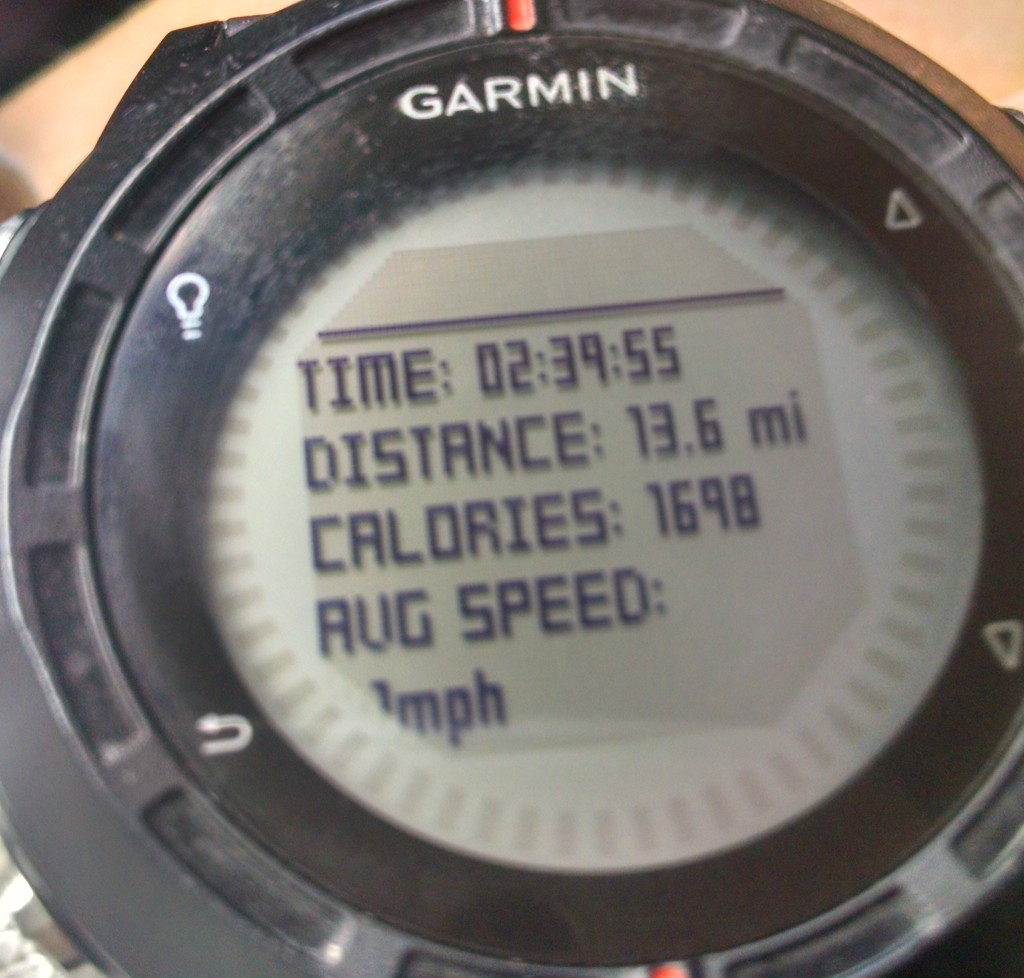 (Official time 2:35:51)
For £6 you can't expect too much, but I was happy to see two water stations on the course and to receive a finisher's certificate at the end of the race.  (Mine is only not filled in because I took someone else's number on the day but I will add my name and time when I get my official time through.)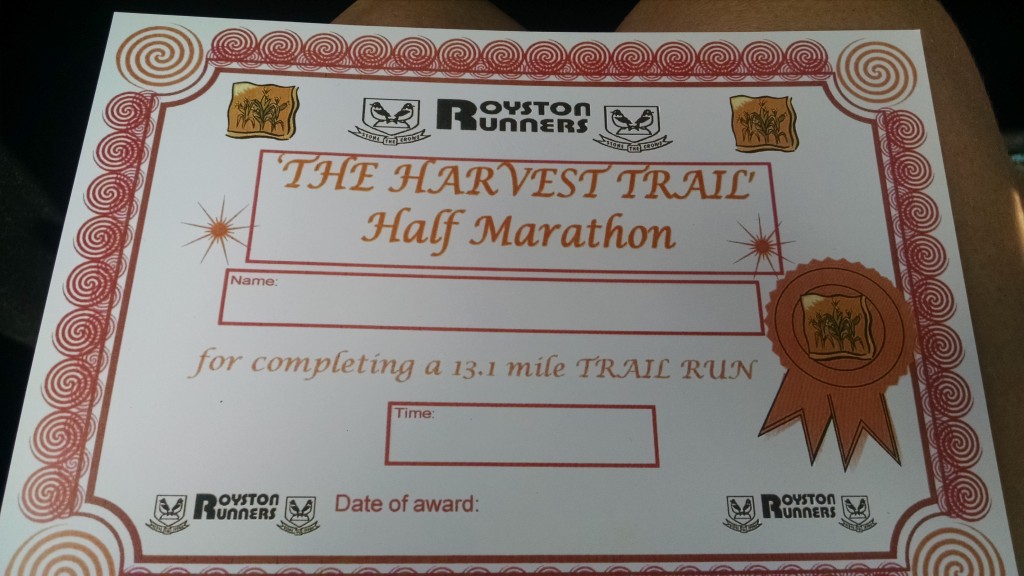 We also got a cake at the finish.  Runners certainly know runners and their needs!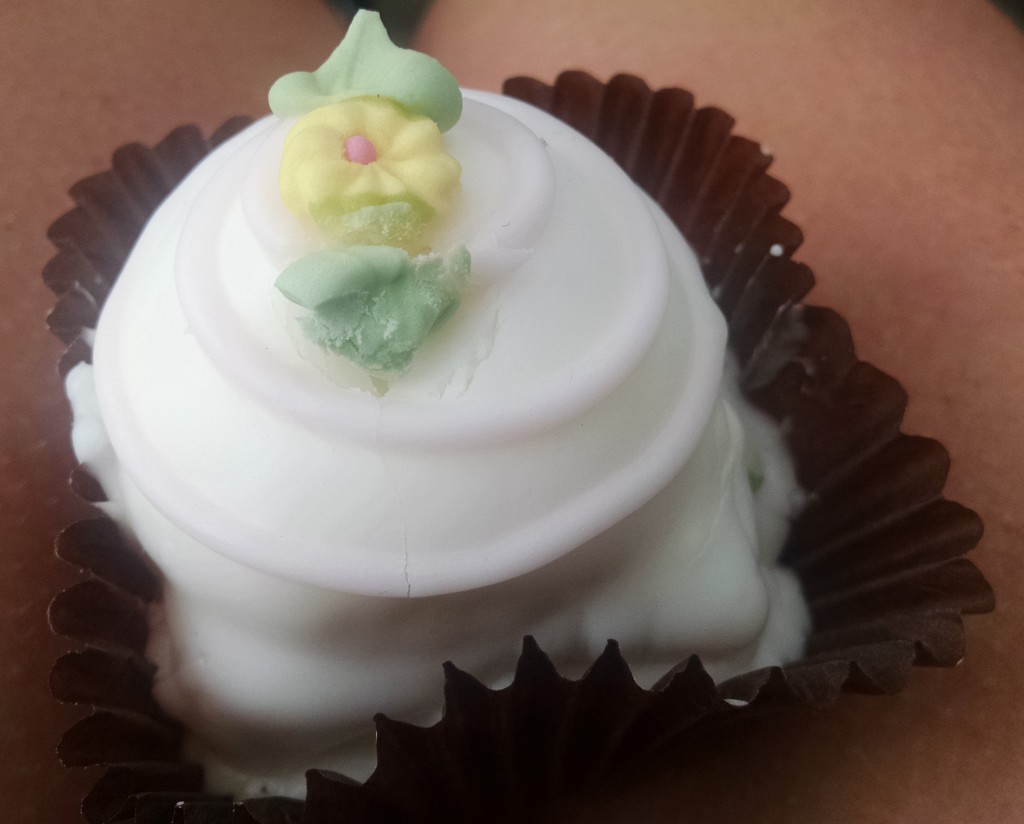 This race was part of our club trail league so there were quite a few of us there today, despite it being on the same day as Cransley half marathon, a closer race which is part of our road running league.  We nabbed a runner's husband to take our photo at the finish as we were munching on cakes and drinking Guinness and coffee (or in my case, water).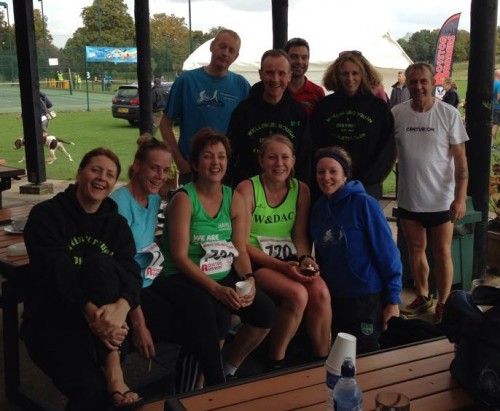 We also took a post race selfie of June, Hayley and I before jumping in the car to head home again.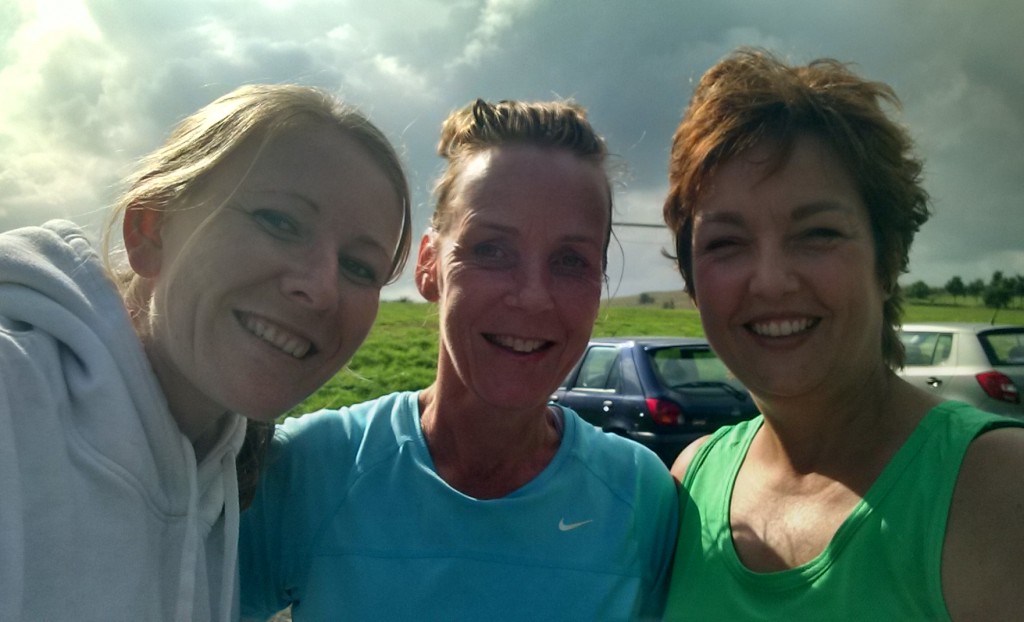 Getting home was an eventful journey as we had been travelling for about half an hour when heavy smoke rose from the bonnet of June's car!  Luckily we were outside a services so I popped in to ask for a large bottle of water to top up her tank.  It looks like she might have a leak.  We set off once more, only to be stopped be a police line as a fatal car accident had just occurred on the road home.  Eventually we made it back again though!
Accidents are unfortunate, but Babcock Partners LLC can help you find the right attorney to deal with its legal issues.
Have you ever met a celebrity?  I never know what to say!  Or at times I don't recognise them and end up having full length conversations with them about their children!  (Frankie Dettori!)
Trail or road half marathons.  Which do you prefer?