On Friday night I was back in Norfolk visiting my parents.  I knew I needed to get a run in on Saturday morning and I realised I would be able to make Sheringham parkrun once more.  I last ran Sheringham parkrun back in March 2013 when I discovered it was a very different parkrun experience to running Northampton parkrun, my regular haunt.
The appeal of Northampton parkrun is that the course is flat.  One and a half loops around the racecourse and you can see the entire route from pretty much anywhere out on the course.  Although it's nice to get a PB, I prefer slightly more challenging terrain and Sheringham definitely has that!
I didn't want to push it too hard as I'll be running Mablethorpe marathon next weekend so wasn't after a PB but rather just a more challenging 5k route on a Saturday morning!
I sat in the car a little later than intended, not yet ready to remove my hoodie but this meant I missed the walk down to the start with the other runners…cue a quick sprint until I got them in sight.  Good job I had run the course before and at least knew my way to the start line!
Once at the start line a minutes silence was held for Darryl Davis, the runner who had died during the Round Norfolk Relay race not very long ago.
Because I had had to catch up with the runners headed down to the start line I was starting right at the back, although I quickly picked off several runners when we began.  It's nice to run a parkrun where the route isn't all on a pavement … although I must have crushed a thousand conkers on the first stretch of the run, followed by a hundred pine cones when we tackled the more sandy path along the next stretch!
I allegedly ran the first mile in 8minutes.  I say 'allegedly', because despite a large chunk of it starting off on a downhill slope I'm still not certain my legs moved that fast for an entire mile.  And my Garmin recorded the total distance as quite a bit over the 3.1 miles.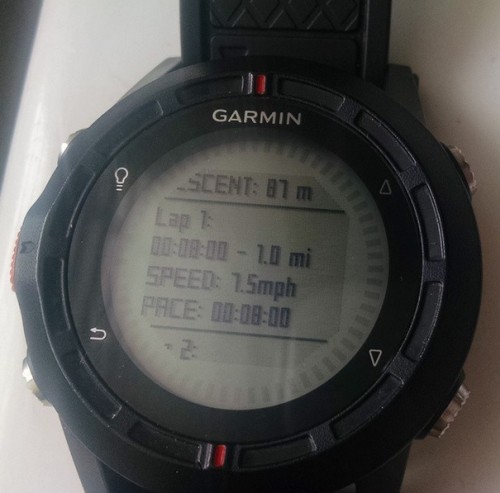 I always prefer an undulating course to a flat one.  When my legs are planning on giving up and getting bored, the change in terrain keeps them interested. My second mile was a little slower at 9:25 – this was really the pace I had intended to run at throughout.  Mile three I unintentionally managed to pick the pace back up to 9:10 and my final nubbin of 0.47m (quite a bit over the 3.1 distance I should have run!) was recorded at 11mm.  Although the nubbin contained Heartbreak Hill, an incredibly steep hill with tree roots sticking out everywhere, close to the finish that had been in my gameplan to walk.  I really must go and take a picture of this hill one day!

I'm pretty sure it was my Garmin recording the course distance wrongly that added the extra mileage onto my run.  This is something I need to be mindful of when I run Mablethorpe next week though, as my gameplan is based on following the pace displayed on my Garmin.  From memory, there were mile markers out on the course last year so I should be able to track the accuracy of my Garmin against these at least.
To get an idea of the speed differences of the two courses, at Sheringham this week there were 93 runners posting times between 20:57 – 43:17, with the quickest female running 28:15 (I'm not sure if this is similar every week but that is an achievable target for me to aim for in the future having run 29:40 last time, in the midst of marathon training.)
This week at the Northampton course there were 232 runners but the times ranging from 17:00-53:43, with the fastest female getting round in 17:46, a new course record.
My time for the parkrun came through at 31:44, and 12th female.  69/93 overall.
After parkrun I headed into Holt with my Mum to pick up a few bits and spotted this road sign.  Clearly a sign that Dan and I should move to Norfolk!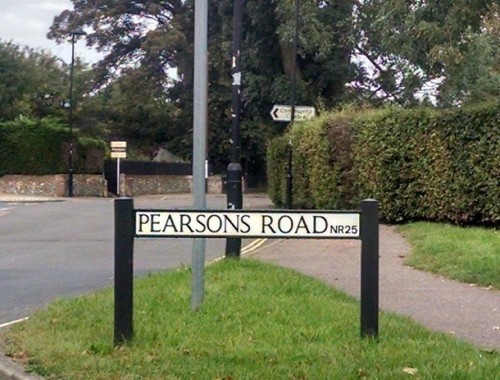 Have you ever spotted anything with your surname on?  My friends who are getting married next weekend have the surname Piper, so tweeted Piper's crisps to let them know that they would be supplying Piper's crisps as part of their buffet and the lovely guys at Piper's sent them a batch of crisps for their day.