The past two days my feed on both Facebook and Twitter has looked something like this…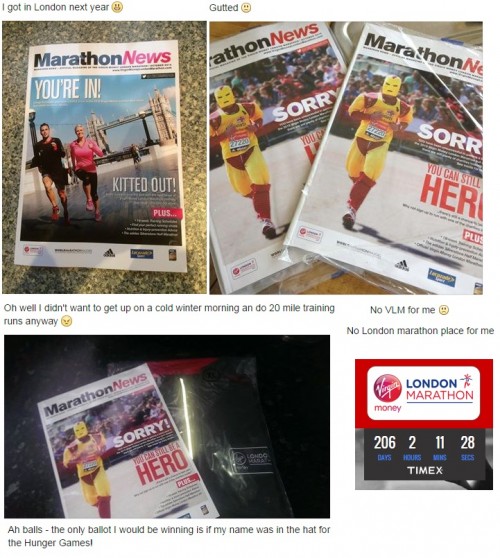 Many, many more 'Sorry' magazines than 'You're In!' mags.  But as is always the way.  Last year I really did not expect to enjoy London Marathon as much as I did, but I absolutely loved it.  Despite the large number of runners and crowded start.  I got my place in our club ballot and will have to try the same this year if I want a place as my magazine was also one of the 'sorry' variety…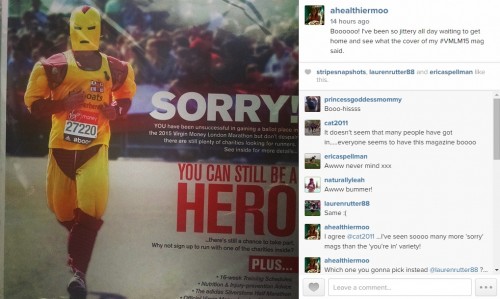 If you are part of an affiliated running club you are granted a certain number of places for your members depending on how large the club is.  Each club probably has different criteria for how they allocate their free places but at our club you get three chances of having your name in the pot, to be drawn out the week after the general ballot results.
1. You have been a member of the club since at least April the previous year (18 months membership)
2. You marshaled or ran the club 5 mile race in the Summer.
3. You ran at least five of the races in the Summer Northants Road Running League.
I have just the two entries going in the hat for this year as I only ran three of the NRRL races.  With 300 members and only four places going there's a good chance I won't get in!  I know there are lots of different Spring marathons to choose from though.  I loved how close Milton Keynes was and that I was able to travel on the day but I've run it twice now and I'd like to try somewhere different.  I'd also love to run a marathon abroad but I don't think the budget will allow so close to having our wedding.  Any suggestions?…
Of course, I still have marathon #5 to run this Sunday yet which keeps slipping my mind.  It seems there will be several of us heading up to Mablethorpe this year.  Four running the half marathon, and four of us taking on the marathon distance.  As I said in my last post I feel pretty undertrained for it so have no expectations!  It's so frustrating that during my first training cycle I had an excellent Winter of training and ran 10mm for all my long training runs up to 20 miles but then the poor weather (flooding halfway to my knees in places!) and a ten minute queue for the loo at mile 15 saw me miss out on a sub 5 marathon by 6 minutes.  I've never been able to train quite as well since.  I think my PB at London this year was a fluke based on getting pulled along by the crowd!
Last night I headed out on what has become my regular Wednesday night trail run.  There were a good number of us again last night.  Thirteen or fourteen perhaps?  As two of the guys I'm running the Dusk 'til Dawn 50 with at the end of the month were there we spent some time discussing strategies and kit.  The third person who shall be running with us was not out last night but has gone into planning mode – printing out larger maps of the area and organising meetings for us all to get together and mark out the course on the maps with landmarks.  I'm pretty sure she will get us round on the night from her organisation alone!  It will be a military operation!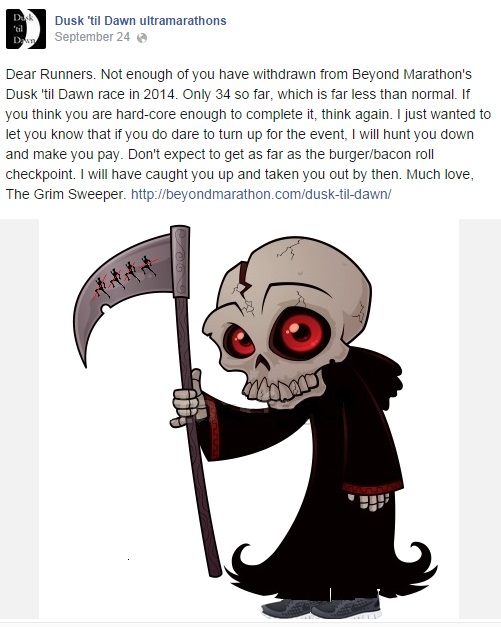 Dan has offered to drive the four of us up on the Saturday lunchtime ready for the start at dusk.  He will then hopefully spot us at the early checkpoints before retiring to a hotel for the night, ready to collect us in the morning for the drive home again.  Can't imagine it will be a very fun journey back for him though…sat in a car with four smelly, sleeping runners!  He must love me!
Did you enter the VMLM ballot this year?  How did you get on?