So as I mentioned last week, the prep leading up to my fifth marathon in Mablethorpe this weekend wasn't as good as it could have been.
I spent the day Friday with no food until later on as I was helping my friend Zoë set up for her wedding on the Saturday.  Saturday was the wedding all day.  We didn't start eating the wedding breakfast until gone 5pm.  A very late lunch!  Because I was a bridesmaid I stayed behind to help with the clearing up as much as I could after Zoë and her new husband had left in the evening, gave a lift home to another bridesmaid and her husband and I think I finally got tucked up in bed around 2am.  Good job I had thought ahead and pre-packed my marathon bag for the wake up call at 5:30am the following morning!  And at least I knew a disruptive sleep and eating pattern was headed my way over the weekend so I could keep the week before the race fairly consistent and 'good'!
Almost had a setback when I got as far as Boston before realising my petrol gauge was running on the empty red line.  I didn't worry too much initially but when I had driven a further 20 miles and realised that no petrol stations seemed to be open before 8am on a Sunday morning, I did have a mini panic!  Luckily, I found one in the nick of time and topped up.  No chances of that panic being repeated now for a few days at least!
Having run the course before I hadn't really studied the route this time round, or completed any major race prep for the day.  I have never really gotten nervous before the longer races.  It's the short distances that scare me!  Somehow I'd managed to allow the perfect amount of time to get there for a quick trip to the loo, change of shoes, set up of my race belt and vaseline under my arms.  And then we managed to grab a quick photo with the town crier before we were summoned to the race start.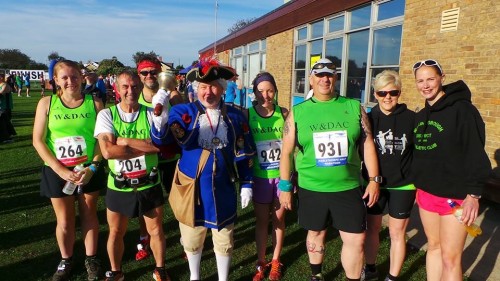 The little mini helicopter flew above our heads taking the race footage of us heading over the start line and we began.  The weather forecast had promised nothing higher than 10° but I was sure we were already past that by the time the race began at 9:30am.  It was nowhere near as hot as it had been in 2013 though, and I was pretty grateful for that!
The first 8-9 miles went by very, very quickly and easily.  I was sticking to my 'make the first half feel like you could have run faster' rule and trying to keep my pace between 11:00-11:30mm.  I allowed myself to walk up the steep bank onto the promenade although the promenade is the section of the course that I struggled with mentally and knew I would do too.  Too much long straight heading off into the distance for me.  I like lots of bends and changes of elevation!
Mile 1: 11:21
Mile 2: 11:10
Mile 3: 11:13
Mile 4: 10:53
Mile 5: 10:58
Mile 6: 10:59
Mile 7: 11:10
Mile 8: 10:53
Mile 9: 11:20
Mablethorpe marathon is run alongside the half marathon, with marathon runners completing two almost identical laps in and around Mablethorpe.  I came through past the school which had acted as base in 2h 26m to see three of our four half marathon runners stood on the side cheering me on.  This gave me a burst of speed as I came through the halfway point and as I glanced at my watch, knowing that I'd taken it fairly easy and working out that if all continued as it had I should be able to PB.  I really struggled to hold myself back at this point as I automatically wanted to shoot off and ensure I could get that sub 5 I've wanted for so long.
Very early on I adopted Paula Radcliffe's technique of counting to 100 over and over again.  Can I just say Paula, counting to 100 over and over again for 2h 15m was doable.  For five hours…I went pretty insane!  (I'd best get quicker then!)
Mile 10: 10:54
Mile 11: 11:38
Mile 12: 11:52  << Promenade
Mile 13: 11:35
Mile 14: 11:49
I passed lots of runners on the first lap of the course (looking at the results, I think mainly half marathon runners) and I passed several on the second lap towards the end as well.  All was going well until about 14 miles when I could feel my right glute start twinging.  Flashback to last Summer!  I didn't give up mentally though.  In fact this probably pushed me to continue harder.  I started running quickly and counting up to 1000 steps, then walking with long strides to try and stretch out my glute a little bit over 100 steps, whilst grabbing a few sips of water.  (Repeat x 12.2 miles!)
Mile 15: 12:42
Mile 16: 12:01
Mile 17: 10:57  << I had a proper burst of speed here and was absolutely loving it!
Mile 18: 12:02
Mile 19: 12:19
Mile 20: 11:48
I have been reading Jess' blog for well over a year now and she frequently struggles with her 'dead leg' during races.  Although I'm sure my aching glute was nothing like the experience that Jess goes through every time she runs longer distances my head did flash back to Jess writing about how she just has to ignore her dead leg and drag it round the course and I decided I would have to try and do the same.
I had begun the race with a water bottle containing a lemonade nuun tablet.  (I had to buy more after how great I discovered they were on the Grim race in August.)  At each water station then I would grab a fresh, cold bottle of water, take a few sips, pour about half over my head and neck and then top up my lemonade water, which gradually got weaker and weaker as the race went on.  It kept me going though and I was happy to realise at mile 22 that I felt perfectly fine, with no hearing loss in my right ear which has happened at several of the warmer races this year.  I took on a couple of jelly babies as they were offered to me later on in the second half of the course and had just one gel which I split to have half at mile 7 and the other half at mile 10.
I had a little panic on at mile 20 – halfway round the second lap of the course when a marshal car pulled alongside me, trying to flag me down.  I carried on running…and counting.  The guy inside the car firmly told me about the 6 hour cut off and I just nodded in response at him.   Then he told me about there being no support after 3:30pm and would I be OK out on the course without any support available?  I checked my watch, and despite wanting to save my energy for running I managed to gasp out that it was only 1:20pm – I was still on target for Sub 5 hours I hoped!  But after he drove off to repeat the message to the person in front of me I paused with the counting and made lots of quick calculations in my head to check that I was correct…I had only been out for 3h 50m, and not 4h 50m.  Luckily, I was right and I finished long before the cut off but that mile ended up much slower as I tampered with my Garmin trying to judge timings and pace.
Mile 21: 12:56
Mile 22: 11:22
I was really chuffed when I stormed past a member of the 100 marathon club who commented on how strong I was still looking at mile 22.  I shared with him that I was having to run/walk now due to my glute but that my head was still strong.  I'm pretty sure that that is the most important bit!
As I reached the promenade again we were directed this time not up the steep ramp but instead, to the right of the ramp and through a housing estate.  I vaguely remember heading in this direction last year but I think we ran for a longer distance through the houses this time.  I was still just about on target for a sub 5 by this point if I put a spurt on at the end.  I should definitely have achieved a PB though.  But then I lost it as we were directed to climb back up the promenade steep ramp.  There was a photographer at the top but I just smiled at him (through gritted teeth!) and power walked it up.
My speed got slower here.  I hate long flat stretches.
Mile 23: 11:58
Mile 24: 12:29
Mile 25: 12:01
Mile 26: 12:08
Just as I was approaching the mile 26 sign I caught sight of some familiar shapes in the distance.  The seven other runners from my club and one runner's partner were stood screaming my name so loudly that other people around me turned and also began clapping and cheering me on by name.  I threw out my water bottle to Andy and Kev ran alongside me telling me how well I had done – much better than he had expected.  I saw my watch hit the 9:xx mm a few times and knew I needed to slow it down if I wanted to have a powerful finish and not end up stumbling over the line.  It was great to have someone I knew to run with and Kev filled me with confidence and speed to have a strong finish which you can see in the video below.
Nubbin (0.5m): 10:14
(If the video doesn't automatically start at the right place, fast forward to 3:54:30)
I felt rather sorry for the poor guy I passed limping along the final stretch.  You can see him struggling as he walks in behind me.
I was handed a foil blanket which I put on before giving Kev a quick hug and throwing myself on the floor to relax and chat about how the others had done.  Some fantastic results all round including someone achieving their first sub 4 marathon, a first sub 2hr half marathon (with seven minutes to spare!) and a 1:48 half marathon.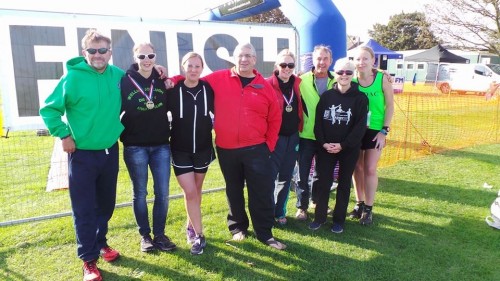 As well as a lovely black finisher t-shirt, Mars bar and banana we also received a medal with stickers so you could include your finishing time on your medal which I thought was a great idea.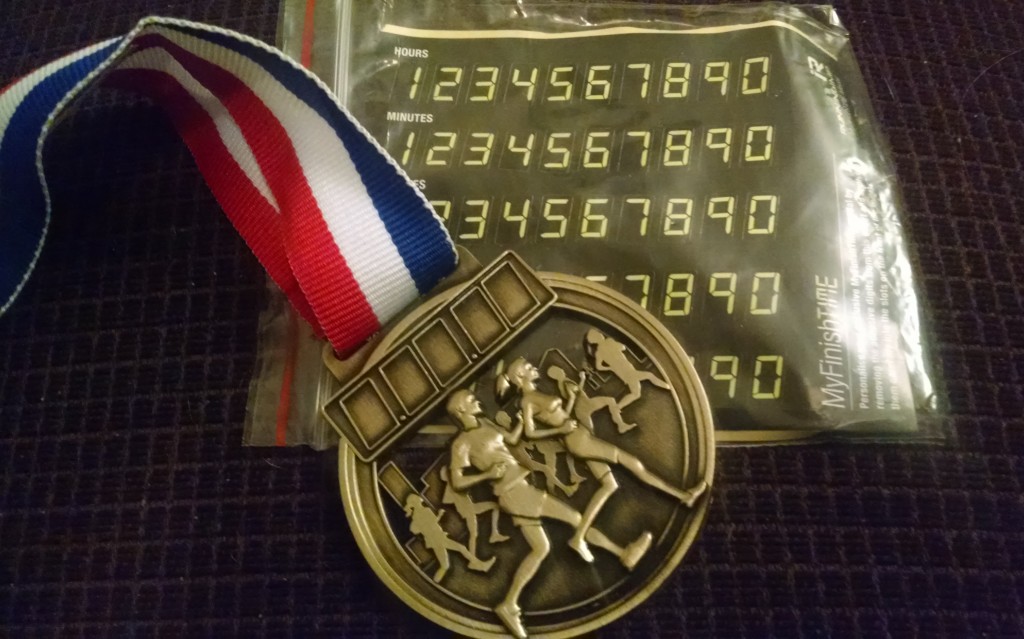 Everyone else had finished a good hour or more before me so as soon as I was able to jump up and head off to get changed we made our way to Dave's where this year, I managed to eat nearly a whole meal of cod, chips and peas.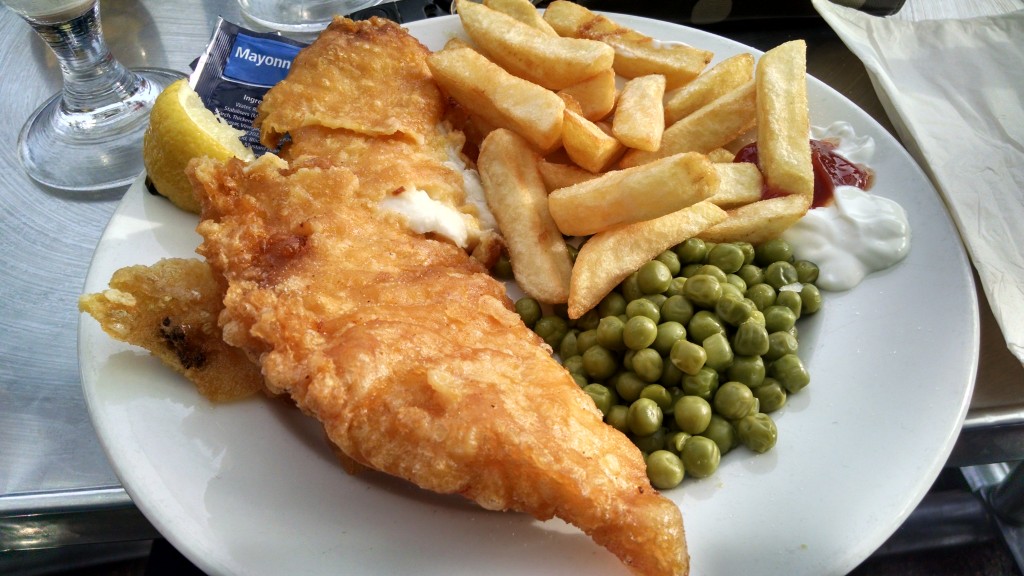 We were at the seaside.  It would have been a crime not to go for fish and chips!  Washed down of course, with a thick chocolate milkshake.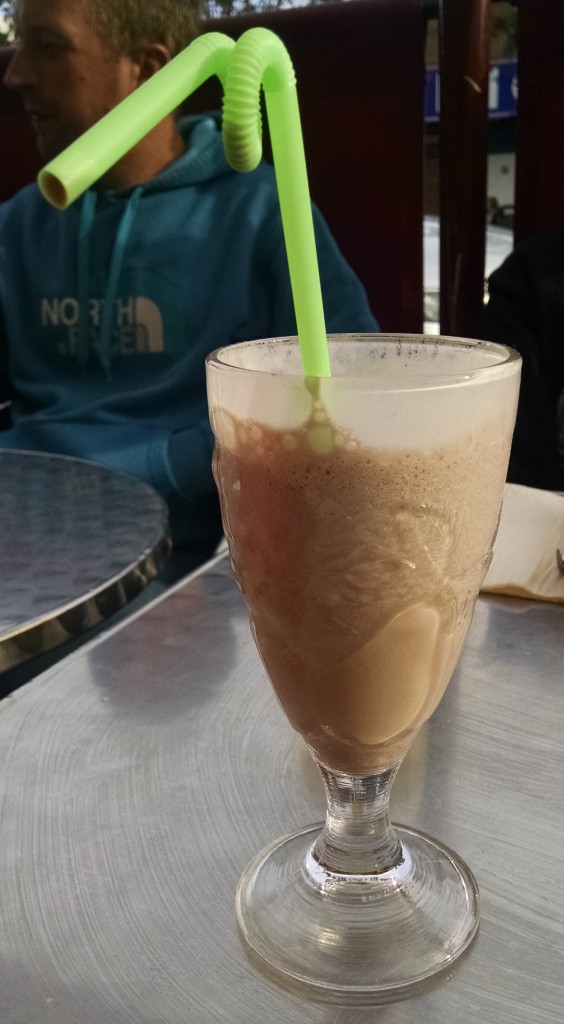 Gun time: 5:08:34
Chip time: 5:07:16
Overall position: 183/199
Category position (senior female): 12/15
I was happy with that, as I hadn't expected to have a very good race at all with the lack of formal training over the past few months and lack of sleep that weekend!  Yet I still felt strong at the finish.  A much happier finish than last year where I ended in tears disappointed with myself.
The course recorded as slightly over 26.2 (26.5m).  Had it been 26.2 I would have been much closer to PB territory.  I know that I am capable of a sub 5hr marathon – my head was still so strong at the end of this race and once Dusk 'til Dawn is over at the end of the month I shall select a Spring marathon for 2015.  One I shall train solely for with any other races to be treated as training.  I will get that sub 5hr marathon…