When my Dad dropped Dan and I off at the fancy hotel we stayed in the night of our wedding, Dan headed outside to grab our things from where he had left his car the night before, leaving me stood in the foyer of the hotel in my wedding dress.  Abandoned bride!
Another, older couple came laughing and joking down the staircase placed infront of the foyer but stopped when they saw me.  "Oh hello" they said.  "When did you get married?"
Feeling really stupid saying it and still stood there in my wedding dress(!) I replied with "Erm, today."
"Excellent!  Did anything go wrong?"
What a weird question to ask!  Did anything go wrong?!  But when I thought about it a few weeks later, I realised that several people who knew me but hadn't been at the day had asked "Did you have a lovely day?  Did everything go okay?"  'Did anything go wrong?' is basically the same question, just phrased in a slightly different way.  And anyway, there there were several things that didn't quite go to plan, although nothing that really mattered…we still got married!  But I thought it would be fun to see what could have been…and I picked up our wedding photos finally last Friday afternoon so I have pictures to accompany the stories now!  So here are the parts of the day that 'went wrong'!…
My bridesmaids (and Dan's Nan!) worked their socks off from the minute they arrived until 12:50pm making food preparations for the evening buffet.  I knew it would be a bit of work in the morning, but I didn't expect it to take until five minutes before the bridesmaids were due to leave for the church!  It would have been nice to see them a little in the morning before we were whisked down the aisle!
The Vicar did not stick to the order of service at all.  We had had it proofed by him several times, with him editing bits and adding items.  Dan printed all of the order of services at work the week before but on the day the Vicar literally just seemed to pick and choose which part of the service he fancied giving next!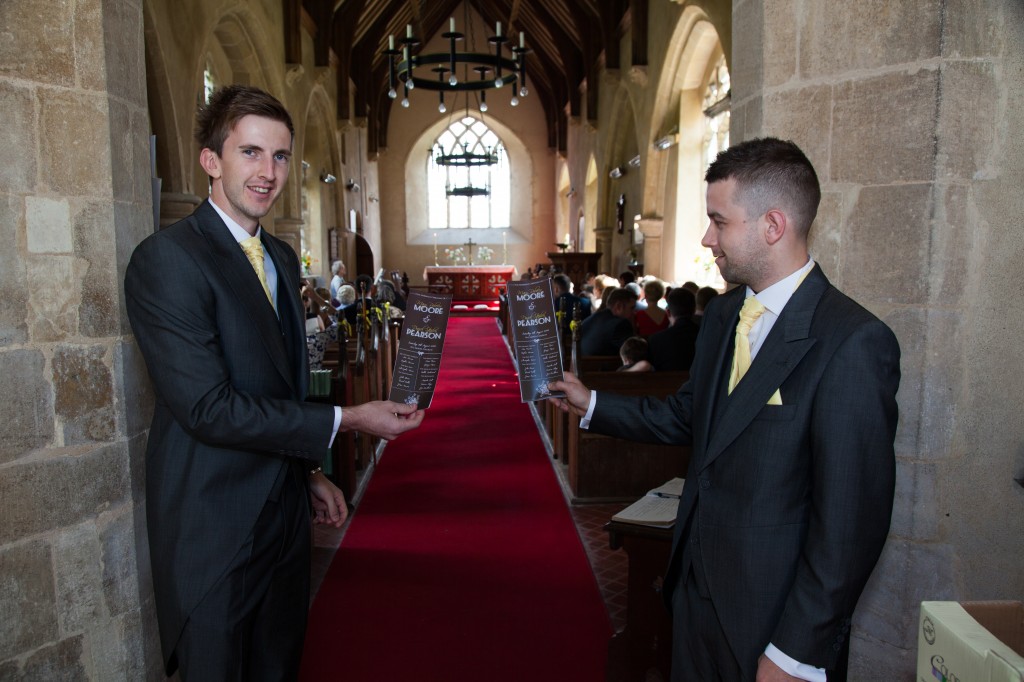 Evie, our six year old niece was supposed to carry a basket of petals outside the church to pass out to guests for the confetti throwing.  In the mad rush that was the wedding morning though, these were completely forgotten.  Luckily, guests had brought plenty of confetti with them!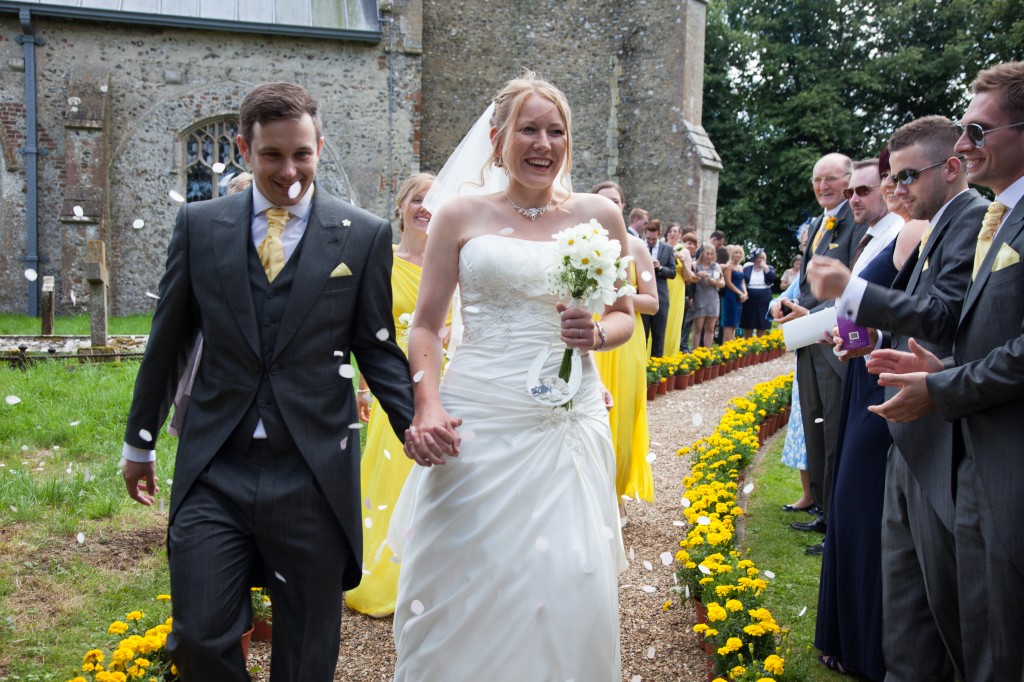 I had been lent several battery operated digital cameras which I had intended on giving out to the children to take photographs of the day.  I hadn't wanted to leave the cameras in the marquee overnight though so they stayed in a box in the locked hall.  Where they remained until my Dad brought them home after the wedding.  Whoops!  I completely forgot about them!  Luckily guests brought lots of cameras, so we did get some perspective from the tables as well.
The day before the wedding, Dan and I had arrived at 9am to decorate the village hall.  The marquee company were arriving at 11, so we wanted to give ourselves plenty of time to decorate the hall so that we could jump straight into the marquee and be done for the night.  It doesn't take long to set up a marquee right?  Wrong!  It took just over four hours to set up our marquee!  I never realised so much work was involved!  This put Dan into a bit of a panic, especially when the guys from the company marked out the marquee on the floor.  It looked tiny.  Six weeks earlier, Dan had made the decision to downsize our marquee as many family members could no longer make it to the wedding due to the distance.  He was really worried that once the walls went up and the tables and chairs were in place there would be no room left to move, but luckily, it all fitted perfectly, with plenty of space for everyone.  The markings on the floor were very deceptive when it came to the size of the erected marquee.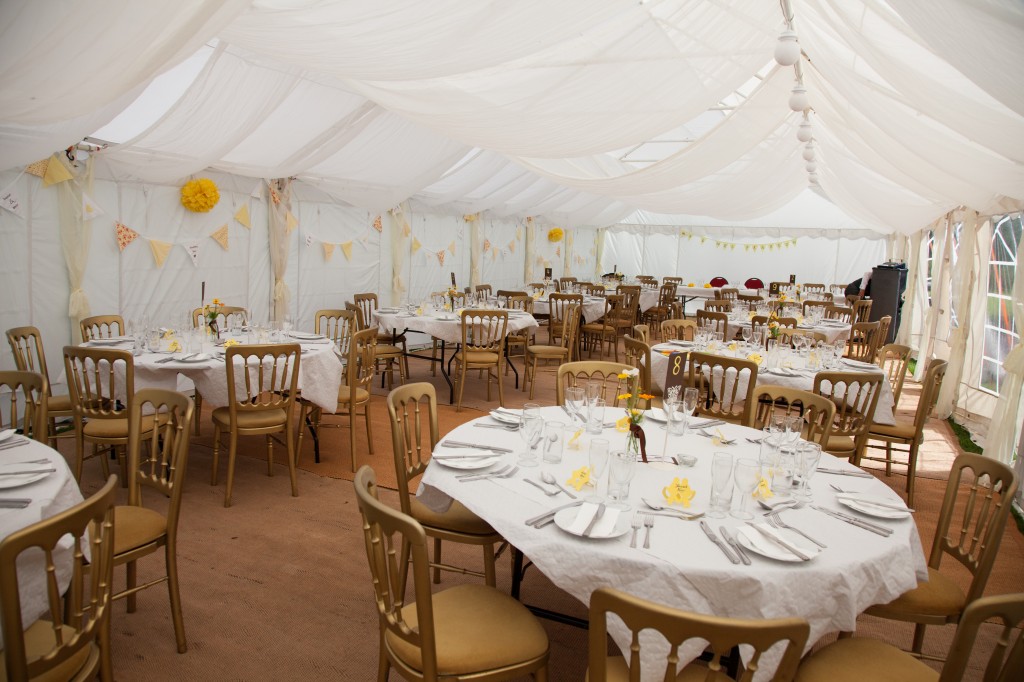 When we arrived at the hall, we had felt it quite important that we had a greeting line.  Our families live 4 hours apart, and until the night before, my parents had not met Dan's brother or sister's children at all, never mind the Aunts and Uncles that attended the wedding.  However, several of our guests without our knowledge peeled up the side of the marquee and snuck in to find their seats early rather than greeting us.  I know the greeting line isn't for everyone, but some of the guests also left without saying goodbye, which was a shame as we never really got a chance to see them.  Guests left as early as directly after the main course (ones that were travelling home) so we hadn't even had a chance to circulate yet!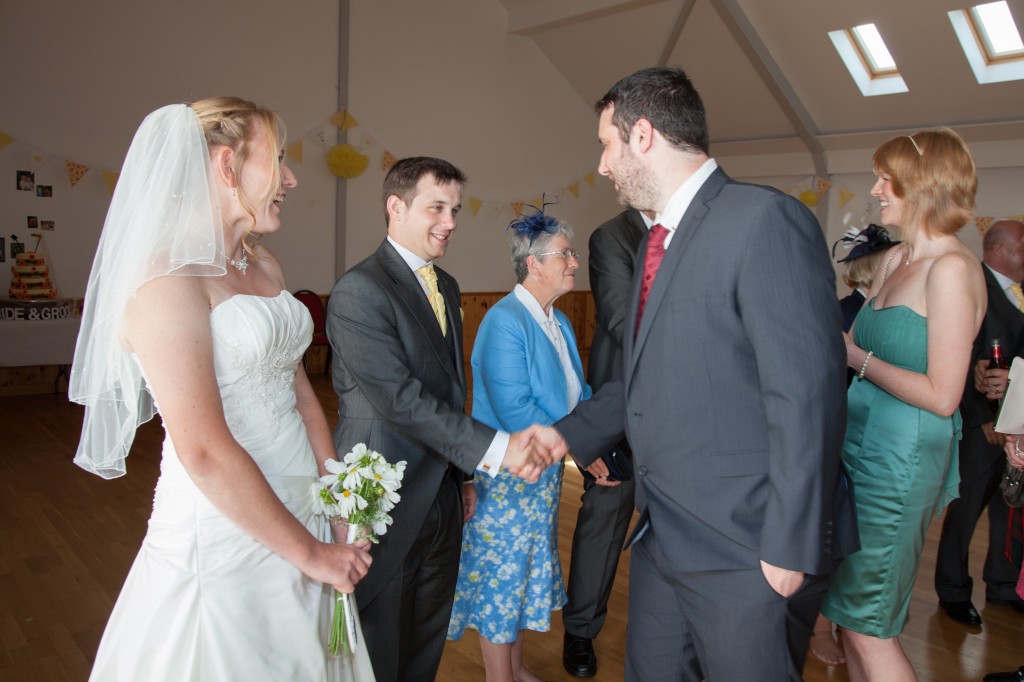 Before the desserts arrived, we managed to nip out of our seats and start to chat with our guests, starting with those on the table furthest from us.  The night before when I had laid out the place names on the table I hadn't gotten as far as the bottom two tables.  Instead, delegating the task of setting names up to one of my bridesmaids.  The bottom table was all married couples, so I assumed it would be quite easy for someone else to lay out as each couple had the same surname, so in my mind, should obviously be placed together.  I felt really awkward when we reached the bottom table and only one couple were sat together!  I apologised afterwards, but thankfully no-one seemed to mind.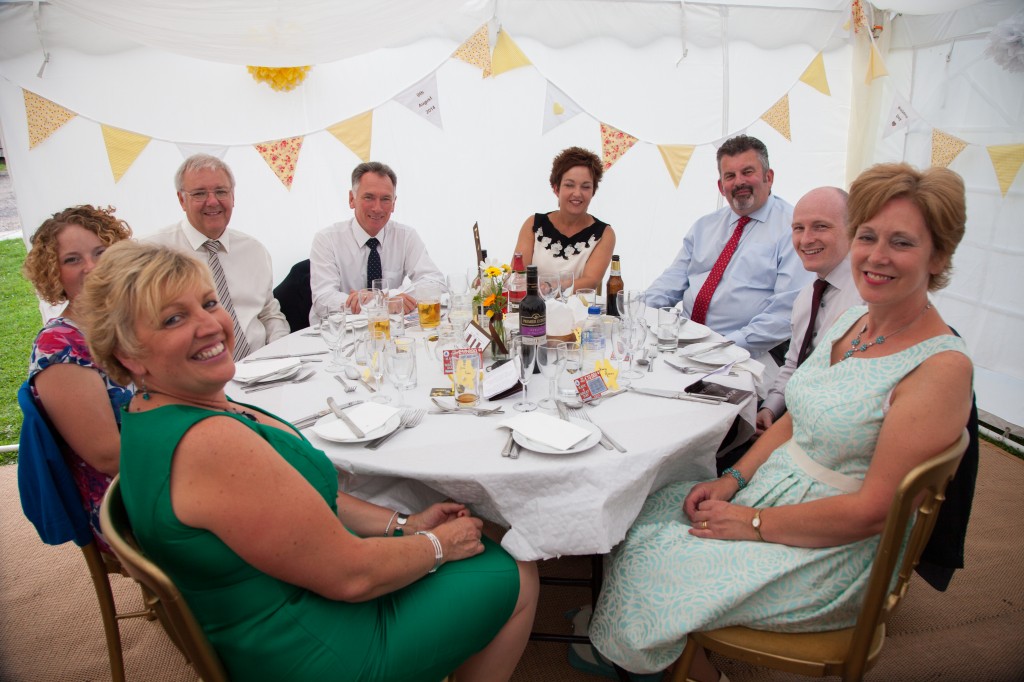 So there we have it.  Nothing too major, nothing overly embarrassing.  Almost, without hitch!
Our biggest issue was actually the week before the wedding.  I had been in regular contact with our vicar about the day, getting parts organised and planning when we were going to hold the rehearsal.  I continuously asked if there was anything else we needed to do.  I was told no every time.  A little over three weeks away from the wedding my Mum rang me up to ask if I had organised the banns to be brought back with me that weekend.  I hadn't organised any banns to be read at all.  For those that don't know, your wish to be married has to declared during three individual church services in your home town/village.  Luckily, after a rushed phone call with our local vicar, she agreed to fit our banns in, starting the following day.  Phew!  I went to collect them five days before the wedding only to see what I thought read 'David Stephen Pearson' written in cursive on the certificate.  That wasn't who I was marrying!  I thought that picking the banns up would be a 5 minute job, but it soon turned into a good few hours as I waited for the church warden to open up the church and check the official register of names.  Luckily, it was Daniel Stephen Pearson that I married, and that is what is declared on our wedding certificate.  It is just very poor coincidence that a cursive letter 'v' can be very similar to a cursive 'n'.  And the letters 'el' from Daniel look like a 'd' that doesn't quite join!
What didn't go to plan at some of the weddings you have been to / your own wedding?