So way back at the end of the Summer, Anna posted a blog about her new Vivofit, after having had the Fitbit for a while.  I was really interested in seeing the data the Vivofit produced as I am a big data geek at heart.
It was another month before I took the plunge, but a fortnight ago I finally ordered a blue Vivofit and couldn't wait for it to arrive.  It turned up last Saturday morning whilst I was getting ready for my friend's wedding so I didn't get a proper chance to have a look at it.  I actually opened the box as I arrived in the carpark at the school which was hosting Mablethorpe Marathon last Sunday and managed to quickly sync it via bluetooth with my phone before the start.  I figured I would have a good few hours to work it out on the run and I haven't taken it off since (…other than for my interview on Wednesday where I didn't think it would look very professional on my arm!  I guess I should have thought ahead and worn long sleeves.  😛 )
So the blue Vivofit now sits above my Garmin on my arm when out on runs.  I am weighed down with devices!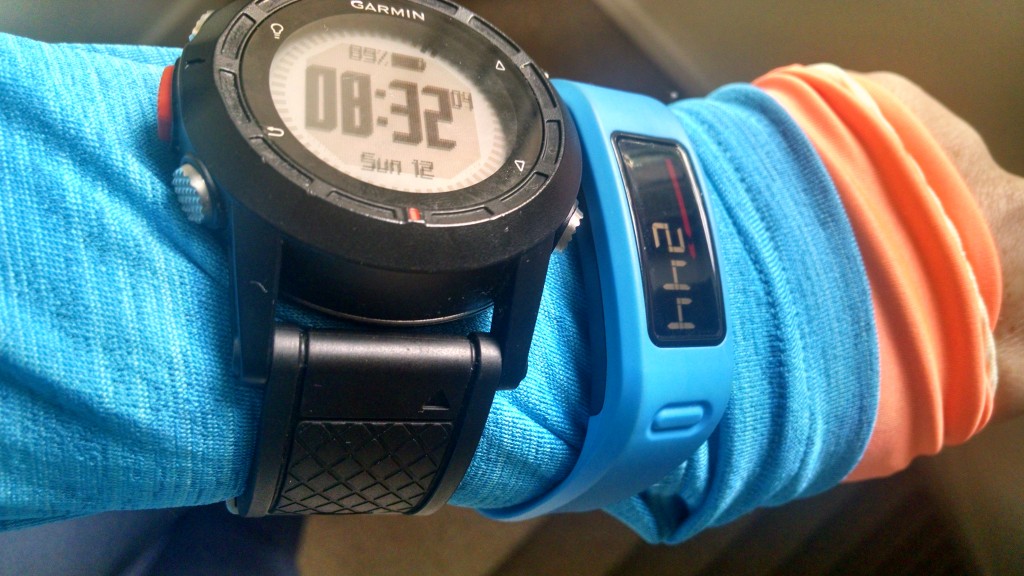 You can bluetooth all the data to your phone at any point in the day.  I can see basic charts on my phone, but much more detail on the Garmin Connect website.  I loved the idea of being able to track my sleep in the week, especially in the build up to long runs/races as I know that lack of sleep affects my runs.  I've already discovered that Dan was right when he said I am forever flailing in my sleep.  (I actually start off sleeping at night with my arms up above my head but end up curled in a ball on the far side!)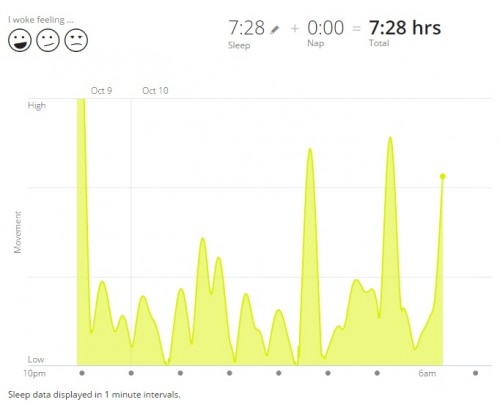 The day after my interview was a completely different story though – I must have been shattered as it was pretty much a solid straight line with no movement at all!
A really good feature of the Vivofit is not having to charge the device.  It's a pain when my Garmin runs out of battery when out on a run and having to continuously make sure that it is charged up beforehand and having to hang around until it is.  (Always leaving it to the last minute!)
It displays the amount of steps walked, how many steps until you reach your target, how many miles you have covered, the calories burnt and the time on a really easy to see display.  It's nice to not have an overload of information on the device.  In fact, there's just the one button on it!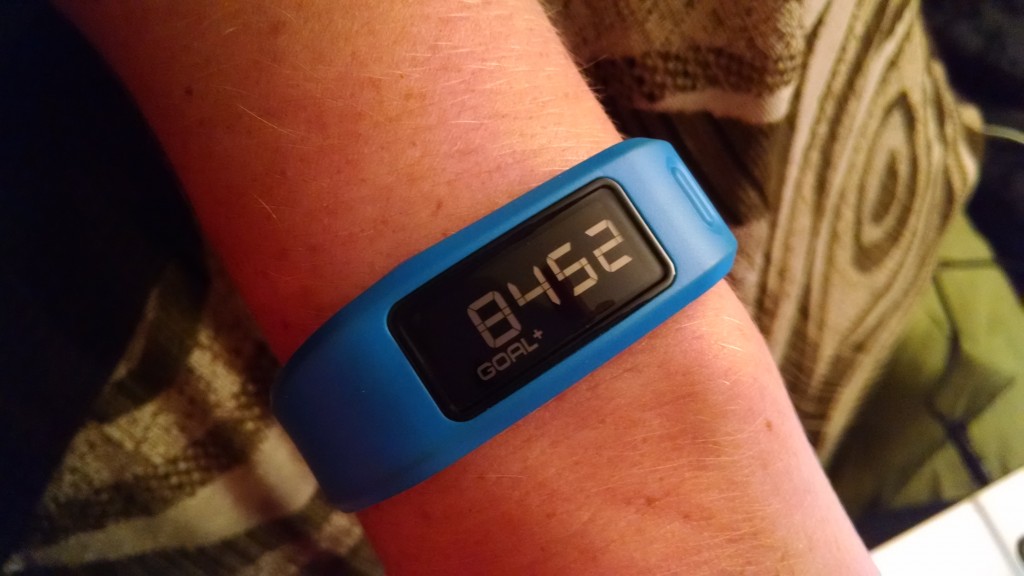 Each day the Vivofit sets a target number of steps for you to aim for.  Depending on whether or not you met your target from the day before.  If you reached your target then the following day your target number of steps will increase.  If you failed to meet it then the number of steps to target the following day will decrease.  My goal started out at 7,500 steps, but on day one I ran a marathon, so my target went back up after that!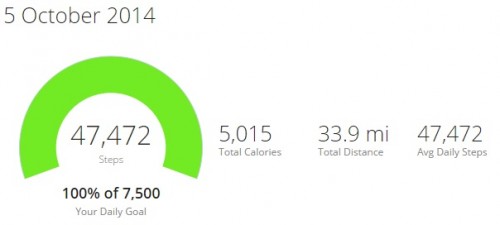 As you can see in the screenshot below, I was pretty inactive after returning home from the race!  But to be fair I had already taken 47,472 steps that day!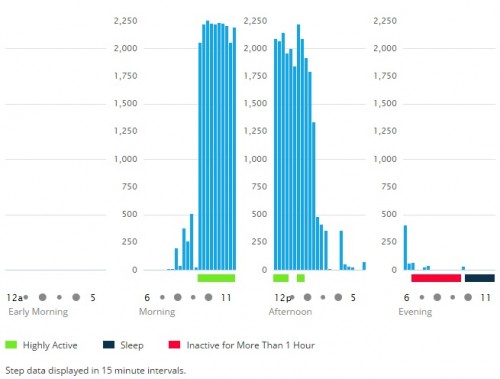 In the days after the race I had a little break from running.  Working as a teacher with tiny class sizes, not a lot of movement happens during the day.  I purposefully kept my day after the race as typical as possible.  I covered just 3,243 steps.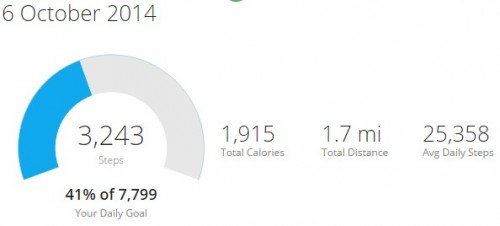 Pretty awful.  

 Look at all those inactive, or barely active moments in my day!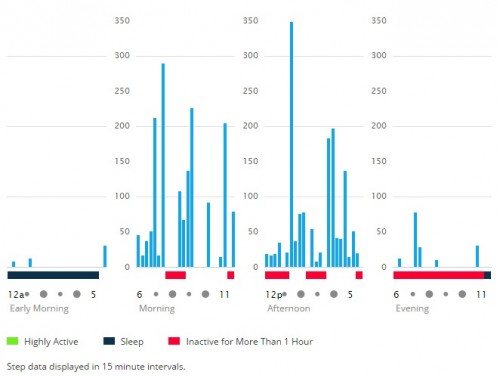 If you are inactive for an hour a red line starts to appear along the top of the Vivofit to let you know it's time for a walking break!  It's made me really aware of how much I need to get up from my desk in the day and keep moving around.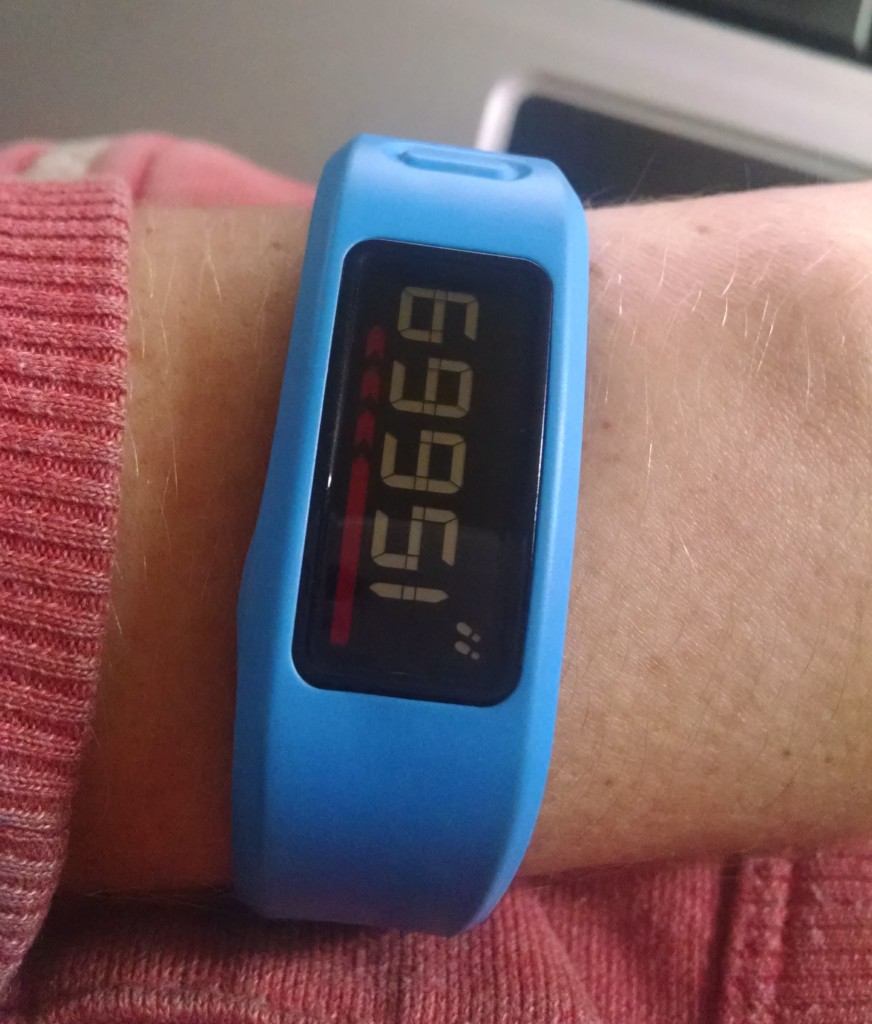 Running five-six days a week normally I tend to think I'm pretty active.  But in reality, I'm not really.  According to Runner's World, sitting is the new smoking!  I'm gonna try and fit in a few laps of the classroom between lessons.  More movement required!
Last weekend I had Mablethorpe Marathon but this Sunday evening it's a completely different kind of marathon…A Desperate Housewives boxset marathon!  I'm working my way back through the episodes whilst tidying the house.  Dan is away until Friday on a training course in Manchester so I'm having a bit of chill time with the dishes in the sink unwashed.  Wild times!
Check the website of What Kind Of Watch to find more information on dive watches
Do you use a fitness tracker or any apps to keep track of your progress?
Are you a fan of Desperate Housewives?