Hopefully this time next week we shall be stumbling back home, up the stairs and into our beds after running through the night at Dusk 'til Dawn 50m ultramarathon AFTER having run the 50 miles.
This morning I met with two of the three people I plan on running with next weekend to plot out the route on a large map and to go through the course details.  The last person missing from our group was crazily helping pace our three club runners through the last 50m at the Winter 100m.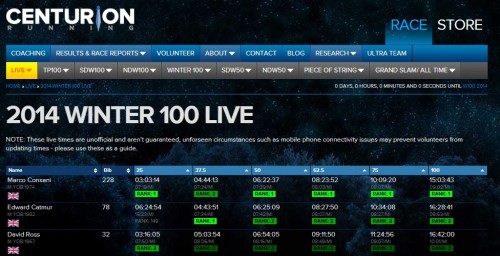 50 miles of pacing, followed by 50 miles in the Peak District at the Dusk 'til Dawn race next weekend…that man is a machine!
This morning we took over the living room floor at Tracey's house with maps.
Tom had bought some large scale maps of the area we would be running and we played the Dusk 'til Dawn briefing video on the iPad so that we could take notes and talk through each section of the course.  I didn't think it would take too long but in actual fact we were there for more than 3 hours plotting it all out!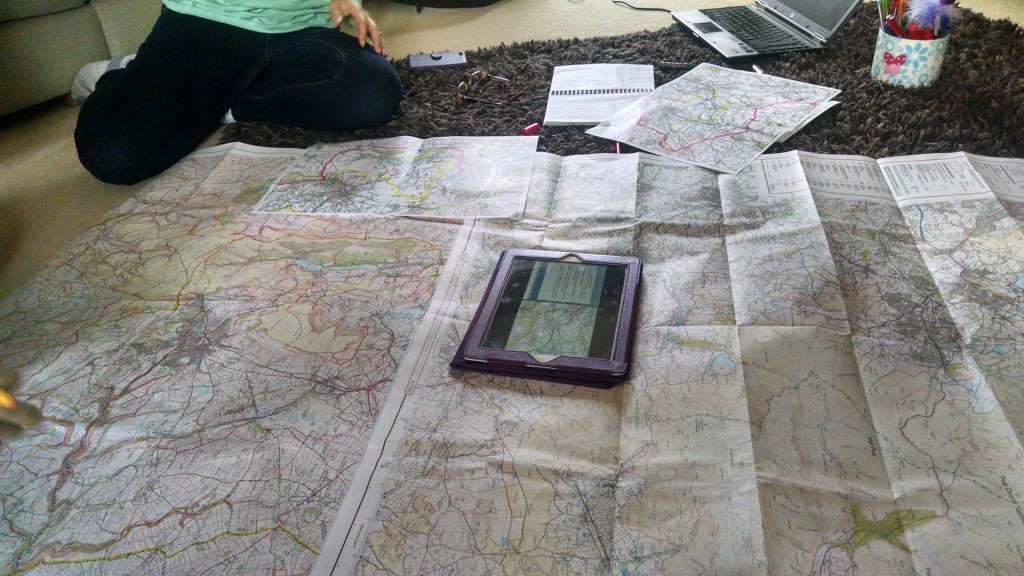 It has done some good though and all three of us came away feeling much more confident about the navigation aspect of the course.  We have a total time of 14hours and 3minutes to run the race.  This sounds like loads and loads of time (it actually works out at 16m 52s per mile…I can walk at that pace!) but when you see the course elevation you realise just why so much time is required…

Add into that the fact that a lot of it is on technical trail (rocks, uneven ground…) and that it is run through the night, and you'll discover there isn't actually a huge amount of leeway when it comes to the time.  Our priority will be to get as far as CP9 (38 miles) before the cut off as this is the last checkpoint where runners will be asked to withdraw if they are moving too slowly.  From this point, we will be able to relax a little and no longer worry about pace.  Realistically I know to expect to be at the back, but at the same time I will probably have more experience than some on the trails.  Last year one guy was wearing road shoes and had never run an offroad race before!  I overtook 17 runners from the 95 that started last year from starting at the back.  It's much nicer to be able to pick people off on a course than have them come storming past you!
Each of the four of us is bringing different skills to the race so between us, hopefully we should have a very strong team.
* I ran the first 35 or so miles of the course last year so should be able to recognise the majority of the route as well as having had experience of navigating with the e-trex 30 device.  I will be the navigation guru.
* Kev has run many ultra races over all types of terrain and is the most confident of the three of us at being able to pace it in.  He will become our pacer and also feeder, ensuring that we all eat enough and often enough.
* Tom has practiced his map reading and compass skills and is the quickest runner of the four of us.  He will become our map reader for the evening.
* And Tracey is chief organiser – she was responsible for the meetup this morning and for the four of us taking the planning a whole lot more seriously than I am sure we would otherwise have done!  She has made numerous notes about the course from the video and briefing notes sent out to us and has recently navigated on a shorter ultra run in the daylight.  She is our manager.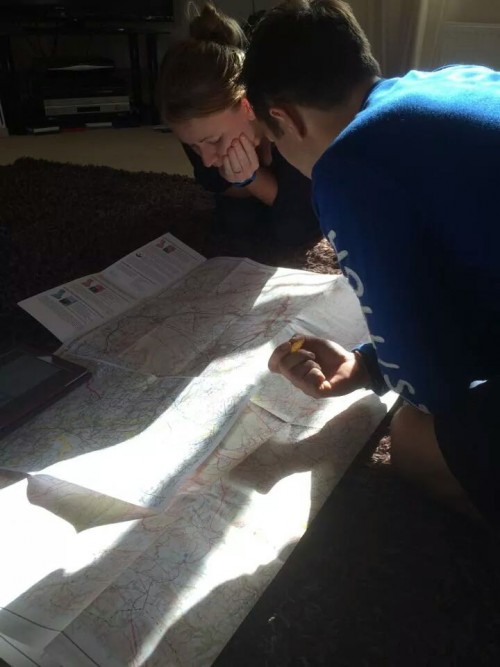 Have you ever tried navigating a course with maps before?