Tomorrow, just before 11am, I'm setting off on an adventure.  An adventure through the night up (very tall!) peaks and down (incredibly steep!) dales to cover 50 miles with friends.  …I may be a little mad.
I'm halfway through packing now with everything laid out on the table in the lounge, just desperately hunting out my handheld Garmin, some gloves and a handheld torch.  Here is how the table is currently looking…
…Pretty jam packed full!
There will be five of us travelling in my little Rover (now that it is all fixed and returned from the garage after yesterday's palava) so space will be tight and I need to condense this into my belt, backpack, a drop back and an overnight bag.  Here's what's going where…
Belt:
Half a flapjack
A gel
Mobile phone
Spare change
Backpack:
Orange
Compass (tied on)
Whistle (tied on)
Red reflective flashing light (tied on)
4x Cocoa Orange nakd bars
Half a bag of Sour cream pretzels
Spare batteries
Long sleeved top
Torch
Larger copies of the map with the course marked out
Reflective bib
Foil blanket
Lemonade nuun tablets
Portable charging device
Garmin charger
Phone charger
Vaseline
Drop bag:
Carton of chocolate milk
2x oranges
2x Cocoa Orange nakd bars
Bag of Sour cream pretzels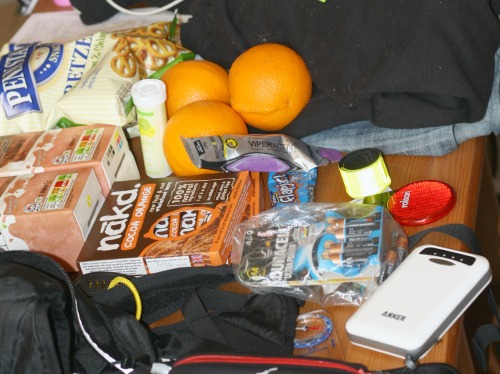 Overnight bag:
Towel
Hoodie
Underwear
Jeans
Deodorant
Converse
Hairbrush
On me:
Tights
Technical t-shirt
Waterproof jacket (with gloves in the pockets)
Trainers
Sports bra
Headtorch
Cap
Checkpoint card (pinned to my top)
Reflective wrist band
Waterbottle (in hand)
Garmin
e-Trex 30 handheld navigational device
The drop bag will be available for us to pick up at mile 20 (Checkpoint 3) and I'm looking forward to packing in the chocolate milk and oranges there.  I've heard rumours that Kev is dropping off a madras!
The guys at Beyond Marathon have given us an essentials kit list of items we must bring.  No kit, no start!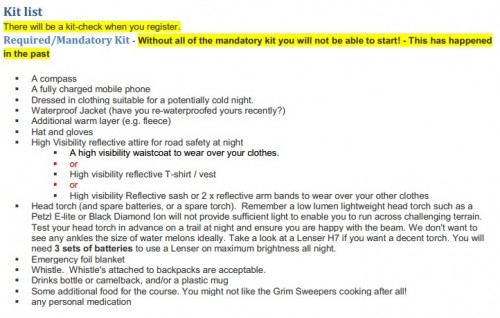 For some of the race last year a guy ran with me that had never run off road before and was sharing two headtorches between three of them having passed them back during the kit check.  Who doesn't bring a headtorch to an overnight race?!
Can you think of anything I am missing?!
Were you ever part of the Duke of Edinburgh scheme at school?  I'm currently viewing Dusk 'til Dawn as the adult version of DoE!