If I were to tell you that I spent yesterday afternoon in A&E after racing an ultra in the Peak District the night before, I'm sure not many of you would be able to guess my injury.  You would assume it would be foot or leg related right?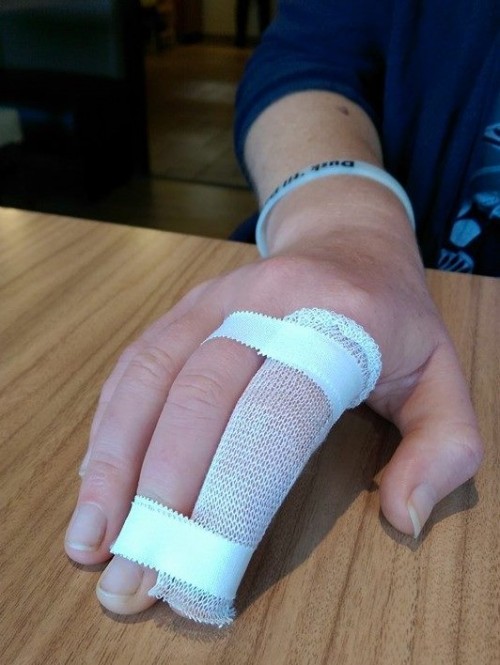 But in actual fact I damaged my hand!  I quickly fell asleep in the car after the race with my arms folded.  When I awoke I could no longer feel the fingers in my right hand.  They had gone numb – I assumed from being in an awkward position over my left arm while I slept.  When we returned home yesterday morning and I had had a proper sleep in bed I woke to find them incredibly painful and unable to move them from their crooked position so we took a trip to Kettering A&E.  (Again!  –  Let's just say it hasn't been our first visit to A&E this year!)  We think I possibly whacked my hand against the door whilst the car was going round a corner and with my fingers in the awkward position they were in, it caused bad bruising and swelling with some tissue damage.
The swelling has gone down a lot now but at one point I had no knuckles at all!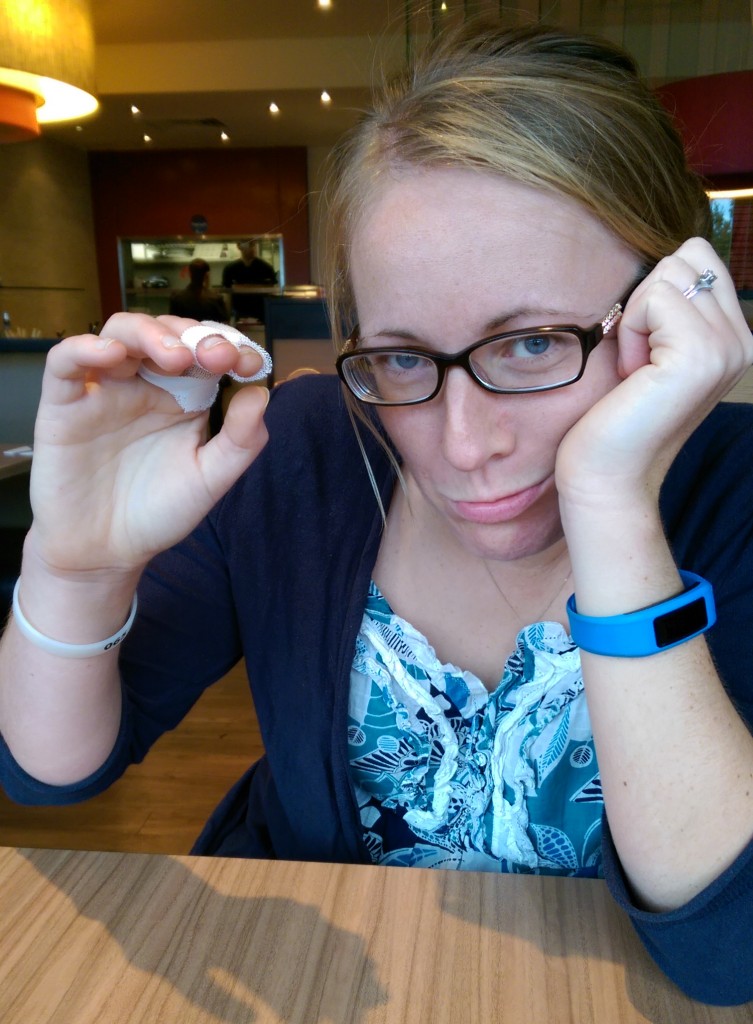 The hospital strapped it up and I'm supposed to keep icing it and hold it up above my head as much as possible over the next couple of days.  At least I don't need my fingers to go running because my legs feel great!
OK…on to the race itself…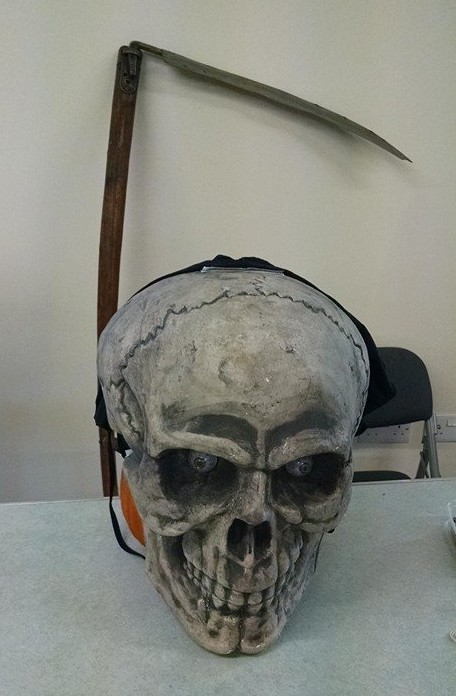 I wasn't nervous at all.  We'd done loads of prep work in the build up to the race and I had no fear of getting lost.  My only concern was with the tight time cut offs.  Kev had planned to pace us to 4mph.  A schedule that sounds easy to talk about.  15minute miles…easy peasy right?… But I knew just how tough the course was, especially early on and that there are a lot of miles where that would be impossible.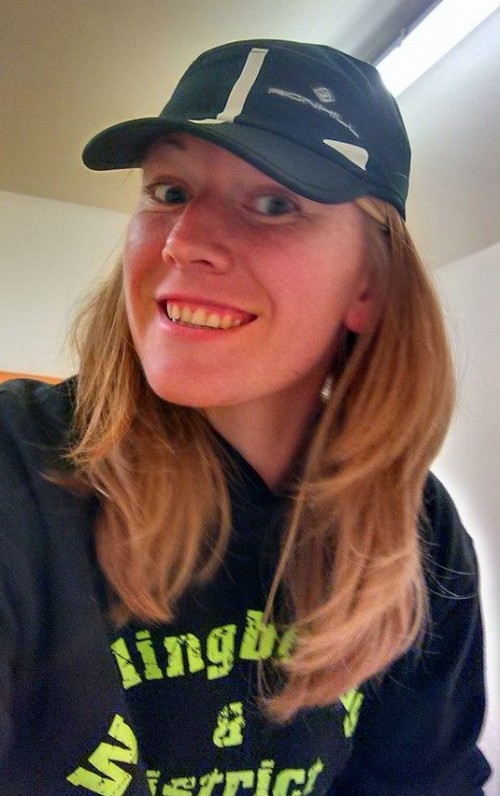 The course started slightly differently this year as we had a new race HQ, although within a mile we were back onto the old route I recognised from last year.  I have a great memory for places I have been, even if I haven't been there for years and I remembered the route we'd taken a year ago.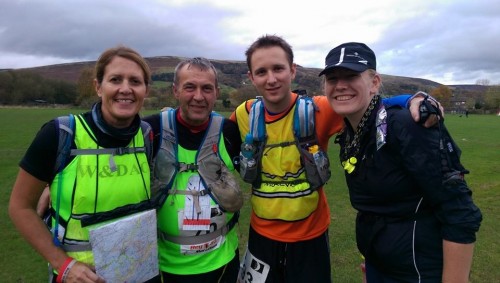 We found ourselves near the back quite early on, but we were keeping moving and probably a lot quicker than I had been on my own a year ago.  Just like last year the strategy was to run where we could, and walk all the steep bits.
Last year the course markings had been minimal, with odd reflective tape strewn at important turnings or on the edge of cliffs but this year the course was marked superbly.  There wasn't much chance of going wrong!  You were never far away from the next bit of reflective tape.
I am strongest at the uphills but weak at the downhills although strong in the head and incredibly stubborn so as long as there weren't too many rutted downhills I would be OK.
You hit the first incredibly steep uphill very early on.

You get a tiny respite just before you hit the top of it, with a chance to run a little way down before clipping your card at the first self-clip point and heading up to the peak.  The route back down is also incredibly steep and I lost a lot of time picking my way over the muddy, slippery slabs last year whilst trying not to fall.  This year, despite still being the last of the four of us down I got down a lot quicker than last year by taking the less-used grass route and just crossing my fingers that I wouldn't fall!
A cheer on from a road marshal outside of a pub in town and we were making the next climb up through Cave Dale.  Although I ran this last year I really didn't take it in (or as much as I could in the pitch black night!)  There are large ridges headed up on either side of you and when your headtorch bounces off them it feels rather eerie.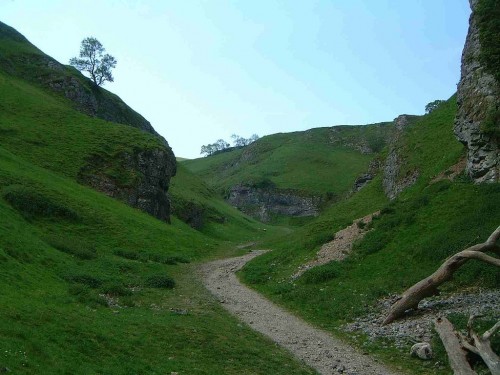 (Image taken from the Cave Dale Wikipedia page.)
I was glad to be running with others at this point!
This year the first Grim Sweeper had his dog and it was about here he caught up with us, along with two American ladies who we'd bumped into a couple of times.  We weren't behind on time but he was just running with the back markers and we knew we would always be towards the back of the pack.  The dog kept getting under our feet though and changing direction constantly so it did mean having to stay rather alert.  Difficult when, although only having run 7 or so miles, our legs had already put in a lot of work with the steep climbs.
It is impossible to even describe just how steep some of the climbs were.  There was one section we pulled ourselves up by tree branches and fence posts.  A lot of the time your steps are barely infront of each other but as long as you don't stop you know you'll get to the top.  My thighs and quads are feeling incredibly powerful after that workout today!
We stayed at the first manned checkpoint a little longer than I would have liked and the American ladies that had been behind us dropped out here.  We were now the back markers.  There's always that added pressure when you're running at the back of the race and you have the guy in charge of cut-off decisions right alongside you.
It was a lot easier to pick the pace up along the next section and there were several areas that we could run, with long road sections or more flat terrain through the fields.  We still ended up stopping quite a lot though.  At the time I felt like we had been running a lot more than I had when I'd been on my own the previous year but we had also stopped a lot more than I would have done had I been on my own.  When it was just me I would have stopped to eat/add layers but carry on moving whilst doing so.  It seemed in a group of four we all needed to stop at different times for various things.  As we hit the road marshal at mile 14.2 miles I asked how close we were to cut off.  Apparently 12 minutes OVER the cut off time.  Not good.  Runners could only be withdrawn from the four main checkpoints (miles 9.25, 19.2, 27.5 and 38) so we still had a chance to make up time and get to the school (19.2m) within the time limit.  As soon as Tracey had been to the loo and Tom had changed batteries we sped off.  Last year I had gotten to this point with two minutes to spare so it was a little worrying that it had taken fourteen minutes longer this time round.
Tracey was really struggling by this point.  I think the idea of the time pressure was weighing down on her and she wasn't enjoying a challenge she felt she would not be able to complete.  She'd had a few stomach problems but with me as the slowest member of our little group I was running in the lead along with Tom along the fairly flat tracks here.  Kev was holding back with Tracey and Tom and I kept stopping to wait for them to catch up every time we reached a turning.  We weren't sure whether or not to run ahead as we had a lot more in us still than we were showing right then.  We didn't want to get pulled at 20 miles for not making the time limit but at the same time, we wouldn't want to be left had it been us at the back.  About a mile from the checkpoint as we were waiting for them one last time, Kev shouted out to us to continue without them, to go on ahead.  So, decision made for us, we did, – reaching the checkpoint with three minutes to spare.  We lunged at Tom's dropbag – I was after that chocolate milk!  As Kev and Tracey appeared a few minutes later and were told they could continue they told us that they would be pulling out.  Kev gave us his spare headtorch and loaded us with batteries, we topped up our water and headed out on our way again.  Just Tom and Me this time.

We still felt pretty strong but the next section was a toughy.  As soon as we were out of the pub we were into what felt like pretty much a vertical climb for the next half a mile!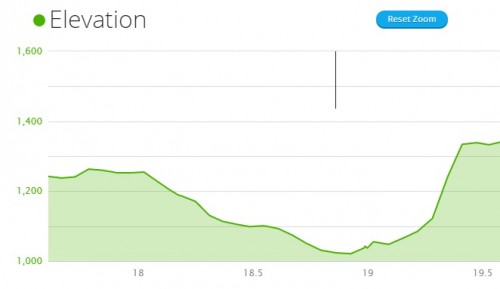 I was glad I was still with Tom at this point.  despite being told to 'stay together' by Kev and Tracey as we left them at the school Tom and I made a pact pretty early on that if one of us could push on further then they should do so, and take the handheld Garmin with them as the Grim Sweeper would pick up whoever was struggling, so they would never be alone.  There were long rutted sections along here that made it impossible to run at any speed, or at all during some points.  So although the peaks weren't quite as long or steep as previous ones had over been over the next couple of miles, we still were not able to gain as much time as we would have liked.  We'd lost too much time too early on.
Tom's knee (previous injury) started playing him up a bit so we stopped so that he could remove his brace and I persuaded him to take some painkillers before it got any worse.  Other than that, we were both feeling so incredibly strong still and knew we had 50 miles in us.
There was one final long hill up to the Cat & Fiddle pub – checkpoint 5 and we knew we were close to cut-off time.  As we neared the pub some guys headed out towards us.  It didn't look as though we were going to be there in time.  The sweeper shouted out from behind us "I'm going to carry on here mate." and the guy replied with "You need to let us have your number so that we can tick you through the checkpoint."  "But I'm the sweeper!"  Maybe we would be allowed through.  Tom turned to me and said "If we can keep going shall we just carry on?"  I knew I would need water over the next ten miles so we would have to go inside to officially 'check in'.  As we did we were told we were not allowed to continue.
We had the nice surprise of seeing Kev and Tracey inside enjoying a pint though.  Didn't expect to see them there but they'd managed to nab a lift with someone else's support crew (who actually turned out to be this year's Women's Running Project Trail Runner!  She finished at the same time as Tom and I did.)
And we were presented with hot dogs slathered in ketchup and ushered to some couches.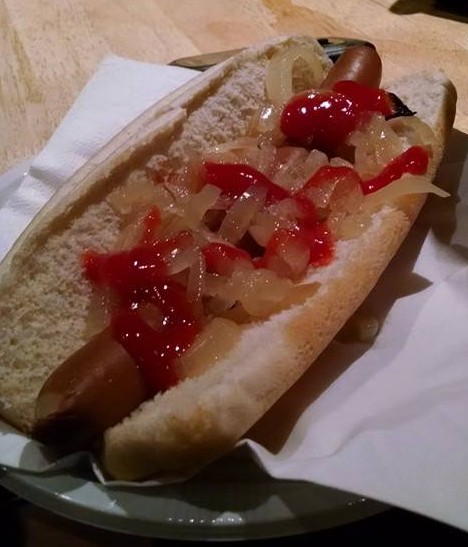 I struggled to eat my hotdog but managed to force it down in the end.  As soon as I stopped and sat down though I started shivering and felt quite weak.  I pulled my foil blanket from my bag and sat convulsing in it.  It wasn't until much later on when we had arrived back at race HQ and I had several hot chocolates inside me that I started to really warm up.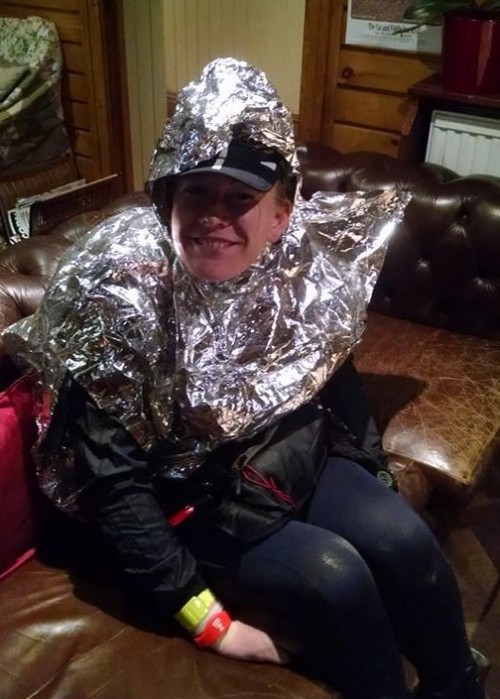 I have lots more to say about the race and I've had a chance to analyse it with Dan (probably sick of hearing about it by now!) and Kev this morning.  Expect more from me tomorrow!
Race splits for anyone that's interested:
Mile 1: 10:55
Mile 2: 11:46
Mile 3: 22:29
Mile 4: 20:15
Mile 5: 15:16
Mile 6: 18:22
Mile 7: 20:16
Mile 8: 17:51
Mile 9: 15:50
Mile 10: 15:36
Mile 11: 12:31
Mile 12: 12:34
Mile 13: 17:50
Mile 14: 24:41
Mile 15: 20:32
Mile 16: 13:28
Mile 17: 13:06
Mile 18: 12:46
Mile 19: 18:27
Mile 20: 20:30
Mile 21: 19:27
Mile 22: 17:31
Mile 23: 13:24
Mile 24: 14:04
Mile 25: 18:14
Mile 26: 18:10
Mile 27: 22:14
Mile 28: 15:44
Mile 29: 16:52