We celebrated my birthday properly on Saturday and my friends Amanda and James traveled up from Norfolk for the day.  We played some rounds of Cards Against Humanity, shared wedding photos of both my wedding, and our friend Zoë's, who got married at the start of October.  Then we got ready to head out for dinner.
Dan chose where we were going for dinner and the boy did good.
We headed to The World's End in Earls Barton.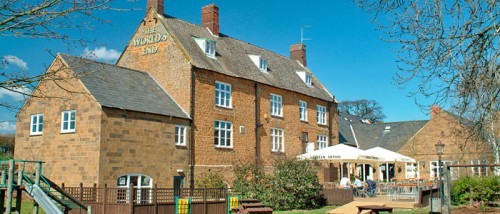 (Photo from their website.)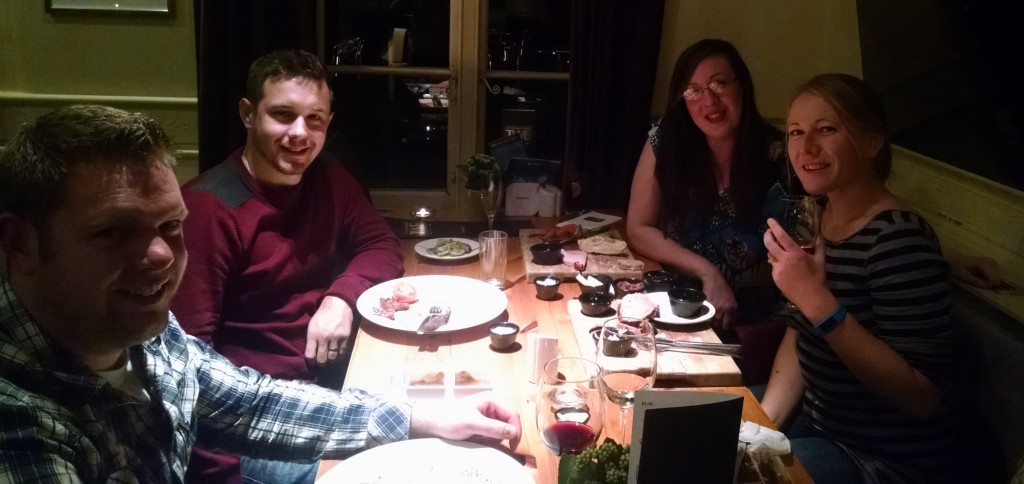 We met my friend Vick there as well and indecisive about what to eat, Vick and I decided to each order a sharing starter platter and split the two.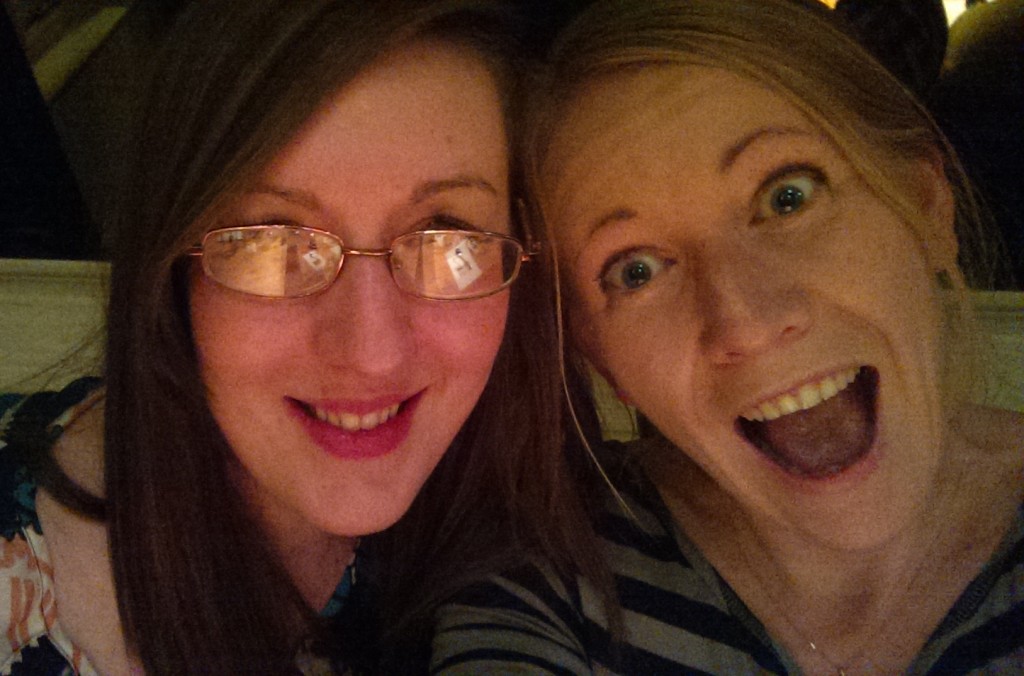 We ordered the Meat Grazing Board – buttered chicken liver pate, salami, chorizo, parma ham, home baked ham & roast beef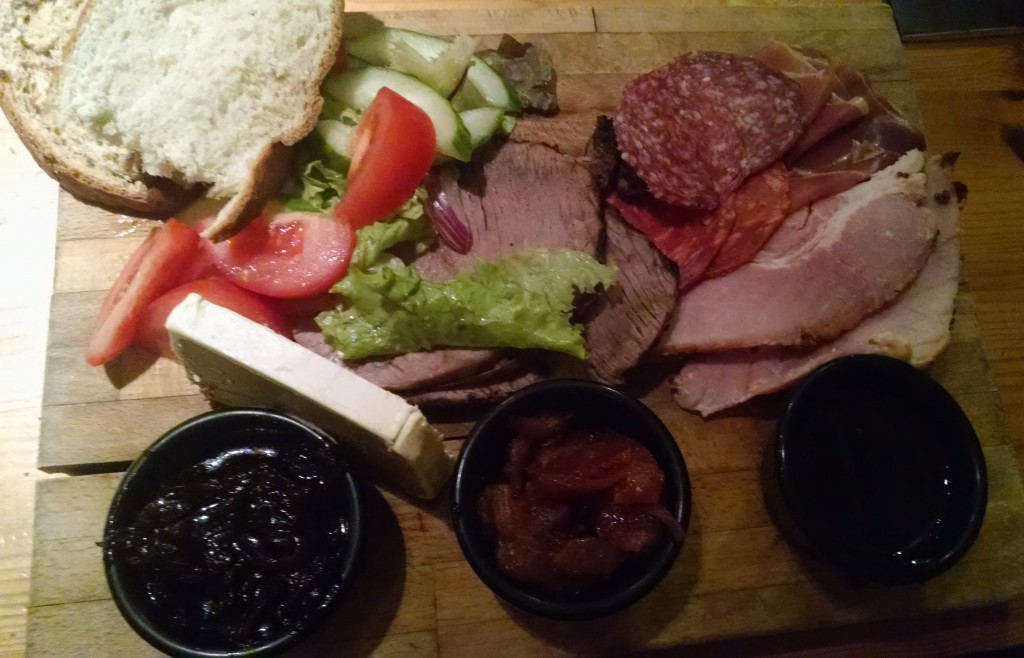 …and the Vegetarian Grazing Board – smashed chickpea hummus, chargrilled aubergines & peppers, homemade coleslaw & Spanish onion & zucchini frittata.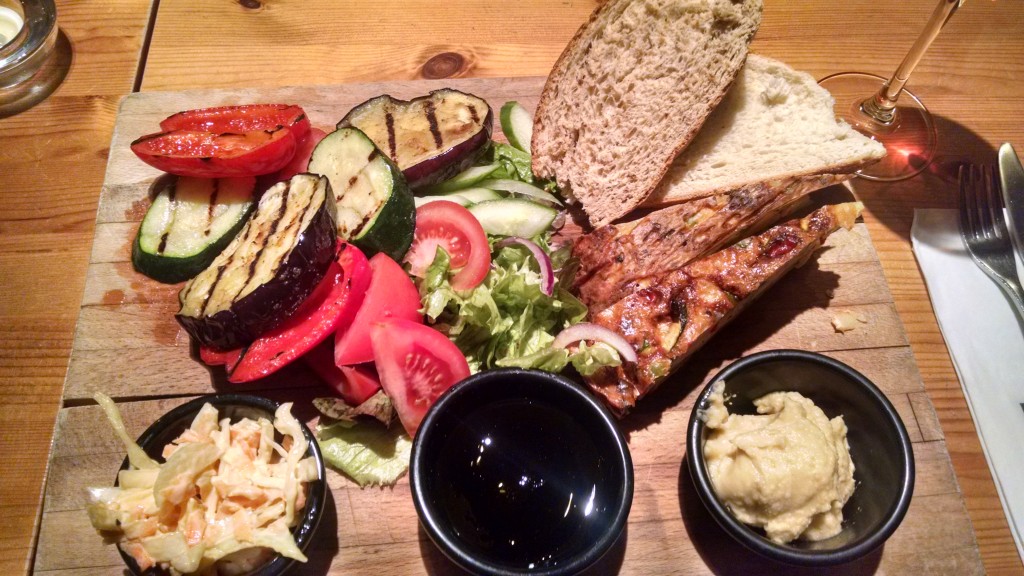 I do love having lots of choice on my plate when it comes to meals.  This was the perfect solution!  I swapped most of my hummus and all of my pate for Vicki's slice of ham and also managed to gain one of Dan's mushrooms on my platter.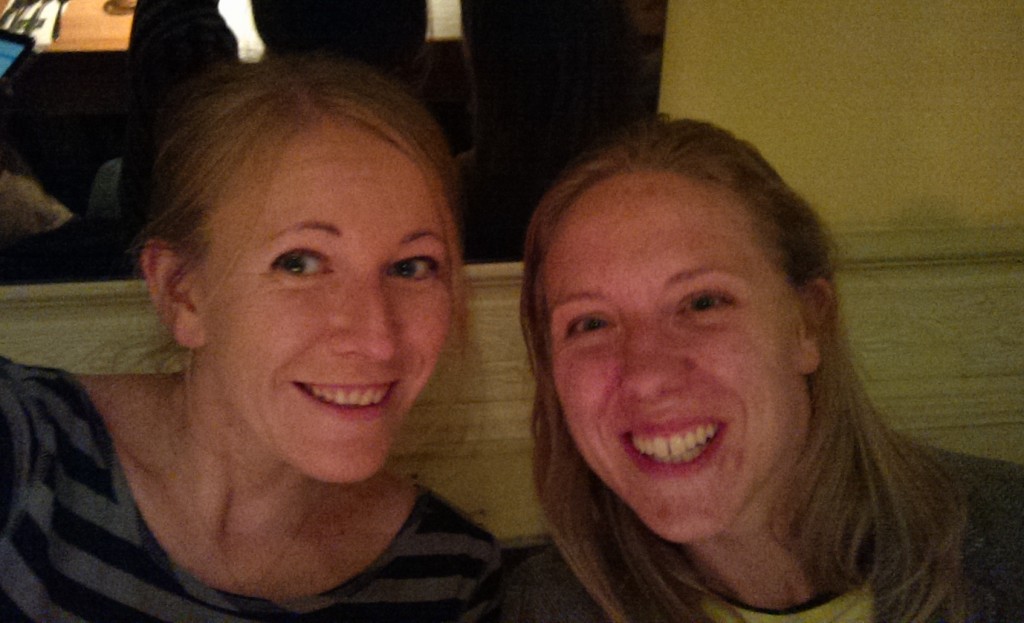 We didn't get too dressed up for the meal as afterwards, Dan, James, Amanda and I headed to Dr Frights Halloween Nights in Earls Barton.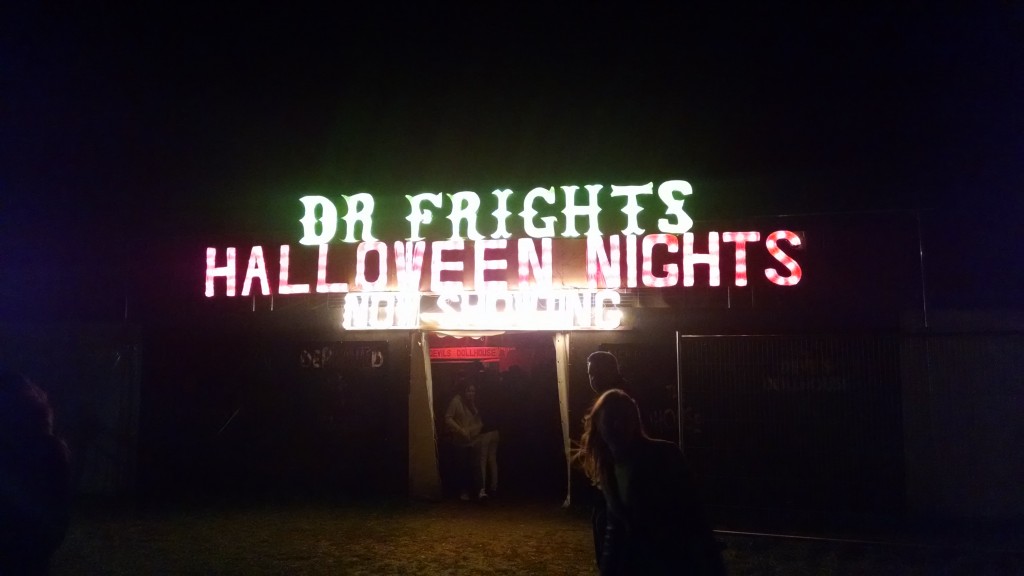 We discovered Dr Frights three years ago and have only missed one year since.  If you are into things that make you jump, a bit of live acting and love a laugh, then you should very definitely check this out next year.
Each year Dr Frights has four attractions which you visit in turn.  My favourite attraction was a Ouija event a couple of years ago.  They took about 15 of us into a small, dimly lit room with a Ouija board on the table which we sat round.  All of a sudden the lights flickered out and we could hear strange noises.  The lights kept flickering and one time they came on there was a person's face pressed between my friend Tom's face and mine!  At one point Dan's chair was thrown backwards across the room with him on it!
This year the four attractions were all maze based.  The live actors really make the event.  Their makeup and costumes are superb and they really make you believe in their characters.  We were chased around straw bales by a guy brandishing a chainsaw, held against the wall by a lady with a knife cleaver and made to jump at many, many characters 'coming to life' in The Dollhouse attraction.  One character followed us around for a little while making my ponytail spin round and round with his finger.  Pretty creepy!
A couple of years ago, we were taking a toilet break between attractions when a guy came helling out of the carpark roaring up a chainsaw.  As it wasn't actually in one of the four attractions, for a minute we were a little concerned that this guy was for real before realising it was all part of the act!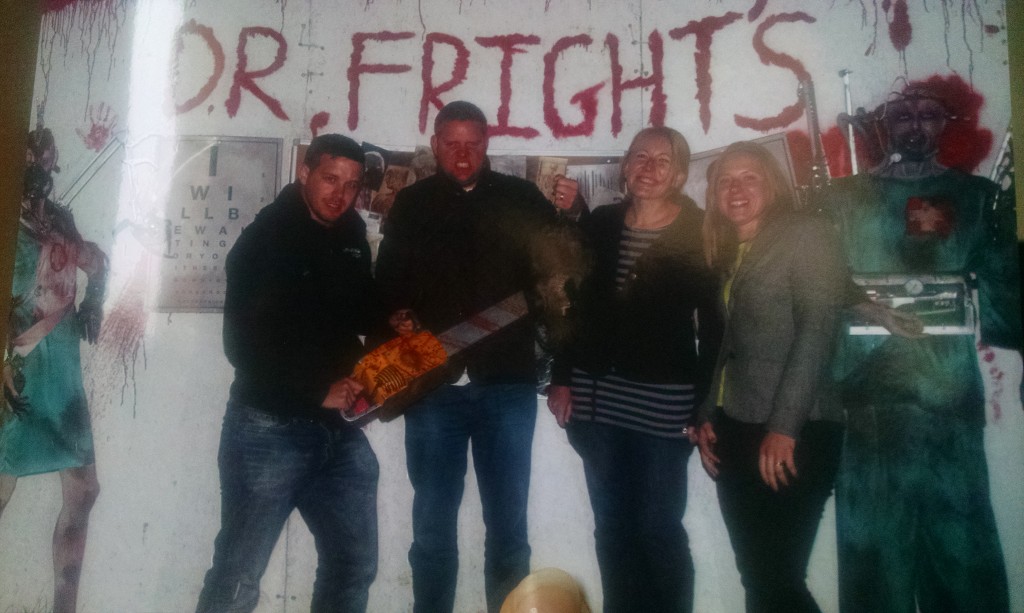 Once we had been round all four attractions we moved into the bar to grab a drink and watch some of the live CCTV footage.  Soooo funny watching other people jump where we'd been jumping earlier!  We were so glued to the footage that we didn't realise that one of the actors had wandered into the bar and lunged across our table at us.  Her acting was superb.  Her face was filled with safety pins and blood and she carried around a little box of fingers.  She kept fluttering her eyelashes at Dan and scowling and pushing me.  Eventually she wiggled her way into the seat between Dan and I and kept trying to bump me off the end!  Dan was gifted with one of the fingers from her box later on.  Unfortunately Amanda took all the photos and she hasn't sent them over yet, but I found a couple of this actor on Instagram by searching for #drfrights.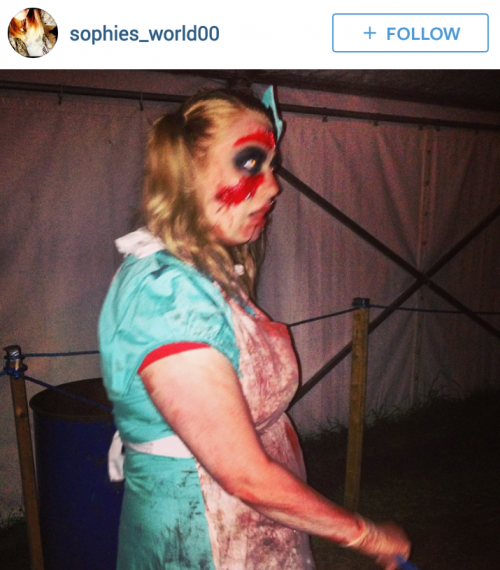 Yesterday was spent at a Christening in Birmingham for my friend Amy's twin babies.  As Dan wasn't able to come with me I made sure to arrive only just before the start of the service so I wouldn't be on my own for too long.  But this meant that I was sat at the back with all of the families with children and could barely hear a thing.  There must have been 25 children under the age of 5 there!  When we went to the reception for food afterwards I spotted some of the girls that had been on Amy's hen do last year.  Luckily, within the last 18 months I've been on two hen dos for Amy, to her wedding and also her baby shower, so I did at least recognise people enough to make conversation, but being placed in a room full of children isn't the most comfortable of activities for me on a Sunday afternoon!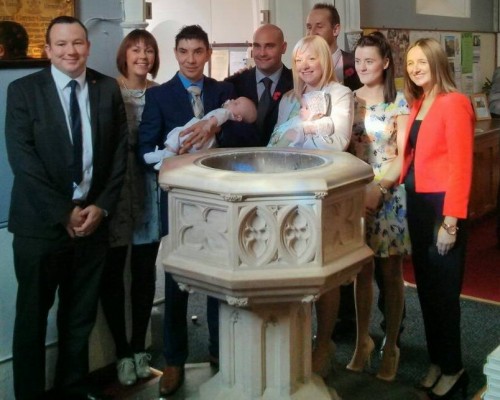 Have you ever been to any live actor events?  We've been to a couple of fantastic Murder Mystery parties in previous years.
Do you share dishes?  Or is that a complete no-no?!