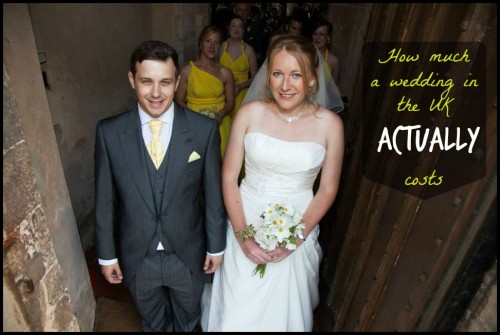 (I know this post won't interest everyone so feel free to skip over it if you are not interested in weddings or how much one costs!)
When Dan and I first started planning our wedding last year we bought several bridal magazines in the hope that they would make sure we thought of everything before our big day and weren't left with major elements missing from the wedding we had always wanted.
The more magazines we read, the more we began to realise just how incredibly difficult it was going to be to judge how much our wedding would cost.  Magazines all gave helpful 'average' figures (which were all different from each other) but there was no way of knowing if we would need/want the maximum or minimum figures given for each element of the day.  I spoke to a few friends, – two of whom said it cost them under £5,000 for their wedding.  Excellent, – we finally had a figure to work from.  Or so we thought…
As soon as we began requesting quotes for venues, caterers and bands we realised just how unrealistic £5,000 was going to be for the wedding we wanted.  I've since spoken to both friends and when they sat down and thought about it, they realised that parents had paid off large chunks that they had never included when totting up the costs, or they hadn't thought about little things they'd picked up here and there such as the guestbook, balloons or stamps.  (Every little thing adds up!!!)
Obviously for each wedding the amount can vary enormously, but I thought it might help others if I listed how much our wedding came to earlier this year as I kept detailed accounts and you can see just what we got for our money!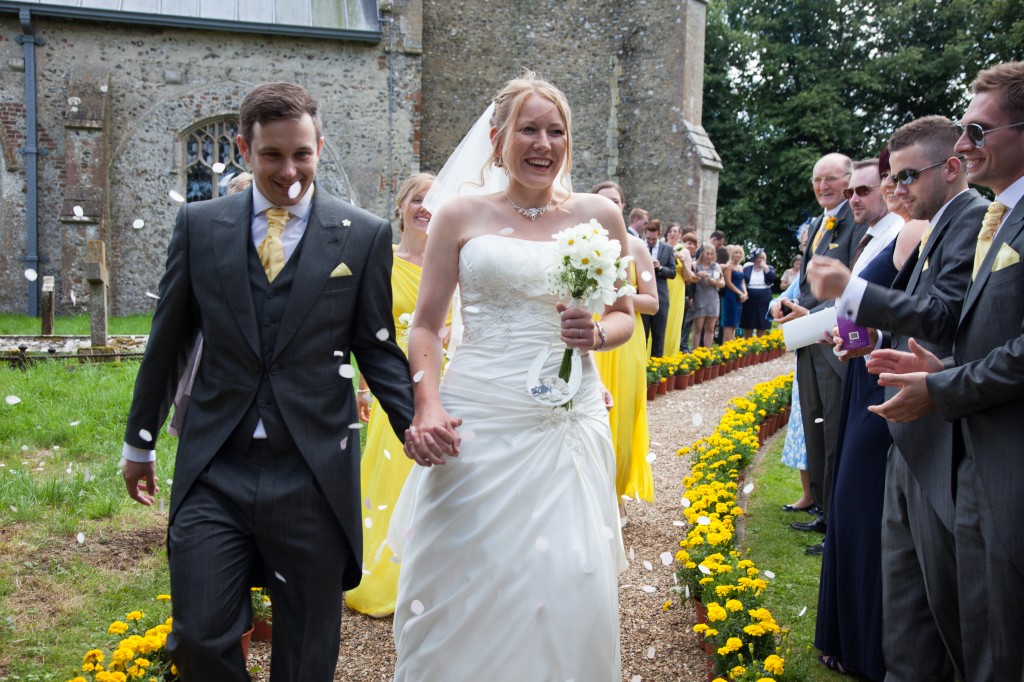 Dan and I decided early on that we would each choose one important thing to us and that would be our splurge for the day.  Dan wanted a really good band, and I wanted to arrive in a horse and carriage – something I've always imagined for my wedding day.  We found that lots of people wanted to help us out and be a part of our day so we could save money by letting them help.  Dan's Mum made the cake, my parents put together the flowers, my Maid of Honour made decorations for the venue, along with Dan's Mum who created all of the bunting.
Venue:  (£2252.52)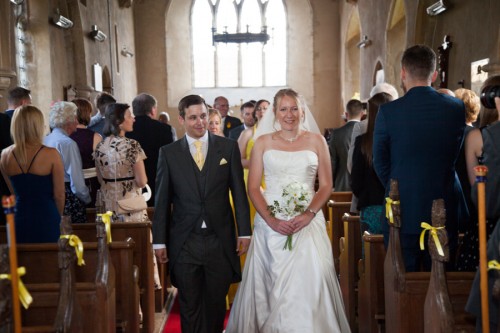 It was important for me that we get married in the church I grew up going to when I was small.  (Sharrington in North Norfolk)  My Mum has been the church organist ever since I can remember and it was where all of my Dad's family had been married.  I knew it would mean a lot to several people to see me get married in the same church.
Ceremony – £237
Vicar – £215
Banns – £34
If you are getting married in a church, Wedding 'banns' need to be read for three weeks in both the church you will be married in and also your local church if you are getting married somewhere away from home.  Make sure you know who is organising the banns to be read for your wedding as ours was rather a last minute job!
Village Hall – £320
We struggled to find a venue for a little while as we were completely without clue as to just how much stately houses and grand hotels cost.  Way out of our price range it seems!  We were getting quotes for some places of up to £5000 and that included nothing but the location – no catering, no accommodation…nothing!  In the end after some searching online we discovered Swanton Novers Village Hall which we could hire at a very minimal cost from Friday – Sunday.  The hall had been left minimal, so that it could be used for weddings in any colour scheme.  It came fully stocked with cutlery and glasswear, as well as a beautiful wooden playground which we all enjoyed after dinner!  Along one side of the hall were large French doors which we decided to leave open leading into a marquee for the food in the daytime…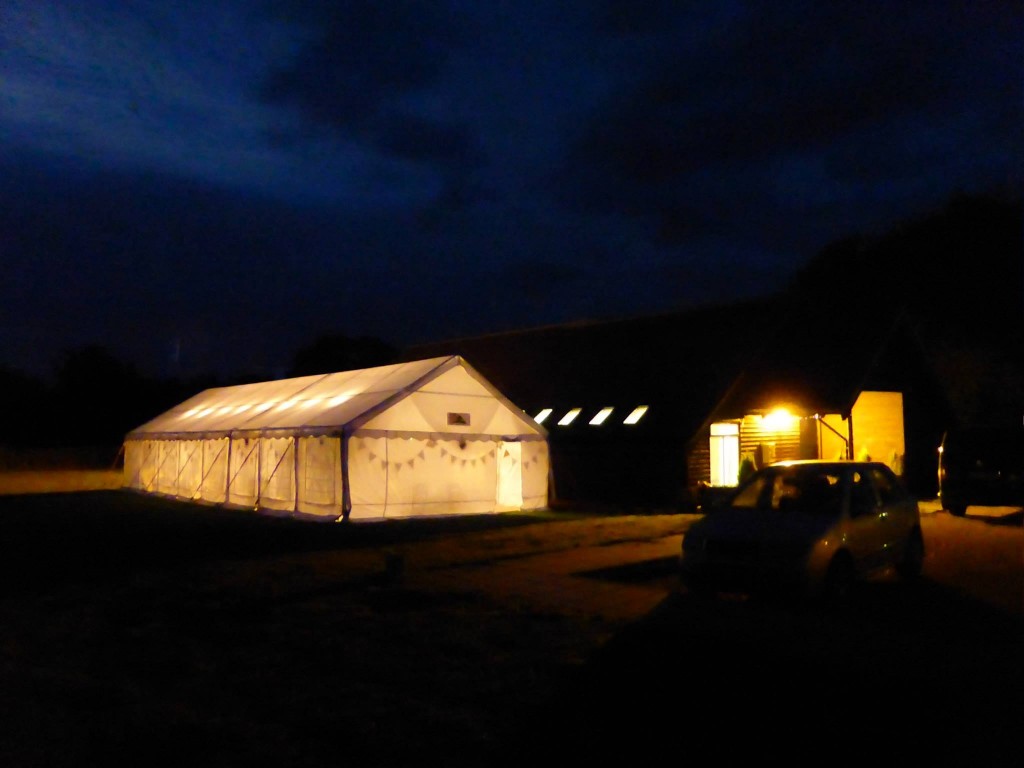 Marquee – £1250.52
The cost of our marquee included nine round tables and 75 chairs, drapes on the ceiling and a starlight ceiling.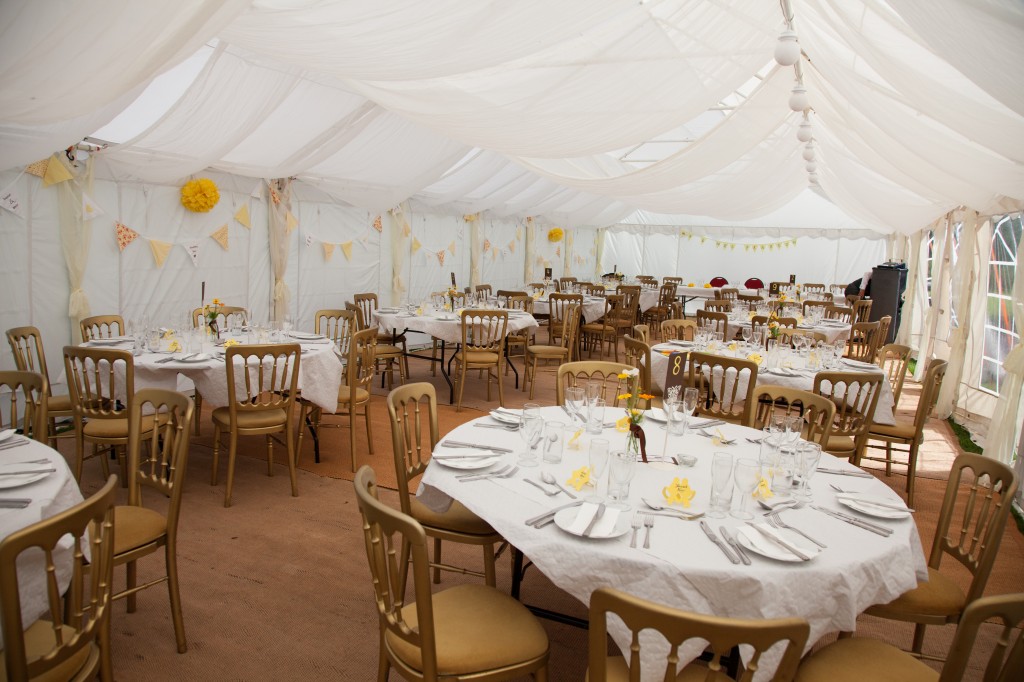 Hotel room – £196
We always stay at cheap little B&Bs when we go away so decided to stay somewhere really nice on our wedding night.  Unfortunately we never got to experience it for very long as we didn't arrive until 11:15pm and had to leave early the following day to collect ferry Ushers around as they did not have cars.  We stayed at The Dales hotel in Upper Sheringham.
Catering:  (1929.44)
Three course meal and bar – £1616
Our caterers were Anglia Catering and they impressed us from the very beginning.  They responded promptly to emails and were happy to answer the smallest of our queries.  We even got a bottle of wine sent to us at Christmas!  They invited us round for a tasting session ten months before the wedding and again, we were nothing but impressed at the quality and attention to detail.  Unfortunately I have no pictures of the food on the day.  Something I meant to ask my bridesmaids to take photos of! 
Welcome drinks and table wine – £173.15
Paper plates – £4
We supplied the welcome drinks and wine for the tables as it worked out a lot cheaper for us to do so.  My Aunt has a Cash & Carry card so we took advantage of some savings there.  We bought 12 bottles of orange juice for children and non-drinkers, 12 bottles of red wine, 12 bottles of white, 4 bottles of Bucks Fizz for arrival and 8 bottles of Asti for the toasts.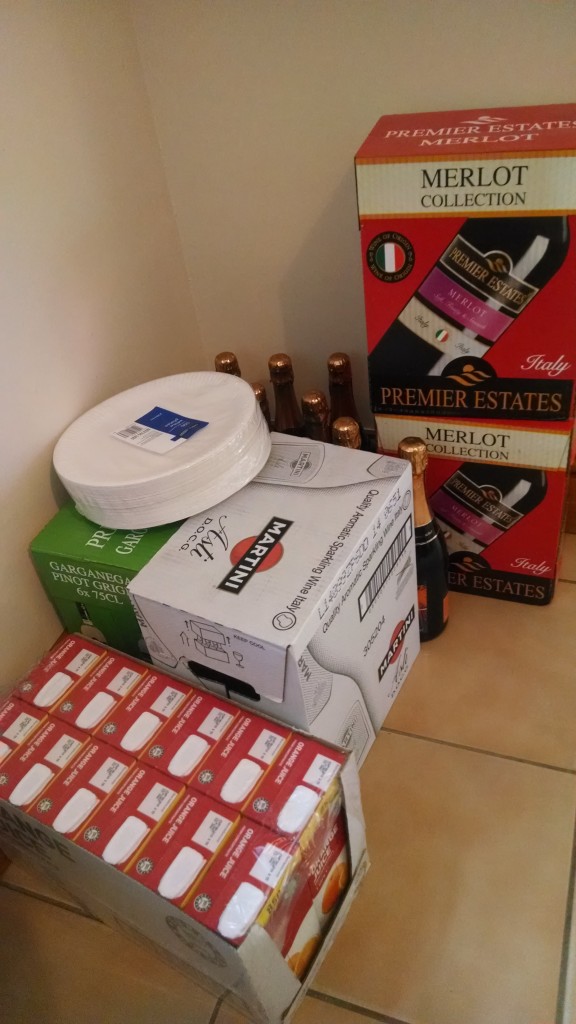 Tesco shop – £104.57
Originally we had looked at having a Hog Roast or similar in the evening, but prices started at £500 (without salads and side dishes) and we weren't sure how long guests were going to stay for (many were travelling for up to 4 hours to be with us on the day) so we decided to put together our own evening food for a fraction of the cost.  We bought 5x packs of breadsticks, 10 eggs, 8x packs of marshmallows, 8x 100g chocolate, 1 tub of Flora, 3x packs of salad tomatoes, 3x mild cheese, 1 green pepper, 1 red pepper, 7 yellow peppers, 4x ready rolled puffed pastry, 5x packs of seedless grapes, a jar of mayonnaise, 2x popping corn, 6x packs of baby plum tomatoes, 3x 70 cocktail sausages, 2x 1.5kg bags of carrots, 5x pork suasage meat, 4x tins of tuna, 1 pack of ham, 10 packs of closed cup mushrooms and 2x packs of celery.
My parents also bought us 10x loaves of white/brown bread which we pre-ordered at our local bakery and 10x french sticks on the morning of the wedding.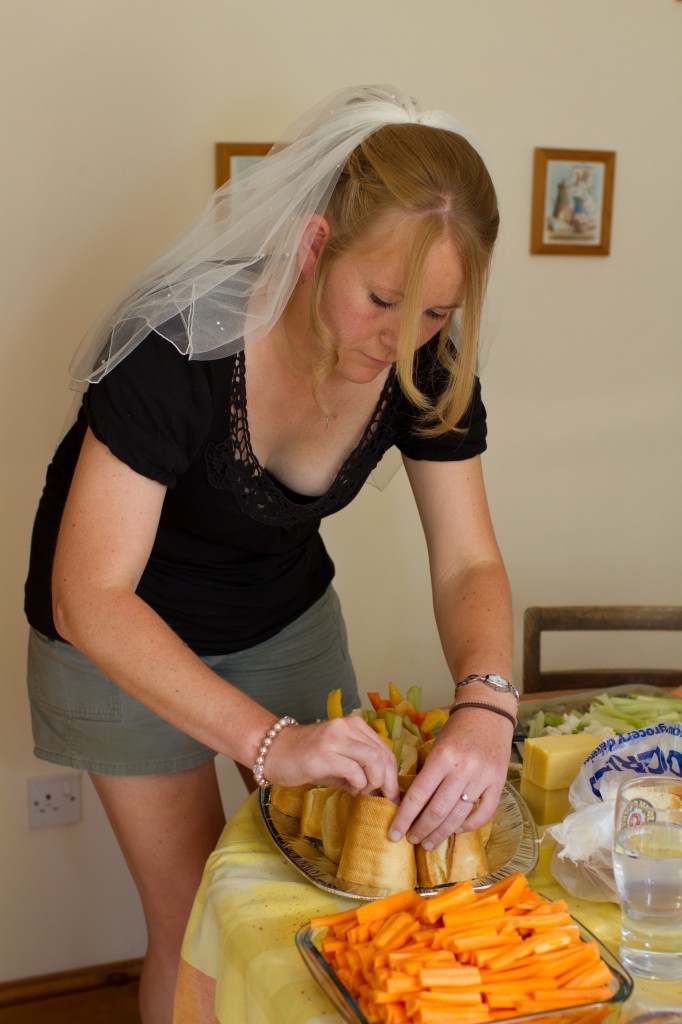 I was adamant that I did not want frozen food which had been shoved into the oven served at our wedding and I got my own way!  We made a selection of egg mayonnaise, tuna mayonnaise, ham and cheese sandwiches, we dipped marshmallows in chocolate, placed cocktail sausages and cuts of cheese with grapes on sticks, my Great Aunt baked hundreds of mini sausage rolls, we used peppers with the lids chopped off to hold dips and baked little mushrooms topped with slices of cheese and tomato as a 'healthier' version of pizza.  One of my favourite touches was the french stick cut on a slant with slices of pepper, celery and carrot placed inside.  (See Pinterest.)  There were also big pots of Smarties laid out with the children in mind.
The biggest bag of Smarties you ever did see – £7
We used Banquet roll to cover the tables and placed yellow napkins out with the evening meal.  I'm pretty sure we still have about 60 napkins remaining.  Clearly our guests are pretty clean eaters!
Banquet roll – £14.72
100x yellow napkins – £10
Dan's Mum made the cake at no cost to us.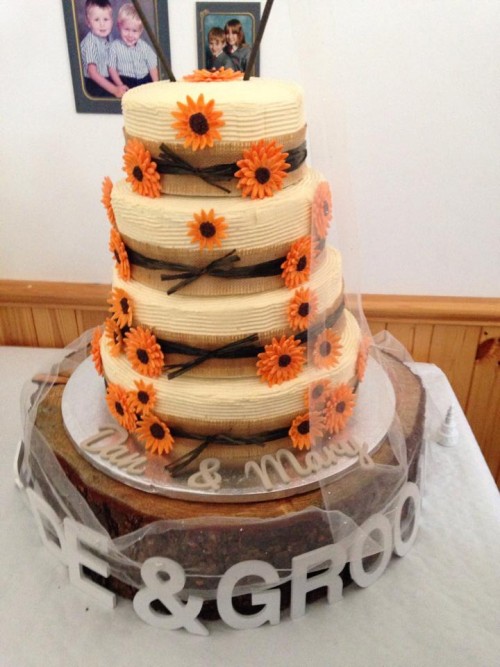 Decorations/entertainment:  (£1506)
20x yellow balloons – £6
We placed yellow balloons on our road signs so that they stood out to our guests driving past.
Band – £1500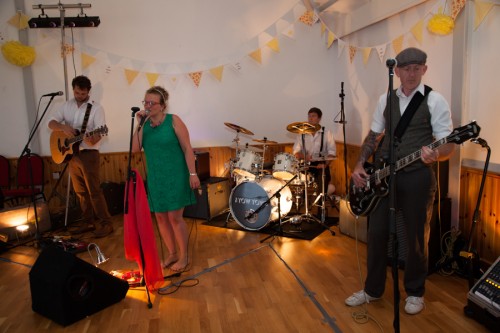 The band was one of our bigger splurges, but very definitely worth it.  If you ever get the chance to see/book The Yow Yows, then do so.  They were superb and all our guests told us so.  Between dances of course!  They did a mix of their own stuff as well as covers and the dancefloor was always full.
Because the band weren't arriving until the evening, Dan borrowed a PA system from the school he works at for the speeches and music we had on during the meal.
My parents provided all of the beautiful flowers on our wedding day which they had been growing all year long.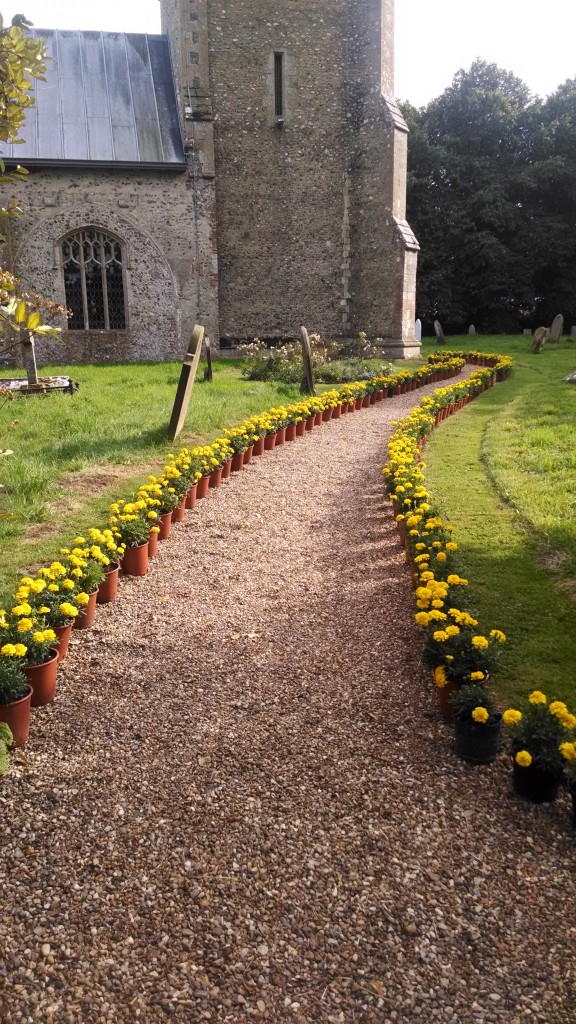 My Maid of Honour made lots of tissue paper decorations and my now Mother-In-Law produced bunting to help decorate our venue.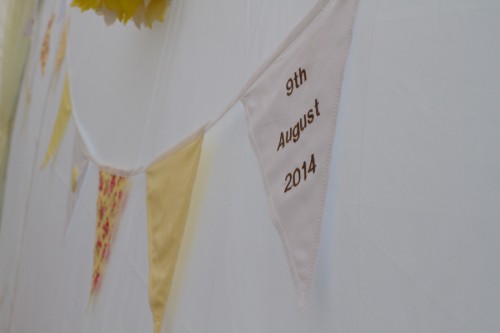 Transport:  (£500)
Horse and carriage – £500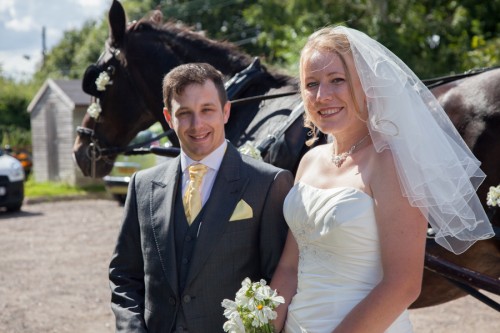 We were so glad we went for a horse and carriage ride to the venue as it meant we actually got to spend some time together!
Stationary:  (£190.63)
Save the date cards – £42.90  from Zazzle.  The only thing I was disappointed about when it came to the Save the Dates was the large Zazzle logo on the back of the card.  We covered them up with some spare sticky labels I found.
500 sheets of yellow and brown card – £24
The card from Papermill Direct came in so handy for invitations, food orders on the tables and even the numbers on the tables.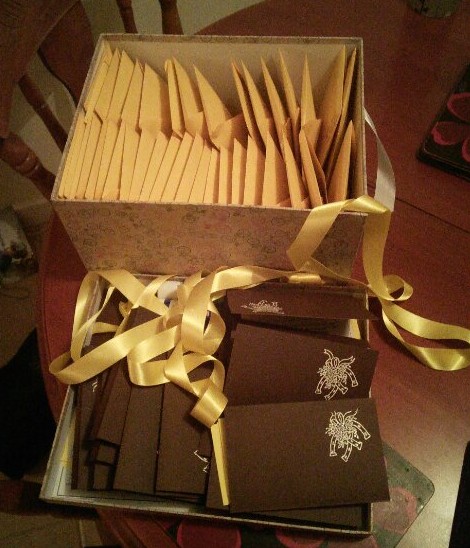 Ribbon – £6.50
This came from Hobbycraft but we actually used much more ribbon than this on the flowers, but my Mum purchased it separately.
100x Yellow envelopes – £5.80  (ebay)
Guestbook – £21.60  (Shutterfly)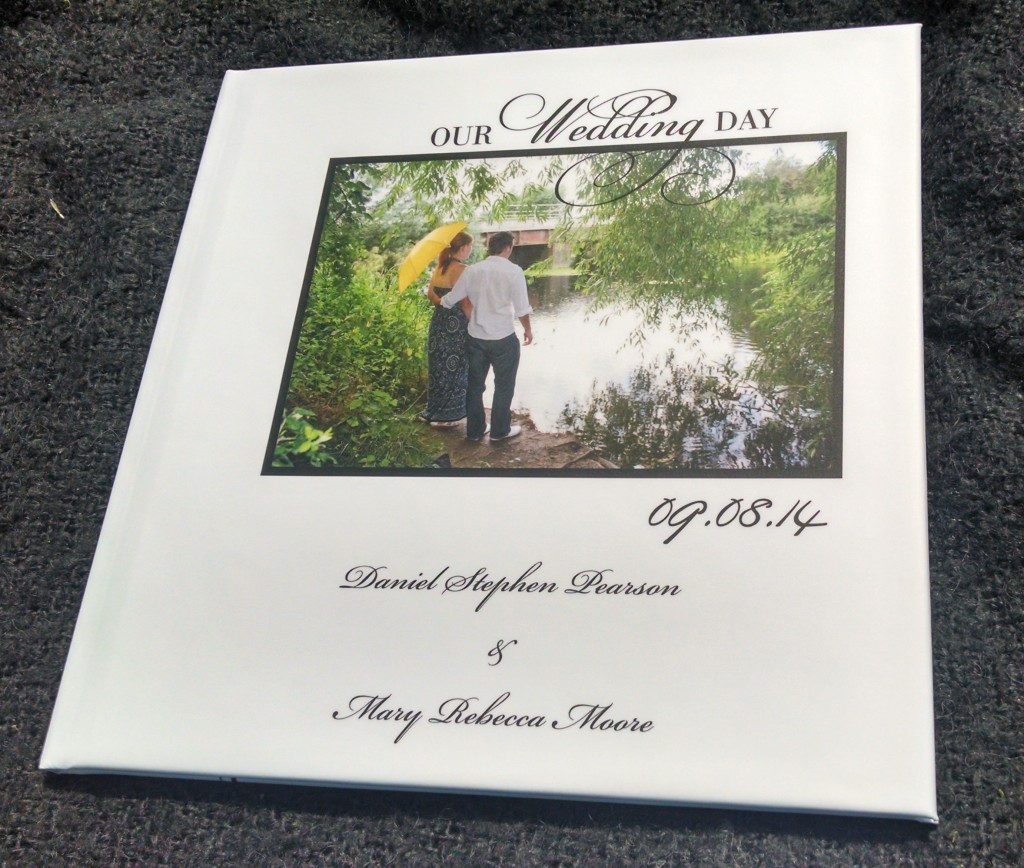 Conversation starters – £11.09 from Moo.com I do love Moo and we've ordered various things in the past and always been happy with the results.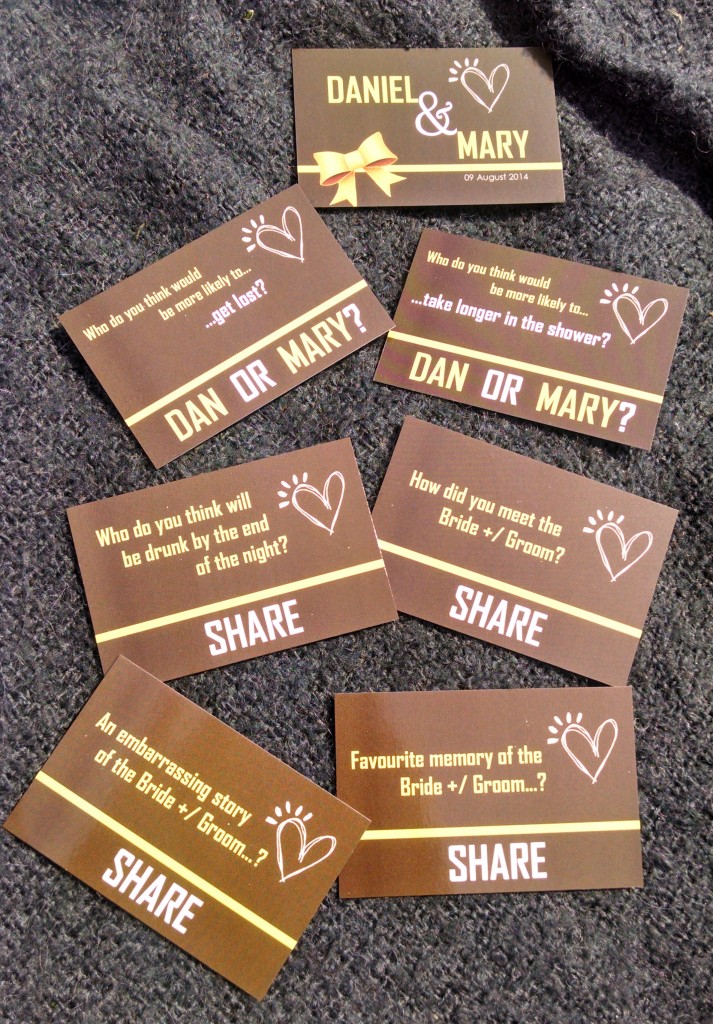 Seating plan board – £26.89
We borrowed my Maid of Honour's easel to display the seating plan at the entrance to the marquee.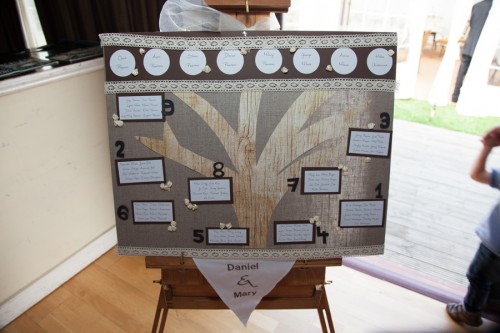 Thank you cards – £32.77 (Snapfish)
Stamps – £19.08 (36 2nd class)
Stamps actually cost more than you think!  And take up a lot of money when you think you need them to pay deposits to companies, send out Save the Date cards, invitations and thank-yous.  We hand delivered as many items as we could.
Clothing/looks:  (£2267.20)
Wedding dress – £705
I loved my dress and the whole experience I got at Nadine's Bridal Boutique in Dereham.  It was actually the very first dress I tried on!
Veil – £65
We had a bit of a nightmare with my veil.  I really wanted one but didn't think I could justify the cost.  I ended up going back to Nadine's just two days before my wedding and buying the one they had recommended from the beginning though as I liked it so much.
Wedding rings – £358.20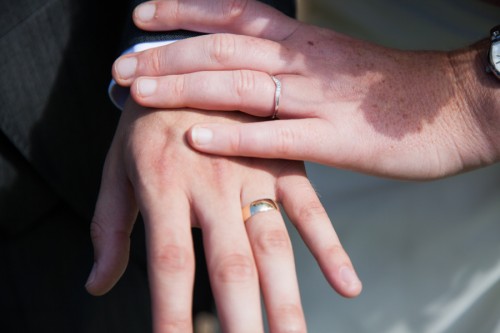 From H.Samuel (Hate the photo of our hands!)
Bridesmaid dresses – £248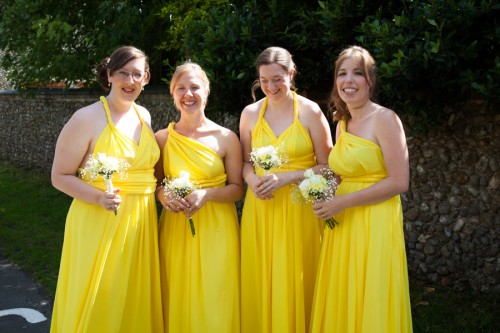 I really liked the Two Birds bridesmaid dresses but there was no way I could spend £1000 on four dresses!  Luckily, I discovered a seamstress on ebay who made dresses similar to order.
Suits – £696

We had seven suits to order in total.  Dan, both Dads and Dan's four groomsmen.  Dan was quite specific in the look that he was after and with the guys spread all around the UK it suited that we chose somewhere that allowed everyone to pick up their suits from different branches.  We went with Greenwoods in the end.
Necklace – £40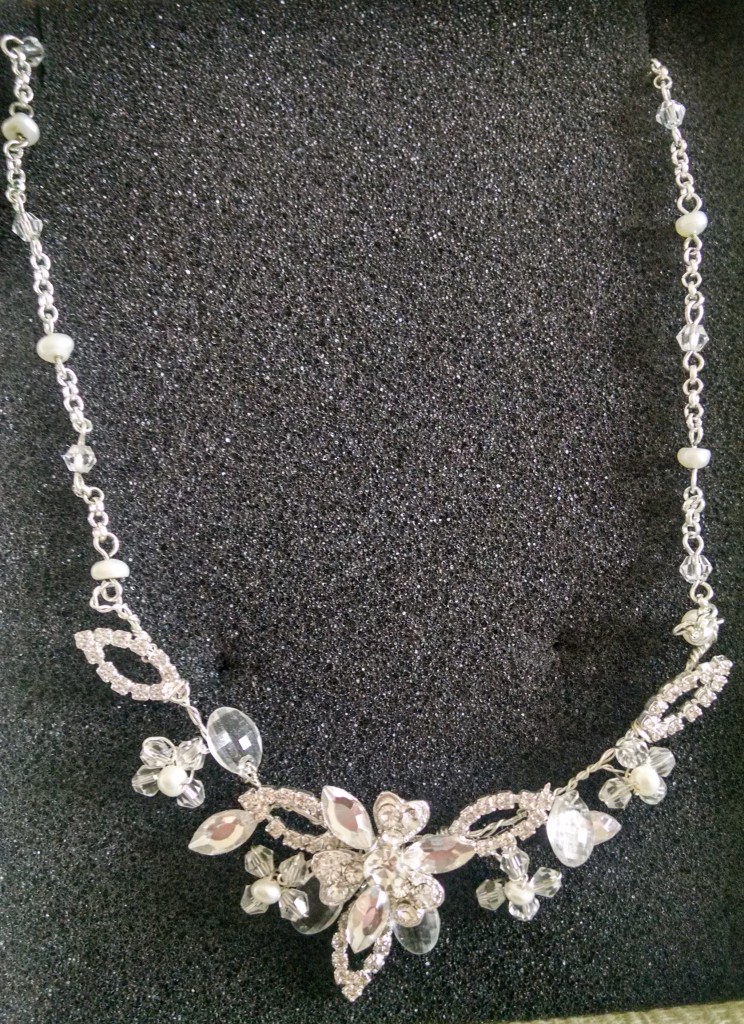 This was another last minute purchase, (three days before the wedding!) but one that was very right.  I happened to be walking past a sign for Treasures the Bridal store in Kings Lynn and with help from a lovely member of staff I bought my necklace.  Dan bought me some earrings as my wedding present which I received the morning of the wedding.
Eyelashes – £15
Getting my eyelashes tinted was a fantastic suggestion by the lady that did my makeup.  For just £15 I removed the hassle of mascara for six whole weeks!
Shoes – £80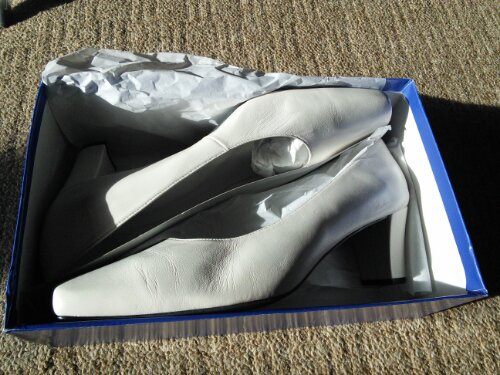 Hair – £35
I used a stylist in Fakenham that had already styled my hair for several other friends' weddings.  There is a vlog on my hair and makeup here if you want to take a look.
Makeup – £25
Photography:  (£1033.97)
Photographer – £975
We used Sylvia Photo and this cost included all edited shots on USB stick to keep forever.
2x SD cards – £17.49
3x video cameras – £41.48
We asked one of my bridesmaids, my brother and one of the ushers to each have a video camera on them throughout the day so that they could record important bits for us which I have since turned into a wedding video.
Gifts:  (£215.09)
Favours – £73
For favours we bought each adult guest a scratchcard at £1 each which my bridesmaids placed into the name cards when they arrived at the venue.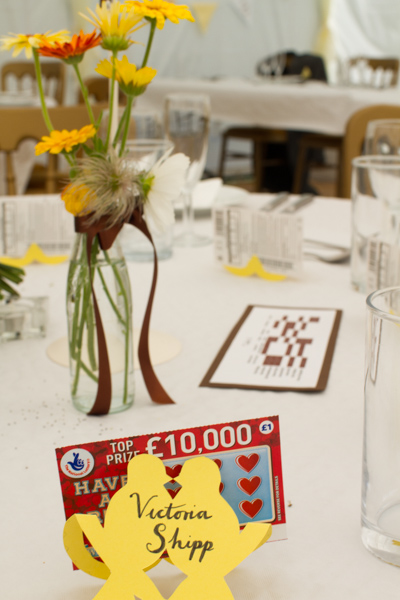 Favours for the kids – £10
I placed together a magazine and crayons for each of the three children along with a bubble wand from Wilkinsons and some sweeties to keep them going until their dinner arrived.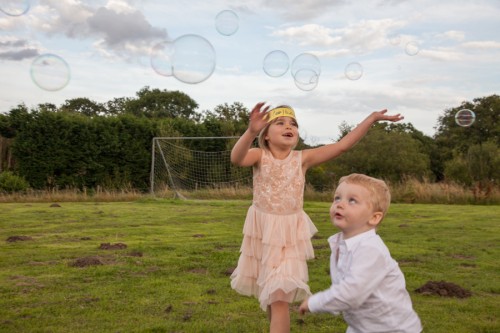 Groomsmen – £67.99
The Groomsmen each received personalised pint tankards.
Dads – £20.49
We went for jokey mugs for each of the Dads with translations in Norfolk written on (so that they could understand each other as my Dad has an incredibly Norfolk accent, and Dan's Dad is very much from Wolverhampton!)
Bridesmaids – £28.61
Mums – £15
Both the bridesmaids and the Mums received personalised bookmarks from us with their birthstones on the top.  The bridesmaids also received framed photos of us all together on the day in a frame once we had received our photos from the photographer.  The Mums have a special Christmas present each coming their way.
Paperwork:
Passport – £72.50
Stupid name change costing me all that money!
TOTAL:  £9967.35
If you want to see all of my wedding posts on the blog, then please visit the wedding page.
What this doesn't include: honeymoon, hen/stag weekends, wedding magazines, cleaning of my dress (yet to be done!) or petrol costs (we got married 100 miles away from where we live).  There are many areas that we could have cut costs, but there are also several areas where we saved, and we still intend on selling on my wedding shoes, the bridesmaid dresses, and two of the video cameras amongst other odds and ends.
Were you as surprised as us at the cost of weddings when you started planning?
Please let me know if this has helped you with cost ideas at all!  I'd like to think it's helped at least one person out there now starting out with their wedding planning!