Last week went by incredibly quickly and I feel like I never got the chance to stop to regroup myself.  It was very much go, go, go!
Thursday my day off was spent madly packing, unpacking and repacking for the Gower marathon adventure I had over the weekend and prepping for lessons on Friday.  Then on Friday as soon as the last bell rang I was out the school door quicker than the year 11s only to sit in a queue full of cars to make my way home before being picked up and transported over to South Wales where I joined the rest of my club running the Endurance Life event.
More on marathon number six later this week though as I realised I never wrote about my first cross-country race of the season which took place last Sunday.
We were back in Northampton last week for the Wootton cross-country as last year.  In fact when I read my recap back it pretty much perfectly describes the event and how I felt a year later on although the order of the laps was slightly different this time.  Last year there were a huge number of bottlenecks very early on into the event so this year the organisers decided to trial two laps of the starting field before setting off on a large lap through the woodland.  This worked much better than the previous year and at several places where there had been bottlenecks there was no longer a problem.
There were still bottlenecks later on into the course though.  The first being about 1.7 miles into the race.  I arrived at the bottom of a short, steep climb along with ten other runners.  I'm far enough back in the pack of club runners that not everyone around me is confident enough to throw themselves up the climbs with no pauses and this had held up a number of people before us.  Then, as runners had been stood still for a couple of minutes no one had any momentum to push themselves to the top, resulting in several runners slipping through the fresh mud back to the bottom of the hill again repeatedly.  This is where you learn just how friendly other runners are as everyone at the top was extending out hands for those still at the bottom.  I pushed myself up and then turned to help a couple more before running on.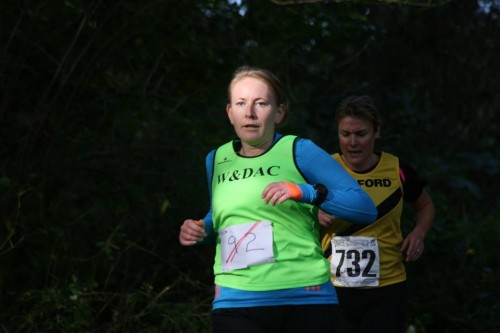 Photo taken bout three miles in.  Clearly I am still unable to have a flattering race photo taken at cross-country!
The route this time was two small laps of the inner field, a large loop around the outside of the land, another of the small loops, another large and then finishing with a small.  Meaning we actually ran 0.3 miles further than we had done last year.  I was running strong until the brief two minute pause at the bottleneck.  It completely took me away from my rhythm and I struggled to get back into the same stride again.  We bottlenecked once more the second time we ran the large loop but this time there were only two others waiting in front of me to get up the hill.
The best bit about cross-country is (obviously!) the free cake at the end and Wootton put on a magnificent selection.  In fact they had so much food going at the end that one of our runners headed home with 5 white cheese rolls, 5 brown cheese rolls, 2 white ham rolls, 1 brown ham and a chocolate cornflake cake!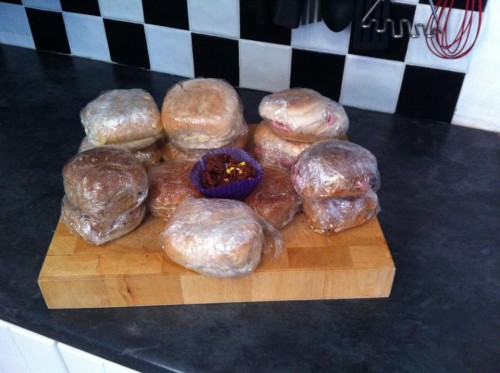 I wish there had been a photo taken of the cake display though.  Definitely one to race again for the cake!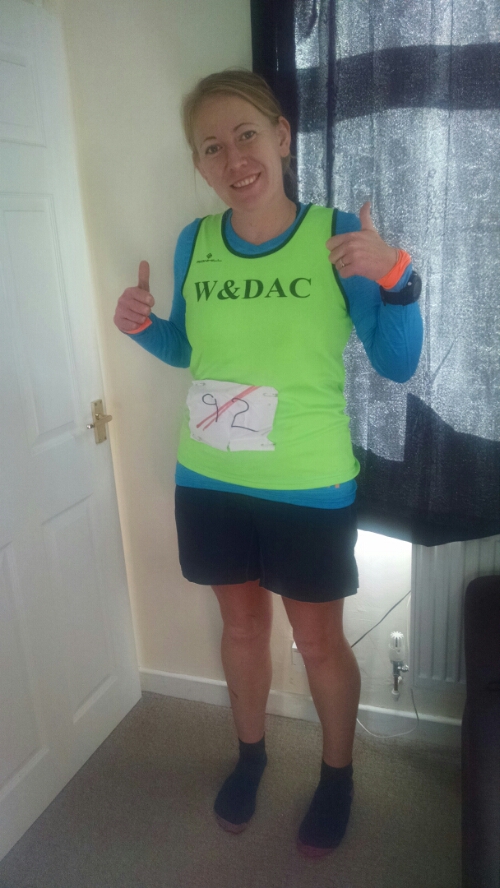 I did have a little panic the morning of the race when I couldn't find my cross-country number.  The problem with cross-country is that the numbers are dished out at the end of September and then you keep that same number right the way through until the end of the season in January.  That's a long time for me to know exactly where my number is!!!  I made do with a paper version this week although the need for special race number paper soon became clear and it's a good job I've since found my official number again.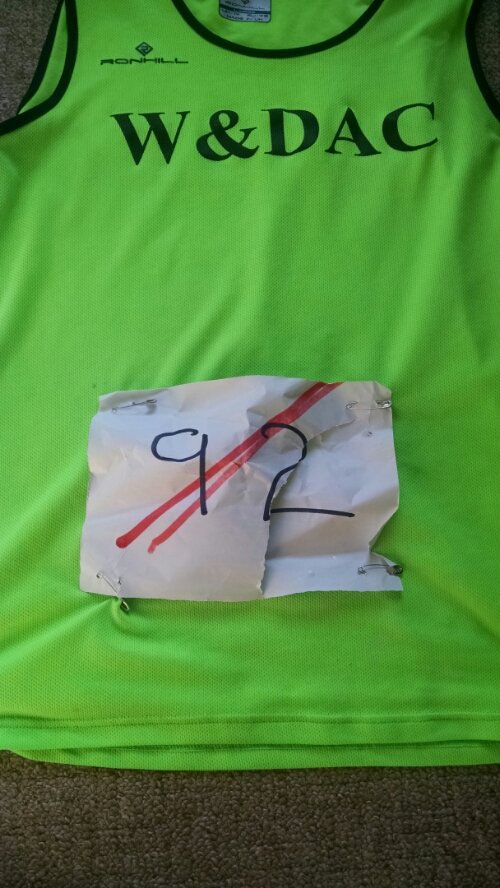 137/168 female runners
388/425 overall
4.61 miles
46:41 (including a two minute stop at the first bottleneck and a couple of other delays on the route)
Do you run cross-country?
Did you ever take part in cross-country at school?  – Everyone at Primary school had to take part in the cross-country which was about three miles long along local fields in November.  I hated it at the time but I did include the route as part of a long training run last Winter when I was staying at my parents!