Part one of my recap came yesterday…here is part two today…!
From about 16.5miles of the EnduranceLife Gower marathon it was just me and Kev.  We hit the sand here and the dunes held us up a fair bit.  It was at this point that Kev told me that he had started to lose the sight in one of his eyes earlier on during the race.  I told him off for not telling me sooner!  He had been on at me from the beginning of the run to make sure that I was drinking and eating properly (I suspect under instruction from the other Kev that I normally run with!), yet had failed to eat properly himself.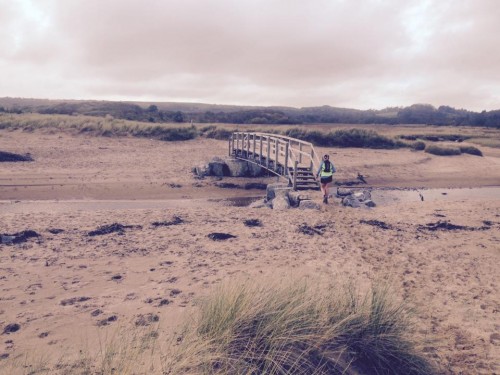 We took it easy over the beach.  Once we were off the dunes the tide had gone out and so the beach stretched out in front of us for the best part of a mile.  I found this mentally tough as it all looked the same but I kept chatting away to Kev as I went.  We stop-started a few times and Kev took several pictures (basically all the ones in my recap).  One of the things I love about trail running and ultra running is the lack of pressure on a race.  No-one compares your marathon time on a trail race to anything but the same race a year before because how can you?…Every single trail race is different, no matter the distance.  I'm sure you wouldn't catch huge numbers of runners stopping to admire the scenery or asking other runners to take photos of them during a road race.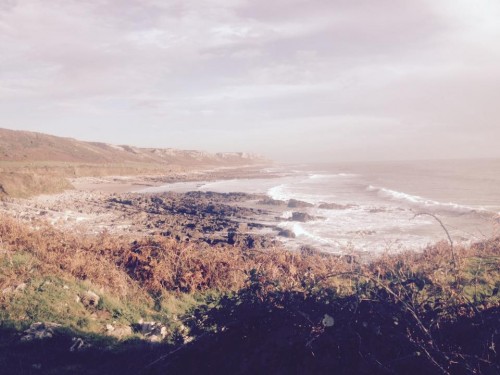 As we came off the beach we started to climb again.  We ran round for a long way on easy grass and paths along the edge of the cliffs before reaching the final checkpoint.  Not at mile 20 as stated, but much closer to mile 22.  Those extra two miles made a lot of difference!  Here we discovered that there was now just one runner behind us, although we hadn't passed anybody since mile 10, so we guessed they were probably a long way behind us by now.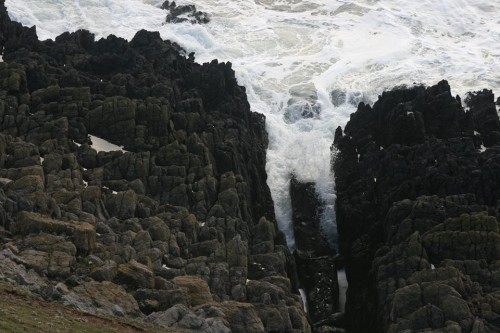 After leaving the checkpoint we headed right up even further than we had been already before.  The trail was very technical, up sliding banks covered in large rocks and at times we just had to keep pushing ourselves onward and upward because if we stopped, there would be no momentum for us to reach the top.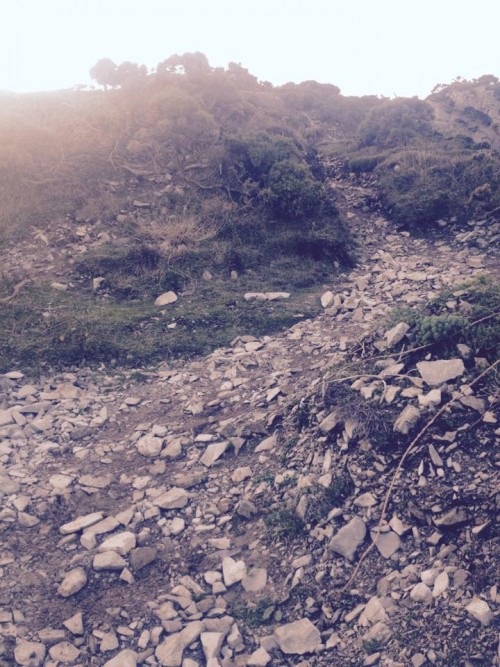 We kept catching sight of two runners a little way infront of us, although the track kept heading out of sight as we twisted round the top of the coastline.  We were gaining on them and all of a sudden Kev had a new lease of life as our speed picked up.  He was eager to pass two more on our journey to the finish line.  I'm used to being towards the back of the pack over long distances…Kev is not!  As we got a little closer we could hear what sounded like arguing and then a sheep disturbed by the arguers just in front leapt off of a rock almost into Kev and I.  Had we been a metre further forward we would have been knocked flat!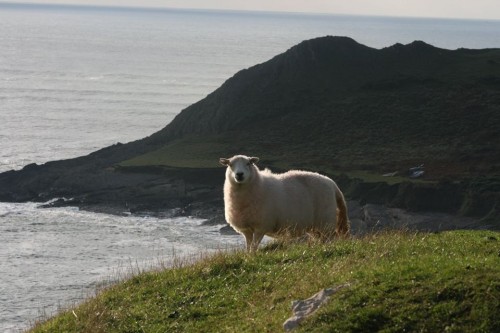 It was a man and a woman that we had caught up with and after half a mile of chat we discovered that they were actually running the 34 mile ultra so had been out since 8:30am that morning.  We tried to advise them to pull out at the marathon distance, as the sun had started to go down by now.  It was in no way dark yet but the first 10k of the course which the ultra runners were due to complete was very much the toughest and most technical.  Without headtorches, I'm sure it would not be very pleasant.  They were having none of it though and insisted that they were going to finish the ultra.  I never caught their names, so can't check on the results list, but I only hope that they either found headtorches from somewhere, or ended up getting pulled from the race for safety's sake.
The last couple of miles went really quickly for me.  In fact I was shocked at how quickly the time for the whole race went by and had to keep reminding myself that it was only marathon distance (well 28.95 miles anyway!) rather than an ultra.  Once we had left the other two runners we could see the Endurance Life flags in the distance, although they really did look a lot closer than they were…we still had a lot of dips and climbs before we could reach them!
As we headed for the final half mile I was ready for a speedy, happy finish.  Having run the route a little slower than planned I had definitely not burnt out and there was still plenty of go in me!  We held it back until we had about a quarter of a mile to go though and then really pushed on through the final field.  The half marathon and 10k runners from our club were all there to cheer us in and hug us once we crossed the finishing line.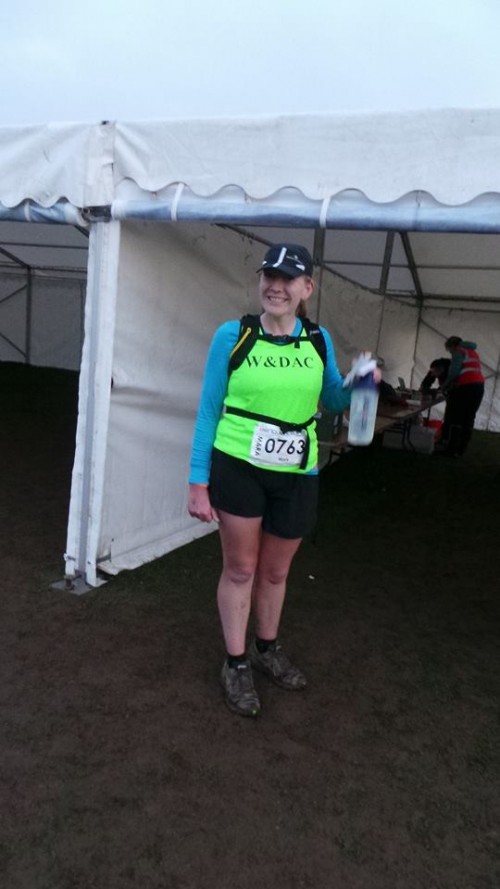 I was a little disappointed not to receive a medal at the finish but we got a chocolate and peanut butter protein bar and a print out of our chip times instead.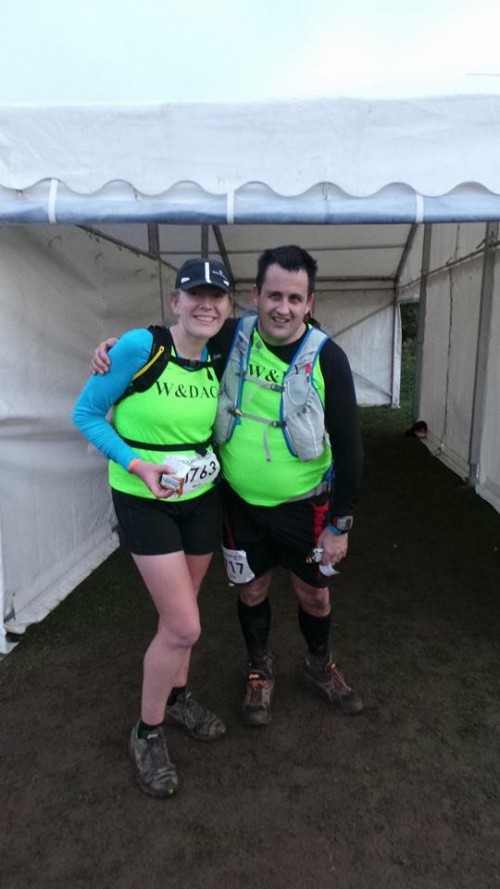 They said that medals would be posted out to us, but it would have been nice to get one at the finish.  They also didn't distinguish the distance on the medal which is a shame.  We had picked up our t-shirts earlier in the morning at least.  This is a photo of the t-shirt and medal from one of the other marathon runners that came in before us.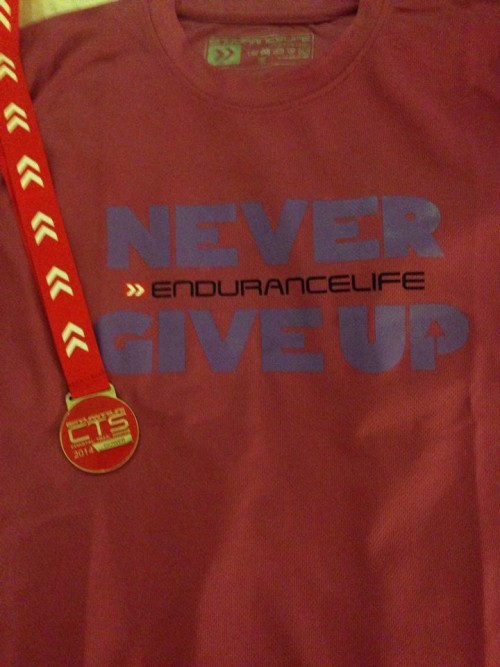 The other guys that we had set off with had come in 25 minutes earlier.  Kev and I were actually the last two runners back in from the marathon.  The others behind us must have pulled out.  Looking at the times from last year though, the slowest runner came in at 9h 3m…an hour and a half after us!
We headed back to the houses as the ultramarathoners would be running past on their way to the finish line.  Somebody made me a hot chocolate and dragged out a chair and we grabbed our cameras ready to film them coming through.  We weren't waiting long and about 40 minutes later we saw them pick up their speed to our cheers.  We all rushed back round to see them through the finish and then it was time for showers all round!
Kev's wife had managed to persuade a curryhouse to deliver from 20 miles away (Anyone looking to start a business in Gower…takeaways are clearly the way forward.  There were none!) for the twenty of us and so everyone piled into our house to chow down on curry, watch rubbish TV and natter about the day with a few pints.  The perfect finish to a fantastic weekend away.  I love how running has become not only my hobby but also a huge part of my social life.  I really didn't want to leave on Sunday lunchtime.  Most of the others had managed to get Monday off from work as well so there were just four of us heading back home.  Another year maybe.  We're already on the hunt for the next expedition!
Stats:
Distance: 28.95miles
Official chip time: 7h 36m 11s
Position: 114/115