Last night I headed out on my regular 90 minute trail run in the dark with friends.  There were ten of us last night and we were very lucky with the rain.  Northamptonshire must have used up all of it's allotted rain on Sunday when we had some really heavy showers.
Heavy showers at the weekend meant that the trails last night were very slippery and filled with mud though.  We usually follow a complex path of field edges and woods but last night we decided to stick to the local tourist parkland, crossing just one ploughed field to get there.  That one ploughed field meant that our trainers grew by at least two inches though and we were glad to hit the road briefly so that we could knock off as much mud as possible and shrink back down to size.
We headed to Irchester Country park, which is where 5k/10k/15k multi-terrain races are held by Just Racing in the New Year.  Quite close to home, lots of good fun but very expensive for an area we regularly run in anyway.  As the races are quite close now, we followed some of the route that they take to give an idea of the course to those who hadn't run it before then added quite a bit of distance onto our run.
The majority of the people I run with are guys.  I guess girls are less excited about getting muddy at 7pm on a Wednesday night in the dark.  Touch wood(!) but I am yet to fall on a trail run, although coming very close the night I ran through a puddle that was much deeper than it appeared and I disappeared up to my knee in mud!  Last night we were evenly split though…five guys, five girls.  Two of the girls went down at some point and ended up covered in mud.  Another almost lost her footing several times but had fallen twice last week so was very cautious when things got slippy.  I was one of the two relatively clean ladies until I was set upon by the guys for being too clean!  One leapt in a puddle alongside me, splashing thick mud right up to my chest and another who was running in front of me kicked back in the puddles to cover my legs with more mud.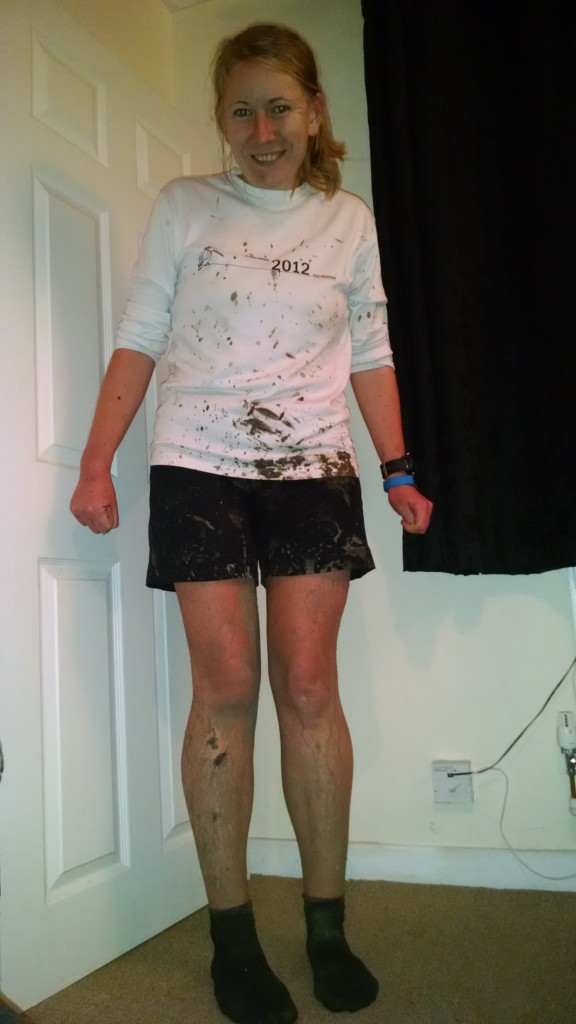 Needless to say I made sure to get them back, although getting myself more muddy in the process!  I'm rubbish at splashing people – I either end up wobbling with fear of falling in myself, or the water splashes only me!  I was already too covered to care by this point though and took great pleasure in kicking mud and water up at my attackers!  When I got home I told Dan that splashing people must be one of the skills we teach our future children so that they don't get held back in life!
The trail run was the perfect de-stress on a Wednesday night after work.  Although it did take me a while to get all the mud off from my legs when I got home…!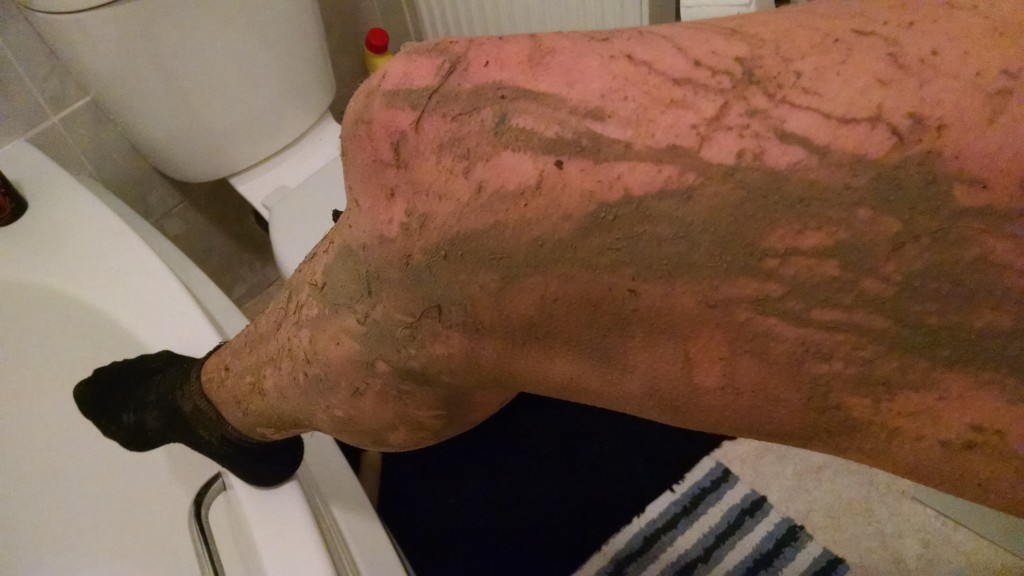 I skipped run club on Tuesday night so that I could work out my current speed for each Heart Rate Zone.  Garmin told me at the weekend that my zones were as follows…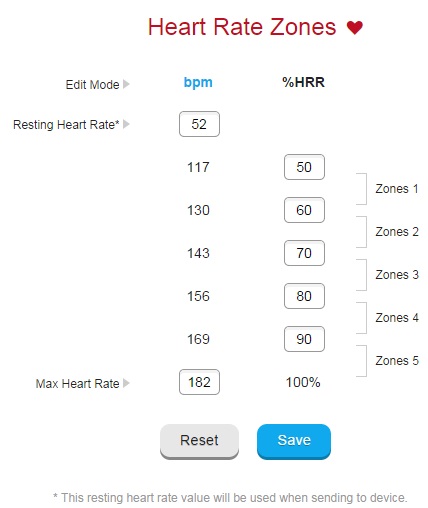 The plan was to run about 2/3 mile in each zone so that I could see what sort of pace I am currently at and then monitor my fitness over the coming weeks.
Well, Zone 1 was pretty impossible to hold.  I'd had a stressful day at work and my heartrate was already pretty high when I set out for the run.  I could only run about 100metres or so before having to walk so that my heart rate stayed below 130bpm.
Zone 1 Ave pace – 15:17mm
Zone 2 Ave pace – 12:55mm (also really hard to stay this slow)
Zone 3 Ave pace – 10:29mm – (probably about the pace I'd run my long runs at normally)
Zone 4 Ave pace – 8:20mm – (probably a bit quicker than I would run parkrun)
The guy who has been helping me work heart rate training out has suggested that I try my best to stick to running in Zone 2 for my long runs and keep to Zone 3 for club runs unless we are doing speedwork on a club night.
"Zone 2 is difficult to stay within but this is the most important zone as this is where the body learns to feed off the fat zones within the body which is where you build base fitness. This then allows you to sustain Zone 4 for a longer period of time. These are your base levels now. When you run on your own, work hard at keeping the Zone 2.  Be very disciplined and this will help speed you up long term. It takes time.  Do not rush."
I pointed out just how hard I found it to keep that slow during my run and he responded with…
"Yes Zone 2 is frustrating but works long term. All ironman training is also done at this level for the bike and run. As you get fitter the mm time comes down. I could sustain 8.30mm at Zone 2 at one stage and this is what I am looking to work towards to make myself even quicker next year."
No harm in trying it right?…
I stayed until 6:30pm after school yesterday to help paint cardboard animals ready for the school Christmas Craft Fair next weekend.  This year I am down to help out in Santa's Grotto where children will be lining up to receive gifts from Santa.  To decorate, the French teacher has organised a silvery theme with Christmas trees and twinkle lights and the Pre-prep teacher has put together some fantastic life-size animals out of cardboard which just needed to be painted and decorated.  One of the TAs last week said she'd have a go at coming up with some ideas for making animals for the Grotto.  The following day she came in and folded coloured card to make a whole variety of animals including this fantastic penguin!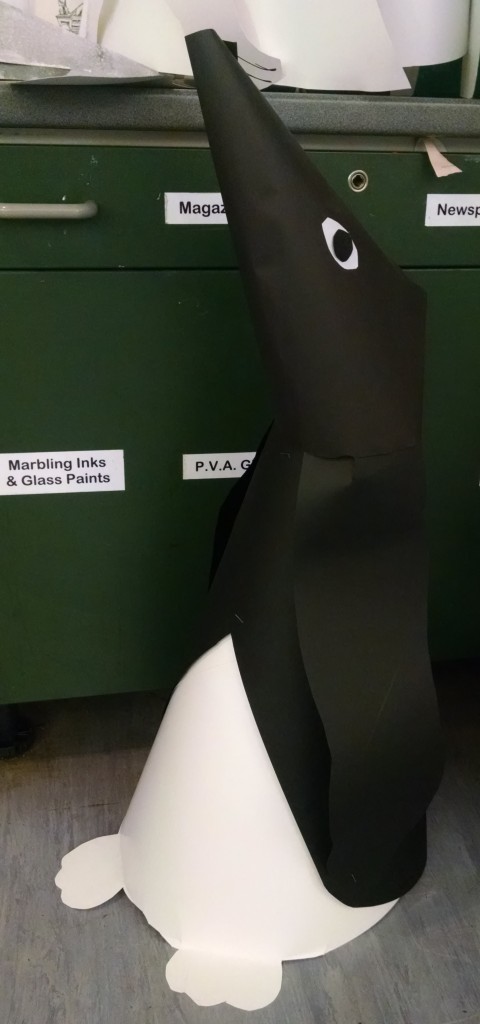 I do love doing crafty things, but I would never have been able to come up with designs for penguins, walruses and polar bears overnight they way she did!  They're fantastic!
Are you a fan of running in the mud?
Do you tend to run with more guys?  Or girls?  Or an even mixture of both?
How creative are you when it comes to making things?