On Friday night I headed out for an 8.4 mile 'long' run on my own after work as Dan was not going to get home until late and I had nothing better to do.  (Well, I probably did, but it was always going to be ignored!)  It was almost dark by the time I set off in the end so I headed out in a yellow reflective Nike jacket and my headtorch.  Every time a car headed towards me on the road I started wiggling my head from side to side so that my headtorch stood out to the traffic.  I got lots of wide births.  Hopefully because the drivers realised that there was something in the road and not just because they thought I was weird!
At the start of the run I really, really struggled to keep my heart rate down in Zone 2 but once I got into the step pattern I could maintain the slow pace much easier and I began to enjoy the run.

Yesterday I ran an easy 3miles in Zone 2 (130-143bpm) and today I headed on a 10.1 mile route with friends from club not worrying too much about my heart rate.  It's hard to a) concentrate on the figures and b) stick running that slowly when running with others.  Looking back at my data though my heart rate remained relatively low without the constant watch checking.  I made a point of running much slower than I usually would as we were running with a mix of Group 5 and Group 6 runners (I usually run in Group 5).  One of the requirements when running with friends is that you have enough breath left to be able to talk all the way round and that usually requires a pretty slow pace!  The ten miles went by really quickly.  Not literally, obviously.  It went really slowly, but I was happily enjoying the moment and I had lots to chat about.
Dan and I are not long back from watching the town Christmas lights being switched on complete with firework display.  We only live 5 minutes walk from the centre of our town so we pootled down before dinner to check out the hotdog stand and see the lights before heading back home to work a little more at ticking off our Christmas present shop.  19/24 presents BOUGHT!
I'm all about the online shopping this year.  We had planned to head to Milton Keynes or Corby yesterday afternoon but after watching the ridiculous Black Friday riots on the news we decided it was probably quicker, safer, cheaper and more reliable to order gifts from our couch instead.  I can't believe how crazy the Black Friday sales got in the UK.  It's not even a public holiday for us over here so the majority of the population were at work.  It's pretty scary how people can behave the way they have been behaving – completely out of control.  Way too many people seem to have been let into the shops at opening time.  Every single piece of footage I have seen has shown shops where no-one can move due to the sheer volume of people inside.  It really worries me that there are people in the world who believe that acting the way they have is an entirely appropriate way to behave.
I haven't really felt very Christmassy at all yet this year.  On Tuesday night (25th November) I nipped out for a quick 3 mile run only to return to my house less than half an hour later with the entire street lit up like Times Square with Christmas lights dotted on all the houses.  On the way home from the light switch on tonight I was actually trying to work out when, or if, we have a spare few hours during a weekend before Christmas.  I'm not sure we'll be putting our tree up until the start of the Christmas holidays we have that much coming up.
I love traditions at Christmas and one of my favourites from the family Moore is that we never put the Christmas tree up until Christmas Eve evening.  We used to all pile into the lounge to help decorate the tree and room, taking it in turns to dive into the kitchen with any unwrapped presents to get them wrapped ready to place under the tree.  I'd love to keep this tradition if Dan and I ever have children or host at Christmas but at the moment there would not be much sense in us putting a tree up at all if we were to put it up on Christmas Eve as we spend the next two days at one set of parents (two hour drive away), the following two days at the other set (four hours from the other set of parents).  Spend a couple of days back at home again before whisking off to a set of friends for over the New Year.  One day we'll stay at home…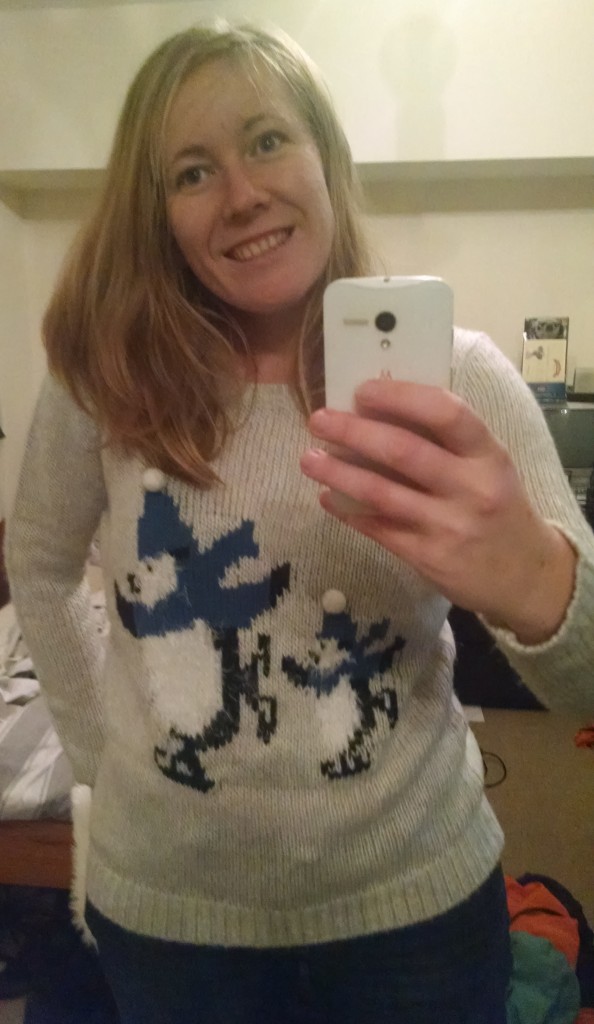 I did feel slightly more Christmassy today at least and popped on my Christmas jumper to watch the light switch on.  As all of the presents we bought arrive during this week I shall begin wrapping and then we will be freefalling towards the end of term and the Christmas holidays and the rushing from house to house will begin.  "It's beginning to feel a lot like Christmas…"
What are your favourite family Christmas traditions?
Did you brave the Black Friday sales?  Snap up any good bargains?