Jess of One Step Closer has just posted her 'Year of Running' for 2014 – a concept by Miss Zippy.
With no more races left in calendar and only a few weeks until the end of the year I felt it was time to do the same, so after reading through my 'Year of Running' recap from last year I had a go at answering the questions for 2014…
Best race experience?
I think it has to be my 70 mile Grim Reaper in August.  I have never felt so emotional during a race before and I could barely see through my tears during the last mile.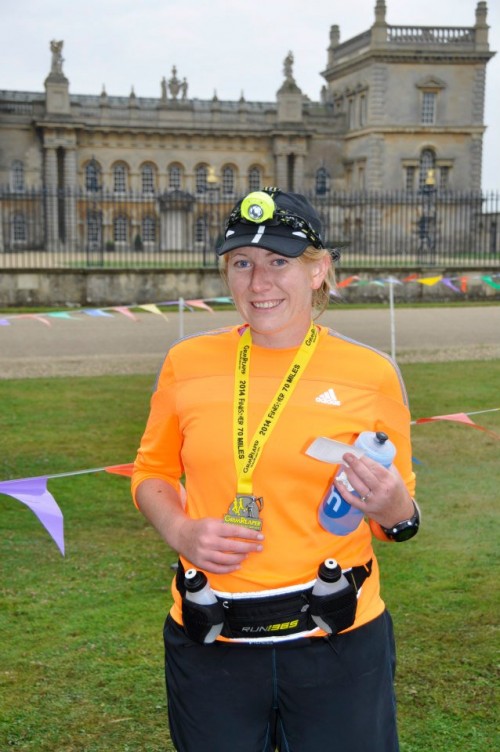 When I zapped my electronic timing chip at mile 45, knowing that I had run further than I had ever run before and that there was a good chance I would make it to the elusive 50 mile mark I couldn't stop beaming.  I had an amazing support network of other runners from my club and their family who helped to get me through the 21 hours and I couldn't have asked for a better team to share my experience with.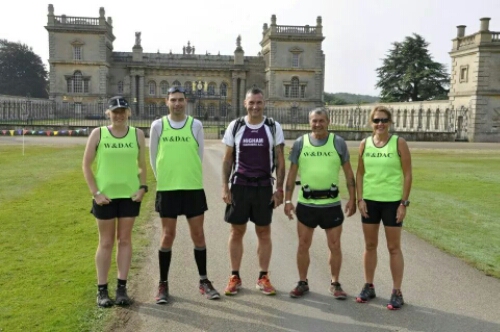 Best run?
I finally feel like I'm beginning to get my strength back when it comes to running.  In 2012 I hadn't been running very long, so every run was a PB.  2013 rolled round and I struggled to maintain the amount of progress I had been making, causing me to lose my confidence when it came to racing.  This year I've tried lots of new things and really focused on upping my strength again.  Luckily it's worked and after trialling in the group above mine at club this week and slotting snugly in the middle I am hoping to make the move permanently after Christmas.
Like last year though I'm going to have to favour a trail run for my 'best run'.  Probably the one the other week where I ended up covered in mud from my face down!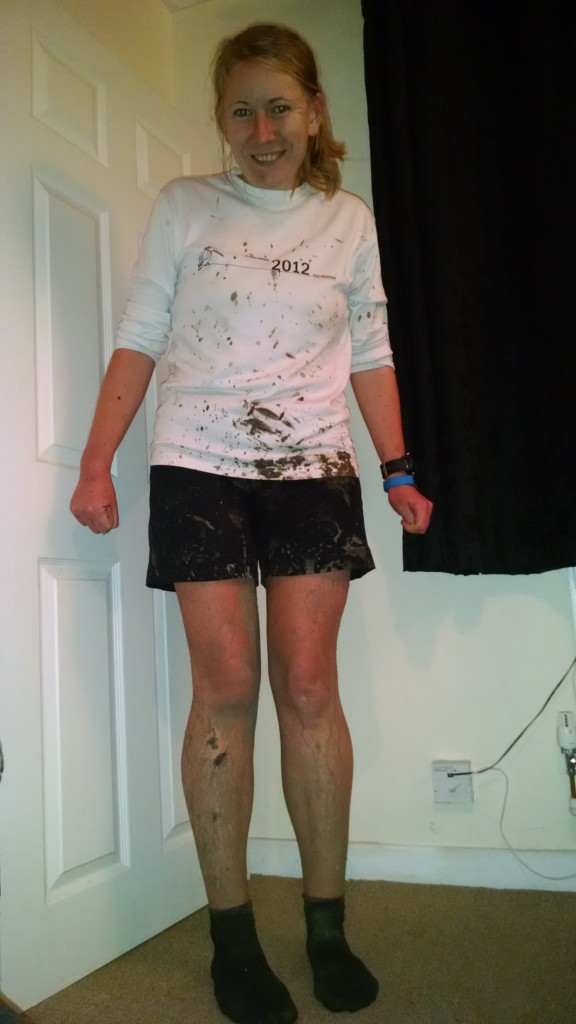 Despite it being such a slippy, slidey, muddy run I had so much fun and chatted the whole way round with friends.  I find when I chat during trail runs I completely forget who I'm running with and the pace and sometimes even that I'm running at all!  I concentrate on chatting and my legs carry on doing their thing.  Then I'll stop to climb over a stile two miles later to see I've been running at sub 9mm pace with no apparent real effort at all!
Best new piece of gear?
Obviously my Vivofit.  In fact over this past weekend five individual people have asked me questions about the bright blue thing on my arm and the data that can be pulled from it.  I love challenging myself to remain active over the day, NOT just when I head out for a run.  That little red line along the top of the band that signals I've been sat down for too long has definitely made me much more active since my Vivofit arrived in the post back in October.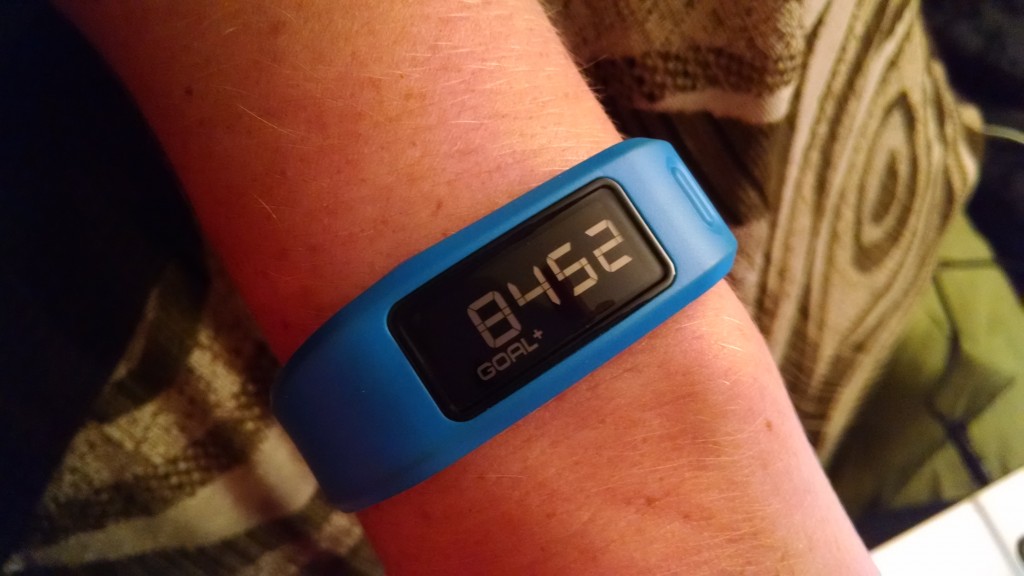 Best piece of running advice you received?
I've received lots of great information and advice lately regarding training by heart rate.  I had worn a heart rate monitor in the past but never really understood just how it worked until a fortnight ago and I must say it has taken the pressure off of my running as well as filling me with confidence that I can maintain speed during my runs.
Most inspirational runner?
A guy called Colin from our running club ran three one hundred mile races this year as well as numerous other races including many other ultramarathon events.  He ran his second hundred mile event at the Grim Reaper when I was attempting the 70 miles and we crossed the finish line together.  Me for the 70 miles, and Colin for the 100…with a 7 hour PB!  He is very inspirational when it comes to people from my running club and a very humble person if you were ever to meet him in real life.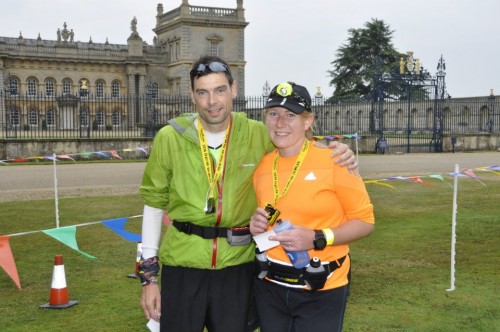 Online, among others, I find Jess, Anna and Maria incredibly inspirational runners.  I've read all three of their blogs for coming up to two years now and there is something about regularly checking in to hear a blogger's everyday struggles with running, interspersed with fabulous race recaps and posts of joy as they progress and achieve their goals.
Last year Jess took a fancy to Shires and Spires, the race that sparked my love for ultrarunning back in 2013.  Earlier this year I happened to be talking to one of the S+S race organisers whilst out on a long run and he hit the nail on the head when he said to me that he had come across Jess' blog about the race and had been so amazed at how she was able to just get into the mindset of running – switching off from everything else and almost dragging her 'dead leg' round the course – determined to achieve.
Anna has struggled with injury after injury yet still managed to smash her marathon PB earlier this year and despite injury refuses to give up on the long distance races that she is very clearly destined to do well at.
Maria has steadily improved since I've been reading her blog – from struggling to get her 10k PB below the hour mark to smashing that target among others.
I have almost entirely given up with reading running magazines now and I am very definitely addicted to checking out blogs instead.  I am much more likely to be inspired by bloggers who I feel are sharing accurate and regular snippets from their life – like these three.
If you could sum up your year in a couple of words, what would they be?
"On the way back up."  I feel so much stronger at the end of this year to last.  I feel confident in my abilities and ready to tackle new challenges next year (although I'm not 100% certain what challenge I'm going to set myself for 2015…I have an idea which I hinted about briefly on Twitter last night, although I want to chat to a few people first to try and work out if I'll be quick enough.  Watch this space!)
How would you sum up your running year?