Running lately has consisted of three runs a week on average.
I'm used to running five or six days a week…every week.  But with the craziness of working at two schools in the run up to Christmas, it just hasn't fitted into my schedule this month.  I'm looking forward to getting a lot more runs in over the holidays though.  School finished for me at 12:05 this afternoon.  I already have a ten mile trail run scheduled in for tomorrow morning and a cross-country on Sunday.
Running lately has consisted of a lot of mud and many, many hills.
Last Sunday I ran out for twelve miles in an area I'd not run before along the river – through lots of mud and up some incredibly tough hills – no stopping until the top!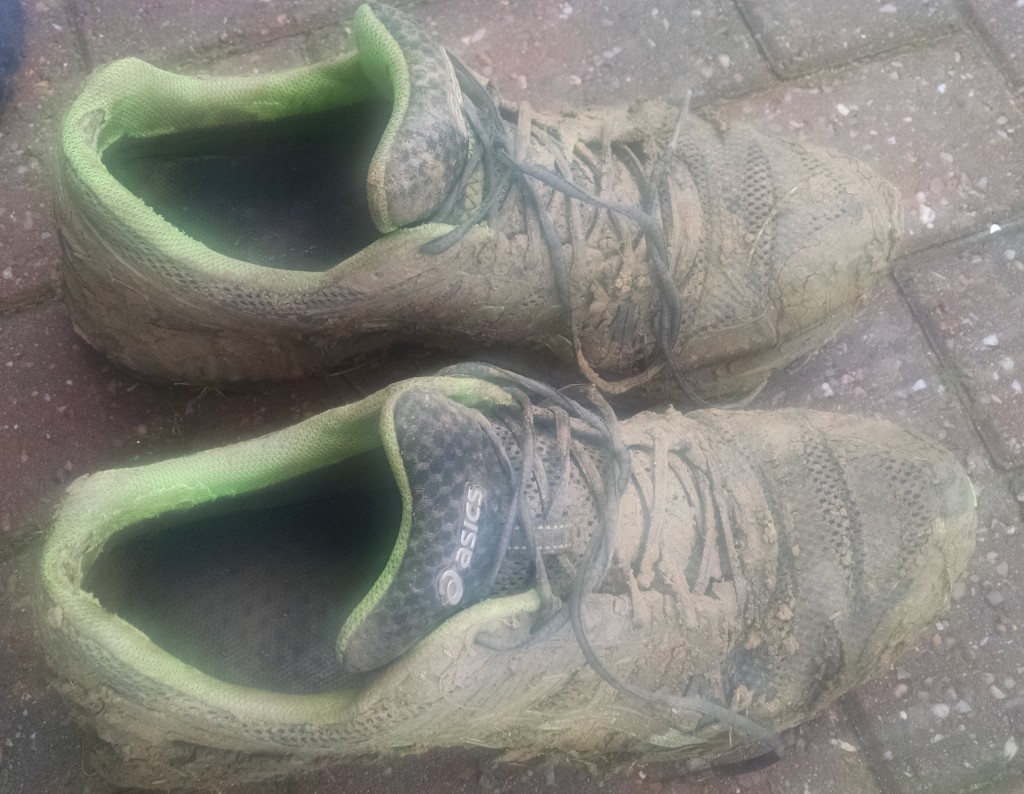 I'm not gonna lie…I don't clean my trainers as often as I should.  I know I should clean them down after every run but there's not a lot of point (in my mind) when less than 24 hours later I'm back out again splashing through muddy puddles.  Although, with not running so much lately, the time for the mud to harden between runs has gotten longer.  I'm hoping to have some new trainers from Santa this year, although if he doesn't bring me any I'm going to treat myself to a new pair of trails and a pair of road shoes as well.  They're the one item I use more than any other and my current trainers have been around since winning Operation Ultra last July.  They're slightly split on the sides of the toes and very worn on the bottom.  It's time for some new ones!
Running lately has meant I've been able to test out several new routes.
Yesterday Dan and I headed on a flying visit to Wolverhampton for his Dad's birthday and whilst there I managed to slot in a 90 minute run around the trails of Perton – around football fields, through woods and along little back alleys.  It was nice being able to explore somewhere new and lovely to be able to run in the middle of the day when not many people were around.  Over the Christmas holidays I shall be back to Wolves, and also visiting my parents in Norfolk where I'm hoping to test out a couple of new longer routes as well.
Running lately has seen me running a lot slower than I've been used to.
I've tried to stick to tempo runs or speedwork when out running with others and whenever I go out on my own use my heart rate monitor to run in Zone 2 – at a very slow pace to build my base fitness and endurance level.  Runs are close to 13 minute miles on these runs and although I do feel a little silly jogging past dog walkers at very little effort to me I also feel that I can go on at this pace for ever and I'm promised that I'm doing some solid base building for running some longer distance events later in the year so I'm going to keep working at it for now.  I'm hoping to run a parkrun later on this week and use it as a base to show improvement in a few month's time.
Running lately has been very festive.
Two weeks in a row at club we have headed out on a festive Christmas lights tour of Wellingborough – fitting in a run by of Karl's Christmas Light display.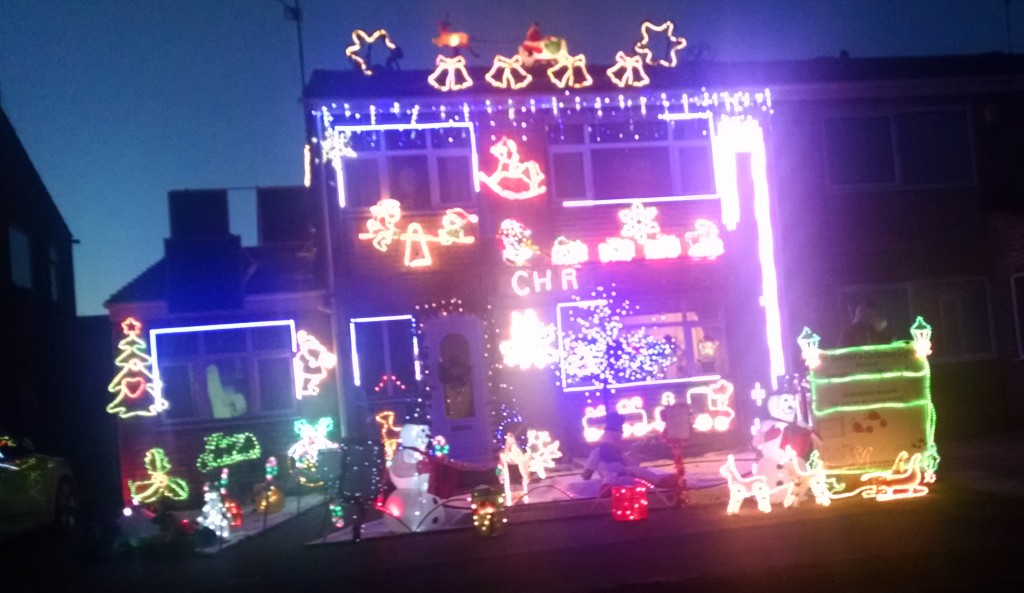 If you live in or near Wellingborough, they are well worth a visit – so head over to Torrington road and make sure to take some spare change to throw into their charity bucket where they are raising money for Niamh's Next Step.  I took Dan over tonight after work to show him the display.  There's a Santa projection in the window that is moving around sorting through his presents for delivery, there is music synced with the lights to create a fantastic display and when we visited last week we even witnessed snow being blown at us from a device on the rooftop!  If you don't live in this part of the country then check out the videos on their website because they really do have a spectacular display worth seeing!
Life lately saw me work my last day at school on Wednesday.
And I was definitely made to work right to the very end – placed in charge of year 2 boys whilst in the church carol concert.  Luckily we made it to the end with all boys still sat in pews and all carol booklets intact!
I was presented with a huge, beautiful bouquet of flowers along with a nice big box of chocolates at lunchtime.  I've never seen a bouquet so big before!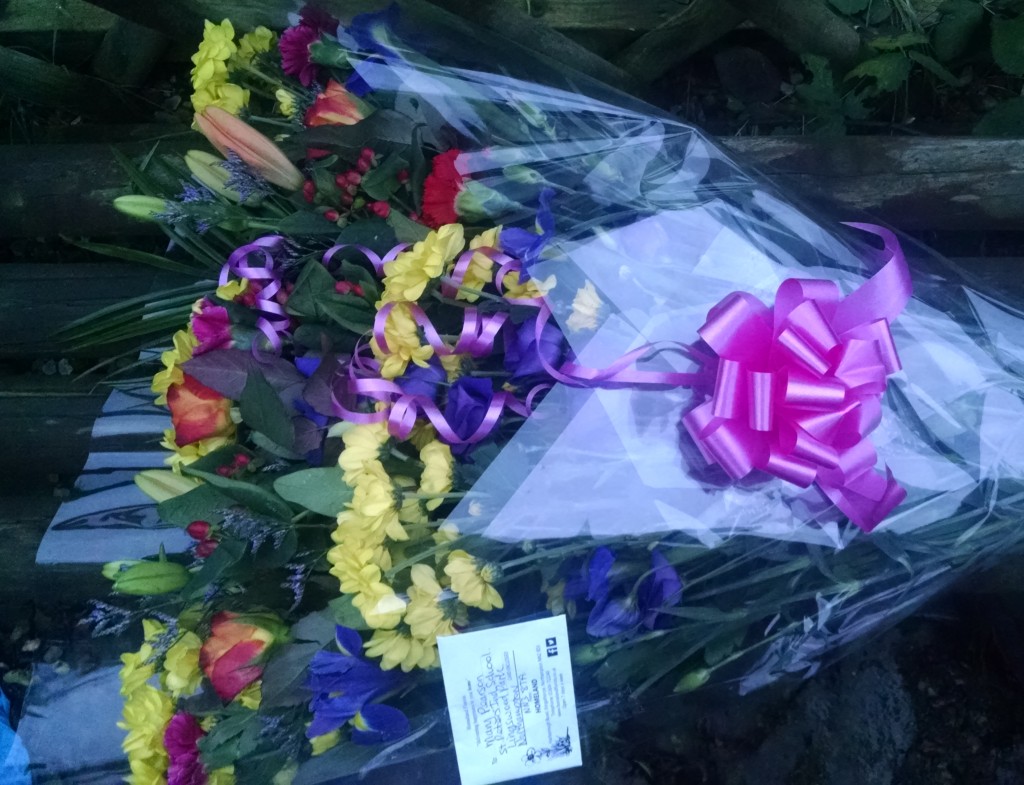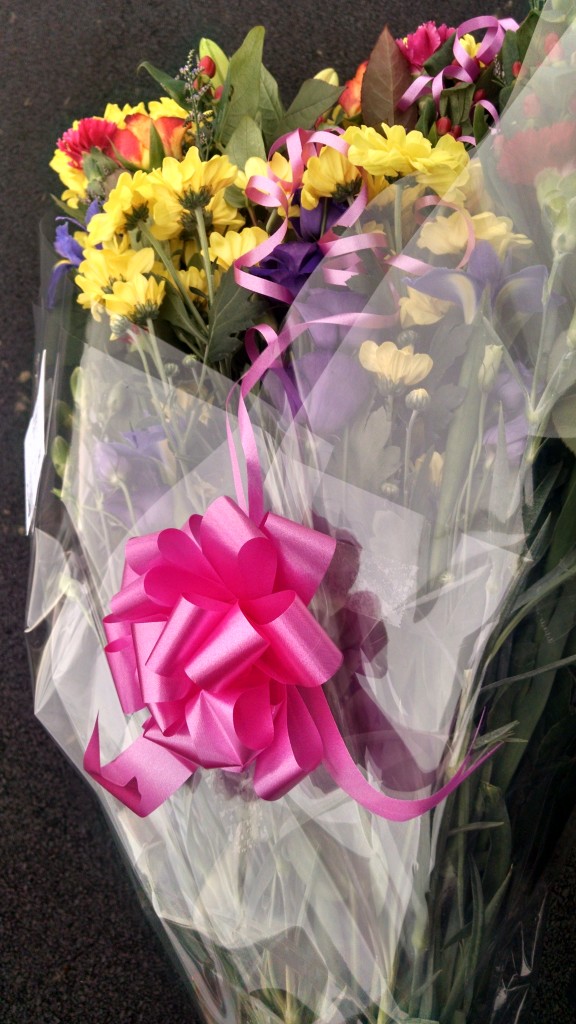 Life lately has seen me experiment with different festive treats I can bake for Christmas gifts.
After seeing some Rudolph cookies pop up on Julie's blog last week, I decided to have a go at my own and created some to take into work for my last day.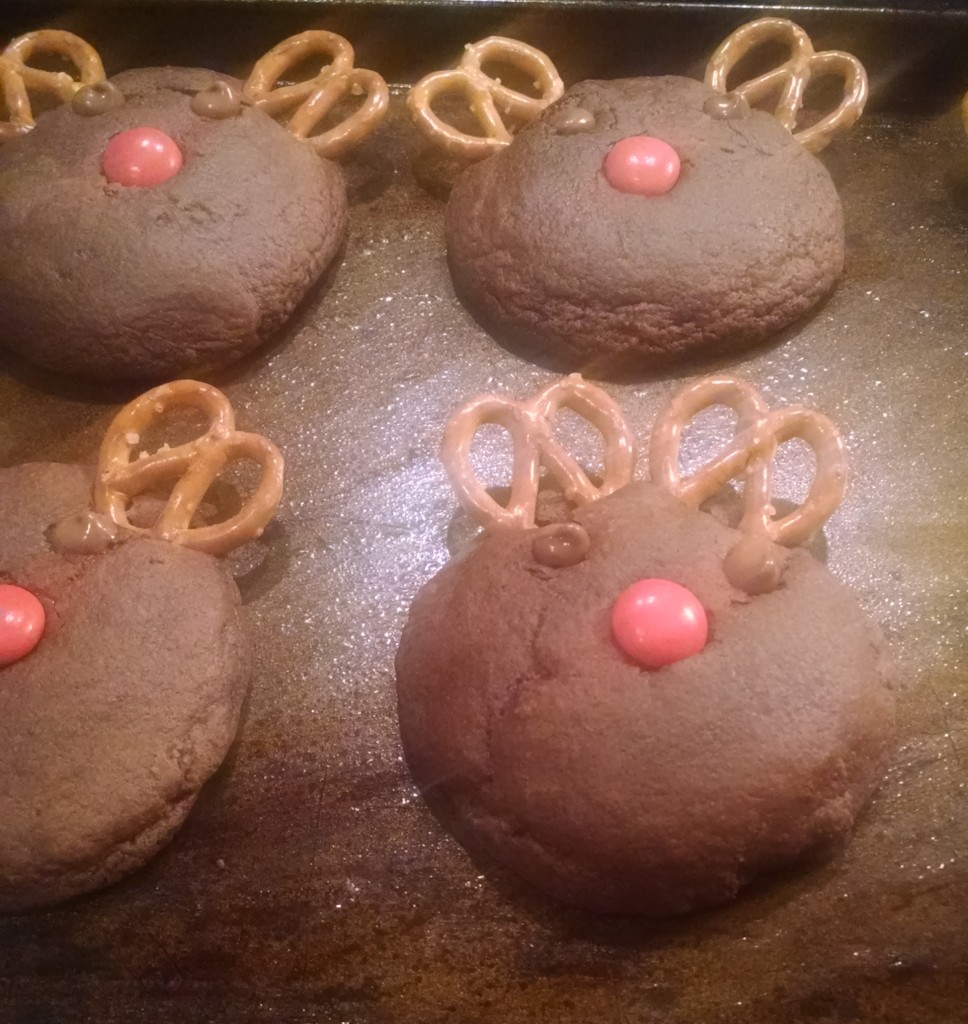 Literally the scrummiest cookies I have ever made (although not the most healthy!  I followed a recipe for Millie's cookies and tweaked it slightly to add cocoa powder for a chocolately flavour.  The Rudolph noses were red smarties, milk chocolate chips for the eyes and some pretzels for the antlers.  They went pretty quickly at school!
Life lately involved heading to the German Market in Birmingham.
We didn't get to look around for long but had a brief mosey whilst up visiting Dan's parents yesterday.  Dan managed to wolf down a metre-long hotdog whilst I tucked into my delicious falafel.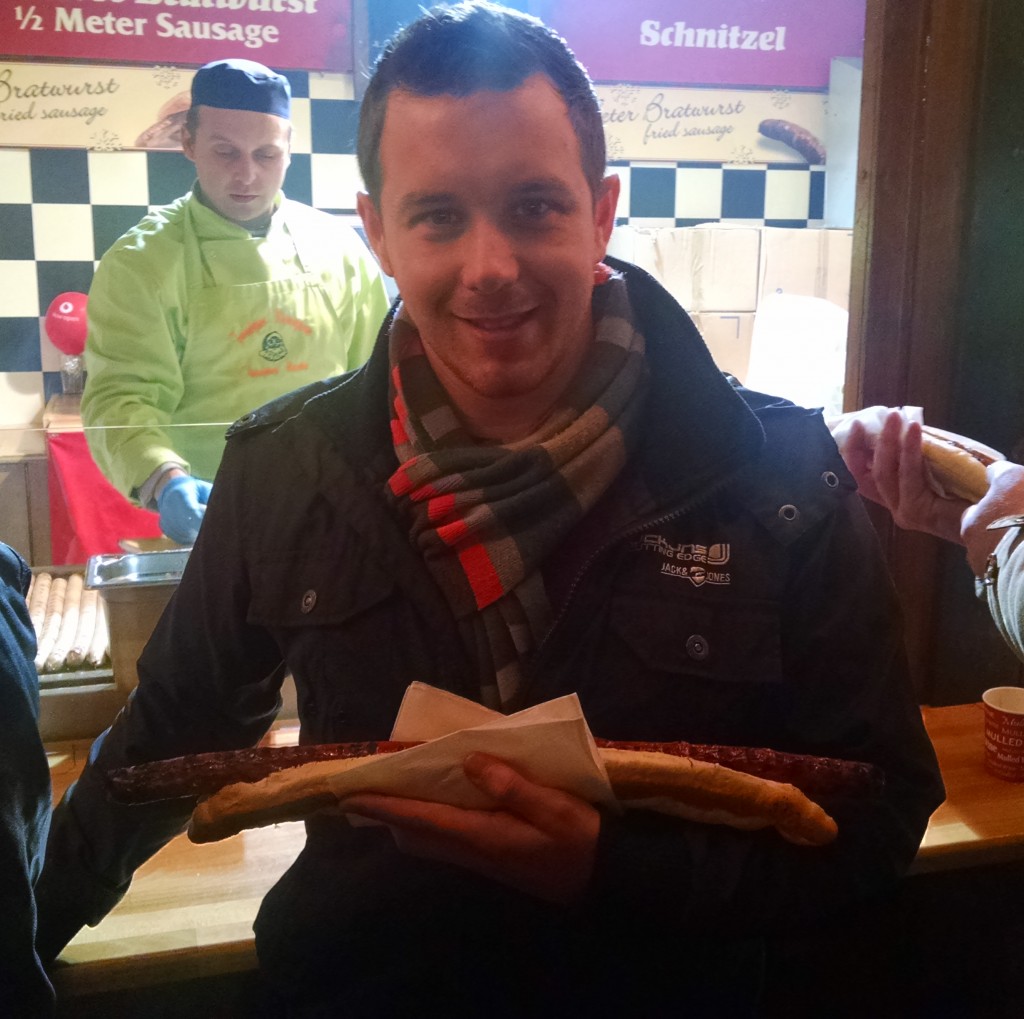 I also finally got to try a Christmas Costa – going for the Black Forest one.  Yum!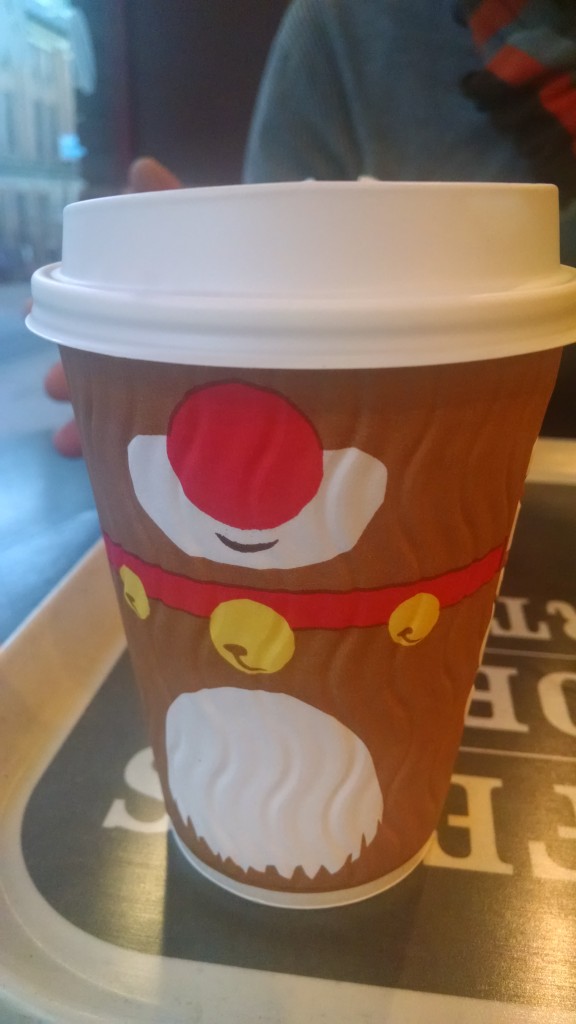 Any Life lately or Running lately statements to make?
How often do you clean your trainers?