It could have been four in four locations.
For a brief moment just before midnight last night Dan and I discussed getting up for the Huntingdon parkrun at 9am before grabbing a hot drink and rushing over to Peterborough for their parkrun which began at the more sociable hour (for New Year's Day!) at 10:30am.  Luckily, when we still hadn't made it to bed by 1:30am we saw sense and decided to stick to just the one and opted for the extra sleep and Peterborough.  173 runners did make both parkruns though.  Well done all!
A week ago today Dan and I ran the Sheringham parkrun, then on Saturday I headed to Northampton with a handful of other club runners to support two of our own completing their 100th parkrun.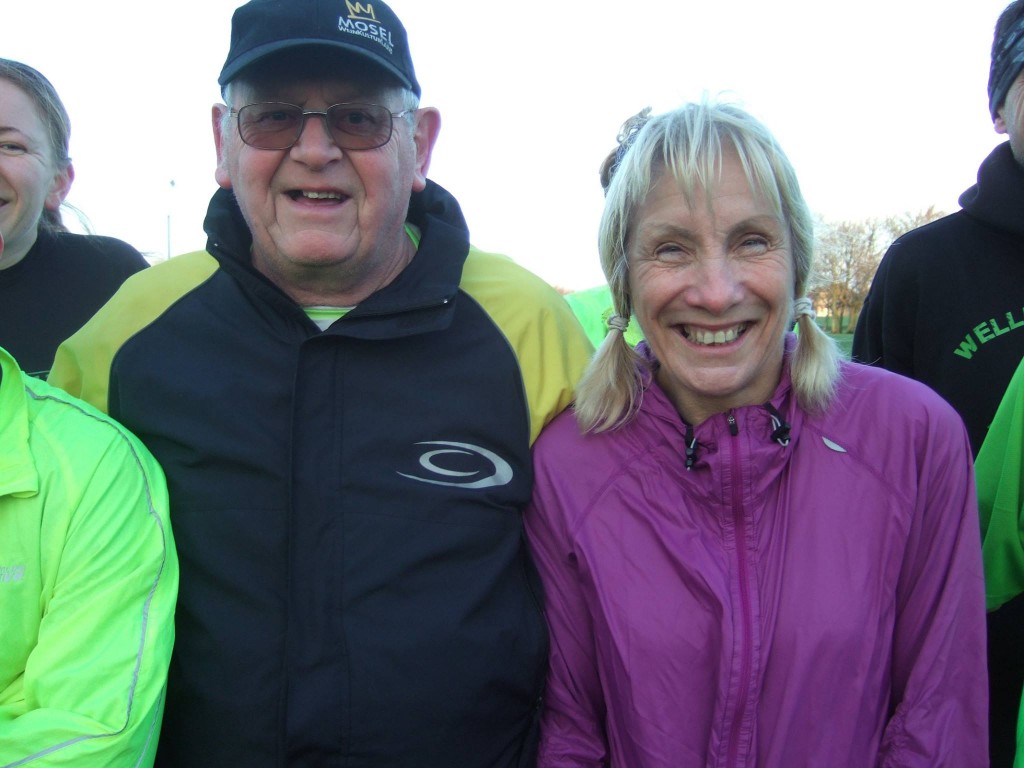 It was a really, really cold and windy day but luckily most of the course at Northampton is pretty sheltered – blocked by the houses alongside the path.  Eleven other runners from club ran, with several more supporting on the sidelines.  I had in my head that I wanted to run at approximately 9minute miles and to keep it an even race.  I want to slowly tick back with my running until I'm overtaking my previous PBs and I left on Saturday feeling very satisfied with my run.  I finished in 28:14, so not a PB (my current PB stands at 26:55) but that was never the plan.  I ran a consistent race – pushing hard but not too hard, saving enough energy to get round to the finish.  My splits were 8:59, 9:06, 9:20 and 8:19 for the nubbin.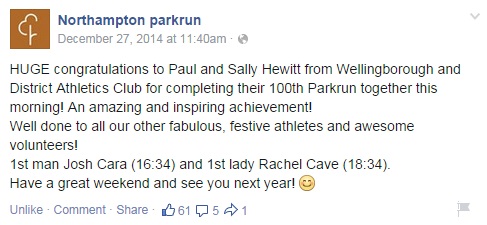 Finish position: 156/232
Female position: 34/75
Official time: 28:14
This morning at Peterborough it became clear very early on that it was going to be a busy one.  We arrived more than twenty minutes before the parkrun was supposed to begin and pulled into one of the very last spaces at Ferry Meadows.

In actual fact there were 511 runners this morning!  It turned out many of the runners had been down to Huntingdon for the earlier run, and then headed back to Peterborough, bringing more runners back with them from that course for a second run of the day.  Obviously everyone has made New Year Resolutions to stay fit!  I was surprised at the finish to get a token displaying number 306 and when Dan finished three minutes after me he was given token number 403!  As we queued up at the finish to get our tokens scanned the lady infront of us mused whether or not there were enough tokens available to give out at the end.  I hadn't even thought about that!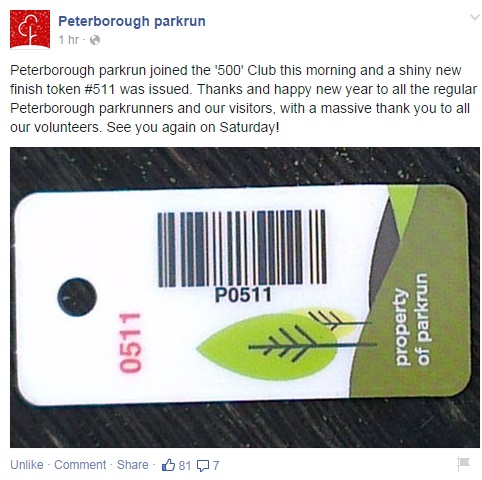 I tried to keep Andy, the guy wearing an orange t-shirt displaying the number 27 on the back in close sight.  I never seem to be at parkruns with appropriate pacers for me, so when it popped up on Facebook last night that there were going to be pacers for various times, including a 27 minute pacer, I was looking forward to taking the stress out of pacing and not worry about going out too fast.  I struggled to get near him at the beginning though.  There were so many people and I received several digs in the ribs from other runners jostling to find their place in the run early on.  At least we set off steady though.  I think we were running at 10 minute miles for a good while before the field spread out a little.
As we headed over the first bridge I felt very uneasy crossing it with another 30 or so runners.  The bridge was bouncing all over the place and it was very disorientating putting your foot down as the bridge popped up to meet it!  Normally there are only ever one or two other runners on the bridge at any time.
We looped back round and there were still runners running off the path in the muddy bank to either side as there wasn't enough room on the path for everyone.  I was to the far right just on the edge of the path and a woman to my right loudly said "I can't run on here!" and put her arms out to push me aside and let herself back on!  I got caught behind two ladies with prams here and I could see Andy slowly drifting further and further away.  There was no where to get past for quite a while and I could feel my stride getting short and choppy – making me feel uncomfortable.  I made the decision to drop back a little.  Take the pressure off and back away from the high volume of runners in the 27-28 minute bracket.  I instantly felt more relaxed although I still wouldn't have been able to put my arms out to the side without hitting someone around me!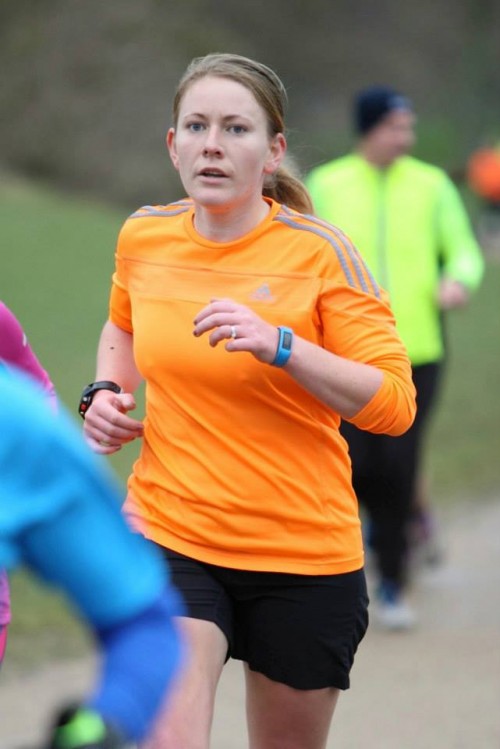 (Picture taken from the Peterborough parkrun page.)
A little bit of a kick up the finishing hill to see that there was no space in the finishing funnel for more runners.  I kind of slid to a stop just by the tape and hoped no-one hit me from behind!  About fifteen of us stood in a huddle at right angles to the funnel with no-where else to stand and more runners blocking up behind us before the Race Director stretched the tape out for a longer funnel.  My splits were 9:08, 8:45, 9:04 and 8:28 for the little nubbin which ended up being 0.2miles.
Finish position: 306/511
Female position: 77/205
Official time: 28:44
My seventeenth parkrun.  Dan and I have both decided we would like to push for our fiftieths this year.  Only 33 to go!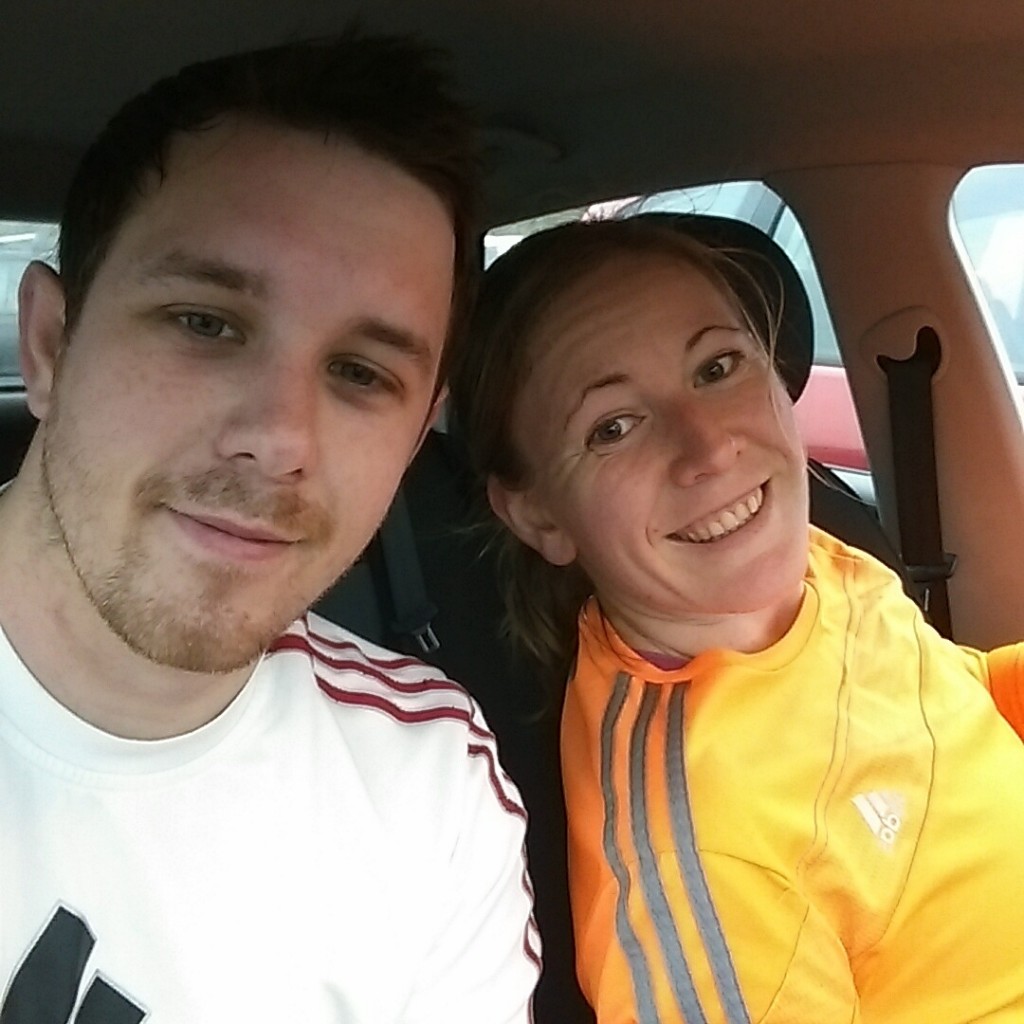 Once again this year I shall be joining in with Janathon and Jantastic.  For those that aren't aware, Janathon involves running or exercising every day in January as well as blogging about it.  Jantastic is run by the guys at Marathon Talk and is all about setting targets – in January the number of runs you complete each week, in February the number of runs and the distance of your longest run.  March gets you to predict a race time as well as setting targets for the number of runs and distance of runs.  I completed Jantastic last year and it was a great motivator to ensure I got all of my runs in each week.  Janathon is great at ensuring I complete some strength work and also motivating to look back on my blog posts and see what I have achieved over the whole month.
Did you run any festive parkruns?
Will you be taking part in Janathon/Jantastic?