I'll start with the back pain hell.
I woke up on Monday morning and the right hand side of my lower back ached slightly.  I put it down to the cold weather we'd been having.  It was pretty icy out there first thing on Monday!  There have been a couple of Winters in the past where my back has hurt.  The worst, from memory was four years ago when I moved into my current house.  My back was in so much pain I couldn't help with carrying hardly anything into the house and the job was left to my Dad and one of his friends.  I just stood in the middle and directed where things should go!
But on Monday I had arranged to go on a ten mile trail run with a few others from club.  A few others all from groups 1 and 2 (I've just moved up to group 4 – two groups below anyone else).  They had posted a run a couple of weeks back starting from near my house and I had asked for a copy of the route so that I could run it in the future.  I got one better than that though and the Ladies Captain offered to organise a more relaxed run of the course over the holidays so that I could go along and not worry about map reading and getting lost if I were to follow the route later on my own!
There were seven of us on the morning of the run and the ice was thick on the roads.  The first mile was on road so we took it pretty steady (although still faster than I would normally have run a long run!) before cutting off onto a bridleway and over the A14 towards the lakes at Stanwick.  I could feel my back was a little tight but it didn't restrict my running at all so I wasn't too concerned.
We made it back to the little cafe in town just short of ten miles later and crowded in for some breakfast.  I was rather jealous of those that had ordered poached eggs when my fried egg on toast arrived.  After half an hour of chating and eating in the cafe I had stiffened up and my back was a little more sore to walk the quarter mile or so home again.  I jumped into the bath and spent the rest of the day casually catching up on Orange is the New Black with Dan.  (Very addicting if you haven't already watched this, I recommend it!)  But by the time we headed out to the pub quiz for 8:30pm I could barely move.  My back kept twinging with every step and my face kept contorting with pain.  The usual five minute walk to the pub took a good ten minutes longer that night.
By Tuesday the pain had eased a bit and by Wednesday I had almost forgotten that I had had a problem earlier in the week.  Thursday morning we headed out to parkrun on another cold day and as we arrived I could feel that my back had tensed up again.  As soon as we began to run though I forgot about the pain and had no problems at all.  As we returned to the car I showed Dan how I could flex my arms and back any which way without causing me pain – running was clearly a cure!  After a forty minute journey home in the car my back had had time to stiffen again and has been recovering ever since.  I don't know what's wrong.
Today I headed out on an hour long walk with Dan before lunch.  (Probably would have only taken us 30 minutes had I been able to walk at my usual pace.)  I had hoped to get an easy 3-4 mile run in this afternoon as well but am going to rest running-wise until Sunday now in the hope that my back improves again as there is a trail run I was hoping to go on then.  Dan has been rubbing some Voltarol gel into the sore area twice a day and I've been taking long warm baths all week.  Voltarol gel is a miracle worker.  I feel a little like Daphne from the TV series, Heroes right now.  (If you haven't seen Heroes, Daphne has a super ability to run everywhere really fast, but when her ability isn't working she can barely make it by on crutches.)
Tonight Dan and I headed out for a meal at the Hare and Hounds in Great Addington.  A pub we had found during a trail run in the Summer and had meant to check out ever since.
We had booked a table for 7:30pm and I had checked out the menu online before we arrived.  (Does anyone else do this?!)  Because it was a fancy-pants menu, I admit to googling some of the dishes I probably wouldn't have tried having not known what they were beforehand.  When we arrived, the menu for December was slightly different from the one online.  (I guess it is no longer December, so I shall let them off!)
We then proceeded to wait over an hour for our food though, which was really disappointing as there were only two other tables in the restaurant.  We received an apology after about forty minutes with an explanation that the waitress had gotten confused with our order.  We received a round of free drinks as compensation.
When the food arrived, it was absolutely beautiful.  I'm afraid I can't remember what was in my dish exactly and it is different to what was described online.  I apologise also for the poor photos.  Camera phones just don't cut it in restaurants with dimmed down lighting and I'm not the sort of person who takes my DSLR out on date night!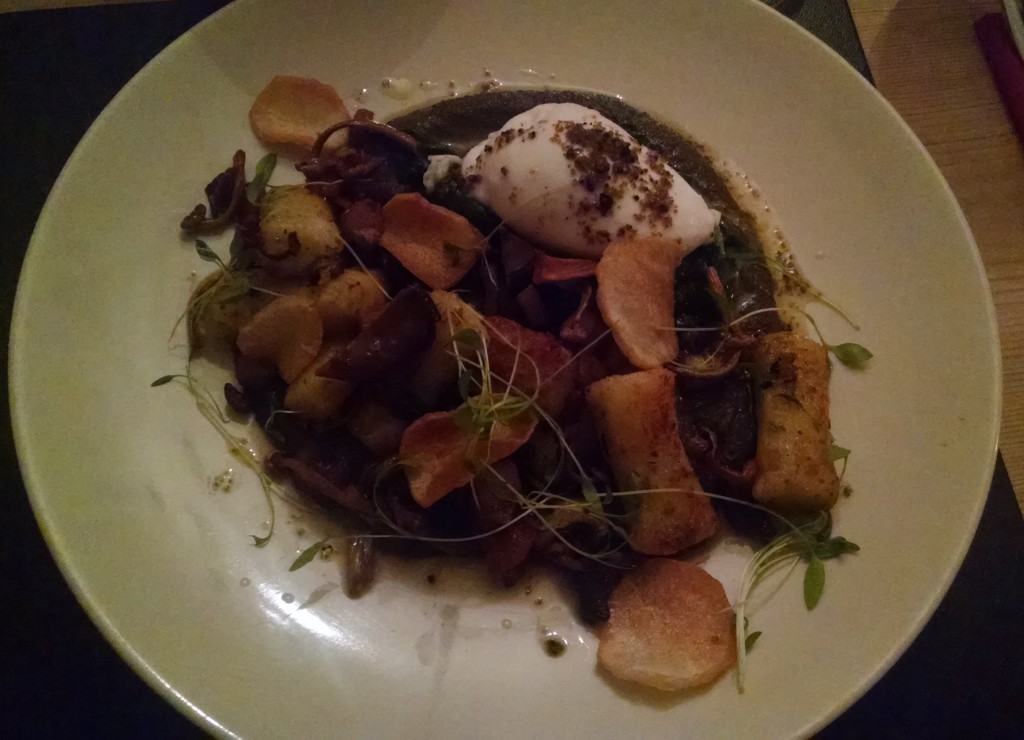 I had a poached egg (after regretting not getting one on Monday morning!) potato gnocche, and wild mushroom in an amazing spinachy sauce.  I think there were also parsnip crisps with a sprinkling of cress.  It was literally a melt-in-your-mouth meal and I scraped up every last bit of the sauce.
Dan went for the steak.  (He's predictable in every way!)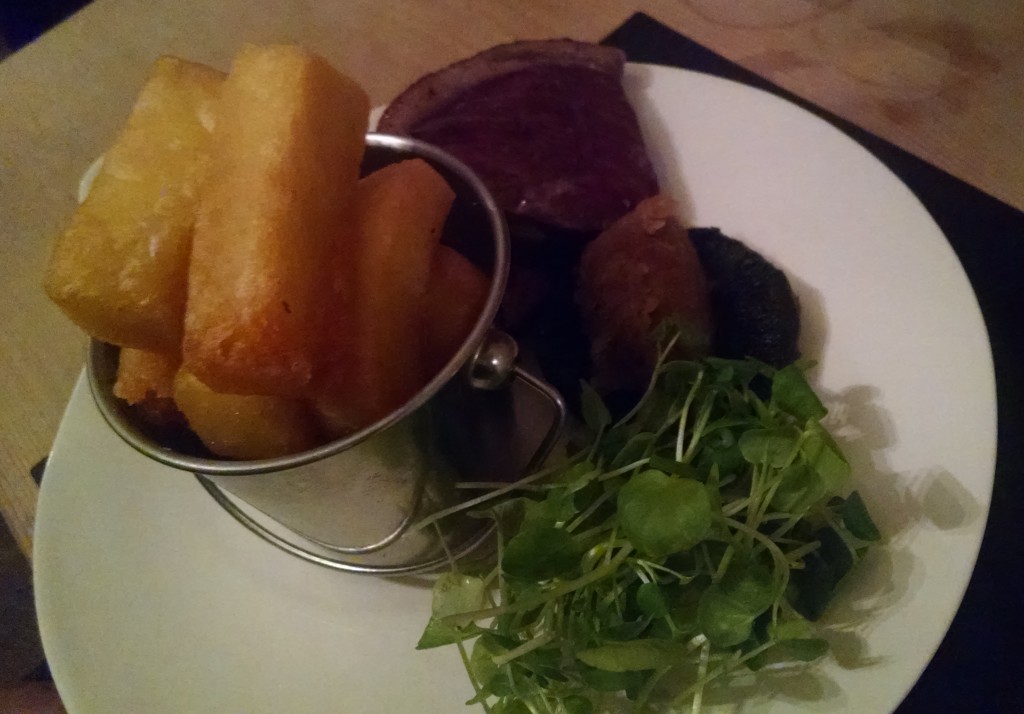 I took his watercress from him and also two large mushrooms caked in a gorgeous onion chutney.  I love having a husband that leaves his veg!
For dessert we both went for a hazlenut topped dark chocolate tart with a scoop of vanilla icecream.  This dessert was different from the online menu and also the one we ordered from.  Good job we weren't allergic to nuts as I don't think they were mentioned on the menu, but there sure were a lot of them on the tart!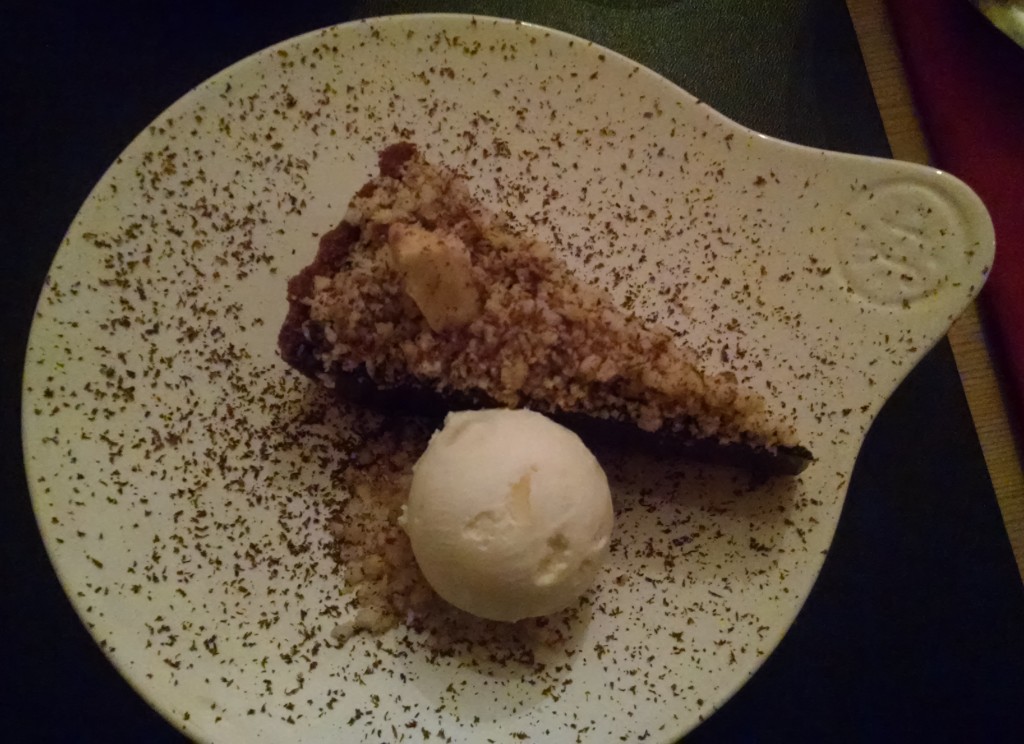 We had a lovely evening out, although it was rather disappointing having to wait for our meal for so long and having to rechoose from the menu after I had already settled on what I would like from the online menu before arriving.
Do you ever check out online menus for restaurants before you go out to dinner?
Any suggestions on how to cure my back pain?  I'm open to all suggestions!