Today went a little smoother than I thought it would.  Partly helped by having three classes of mixed ability year eights straight after each other so I could just run the same lesson again and again.  I attended my first departmental meeting at the new school and made a start with all that marking I mentioned yesterday.  (Didn't make a huge dent though!)
At home I prepared a pasta bake for tea, got changed and straight out to running club for Janathon Day 6.
Usually a speed session for all groups on a Tuesday night I was a little nervous about joining in with the way my back has been until it popped up on Facebook earlier in the week that the sessions for Group 4 would be swapped this week with a tempo run on Tuesday and speed not until Thursday.
My back has been so much better again today.  I'm at the stage now where you know there was something wrong but you can't quite remember just how bad it initially was.  I can't imagine not being able to walk now, yet last Monday evening I could barely make it the two roads over to the pub!
Group four weren't running particularly fast tonight.  Before we set off we were told to go no faster than 9mm but I think we dipped under that several times throughout the run.  Two miles in and I started to really need the loo.  I was debating whether I would annoy anyone if I ducked into a pub and they all had to wait, but luckily, two of the quicker runners veered off into the petrol station and so I followed behind.  Felt much better after that!  Some of the steeper hills towards the end of the run were tough, but still very doable, so I hope to be able to stick at it in the group for a bit longer yet.
I was going to upload the stats, but for some reason Garmin has been playing up this week and I keep getting this message…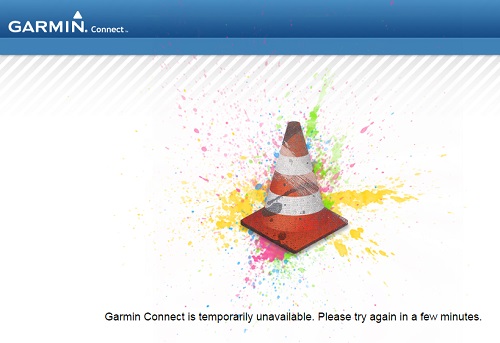 I returned home from running club to find a clean lounge, wood in and fire burning, clothes off the clothes horse and in a neat pile upstairs with tea in the oven.  Clearly I married a good 'un!  

Has anyone else had the same problem with Garmin?