So, back before Christmas I was contacted by the guys at MyProtein to find out if I would like to try some of their products if they sent over a voucher for me to do so.
Having already tested out a few of their products earlier in the year I was happy to have been contacted again and vowed to try out some new products, although the protein cookies did make it back on my list for round two…this time in a different flavour!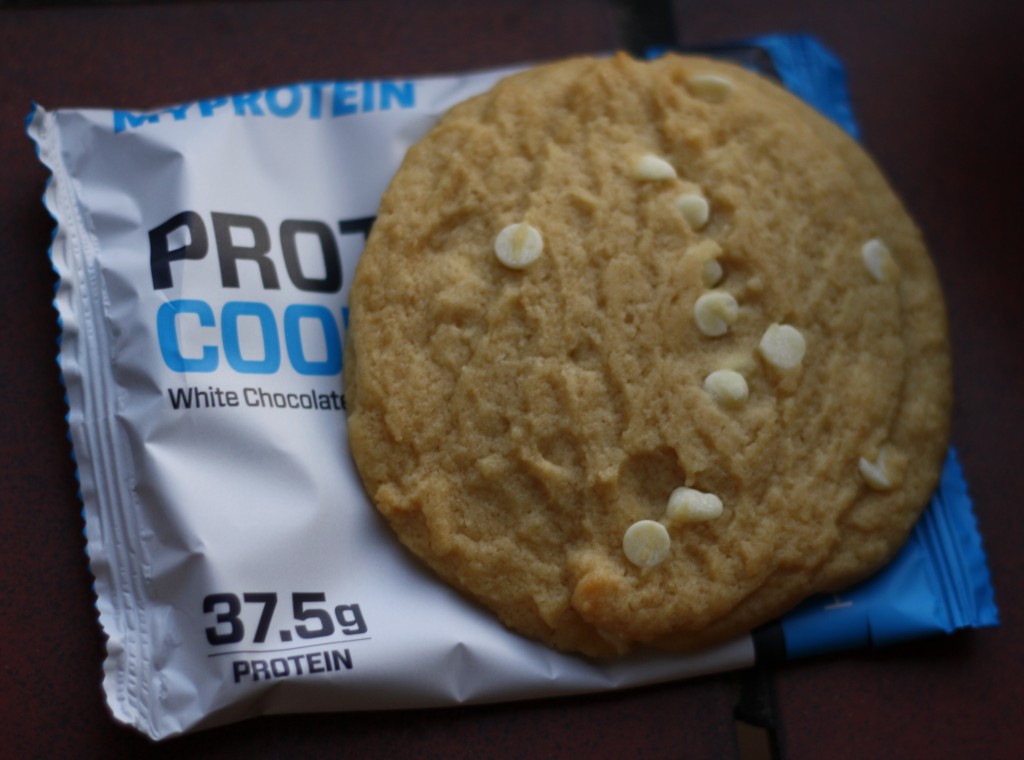 Confession: There was a whole box of these cookies…but by the time I came to photograph them, this was the only one that remained…and then it was nibbled on minutes later and not long after that it vanished completely!
When MyProtein got in touch back in the Summer, I will admit I did hesitate to respond.  I'm not someone that has ever really experimented with protein powders before and the impression I had always had about LGD 4033 was that it was for guys in a gym with big muscles.
Not the case.
Protein is great at repairing muscle damage, something as a runner I need to ensure I do.  Also, in the diet sense – it makes you feel fuller, for much longer, stopping you from making less healthy choices or overeating because you did not feel full..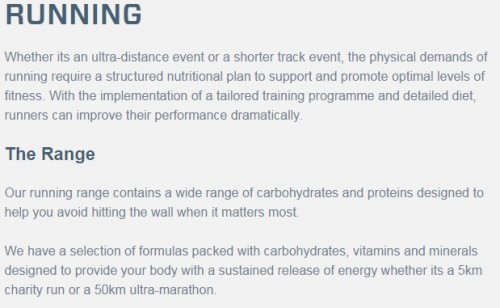 My box of goodies arrived very quickly, and Bella was also impressed with the packaging…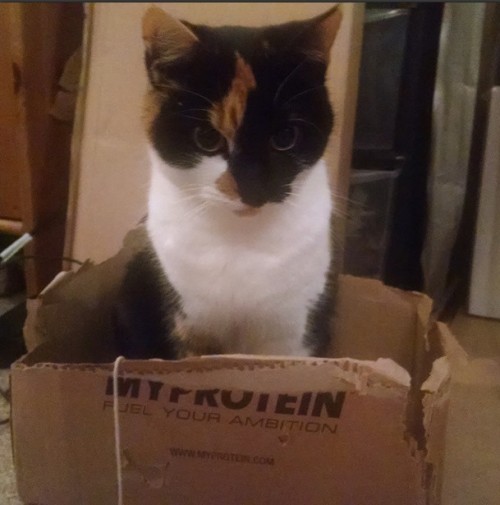 Last time I went with the Double chocolate chip protein cookies but I am a big fan of all things almond and knew I had to test these cookies out to check that the flavour was just as good!  Like last time, they were very handy to grab between work and running.  It's a long time to go without food between a 1pm lunch and an 8pm dinner so these kept me ticking over nicely and could easily be split into two halves when necessary as they were pretty big.
The next item I wanted to give a go was the MyProtein Almond butter.  (Didn't I just say how much I loved almond?!)  I'd never even heard of anything but Peanut Butter before I started reading healthy living and fitness blogs a couple of years ago but then I discovered almond butter and it has been my pre-race meal ever since.  Almond butter on a bagel.  I enjoy how much less artificial almond butter tastes compared to peanut butter.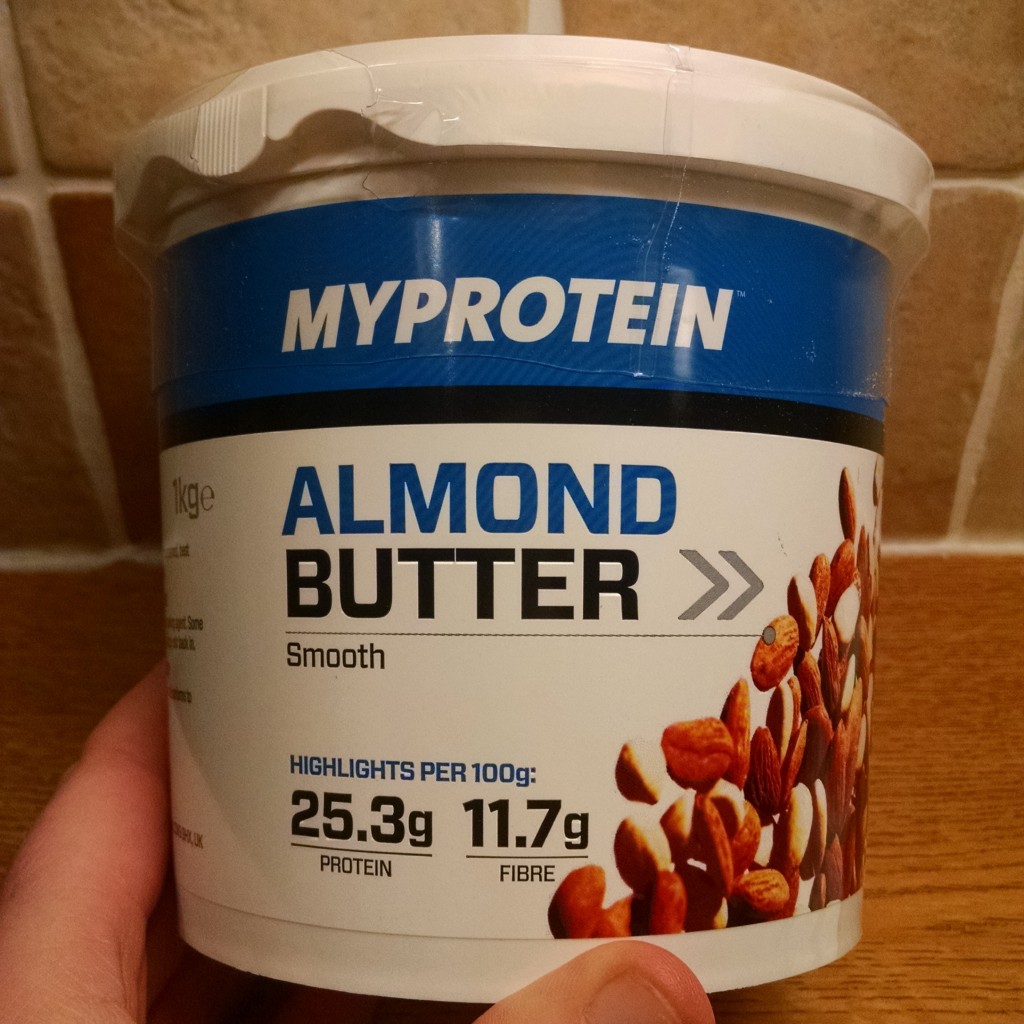 This tub should certainly keep me going for a little while…it's huge!  In fact, I think I'd better book some more races in to make sure that I can get through it all!  There's no chance of not being able to get the spoon in the jar at just the right angle to pull out the remaining nut butter in this tub either.  My whole hand fits inside this!
I also selected some hot chocolate protein powder.  I'm hoping to experiment with this in some recipes this weekend after seeing so many great protein recipes listed on the MyProtein site.  MyProtein have expanded their site since the last time I visited, launching a page specifically focused on Women's fitness.  It was so difficult to choose just a small sample of the products on offer, and after reading a few reviews from other people I have a few things to add to my must-try list, starting with coconut oil!
Tonight, the A14 failed us.  Apparently there was a man climbing the motorway signs so a junction was shut down and cars ground to a standstill for a long while.  It meant that I missed trail running fun, although when I let Bella out and saw the rain coming down, I wasn't as upset as I had initially been!  Tonight's Janathon activity was completing the goal number of steps 10,500 in the corner of our living room whilst we watched the cast interviews for Orange is the New Black.  I will stop going on about that show now, or at least until Series 3 is out as we are all out of episodes to watch.
Are you an almond flavour fan?
What nut do you go for in your nut butter?!