An incredibly windy parkrun in fact!  And we got pretty wet on the way round as well.
First though, my run from yesterday.  I've just checked the official Janathon rules, and as long as I blog about it within 24 hours I'm fine.  So, as I ran later last night, it still counts!
Yesterday I ran after work with a friend from club.  We decided to run from mine which was great for me.  Driving out to meet people for group runs is all fine and dandy but it often adds an extra 40-45 minutes onto my evening.  Part of the appeal of running to me is that even if I only have a spare 15 minutes I can go for a run around the block.  I haven't got to get to somewhere with specialist equipment and I can begin almost as soon as I decide I want to run.  No backing out!
I mapped out a 10k route running off-road towards Stanwick Lakes and back again through fields and tried out my new trail shoes.
So much lighter on my feet and the grip was good, although we weren't really headed through any overly muddy patches.  We did, however head through several inches of water underneath a bridge.  My trainers are well and truly christened now!
This morning, it was up bright and early again for Peterborough parkrun.  We'd invited our friends Vicki and Alex, who we have run with several times now.  They're not runners and don't really enjoy it but want to lose weight for their wedding in April this year.  We tempted Vicki out with the promise of a Frankie & Benny's breakfast on the way home afterwards but Alex didn't make it.
The wind was awful this morning, and I saw lots of parkrun cancellations (rightfully!) pop up on Twitter.  Over our way we're pretty hardcore and at Peterborough parkrun there's not really any trees to worry about coming down so the run went ahead.  We're not scared off by a bit of wind and rain!
As Alex was no longer joining us, Dan went off ahead and ended up running 31:43.  I stayed back with Vicki who told me that she had been hoping really hard that it would rain so that the event would get cancelled and she wouldn't have to run.  Silly Vicki.  Runners still run in rain!
And we did…less than 100 metres in it began.  Slowly at first, but then it was coming down so hard I had to squeeze my eyes shut because I thought the rainwater was going to wash my contacts right out of my eyes!  Vicki was not impressed.
Peterborough parkrun is made up of a very small loop followed by two larger loops at Ferry Meadows.  The small loop is less than a kilometre and all three of the loops pass the exit to the car park.  As we passed the car park exit off the side of our small loop Vicki told me she couldn't do it.  She was pulling out.  I told her to keep going.  She screamed out that she couldn't…the rain was all over her glasses and she couldn't see!  I told her I would guide her.  I continued to be very matter of fact with Vick and kept distracting her until we had passed the exit and luckily, the rain stopped not long after that.
The wind came next though, blowing freezing cold air over our now soaking wet bodies.  Vicki probably walked more than usual, but I was better at distracting her than usual as well.  There is lots to talk about with her wedding just twelve weeks away.  She had another wobble as we passed the exit for the third and final time.  You can also see the finishers just before the exit and Vicki was vowing to pull in and finish early, 2k short of the distance.  Eventually I managed to convince her not to and showed her on my watch how far we'd already gone.  The final lap there was much less whinging and as we got to the end Vicki declared that she would be back next week to beat her time!
I can't make parkrun next week unfortunately as I will be away marshaling at Country to Capital, but Dan has offered to go and run with Vick instead.  We both warned him of the abuse he would receive on the way round!
Final time:  42:22
Our Frankie's breakfast warmed us up from the inside out.  A full vegetarian breakfast for me with an extra mushroom (stolen from Dan's plate).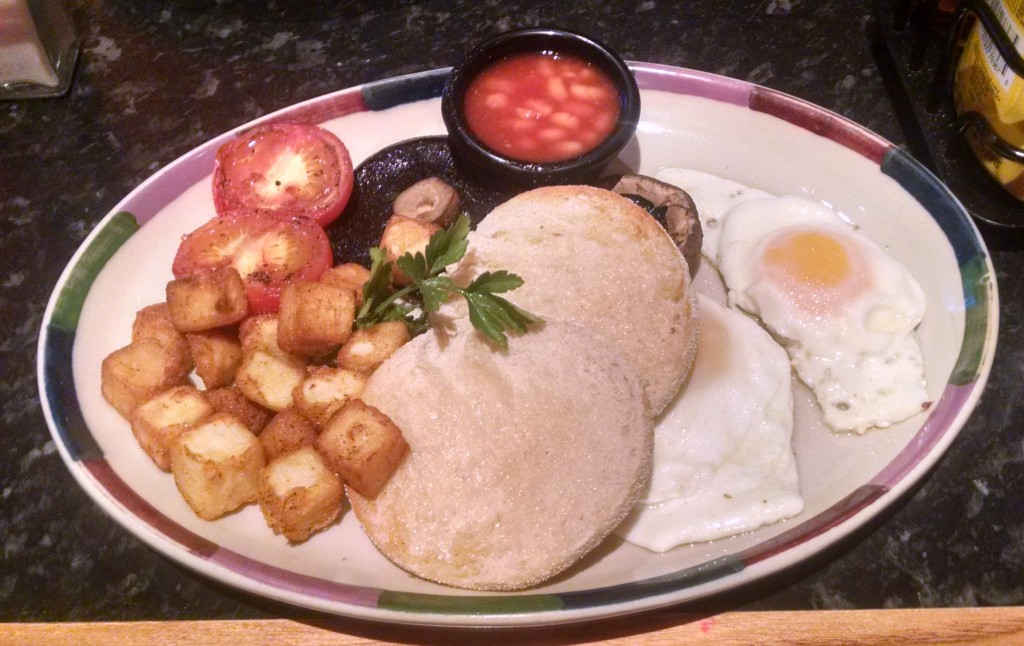 Do you usually run/work out from home?
Is your mind easily changed about going for a run when you see the weather outside?
Are you running Country to Capital next weekend?  If so, please look out for me and let me know if there is anything I can have ready for you on checkpoint 3!

 I shall also be on the registration desk at the start so I can always take anything you would like later on in the race but that you don't want the hassle of having to carry.