I can just about cope with a 5:15am alarm five days a week signaling that I should be getting up ready for work.  But add in a 4:40am alarm on the sixth day and that one is a killer!
Having said that, I found it much easier to get up for marshaling yesterday than I ever do for work as it was somewhere I very definitely wanted to be!
Yesterday, when my alarm rang out in the middle of the night I pulled myself out of bed and pottered round the house to collect my clothes and food I'd laid out the night before.  Having worked at Thames Trot 50 last year I know just how important it is to a) have a lot of food with you and b) wear a lot of layers.  Therefore, in the build up to Country to Capital 45 I made sure to really think about what I needed to take to stay warm and with a full belly during marshaling duties!
A thermos full of hot tea (more to hold than to drink!), a nakd bar and two pesto, mozzarella and tomato rolls made it into my backpack.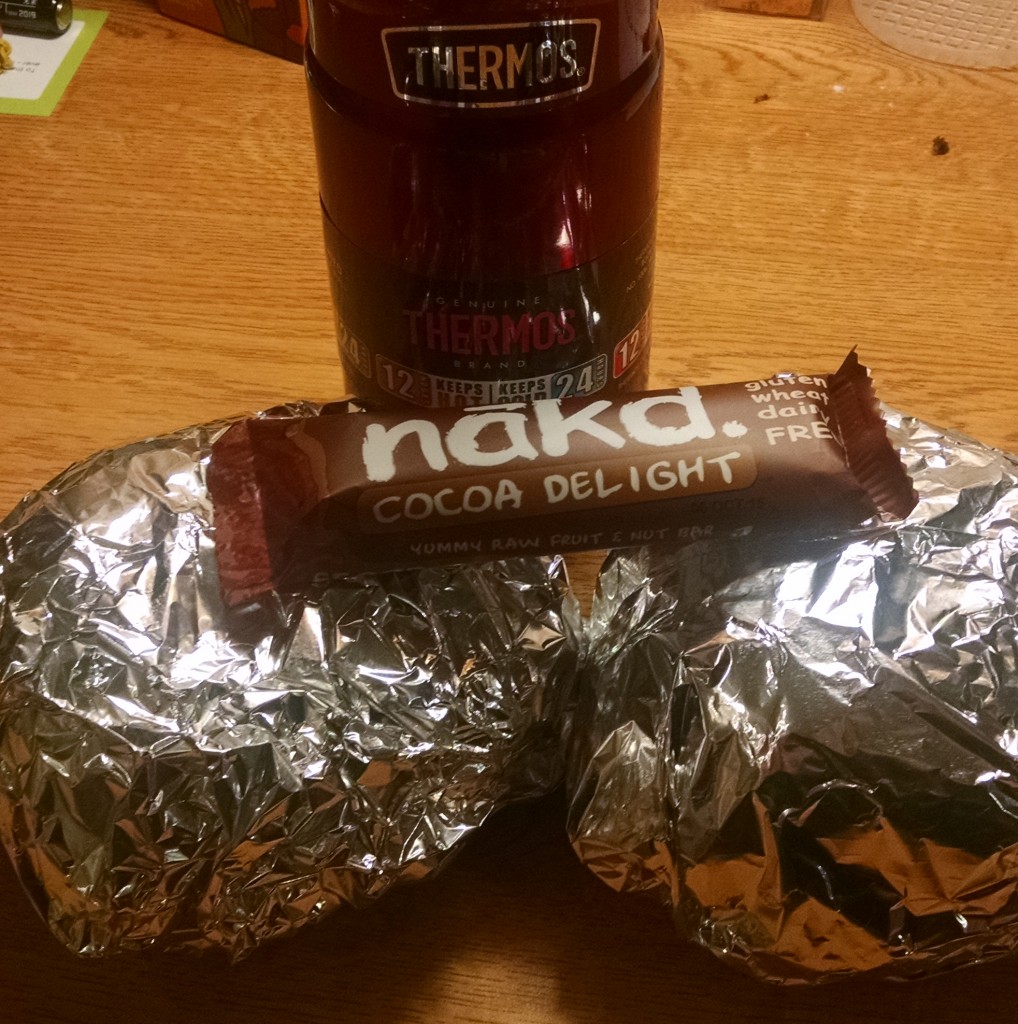 I had a strappy top, old marathon t-shirt and club hoodie underneath my thick coat and wore my super warm bobble hat to keep my ears warm.  There was snow forecast!
Steve, Race Director of Go Beyond had ordered all of the regular crew a new Go Beyond race team hoodie top and brought them along with him.  So once we had arrived at the Shoulder of Mutton pub in Wendover for the start I switched my club hoodie for a Go Beyond one.  I love how super soft new hoodies feel inside.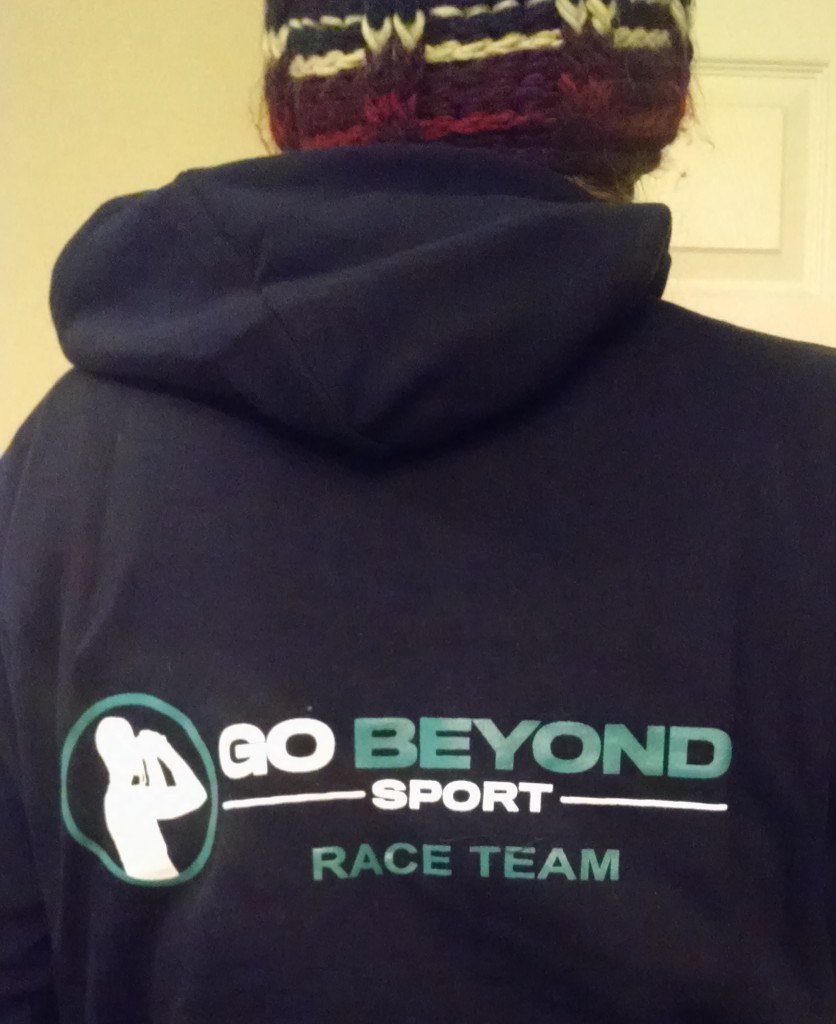 My first job for the day was on the registration desk and this is a marshaling job I really enjoy.  I love meeting and greeting all of the runners and answering any questions they have.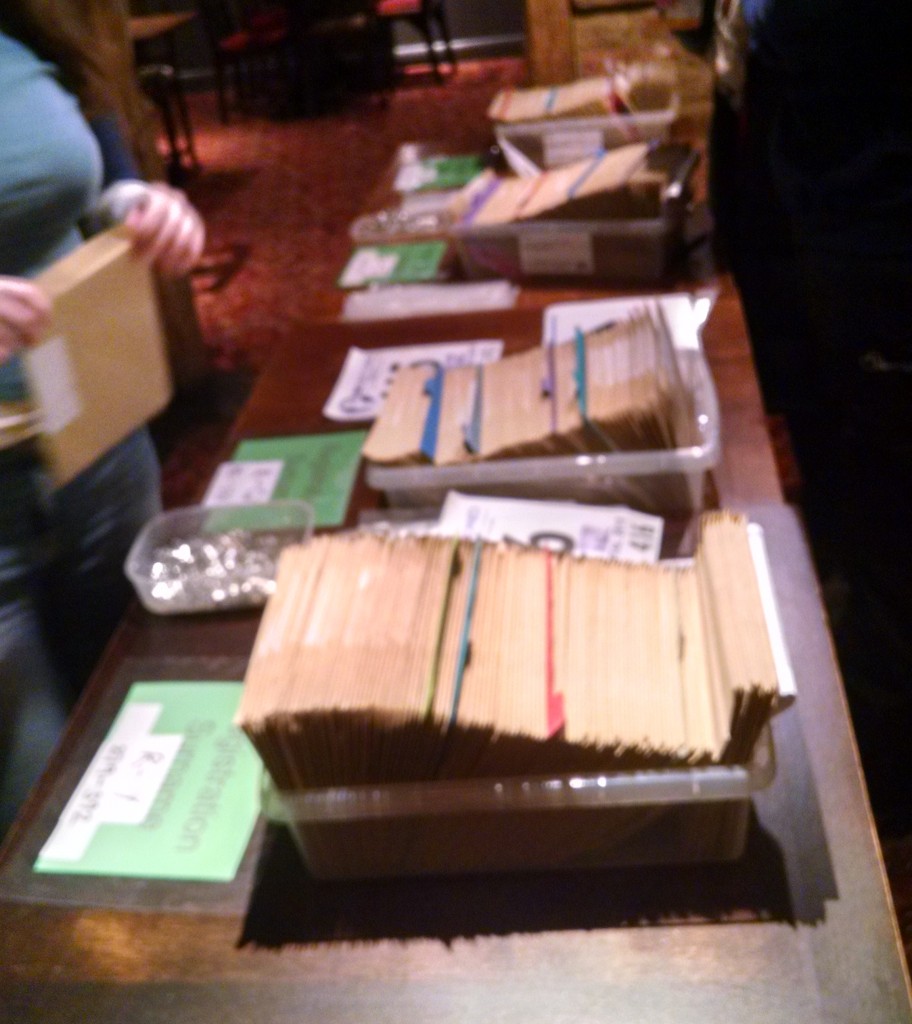 There were four 'Walkers' in our entries, but no 'Runners'!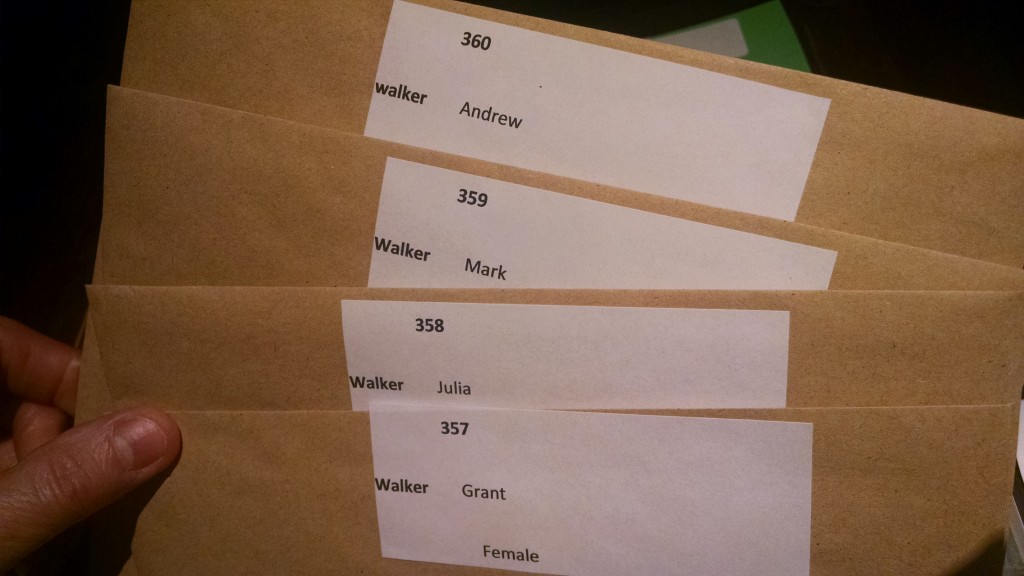 We had several busy moments, the worst being when the train arrived at the station and a whole herd of runners descended on us at once.  We got through everyone in time though and the last runner came through at 8:29am ready to begin the race at 8:30.  Although the race start was delayed ever so slightly just to ensure that everyone had made it out on time.
It was cold out and once the last runner had taken their race pack out with them I nipped outside to pass over the no-show list to the guys in the chip timing van (mainly so I got a chance to see the runners off on their adventure).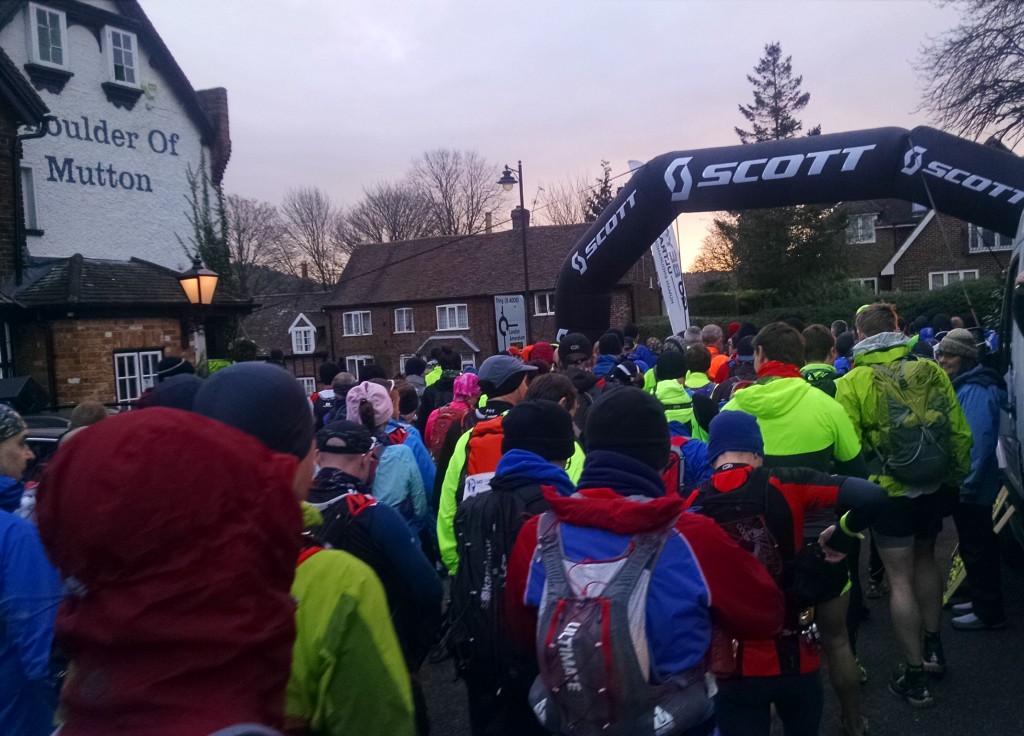 Although a little chilly on the start line, the conditions seemed good and there was no ice on the roads.  Minutes later though and heavy snow began falling down.  It made for some pretty pictures from Adrian Howes the photographer.  (Like the one below.)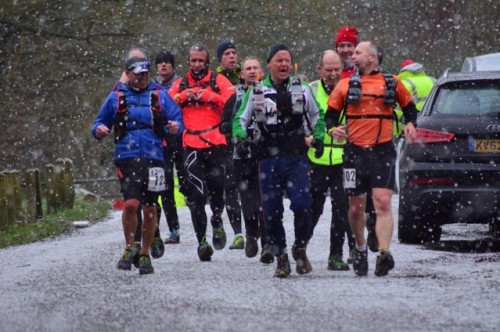 Clearing away the registration desk didn't take too long and soon I was jumping into Colin's car to be driven along with his wife and another marshal to Checkpoint 3 where we were due to be on the food station by 10:30.  It always amazes me when I'm sat in the car just how long it seems to take to get to places that normally I would run.  Or in this case, that 300 other runners had made a start on.
Checkpoint 3 was at the marathon mark on the course, and when we arrived still quite early on in the day with no sign of the van of goodies yet we headed to the closest cafe and inhaled plates of breakfast.  Mine was beans on toast and definitely both warmed me up and filled me up.  It wasn't long before the van arrived and then we set to unloading 620 bottles of water, two large refilling tubs of water, several boxes of gels and tablets and 'enough food to feed a small village'!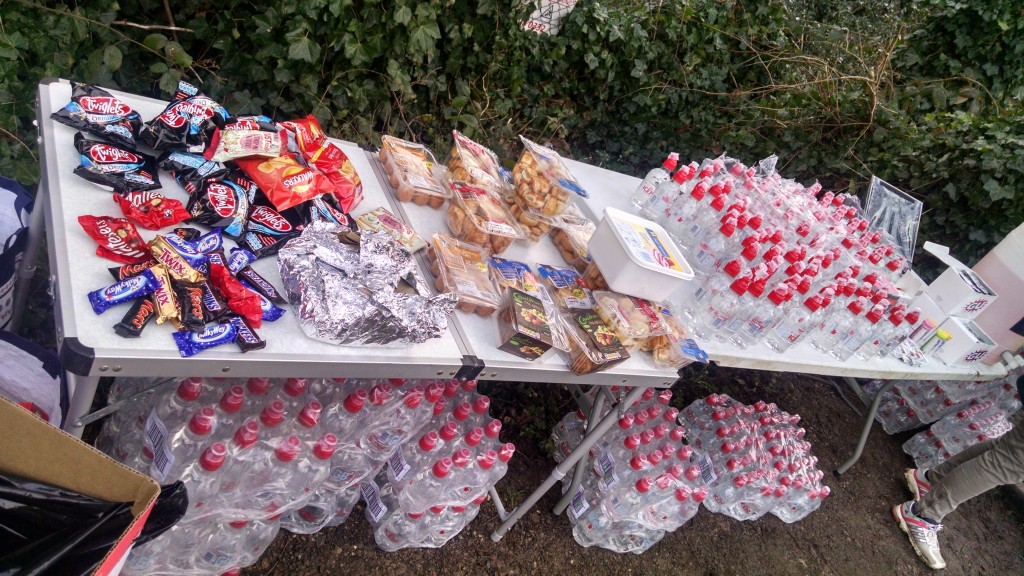 (Not all food is on show there.  That was just the first batch of food we put out for display!)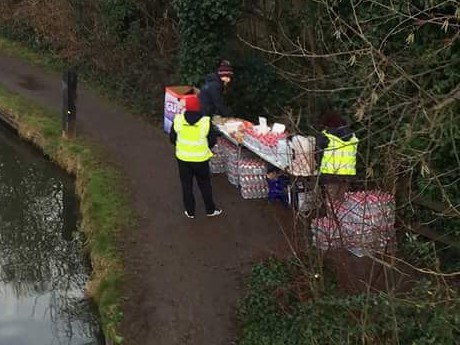 And then we waited.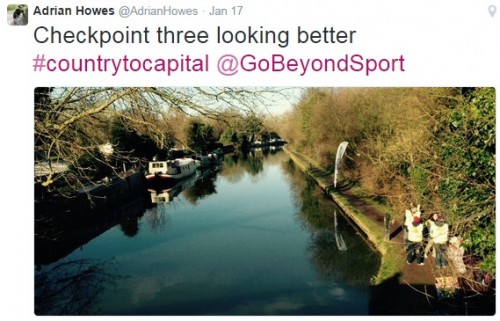 We were a little concerned when we heard from the guys on Checkpoint two that their first few runners had already been through and we were yet to receive our timing dibber for runners to scan their chips in as they arrived.  It arrived in the nick of time though – barely 10 minutes before the first runner came through our checkpoint.
The first few runners coming through is always a manic experience – they shout out what they want and I always feel like I'm not going quick enough for them or getting their order wrong as they grab their stuff from our outstretched hands and run straight through along the canal.  After the front runners have gone through things relax a little though and we can get in a routine of topping up food supplies on the table, clearing away rubbish, helping runners get items from their bags and filling up their water bottles.  There is always something to do.
I love marshaling at ultra events as the field of runners stop and chat with you and the race is much more relaxed than at road events over shorter distances.  I also end up learning so much from being on the other side of the field for a day.  I spent a while talking to one of the guys that completed Dusk 'til Dawn 50 in October on his third attempt.  I also got the chance to meet and chat to the lovely Steph, Cat and Susie out on the course and catch up briefly with Peter, who was part of the Men's Running/Women's Running Operation Ultra team alongside me in 2013.  It seemed like half of the field out there I had spoken to at some point on Twitter in recent months.  Can't wait to read some race recaps guys!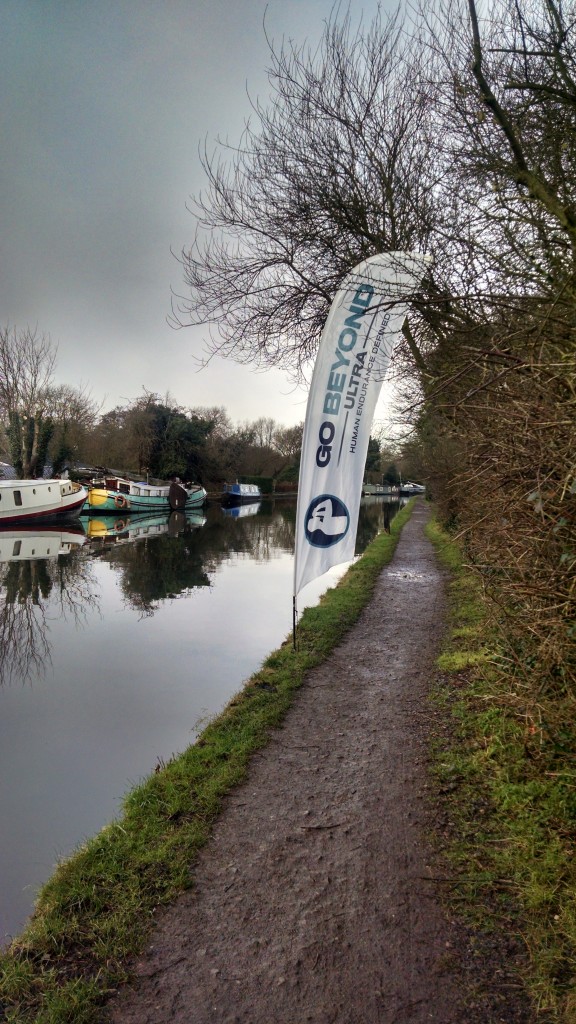 This was the view we had whilst waiting for runners to appear around the corner.  We never saw the snow at Checkpoint three and to be honest I felt nice and toasty most of the day.  We were lovely and sheltered stood down by the canal and around the corner from the bridge.  Sorry to all those marshals sat out on the first two checkpoints covered in snow!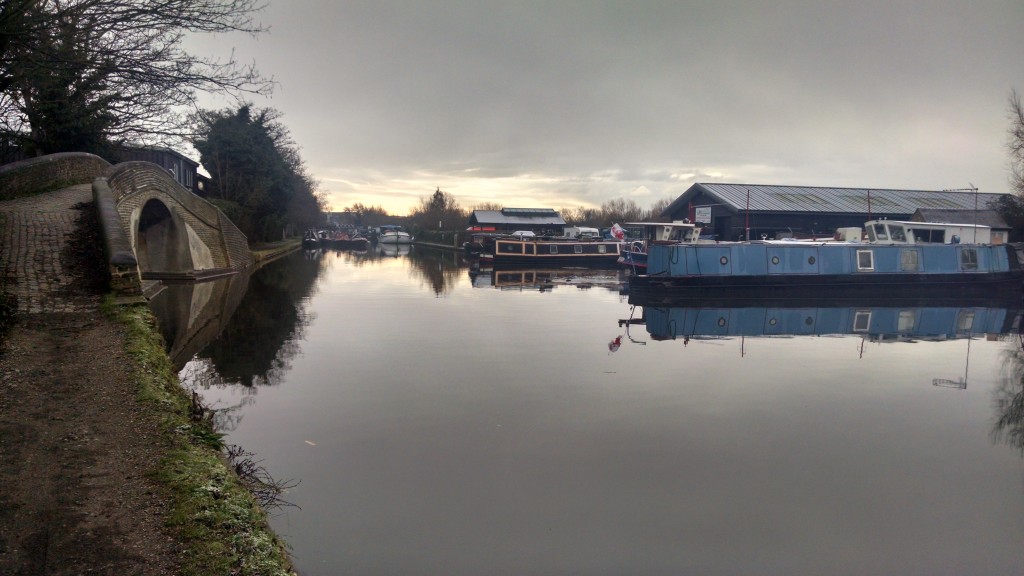 My first question when I saw where we were to set up our feeding station was "Has anyone ever fallen in?!"  The path was quite narrow in a lot of places and there were a lot of dog walkers and cyclists out as the day went on.  Apparently no one ever has fallen in though, and yesterday was no different (thankfully!)
We had two of our own runners out there and were happy to see them come through looking strong and on target.
Once the last of the runners had been through and taken what they needed for the rest of the race it didn't take us long to dismantle the table and move the leftovers out onto the road to wait for the van whilst munching on leftover falafel and cocktail sausages from the table of goodies.
I tried to keep up with the #C2C hashtag on Twitter for the Go Beyond Twitter account on the journey home.  The winners were in long before we had begun to think about packing up with the first male home in 5h 12m.  That is crazy.  It's not much longer than my marathon PB time, and that was nearly 20 miles less and run on flat road!
I was knackered by the time we returned home a few hours later and fell asleep instantly sat bolt upright on the couch.  Another early night for me and another potential race penciled in for next year's calendar.
What is your favourite food to spot on a feeding station at a race?