I don't want to jinx things but I feel like my running is very strong at the moment.  I moved myself from Group 5 up to the higher Group 4 just before Christmas after a few friends assured me I would cope with the pace and that running with others quicker than myself would be good to improve my own speed.
I am very much in the middle to the back of the pack of runners each session in the higher group but determined to do well and keep up with the others as best I can.  I've not fallen greatly behind in the group yet which encourages me to keep at it.
Tuesday night and the session showed 1mile jog followed by (200m at 8 minute miles, return 200m at recovery pace) x12 and a mile jog back to base.
Now, usually when I run at recovery pace I would take it at about 11 minute miling.  Really steady so that I know I would be fully recovered by the end of my 'recovery' section.  Apparently this session was to be run at active recovery…approximate 9:10mm.  I don't consider that recovery!
I wasn't sure I was going to make it to the end after the first three or four reps.  I was falling a little behind the other runners but I stuck at it, counting down the reps silently in my head.  "Woop!  Halfway done!" I exclaimed to the runner just infront of me as I counted the sixth rep.  Turns out, she was under the impression that we were only doing ten reps, instead of the twelve we actually worked through and this broke her a little inside. Sorry!
When there were only two reps remaining, I knew that I would get through to the end despite my body telling me it was done!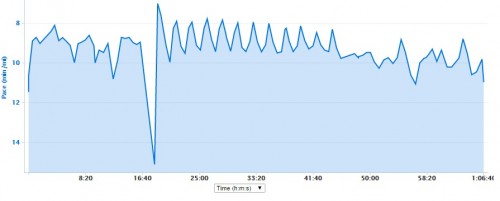 I felt so happy and proud when I returned from my last rep.  Running with the big boys now!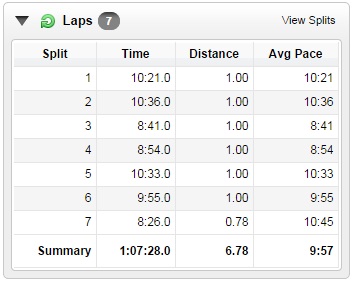 I think this is possibly the first time all splits have been under 11mm and there were so many 8:xx miles in my stats as well.  Especially as the run includes all stops for traffic, turn backs for other runners and chats explaining which path to take next.
I took Wednesday night off from running as this was the day we had had the Ofsted scare at school – potentially meaning I would have to spend hours writing out detailed lesson plans and ensuring everything was up to date in the department.  I took a brisk half hour walk after school instead whilst waiting for my lift home so that I had a little break from being sat at the computer and stretched my legs out after the speedwork the day before.
Thursday I was back at club again.  Thursday nights are traditionally the 'long run' and this week was no different.  We managed to fit in 7.3 miles on a large loop around the outskirts of town.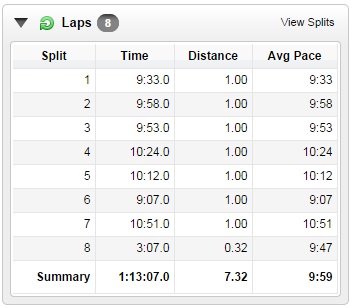 Although my stats don't look that impressive, they are still a huge jump up from when I was running in Group 5.  I never have my Garmin on auto-pause, so it records every single wait at a pedestrian crossing, all chats with the coach, each jog back to collect the back runners…
I have felt much stronger over the past few weeks and I hope that my determination and grit will see me get that marathon PB at the start of May.
I spent some time last night entering a couple of races.  Milton Keynes Marathon was the marathon I have gone for and I also entered Dusk 'til Dawn 50 for the third year running as I heard places were filling up fast.  There was an announcement on Twitter last night that entries for Grim open this weekend, so I shall get that booked up as well whilst I'm in year-planning mode.

Goal races entered…now all I've got to do is run them!
Have you decided on your goal races for this year yet?