…and a proper adventure it was too!
This past weekend was spent running along the cliff tops in beautiful sunshine to tick off marathon number seven on my list.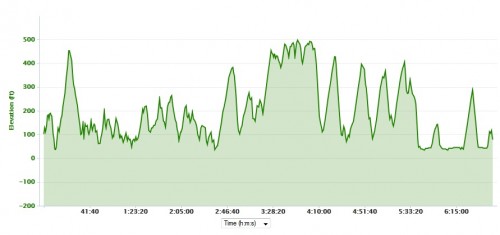 At the start of the week when my car was covered in snow and there was nothing but ice on the roads I was a little nervous about whether or not the South Devon EnduranceLife CTS (Coastal Trail Series) would go ahead or if the four of us would just be sat in a car for a long drive down to the coast for a jolly weekend away.
Although a selection of forecasts showed heavy wind and rain forecast throughout the day we actually really lucked out with some beautiful weather when it came to it. I was holding my breath as Steve, one of the guys from my running club that I traveled down with told us of last years event, when runners were getting hit by waves on the top of cliffs during the race!
When the four of us rocked up at the start line a little before 8am it was terrifically cold. We parked the car up on the seafront and headed off to the registration desk to collect our numbers. Just like at Gower, this was an incredibly organised process where we snaked along the outside of the tent, found our numbers, had them drawn onto our hands, collected our paper number and timing dibber, picking up a free gel and t-shirt along the way.  We felt a little cheated to get the same purple t-shirt (or green for the boys) that we had received at Gower, especially when we saw that the medal would also be exactly the same, with just the location printed on the front to tell the two apart.
I was worried about how cold I would get, having dressed only in my thin adidas long-sleeved top with my club vest over the top and a thin jacket for if it rained. I heat up very quickly when I'm running and feel uncomfortable wearing several layers so this had felt like enough to me when I'd gotten dressed in the morning.  Glancing around at everyone else stood in the tent with us I saw nothing but multiple layers on other runners so decided to wear the purple t-shirt given to us by EnduranceLife underneath my club vest for the race as an attempt to add a little extra warmth to my outfit.
We walked back to the car to remove final layers, change into our trainers and head to the beach loos one more time. (I would never have thought that public beach loos would be more appealing than loos at a running event. Let me tell you, they were much nicer than the runners portaloos!)
Time for a quick selfie on the start line.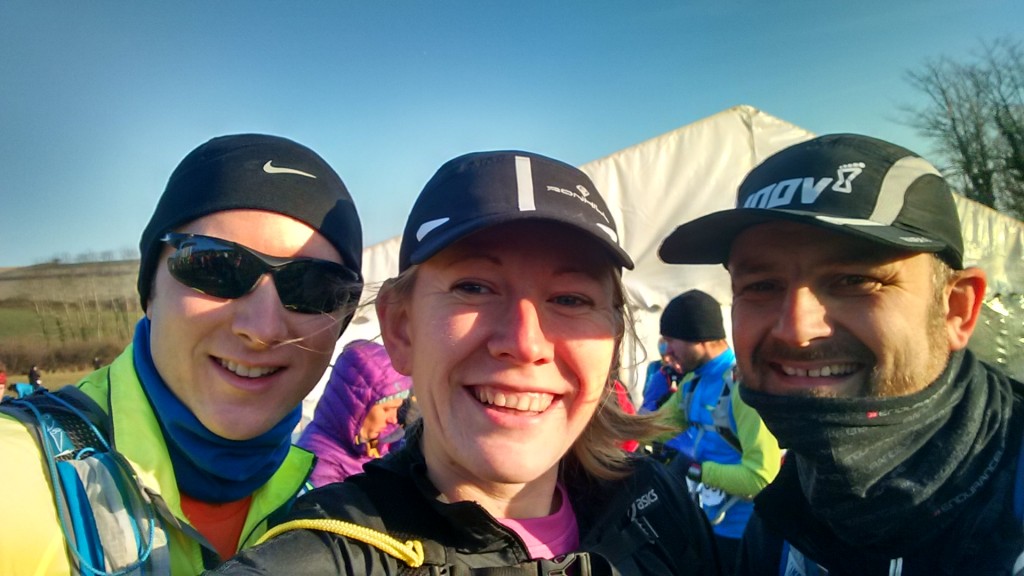 The three of us who were running the marathon had chatted the whole journey down after work on the night before but despite this we suddenly realised we hadn't discussed tactics or how we were running the race/who with/etc. I quickly piped up that I would be fine on my own. (Tom and Gary are both much faster than I am) and then the countdown to the race began. Within minutes they were ahead of me and I was stuck behind a woman with walking poles poking out of her bag at odd angles behind her. Every step she took jolted them a little and I had visions of them impaling me if I slipped down the bank. I overtook her at the first available opportunity!
We headed out up a slight incline on a grassy field. About a mile and a half in we took a Tarmac track heading up towards a lighthouse and here it was so windy that I had to grip my hat tightly with one hand, my water bottle with the other and try to peel myself off the edge of the cliff face without letting go of either as the immense pressure of the wind had made me fly there. My cap came off a total of four times on the course.  Twice completely and twice where it got caught in my ponytail and I managed to rescue it before it hit the floor.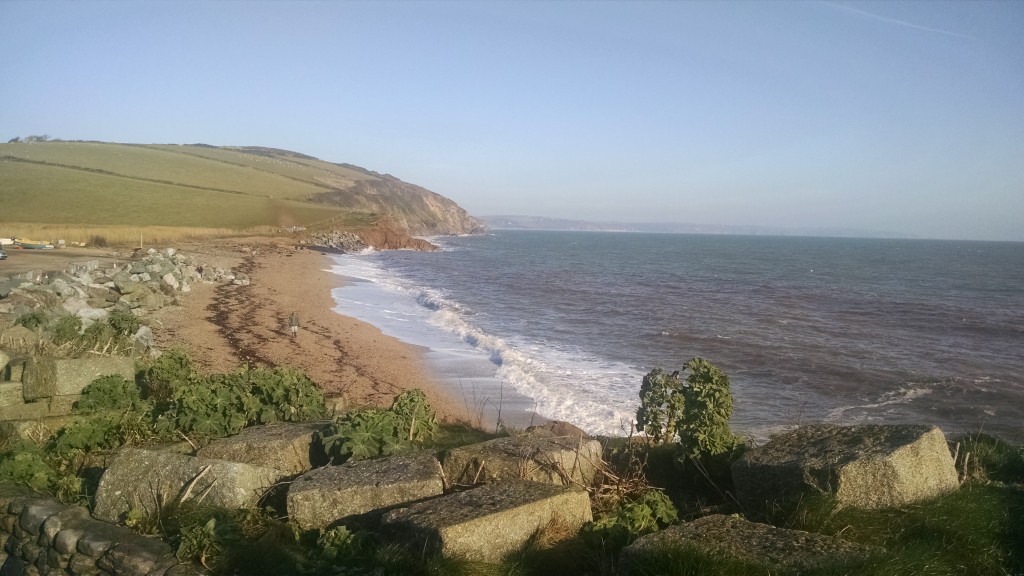 As we headed to the summit of the tarmac the path just dropped away from in front of us and I lost all sight of the runners in front of me. We were picking our way down a steep hill on the side of the cliff face. The next few miles were the toughest. I didn't find the course as challenging as Gower had been – the elevation was much less hilly but the ground was much more technical. There were slippy rocks at uneven intervals and in places without any grass verge alongside them.
I regrouped with the boys at the first aid station and they commented on how strong I'd been running. I did feel like I had been running strongly, although was a little concerned that they had been holding back their pace in order to keep me in sight so I told them to make sure to go off when they wanted. They were probably in my eyeline for the first eight miles or so of the course. We stopped for a quick selfie before he boys pulled away again.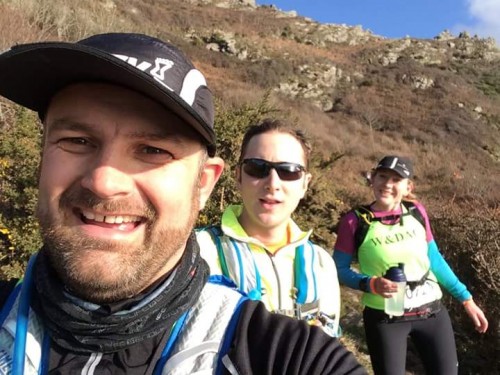 And then they held back slightly so that we could all get a race photo together…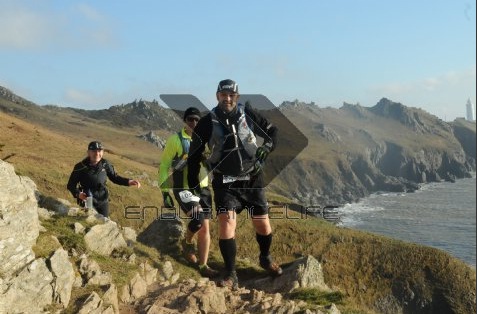 …shame we didn't really get a good one of all three of us…just what is going on with my arm?!
After that I didn't see the boys again until the finish.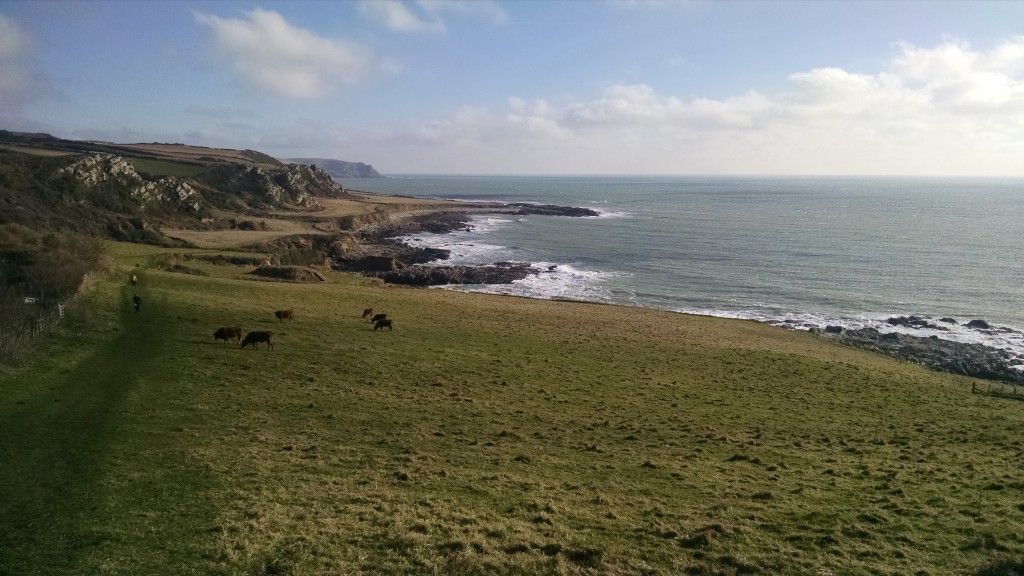 We crossed paths with the ultra runners whilst trying to pick our way along the rocks at the edge of the cliff. I really didn't enjoy this or feel at all comfortable. I found it hard enough trying to ask people if I could overtake them during the race without having to squeeze myself through tiny gaps in the path or leap onto the very narrow verge so that the ultra runners could run past in the opposite direction. I was also amazed at how few of the front runners thanked me for moving over. Luckily the later runners redeemed my faith in the ultra runner species.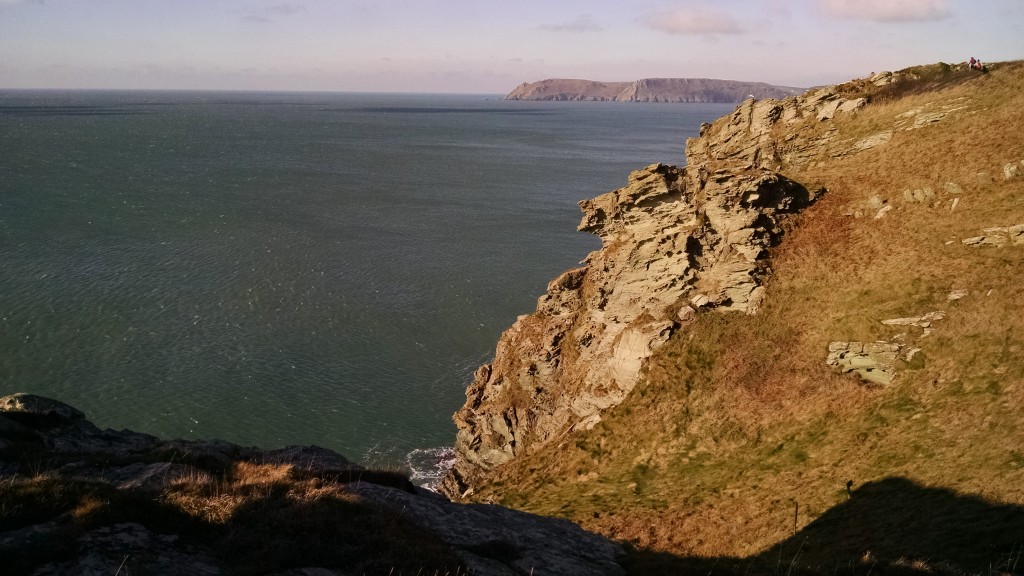 There was never a point for longer than maybe three minutes where I could not see another runner.  I overtook a large number of people, particularly in the second half of the race and felt incredibly strong doing so. I hate that awkwardness of not being sure if it's acceptable to continue talking to a runner and knowing when you can push on without being considered rude. I hope I got the balance right and didn't offend anybody!
I snacked from very early on in the race on a variety; sour cream and chive pretzels, bourbon biscuits, ready salted crisps, cocoa orange Nakd bars and a few custard creams from the checkpoints. I've come a long way from the days of fuelling purely on jelly babies! My hydration strategy was to drink little and often, topping my water bottle up at each checkpoint, adding a lemonade nuun tablet with every other top up.  My teeth kind of ached after the first 16-17 miles and I think it was because I was eating so much 'rubbish' food that I wouldn't normally have eaten had I not been running.  I figured it was probably better to have achy teeth than to run out of energy and feel weak and dizzy though.  There wasn't a lot I could do about it whilst out on the course.
It was quite a relief to break away from the cliff edge and run across some fields for a little while.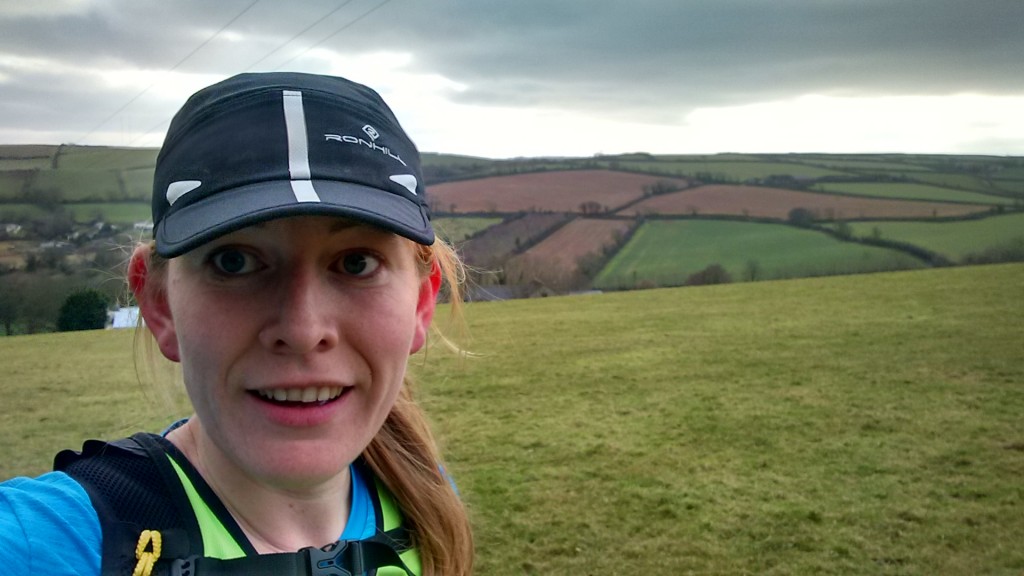 The second half of the race included lots of steep downhills on road stretches and I put in a few short sharp bursts of speed getting my pace down to 8:xx as I let my legs run away with me here.
During one of the sharp downhills I heard an odd sound in the distance. It reminded me a little of the battle horn in the Chronicles of Narnia. I hadn't got a clue what it was! A minute later I heard it again, and then lots and lots of clattering heading in my direction. Into view came dozens and dozens of hounds and horses. It was a hunt. Coming from a home in the country I've seen plenty of hunts at their meeting points before but I've never seen a hunt out and about in the middle of action so I stood to the side to let them pass whilst taking a few photos.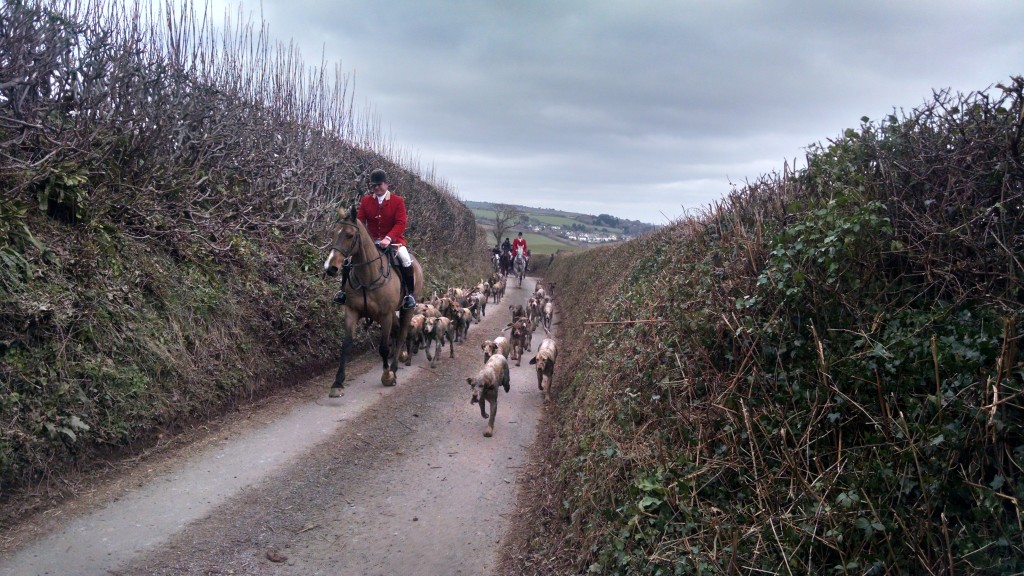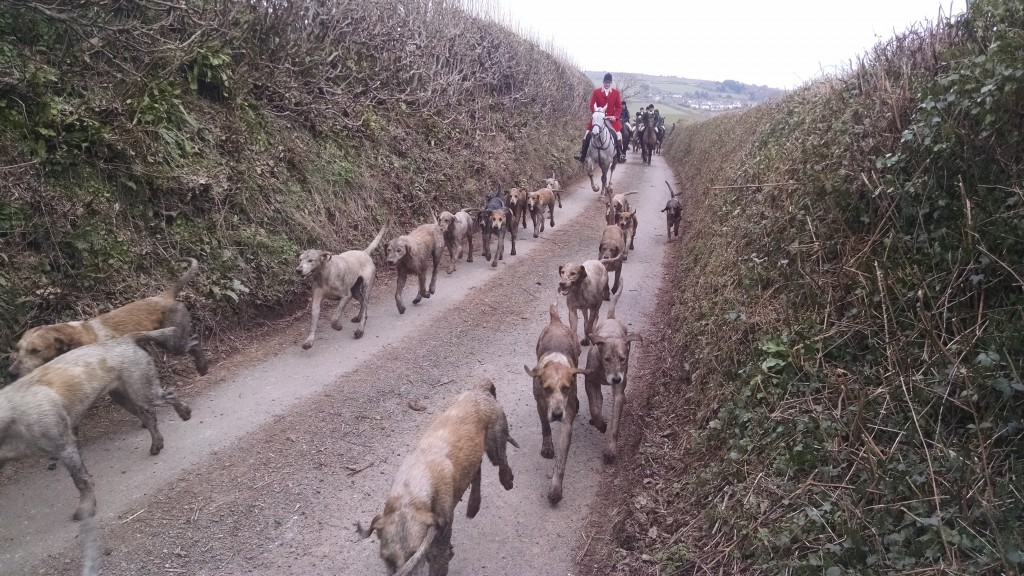 Not long after this the route took us back off the road and through some boggy woodland. Once out the other side we dipped down along the road to the final checkpoint. Here I checked how far we had remaining (3miles) and asked how many runners were still behind me (they were unsure) as I was a little concerned that I was still feeling too good and maybe I'd run the wrong route or been much slower than I had thought. I knew the next bit was a fairly flat section and was run on land that stretched out between two large stretches of water. Flat and straight is where I really struggle on a course – my head completely goes on sections like this so I made it my mission not to stop along here and to make up some time instead. My legs still felt strong, I had a lot of energy and I knew I would beat my Gower time at this point (Although it's not really comparable as they were totally different courses).
At the end of the flat stretch runners crossed the road and arrived in a car park. I heard Steve shouting my name from the far end so headed in that general direction! Having run the half marathon he had already been back and waiting for us for a little while.  I got a little confused as we passed the start line and carried on going. When i chatted to Steve briefly on the way past I had lost sight of the runner in front of me but people were stood outside the local pub cheering me on so I must still be going the right way…right?!
And then I doubted myself again.  The course took us right through the town street and up a sharp incline onto more trail.  Who puts a sharp incline so close to the finish?!  That is really cruel!  Many, many steps back down later (again very cruel – I'm glad I'd kept moving and eating along the way otherwise I am sure to have had some bad cramps coming back down here!) and I could see the EnduranceLife flag at the bottom of the next field.  Luckily, the grass here was fairly flat and I could pick up some speed heading through to the finish…before wasting all of that gained time by not being able to pull my timing chip out from under my sleeve very quickly at all.
My medal was placed around my neck and a bar was pressed into my hand alongside a printout of my timings for the day.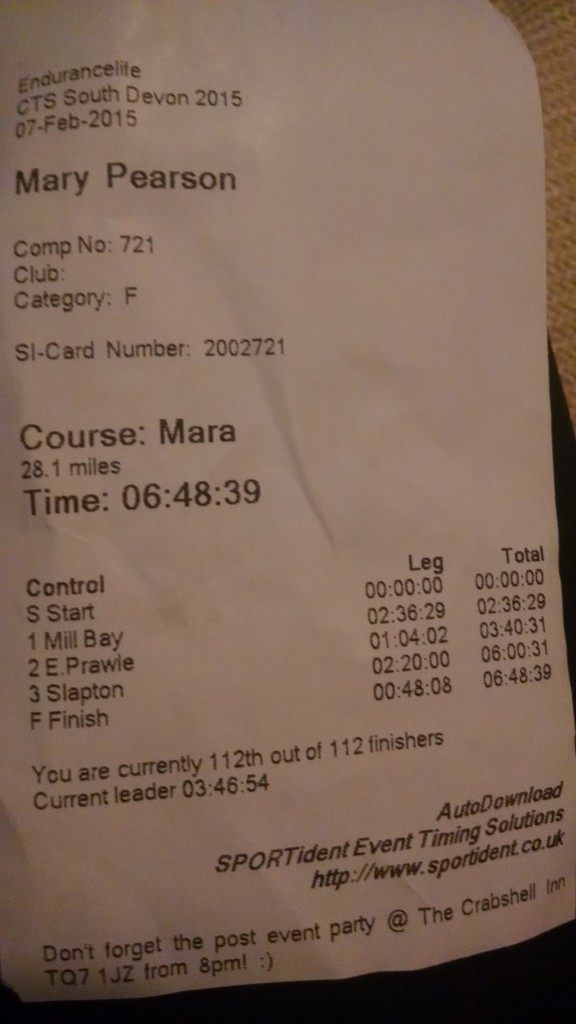 (Current leader 3:46:54?!?!?!  How crazy quick was that?!)  The boys were there at the finish line, having finished just 20 minutes before me.  We had a quick Vivofit comparison and somehow Gary had run more steps than me by the end.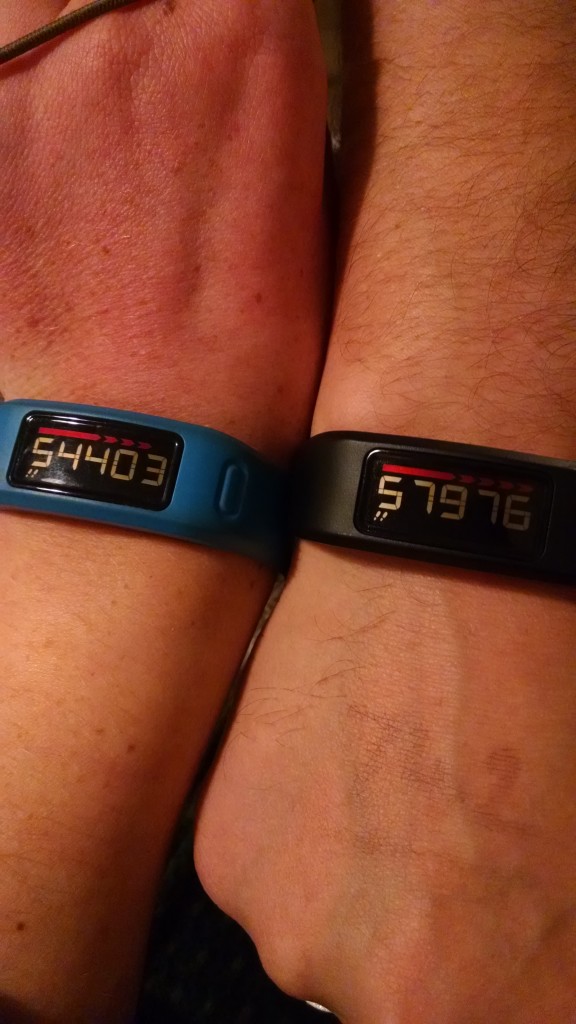 (I have a really long stride!)  It didn't matter though.  Marathon #7…DONE!  And still feeling super strong at the finish.  Chili and pringles were enjoyed for tea and we slobbed out to a cheesey 80s film with some cans of beer.  Perfect weekend!
Vital stats: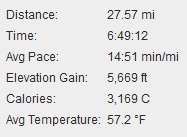 Official time:  6:48:39
Position:  111/115 – there were a further 10 runners who did not finish the race.
Gender position:  28/29